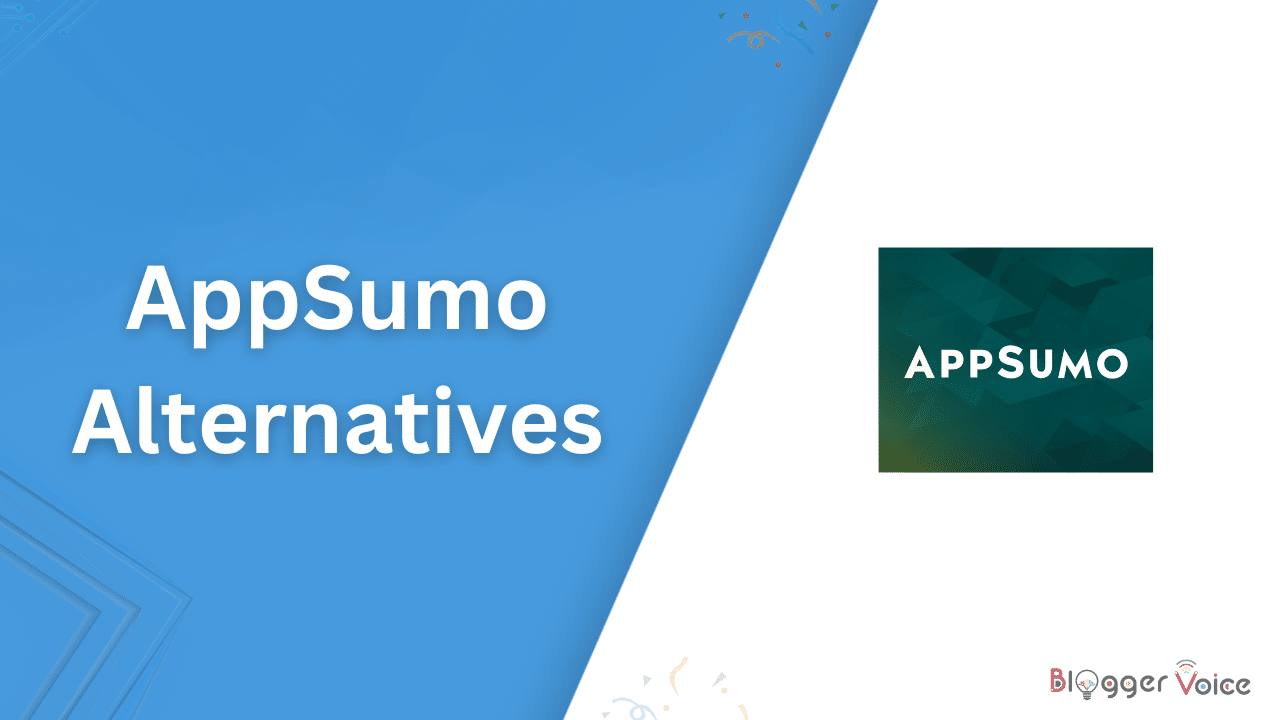 There are numerous business websites. Web hosting, security software, and technological trends are all available to entrepreneurs. With so many options, it can be difficult to choose the best one for your company.
If you want a new online partner without the hassle, then AppSumo is the best one.
There are many other AppSumo alternatives explained In this article.
So let's get started!
AppSumo Overview
AppSumo was launched by Noah Kagan in 2010 as a daily deal website specializing in offers for various online tools and digital products. It's like Groupon for business-to-business (B2B) sales.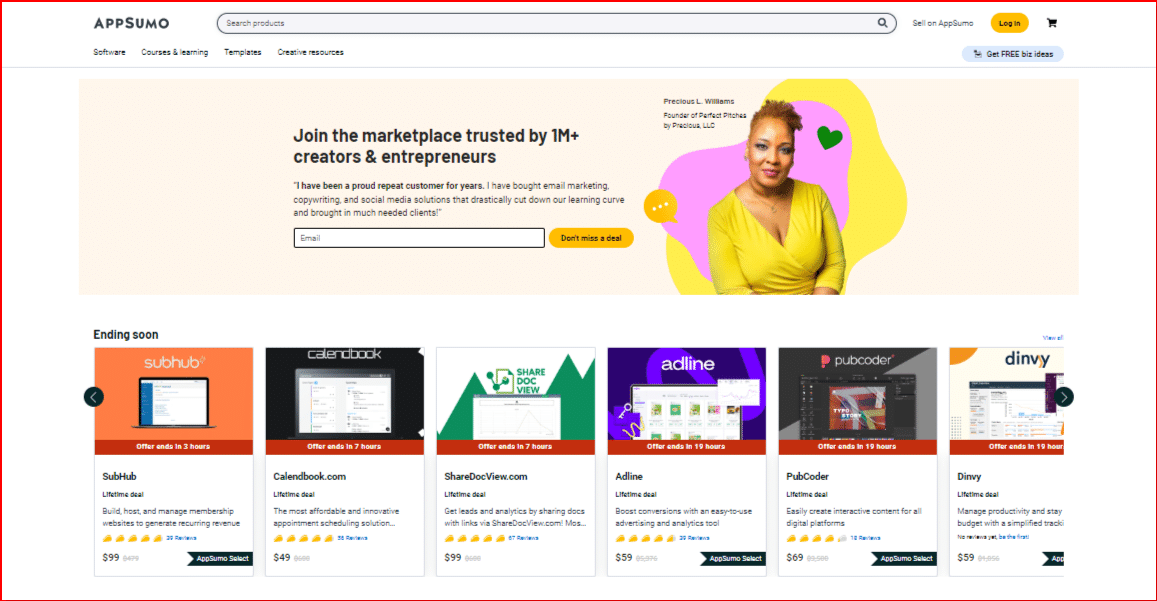 The purpose of AppSumo is to use the most up-to-date web apps to assist small businesses in achieving time and financial savings, and to enjoy oneself while doing it!
AppSumo must form partnerships with sellers of digital products and providers of online services who are willing to offer discounts on their goods or services in order to be able to provide these deals.
There are currently 3185 items available for purchase in Appsumo. There are also freebies that can be obtained without cost, as well as huge discounts of up to 90.5%.
If you are looking for more discounts on your AppSumo deals, check out our article on the AppSumo discount code.
The 5 Best AppSumo Alternatives
Despite the fact that AppSumo is one of the oldest sites of its kind, you are not limited to a single source. Today, numerous imitators have attempted to replicate the AppSumo model, with varying degrees of success.
Here we have listed the best AppSumo alternatives.
1. Dealify
Dealify asserts that it is the top marketplace for growth hackers to buy lifetime deals.
It's a web-based platform that serves as a hub for startup founders, growth hackers, and marketers to find deals and discounts on digital marketing tools.
They promise that you can get a refund of your money within 30 days. In addition, they provide the Lifetime Deals Alert browser extension for Chrome and Firefox.
You can avoid missing any deals by simply adding the extension. In addition to some of the deals from AppSumo, they are listing all of the deals that are offered by Dealify.
Instead of having all of the deals listed, there is no filter option to view deals that are only applicable to particular categories.
Pros And Cons Of Dealify
| | |
| --- | --- |
| Pros | Cons |
| Market Leader in Deals for Growth Hackers. | Not having Enough Offers. |
| Friendly User Experience. | |
| Gain a 20% commission for referring customers. | |
| Low Prices and Permanent Offers. | |
| 30-Day Money-Back Guarantee. | |
| Lifetime software licenses can cut your costs by as much as 95%. | |
| Best suited for Growth Hackers. | |
2. SaasPirate
You can get lifetime discounts on software as well as deals on SaaS through this website.
There are dozens of different categories for SaaS, such as search engine optimization (SEO), eCommerce, data analytics, customer relationship management (CRM), and many, many more.
It is a once-in-a-lifetime opportunity to purchase excellent software at prices that are over 90% off, and you will not find deals comparable to these at any time in the foreseeable future.
The offers that can be found on SaasPirate come straight from the platform's creators and developers. Their neighborhood is home to more than 5,200 independent business owners.
| | |
| --- | --- |
| Pros | Cons |
| Excellent user interface. | Not for everyone. |
| Lifetime deals with discounts of up to 97%. | |
| Affordable. | |
| Wide range of products. | |
| Postpace lifetime deal. | |
3. SaasMantra
SaaSMantra is a community-driven platform that was developed with the intention of facilitating connections between business owners and other founders and entrepreneurs.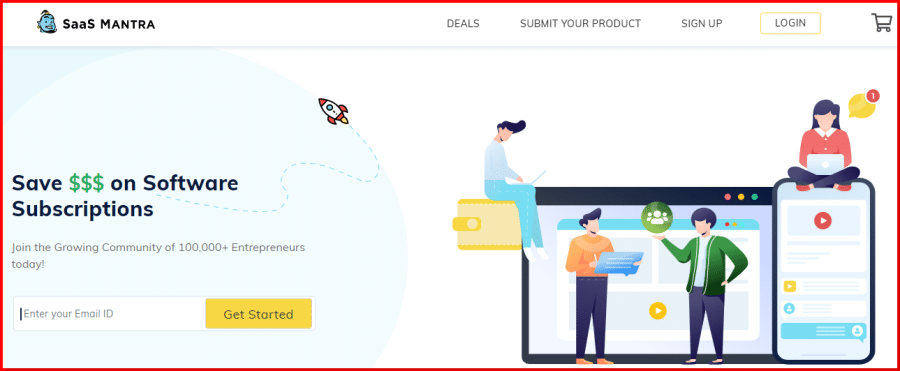 It offers price reductions on software-as-a-service (SaaS) products such as marketing automation, customer relationship management, electronic commerce, and electronic learning, amongst others.
They have more than 25 thousand customers, and they also have a refund policy that is valid for 30 days.
They have assisted more than 300 SaaS founders in the development and expansion of their products.
In addition to this, they assist them in the launch of their products by providing carefully planned expansion strategies.
Pros And Cons Of SaasMantra
| | |
| --- | --- |
| Pros | Cons |
| Transparent leadership. | Too flexible. |
| A bonus for performance. | |
| Access to more than 50 SaaS tools. | |
| Monthly achievers receive special gifts. | |
| The ability to bring new ideas to the table. | |
4. StackSocial
StackSocial launched a few years after AppSumo and has experienced rapid growth ever since.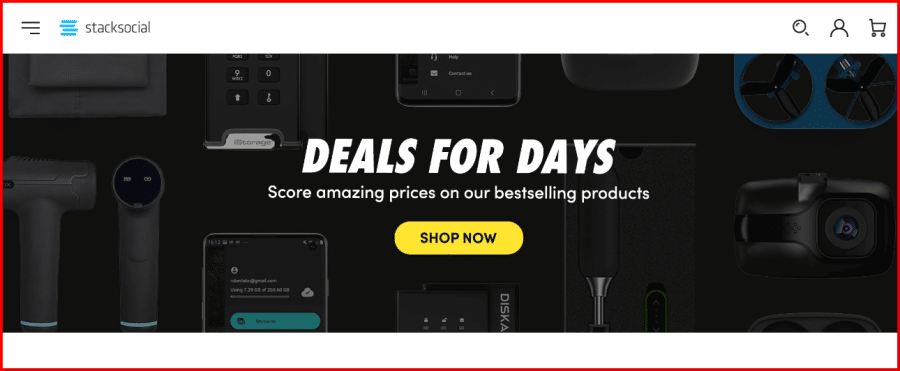 According to Stacksocial, since its inception, it has generated over $50 million in revenue for its clients, helped save visitors over $1.5 billion, and listed over four million deals.
That's a sizable sum of money and software by any standard.
On StackSocial, there are literally hundreds of deals available, and the platform has developed beyond the 'just software' phase.
It now functions almost entirely as an eCommerce site and offers discounts on everything from auto gadgets to fashion accessories.
Pros And Cons Of StackSocial
| | |
| --- | --- |
| Pros | Cons |
| Good range of lifetime deals. | irregular customer service. |
| User-friendly purchasing. | |
| User-friendly interface. | |
| Trustworthiness. | |
Pitchground is a website that provides sales on various software tools, as well as events and educational opportunities for startup companies and small businesses.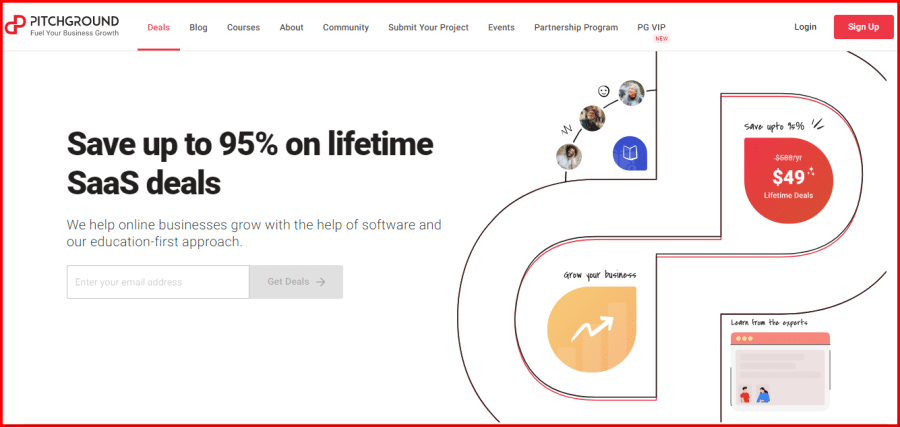 The platform is intended to bring together business owners, marketing professionals, and company founders.
The year 2018 marked the beginning of Pitchground. Within the first ten months of its existence, more than twenty different companies have each raised over one million dollars. Do you find that impressive?
Pitchground also provides its users with a community on Facebook.
Within this community, users can connect with one another, ask questions about products and the various pricing options for them, and possibly establish connections in their professional lives.
Pros And Cons Of Pitchground
| | |
| --- | --- |
| Pros | Cons |
| The tool appears to be well organized. | The drag-down text area is enough. |
| A quick and dependable service. | |
| Simple beginning steps. | |
| Simple to utilize. | |
| Consistent publication on social networking sites. | |
Conclusion On the best appsumo alternatives
Overall, we present our best alternatives to AppSumo. There is absolutely no reason to doubt the legitimacy of these services. Given the variety of choices available, it is essential to zero in on the one that caters to your requirements the most effectively.
Check first to see if the website provides a diverse selection of discounts on software and other tools. Second, make sure that the discounts are appealing to you and meet your requirements in some way.
There is absolutely no cause for concern on your part regarding the integrity of these platforms. We wouldn't recommend to our users anything that we wouldn't use ourselves, and that includes products and services.
When you are making a purchase, you should browse each platform in order to find the one that offers you the best deal. We sincerely hope that you found this article to be helpful.
To sum up my analysis of Best AppSumo Alternatives , that's all there is to say. Let us know what you think below in the comment section. Have fun finding great deals!
If you have any suggestions, please share them with us in the comments section.
Frequently Asked Questions
What is AppSumo Plus?
For just $99 per year, they offer AppSumo Plus, a membership program that offers an additional 10% off, and access to KingSumo Web Pro. If AppSumo has fantastic deals, the Plus version is the mother of all of them.
Are AppSumo deals profitable?
Yes. AppSumo has its own reputation to uphold as the software platform that manages all software deals. This is governed by a stringent "tool acceptance" policy that prevents riff-raff from using their platform.
What is the AppSumo marketplace?
The AppSumo Marketplace is a flourishing, collaborative community where creators can easily launch and sell their best digital downloads, courses, and apps to assist other entrepreneurs in their endeavors.