In this post, I have come up with the best AppSumo lifetime deals.
Appsumo provides a wide selection of applications and software for expanding your digital company, in addition to the best vendor base found anywhere on the internet.
The company assists other businesses in making the most of technology by working closely with a number of the most successful technology companies.
AppSumo Overview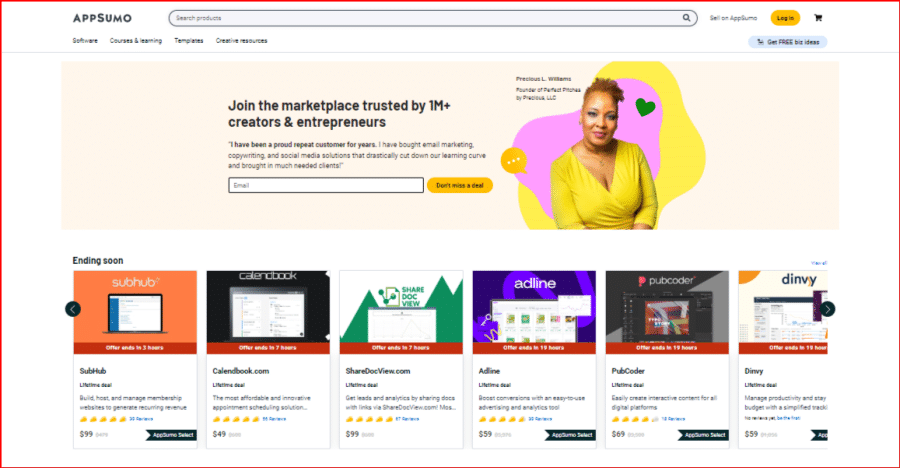 Noah Kagan, a serial entrepreneur who is also famous for the software products Sumo and KingSumo, launched the first version of AppSumo in 2011.
KingSumo followed in 2014. David Garland describes how Kagan started the business with just $50 over the course of a weekend; less than two years later, it had grown to be worth over a million dollars.
In the business world, Kagan is in excellent company with thought leader partners such as Neville Medhora, who was instrumental in growing AppSumo's email list from zero members to 750k.
Since Medhora's initial sales page and email campaign, which was for the Prey video game, was such a huge success, he went on to write all of the sales pages for the next two years.
If you are looking for a maximum discount on AppSumo, check out our article AppSumo promo code.
The Best AppSumo Lifetime Deals
When you make a purchase through the AppSumo lifetime deals marketplace, you are granted access to the program for the rest of your life without having to make any more payments at any time in the future.
This is an intriguing aspect of the AppSumo lifetime deals marketplace.
1. Sticker Mule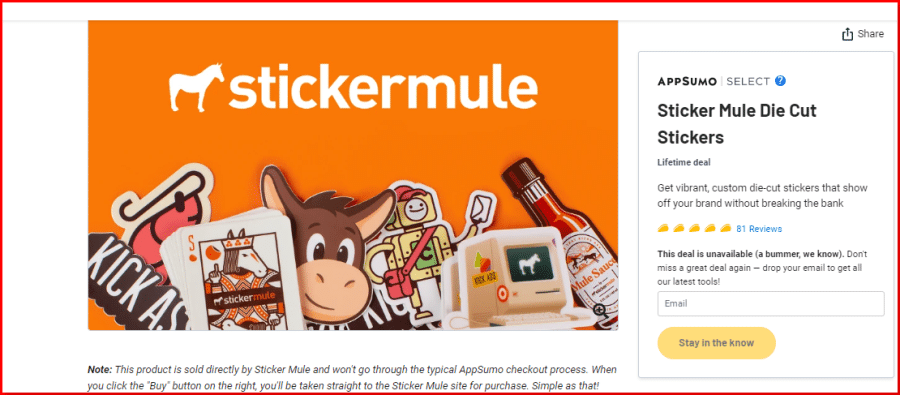 Sticker Mule is a company that specializes in the printing of individualized stickers, labels, magnets, buttons, and even branded packaging.
Using bespoke stickers cut using a die allows you to promote your company, product, or event in a simple and efficient manner.
Stickers are fabricated from strong, long-lasting vinyl that is resistant to scuffs, moisture, and sunshine.
Key Features of Sticker Mule
Lifetime access to Easy Profit With Stickers Course.
You must redeem your code within 60 days of purchase.
This deal is not stackable.
This deal is non-refundable.
All future plan updates.
2. Robinize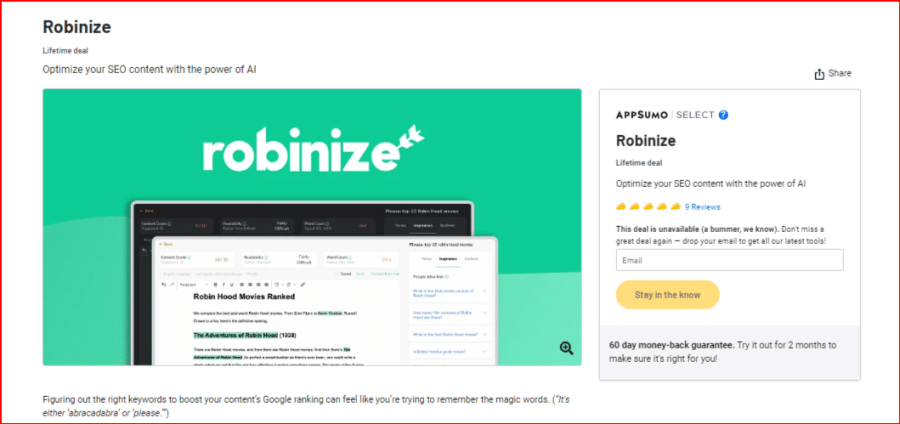 With the use of artificial intelligence (AI), Robinize's SEO tool can speed up your research and content creation.
You may do your research, produce your material, then optimize it for search engines with Robinize.
This application will generate a report based on the phrase you wish to rank for in Google utilizing the power of artificial intelligence (AI).
In addition to that, it provides all of the advice and suggestions required to achieve success.
Key features of Robinize
FAQs compiled from Google's "People Also Ask".
Content grading.
Word Counter.
Readability level.
Relevant terms.
Similar searches.
3. Eventin
EventIn is a solution that helps save time when it comes to handling events. Eventin is a plug-in that you can add to your website that will allow you to organize, administer, and run event countdowns.
You may also design dedicated event websites using an easy-to-use builder that lets you drag-and-drop elements.
Key Features of Eventin
Unlimited single and multiple events.
Simplified schedule management.
Manage customer relationships with Fluent CRM.
Maintain recurring events.
Showcase speakers/organizers.
Unique attendee management.
Event calendar view.
Detailed analytics report.
Custom attendee registration forms.
Synchronized Zoom webinar and meeting.
WooCommerce payment system.
Multi-tier ticket pricing.
4. SERPWizz
Using Serpwizz, you can conduct an SEO components analysis on your website.
It analyses the performance of your website by analyzing one hundred different data points from your website and delivers recommendations in real time.
In order to facilitate the easy improvement of your digital footprint and the results of your search engine ranking.
Any webmaster or digital firm that wants to improve their own website or the website of a client should use the tool called Serpwizz.
Key features of serpwizz
Unlimited website and lead audits.
Unlimited reports.
Export leads.
PDF report download.
Embed audit tool.
Text/HTML ratio.
HTML header tags.
Zapier integration.
Calendar embed.
Meta keywords.
URL rewrite.
Image alt tags.
Title tags.
5. Lebesgue
Lebesgue is able to assist Shopify stores of any size in increasing their returns on investments by adhering to the best practices standard in their sector with the assistance of artificial intelligence (AI).
In addition to this, it offers information that may be put to use regarding where they should concentrate their marketing efforts.
Key features of Lebesgue
Integrate with Shopify and WooCommerce stores.
Premium educational content.
Integrate with Instagram, YouTube, Facebook, and Google Ads.
Copy creation.
LinkedIn, Pinterest, and Twitter insights.
Ad account red flags.
Trend and outlier detection.
Funnel analysis.
Cohort analysis.
Lifetime value (LTV) analysis.
Ad price forecast.
6. Cheat Layer
You are able to create white-label automation with the use of no-code tools, action recorders, and OpenAI machine learning when you use Cheat Layer.
The Cheat Layer reveals a potent GPT-3 scripting layer, which allows for the automation of business operations and the saving of time.
You can set up a local instance of Zapier with an unlimited number of activities that operate in the background by making use of Extension Webhooks and APIs.
Key features of the Cheat Layer
Desktop automation.
Generate scripts using natural language with AI.
Unlimited automation and local executions.
Webhook triggers (build your own unlimited Zapier).
Turn any website into an API.
Automate any website using JavaScript.
7. ACE Meetings
You can earn reward coins by booking and managing calls on the ACE Meetings online appointment scheduling platform, which allows you to do both simultaneously.
ACE Meetings allows you to schedule and manage appointments online, and in the process, you can earn reward coins. You can simplify scheduling with the help of an easy-to-navigate setup page.
You have the flexibility to specify your preferences for availability with only a few clicks, including adding buffers between calls and picking multiple lengths for each option.
Key features of the ACE Meeting
Confirmation page redirect.
Meeting History.
Custom booking forms.
Preferred times.
Reschedule meetings.
Email notifications.
Embed on your website.
Remove ACE Meetings branding.
ACE.page custom subdomain.
All calendar and conferencing providers.
Zapier integration.
Multiple users.
Custom confirmation page.
Conclusion
Overall, you may save as much as 98% using the AppSumo coupons that are available here. AppSumo also provides real-time savings.
Most of AppSumo's deals sell out in a matter of days, so you'll need to act fast. Their typical length is one week or less.
Pick the goods and services that meet your requirements the best, and take advantage of low, fixed prices.
Frequently Asked Questions
How can I get access to the AppSumo Deals?
You are able to purchase AppSumo deals whenever they are currently available on the internet. The vast majority of deals only have a limited number of licenses available, and these are typically swiftly purchased before their expiration date.
What is AppSumo Deal's refund policy?
When you're in charge of overseeing returns, you'll have greater leverage in the transaction. You will still get your money back even if there is no good reason for the return.
How Can I Find Out About Upcoming Appsumo Deals?
To be fair, many of the discounts are regularly refreshed, usually once each week. This site will always have the most up-to-date information about the best deals we can find for you. Marking this website in your browser's bookmarks is a good idea if you work in online marketing.
What is AppSumo Plus?
AppSumo Plus is a premium rewards membership scheme, and it entitles its users to perks such as a 10% discount on deal purchases, access to KingSumo Web Pro, and more surprises.