In this AppSumo review, we check out the service and see if it's still up to snuff. We think so but read on to make up your own mind.
Lacking the time to read the entire part? Get 10% off your first purchase on AppSumo by clicking here.
Building a company from scratch is a challenging endeavor. If you want to succeed in the long run, you need to create a brand, make your presence known online and on social media, attract and retain fans, and find new customers.
You need to keep people interested, turn them into buyers, and run smart advertising efforts. And you should definitely figure out how to communicate with your intended audience.
For a while, AppSumo enjoyed a stellar reputation, but recently, things have been going downhill. Recently, several AppSumo customers have expressed dissatisfaction with the company's offerings and support.
When you've finished reading this review, though, you should have a clear idea of whether or not AppSumo is a service that would be a suitable fit for you.
Is it worthwhile to invest in the provided resources? That's what we think, at least. This AppSumo review will focus on (among other things):
What is AppSumo
How Appsumo works
Tips for buying on AppSumo
Appsumo Pros & cons
AppSumo alternatives
What Is AppSumo?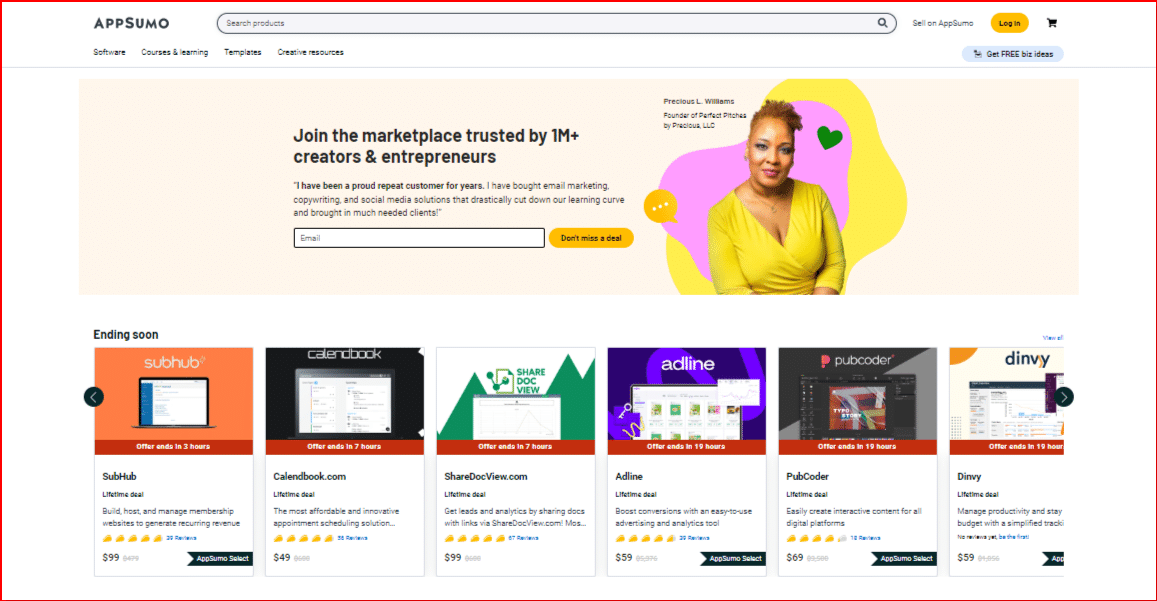 AppSumo is an online deals website that specializes in digitally delivered products and services.
Noah Kagan, an entrepreneur, identified a massive market opportunity in 2010. He required higher-quality software, more data, and a sizable online network.
To help other businesspeople, he created a website where he could sell tools at inexpensive prices.
AppSumo functions in two ways. To begin, AppSumo can work with businesses that sell services or digital items to provide deep discounts. As a result, more people may be interested in checking out their deals.
Second, the site features a variety of bargains that business owners can peruse. They can acquire resources that may aid their company's development at low or no cost.
Services for editing videos, software for managing projects, and even tools for social networking are just some of the things that are available to users.
How Does AppSumo Work?
To help promote their digital goods and services, AppSumo collaborates with vendors. This means they have to be willing to offer steep discounts on their goods and services in order to close the agreements.
Because of AppSumo's robust distribution network, these companies may generate a lot of sales in a short amount of time. Sales volumes justify the substantial discounts offered by the supplier.
In order to generate a profit, AppSumo broadcasts each sale to its massive internet audience. AppSumo provides a detailed description of each offer, including examples of its potential applications, details of the deal, a video demonstration, and feedback from previous buyers.
They join you as full partners in any endeavour, from writing copy to beta testing and reviewing your product.
AppSumo is able to fund its own operations while also benefiting from increased visibility and customer acquisition thanks to its partners.
About three times each week, loyal AppSumo customers (known as "Sumo-lings") are treated to brand new discounts. In terms of price, these bundles are unbeatable.
Some lifetime packages are less expensive than purchasing the same features from a different provider for a single year. In order to highlight each deal, AppSumo invests a great deal of time and energy. [/quote]
AppSumo is performing some of the most crucial work for you by just displaying the best of the best (10% of the applications they receive). Potentially good deals are limited in quantity, and once they're gone, you can forget about getting your hands on them.
As a result of the great deals on AppSumo, Sumo-lings save money and time, and AppSumo partners increase the exposure and sales of their products.
AppSumo Pros And Cons
10% discount on KingSumo subscriptions for Appsumo buyers

AppSumo have an average of 3.5M selling partners.

AppSumo Plus automatic email notifications for best deals available

There are almost 50 different kinds of inventory stock.

Price Discounts on a subscription basis daily, monthly, and weekly

AppSumo Endless Discounts & Deals

Policy of generous and equitable returns

Active and helpful AppSumo team

After the sale, several deals modify their terms and features. Deals on AppSumo may change.

lifetime deal could become inactive if the startup fails.
AppSumo Review: Tips For Buying Deals On AppSumo
If you choose to purchase a deal from AppSumo, the following is what you may consider receiving:
When a company doesn't have a product roadmap (a list of expected new features) and its tool is outdated and full of bugs, it's a warning indicator that it may soon go out of business.
The guides may be brief, poorly written, or nonexistent. If you're not extremely tech-savvy, this is something to think about.
In addition, the software is routinely updated soon after it leaves beta, so you may expect new versions to be available frequently.
Apps that offer "$59 for life" are often a lite version or early release. You may need to "stack" a few of the " AppSumo deals" To get the most out of your brand-new software. Multi-unit purchases are referred to as "stacking deals" on AppSumo. Usually, doing so grants you access to a branded or more robust version without the need to do so.
When looking to purchase new equipment, it's crucial to consider the associated learning curve. Some of the equipment you purchase will be intuitive to use (if you are computer literate). Or at the very least, they'll be on a level with what you're presently employing.
1. False Reviews
AppSumo greatly values user feedback. However, restraint is not a top priority. Reviews written by Sumo-lings are generally accepted without modification. Even while they play a crucial role in the AppSumo ecosystem, they have no say in how many tacos Sumo-lings contribute to a given product.
Profanity-addressed support issues and horrible troll posts are the sole review-related causes for removal.
Another source of negative AppSumo reviews is disgruntled current or former employees, which is to be expected no matter how great the working conditions are.
The disagreement has arisen about the large number of reviews posted by "Sumo-lings" who have only ever bought a single AppSumo offer or "Joined today." However, every month, 5,000 to 7,000 more Sumo-lings join the community.
The ability to provide feedback is important to participate in this community. However, students are also given a thorough rundown of the guidelines and requirements for submitting a review.
AppSumo has made it obvious how many times a reviewer has bought a product. This increases transparency and gives Sumo-lings more agency in how they evaluate the reviews they read.
A customer's trust in a reviewer can be increased by viewing their profile and seeing when they last purchased the deal they reviewed when they joined AppSumo, and how many other deals they have purchased.
AppSumo recommends that before making any final decisions, users check the validity of each review independently.
2. AppSumo Reddit Reviews
Reddit was recently found to be the second most reliable social media network in a poll conducted by the American Press Institute. In particular, for those people who are interested in reading the latest news and learning more about the world.
The question then becomes, "What is it about Reddit that people trust so much?" Authenticity.
Redditors have a common trait, as anyone who has participated in a subreddit community can attest: genuine interest in the subject matter. Knowledge and integrity are natural companions to a life well-lived.
The trustworthiness of a news report depends not just on the review source but also on the source's reputation. Customers have more faith in businesses run by people they perceive to be knowledgeable, genuine, and enthusiastic.
Check out the AppSumo reviews on Reddit if you're thinking about purchasing a deal from their site.
3. Review Your Current Software Tool
AppSumo has a deep familiarity with its clientele, which consists of sole proprietors, small teams, and even certain agencies. It's probably safe to assume that they structure the vast bulk of their dealings around the needs of small business owners generally.
When users are on a roll, they may make impulsive purchases from AppSumo. The AppSumo platform features several similar types of lifetime deals in close proximity to one another.
The fear of missing out (FOMO) takes a different form when it sets in after a purchase has been made and a better alternative becomes available (Fear Of Missing Out.)
Before ditching your tried-and-true methods in favor of the latest and greatest, take some time to evaluate whether or not this new gizmo is genuinely necessary.
Is it cutting-edge sufficient to be included in your arsenal of technologies? A new piece of software can be tried out for up to two months, with the opportunity of a return at any time during that period, if you have made an impulse buy on a good offer.
This is assuming there is a refund option in the offer. Be sure to complete your research before making a purchase because some retailers may not.
4. AppSumo Refund Policy
You can get your money back in full for any eligible product you buy within the time frame provided for that product. This is calculated backward from the date of purchase for whatever reason.
That implies you can ask for a refund on an AppSumo product for any reason within the given time range. Also, your money will be returned to you in full.
Deal Terms can be found on any product page on the website. Digital downloads, for instance, are not refundable. Check the Deal Terms section of each listing to see if the tool qualifies for our money-back guarantee.
After the return period has ended, we are unable to issue a refund. You should get started using your tool(s) right away. If you order early, you can give yourself plenty of time to try it out and decide whether or not to keep it before the deadline for returns.
All product purchases are subject to this policy. However, once you have redeemed the benefits of your AppSumo Plus membership subscription, there are no returns available.
You have the option to terminate your subscription at any time (to cancel your membership at renewal.) As this is a yearly subscription, there will be no renewal fees.
If you have any questions about AppSumo's return policy, we recommend checking out their Terms of Service.
Who Should Use AppSumo?
Most of the software discounts are geared toward entrepreneurs, so if you run a blog, do freelance writing or design, or have any kind of digital business, you should definitely take a look.
What I see most frequently on that platform are the following types of applications:
Video tools
Tools for Email marketing
Image editing tools
Tools for data analysis
Tools for search engine optimization
Tools for Producing Content, etc.
What Is AppSumo Plus?
It's worth it to join AppSumo's premium membership program, AppSumo Plus, for the perks alone. Advantages such as a 10% discount on all deal purchases and entry to KingSumo are part of the package.
If you are a Plus member and use it to make a purchase, you will receive a discount.
Once the benefits of this subscription have already been consumed, there is no option for a refund. No refunds will be given for membership-discounted cancellations of already purchased deals.
AppSumo occasionally offers real-world goods for purchase, like conference passes and printed books. Such items are exclusive to the use of fiat cash (exclusion of rewards and coupons).
However, the great majority of AppSumo products and AppSumo consumers will not be affected by this.
AppSumo Plus Pricing
Appsumo Plus has an annual price of $99, and you can cancel your subscription at any moment. Extended Access provides you with some useful features, like an additional three weeks' worth of time to determine whether or not Select tools are the best fit for you (some exclusions may apply)
AppSumo Review: Is AppSumo Worth It?
For business owners, AppSumo is a virtual gold mine of discounts and unlimited use of low-cost software. Risky investments have a 50/50 chance of paying off.
But a good one can make up for a string of failures by reducing the overall impact of purchasing a once-in-a-lifetime item from an unproven company.
Establishing rules for knowing when to purchase a once-in-a-lifetime offer will help you overcome deal addiction caused by fear of missing out.
If you want to know when new deals are added to AppSumo, sign up for their newsletter. And if you want to talk about them, you should join the LTDFans Facebook page.
Best AppSumo Alternatives
Our research of AppSumo shows that the AppSumo marketplace is still a solid option for purchasing apps and other digital content. Nonetheless, if you're undecided or just want to see what else is out there, we've compiled a list of alternatives to AppSumo.
1. StackSocial
Another veteran of the daily deals industry is StackSocial, which was established not long after AppSumo.
This company sells both physical and digital things, such as electronics, toys, and accessories for various lifestyles, among other categories.
To this day, the platform has been responsible for the sale of more than five million products.
2. DealMirror
If you're looking for an alternative to AppSumo, Dealmirror is an excellent option. They provide bargains and discounts comparable to those offered by AppSumo and boast that their greatest deals can save you as much as 97%.
Services and goods can be organized in a number of different ways because of their flexible organization possibilities., including search engine optimization, web space, lead generation, and social media, so customers may get what they need with minimal time and effort expended.
There is also a helpful Facebook group that is often updated with new offers and discounts that can be found on Dealmirror. Sign up for an account or log in if you're already a member, then keep an eye out for the best possible discount.
3. PitchGround
PitchGround is more than just a market for software that is provided as a service. They provide the typical features that are available in similar SaaS markets.
In addition to that, they provide a wide range of extra business solutions. PitchGround is not solely focused on the business of selling the business opportunities of other individuals because the company also sells its own products.
Bottom Line
AppSumo has quickly grown in popularity while continuously disrupting established digital companies. AppSumo is at the forefront of the digital sector since it provides entrepreneurs with the best tools, discounts, and solutions.
Cost-effectiveness and efficiency in accomplishing goals are hallmarks of the offered goods and services. The right resources can assist business novices and veterans alike get through the most challenging parts of their endeavors.
The finest portions, though, are the lifetime bargains that can result in substantial cost savings.
Here at AppSumo, we've come to the conclusion that AppSumo does what it's supposed to and is still fantastic if you're a die-hard fan or a savvy shopper. However, unless it addresses the issues that have been raised by customers and in reviews, AppSumo will swiftly lose popularity.
Now that we've covered the basics, here are a few of the finest AppSumo alternatives:
To the tune of 97% off, some offers on Dealmirror may be had by using the service. Products in many different categories, such as Search Engine Optimization, Social Media, Lead Generation, and Hosting, are available from them.
StackSocial has been around almost as long as AppSumo. Over five million different electronic devices, toys, and other stuff are available for purchase on their website.
PitchGround is a software as a service (SaaS) marketplace that sells discounts on a variety of different applications.
As a leading marketplace for lifelong bargains, Dealify backs its products for 30 days if you aren't satisfied. You may install their extension on Chrome and Firefox and never miss a deal again with their lifetime alert feature.
When looking for affordable customer relationship management, online store, and analytics solutions, SaaSPirate is your best bet.
Have fun finding great deals!
Frequently Asked Questions
Is AppSumo legit?
AppSumo, which acts as a bridge between software creators and purchasers, is, indeed, a legal website and business. In order to attract more customers and get valuable feedback on new goods, developers often offer deals for a single payment.
Is AppSumo free?
At this time, there is no cost whatsoever. Our AppSumo Originals products will provide you with the building blocks you need to launch and grow a successful seven-figure enterprise.
What is AppSumo used for?
Deals on digitally distributed goods and internet services are featured daily on AppSumo. In March of 2010, Noah Kagan, a self-described "serial online entrepreneur," created a company called AppSumo.
What is AppSumo marketplace?
The AppSumo Marketplace is a busy community where creators work together to offer their greatest digital downloads, courses, and apps for sale to other business owners.