If you are a business owner or freelancer seeking a way to advertise your products, then maybe decide between AppSumo and Pitchground.
That depends on the type of business you run and the objectives you wish to achieve with your marketing strategy.
In This article, I have come up with a detailed analysis of AppSumo vs PitchGround.
You most likely have a selection of tools in your possession that you put to use on a regular basis.
Your requirements are likely to get more complex and specific over time, and the programs you use now won't be able to keep up with those changes.
There is a good chance that you are having trouble meeting the recurrent financial obligations associated with your software subscriptions.
The fact that you may get software tools for a fraction of the price that you would spend on an official site is a significant benefit if you are looking for a quick hack.
Let's get started!
AppSumo Overview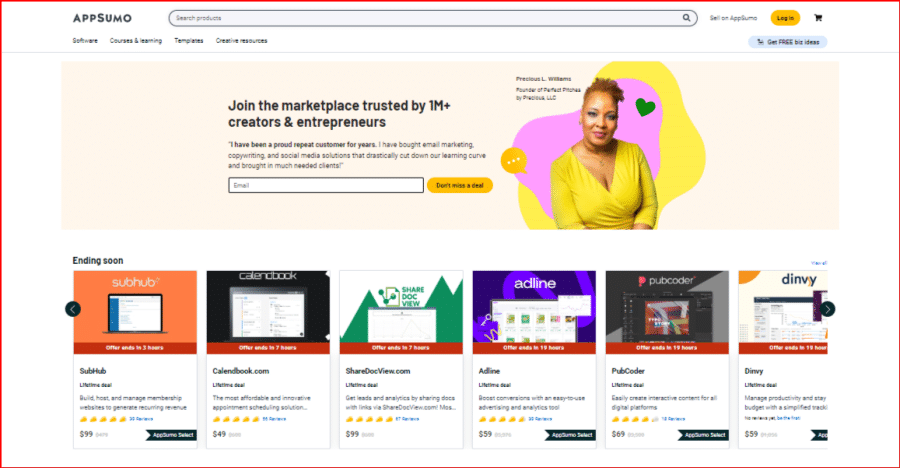 AppSumo is a marketplace for lifetime software deals. A technology offering is offered as a lifetime experience for a price that is a fraction of the annual cost.
Noah Kagan established AppSumo, a daily deals website, in 2010 in order to create a forum for people selling digital products and services and potential consumers, also known as Sumo-lings.
Appsumo's items are heavily discounted in order to entice buyers, which makes it unique.
AppSumo is basically a deal site that offers early adopters "lifetime" discounts on software applications.
They have a massive database of approximately 800,000 users that are passionate about gaining early access to software and scoring incredible prices as a result.
Looking to get more AppSumo deals then, Checkout our article AppSumo discount code.
PitchGround Overview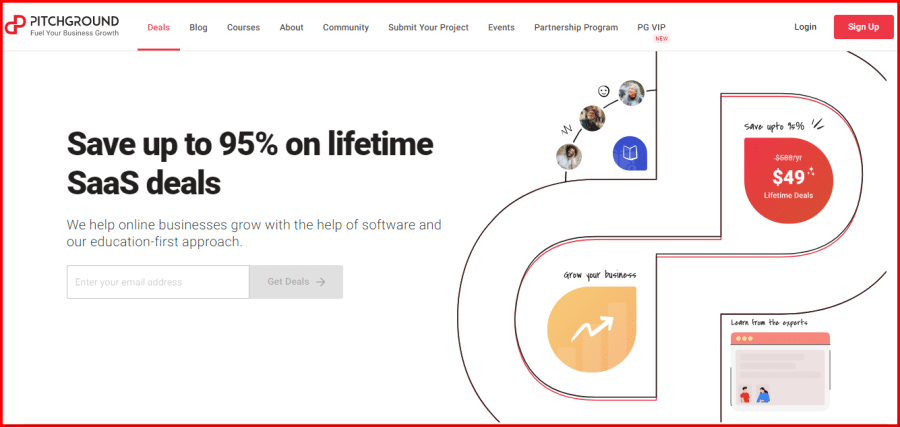 Pitchground is an online community that hosts sales on various types of software, as well as events and workshops geared for startup and small business owners.
Its primary objective is to serve as a meeting place for startup founders, marketers, and other business professionals.
Launched in 2018, Pitchground is an online marketplace for startups. In the first 10 months after its launch, more than 20 startups have raised over $1 million. Awe-inspiring, right?
In addition to its main website, Pitchground also hosts a Facebook group where members can talk to one another, share thoughts on items and prices, and perhaps even make professional contacts.
Many different offers are promoted on Pitchground. Included frequently are lifetime arrangements with software businesses, with rates ranging from zero dollars to $595.
Prices for lifetime access average $49, though they do vary by product. Some sales are time-limited, so you might need to make a quick decision.
Lifetime deals are beneficial because they save you money in the long run, as you won't have to keep renewing your membership every year.
If you enjoy using the product and find it helpful, you may keep doing so indefinitely.
AppSumo Vs PitchGround: Featured Comparision
Below, I have compared key features between AppSumo And PitchGround.
AppSumo features
There are many adorable AppSumo features, here I have listed some of the key features.
It enables the creation of personalized branding, ensuring that your brand is presented consistently across all of your channels.
Because it includes Facebook Pixel tracking already built-in, you will be able to monitor the effectiveness of your giveaways in real time.
You have the ability to create an endless number of freebies. Because of this, you are free to conduct as many giveaways as you desire, which will enable your mailing list to expand rapidly.
PitchGround Features
Starting a business online is not simple, and making your business noticed is even more difficult. There is an almost endless number of Software as a Service (SaaS) packages available on the internet today to meet nearly every demand of a small company, but it can be difficult to choose the correct one.
Pitchground is a platform that allows internet companies to interact with one another and share expertise and products to foster a mutually beneficial relationship.
The company's schooling approach to SaaS advertising enables organizations to quickly and affordably locate the items they require.
AppSumo Vs PitchGround: Pros And Cons Comparision
AppSumo Pros And Cons
| | |
| --- | --- |
| Pros | Cons |
| A lifetime Discount is available. | Customer support is not reliable. |
| There is a digital download option. | |
| eBooks and PDFs are available. | |
| Appsumo allows you to sell. | |
| Affordable pricing structures. | |
| Refunds are available for up to 60 days. | |
| There is free software and training available. | |
Conclusion
Overall, When comparing AppSumo vs PitchGround, AppSumo offers more discounts than PitchGround. This is because AppSumo has a longer history and is more well-known than Pitchground.
Users also get access to additional categories on AppSumo, as well as a simpler user interface. But if you want to get the best deals, you should definitely check out both of these bargain markets.
Frequently Asked Questions
Is AppSumo any good?
AppSumo is a very reliable and competent marketing firm. The bargains are excellent value for the money, and there is no pressure to buy if you don't feel like it right now. This has been my personal experience. If you frequently buy offers, you might want to think about using AppSumo Plus.
How long do deals stay on AppSumo?
It stays two weeks maximum.
What SaaS stands for?
A method of distributing applications over the Internet as a service is known as software as a service (or SaaS). You can avoid complicated software and hardware maintenance by just accessing software over the Internet rather than installing and maintaining it.
What is PitchGround?
PitchGround is a one-of-a-kind platform that closes the communication gap between early adopters, founders, marketers, and entrepreneurs. PitchGround was established in 2018, and in less than 8 months of operation, it has already assisted more than 20 firms in raising more than one million dollars through crowd fundraising.
What percentage does AppSumo take?
You will earn 95% of all revenue from any NEW AppSumo buyer (someone who has never had an invoice on AppSumo, free or paid, so you are introducing them to us) you bring to AppSumo via your unique partner URL. A NEW AppSumo buyer is someone who has never had an invoice on AppSumo, so you are introducing them to us. After taking into account any discounts offered to AppSumo Plus members, you will earn a revenue share of seventy percent for any returning AppSumo customers.