Are you looking for the best Babbel Review? If yes, then you are right place.
In this article, we have done an in-depth review of Babbel and listed its features, benefits, pricing, pros, and cons.
Gone are the days when you need to buy tons of books and dictionaries for learning a language.
You no longer need to apply for an in-person language learning course as there are countless applications and software in the market.
So, let's find out why Babbel is best among them?
What is Babbel?
Babbel is an online language-learning software. It is also a subscription-based app.
It's a German-based company and has been around since 2007.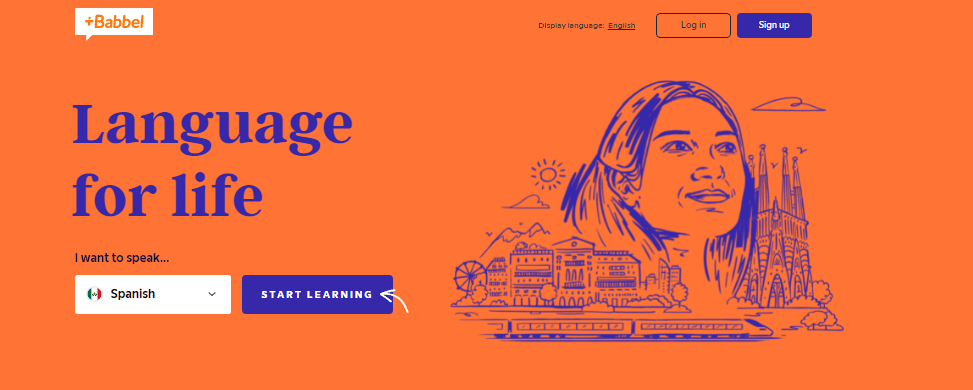 It offers interactive courses in 13 languages including English. With these courses, Babbel makes the language learning process a lot easier for subscribers as it offers access to a large library of audio lessons.
The app has a curriculum-based format with pre-recorded lessons.
Just with a stable internet connection, you can access the contents of this language learning software through a web browser or a mobile application and start your language learning process at home at your own pace.
Pros & Cons Of Babbel
It is great for Spanish and French

The lesson format is very easy to use

Audio lessons help in improving speaking and listening skills

Handy mobile app is also available which makes language learning dynamic

The repetitive character of the lesson

The fact that all the lessons are interlinked and they help in expanding the overall knowledge of the language

Comprehensive lessons and well-researched content

You get the opportunity to decide what and when you want to learn and it provides flexibility.

The interface is extremely user friendly

It does not have or allow any downloadable material

The exercises are not very inspiring
Who Can use Babbel?
Babbel is for anyone who is curious to learn a new language whether they can be an absolute beginner or at any stage in their language learning process.
It is useful for language learners as it exposes them to new vocabulary words and helps them improve grammar and sentence formation.
I started learning Spanish as an absolute beginner with Babbel and it has been a breeze.
As someone who has no idea about the language whatsoever, Babbel has really helped me get a good overview of its lessons and sentence structures. I have started to get a hang of the language as the learning progresses.
I also tried Babbel for French in which I had already had intermediate-level learning. Unlike most apps, where you have to go through the course from the very beginning even though you know the basics, the great thing with Babbel is that it allows you to jump around different levels.
So as an intermediate learner who had a good hold of the basics of French, I didn't have to go through the course from the very beginning but with Babbel, was able to jump around the level and pick up from where I had left.
This allows all types of language learners, whether they be advanced, intermediate, or absolute beginners, to navigate easily through their language learning journey.
How does Babbel work?
In this Babbel Review, we can observe that it has both a mobile application and a desktop application. It offers an interface that can be navigated easily. Also, the progress is synchronized on all your devices.
You can even log in from a different device and it will start right from where you left.
Babbel is a great software that teaches all essential language learning skills like reading, writing, and listening which help in the overall process of language learning and development. Babbel has short lessons as well as various types of tasks like:
Choose the right translation
Finish a dialogue with the given words
Get the jumbled words in a sentence in a correct order
Listen and write the listened word, etc
It starts with the basics that you need to be able to converse in any language. Like "what is your name?", "My name is…" and it further progresses into more complex sentences and grammar structures.
This makes Babbel great for beginners as they can get started with speaking the language with these simple phrases.
I don't know about you, but knowing how to say "How are you?" in Spanish on the very first day of taking the course makes me very confident and gets me excited for the next lesson.
To get started, here are the basic steps that Babbel asks us to follow:
Choose the language you want to learn
Take a short test for your application as it will help Babbel know your preferences
Try Babbel's free trial lessons
Get a paid subscription if you liked what you learned in your free trial!
Can you really learn a language with Babbel?
As an absolute beginner in Spanish, I decided to try and learn it from Babbel. Thus, I was able to explore the app and its various features that a beginner in language learning would experience.
The course material is different from language to language but this makes language learning more exciting as the course molds itself according to the needs of the language to be learned.
Also, this did wonders for my confidence as I was curious to see what other languages have in their course materials.
I have to say that the course creators have done a good job in researching and choosing the content for the courses because obviously, no one wants to learn a language in the traditional, boring way.
Babbel App Structure
In Babbel, if you choose the language to learn with the subscription, you get a very sorted structure, kind of like a roadmap for the course.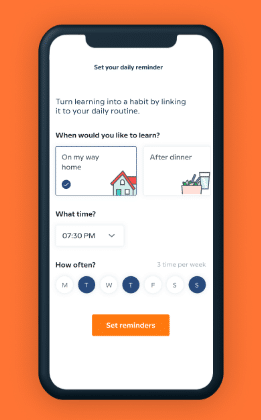 Every course has lessons and you must follow these lessons in order. This means that you won't be able to move to the next lesson by skipping the previous one because the only way to progress to the next lesson is by finishing and clearing the previous lesson.
This is very important as it shows the validity of the application.
Each language learning program will have a set number of courses. And these courses will have lessons. This makes it very convenient for a beginner to go through the language learning program.
The number of courses and the number of lessons in those courses differs from language to language. So, say if Spanish 6 courses, Dutch may have 5.
The number of these courses and lessons depends on the difficulty level of the language and its requirements in terms of how the language is actually structured to be learned.
Also, the best part, is you can go back and repeat and redo the lessons you have already done if you ever want to.
This flexibility offered by Babbel makes it great for beginners as they can refer to what they had previously learned in case they need to.
What languages can you learn on Babbel?
In this Babbel Review, we have listed the 14 different language learning courses, including English. If your first language is English, then you can learn the following languages: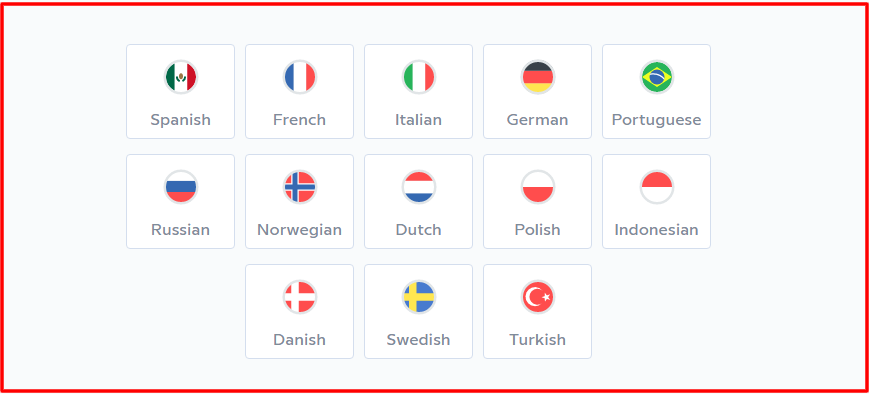 French
Spanish
German
Italian
Dutch
Portuguese
Russian
Turkish
Polish
Danish
Swedish
Indonesian
Norwegian
But if your primary language of communication is not English or if you want to learn English, whether it be right from the beginning or are looking forward to brushing up on your English skills, there are English courses that can be taken in the following languages:
French
German
Italian
Polish
Portuguese
Swedish
Now, if you are not a beginner but an intermediate language learner who actually has some idea of the language already and you would not want to waste your previous learning progress by starting from the very beginning, then you can take a quick prep course.
Babbel will position you in the appropriate section of the language program depending on your current skills in that language and how much you already know.
In my research for this article, I came across some reviews, and to my surprise, there are "good" and "bad" language courses in Babbel.
The Good Course Languages
Apparently, if you are looking to learn Spanish or French, Babbel is amazing. The way the courses are designed makes it extremely easy for language learners.
Also, the audio quality is great, and the accent is perfect. All in all, Babbel is great if you are looking to learn Spanish or French because it has a great course structure.
The Bad Course Languages
If you were looking to learn Danish, Italian, German, or any other language from Babbel, well I have got bad news for you – these courses aren't as great as Spanish and French, and here is the reason why:
The lessons in these courses were dragged out, and the voice artists did not do the best job in the audio lessons. Also, they were taught word-by-word vocabulary-wise.
The content available for some of these languages was not even enough. The lessons were typically quiz styled and not up to the mark, not even close to what Spanish and French language courses had to offer.
What Are The Features Of Babbel?
Babbel courses are offered as an online questionnaire. With just a stable internet connection, you can easily have a Babbel app on your phone, desktop, tablet, etc.
Each language is divided into subjects which are then divided into more specific courses, and each deals with a specific language feature.
For example, the Spanish program that I took consists of a 31-course vocabulary section that teaches basic words for everyday usage.
It also offers a review feature that provides additional exercises that the user can solve as practice. There are also listening, and writing exercises that involve widgets and flashcards.
You immerse yourself in a new language through real-life dialogues in audio lessons that help you speak the language and understand the accent right from the beginning.
Each course is built on your native language and personal interests which makes it more personalized and gives the learner an opportunity to enjoy the learning process.
Babbel has employed proven cognitive techniques in its software which means these techniques move new vocabulary that you learn in the course of time to your long-term memory so you actually retain the new words for a longer period of time instead of forgetting them right after a day of the lesson.
It also uses human voices and speech recognition techniques for its audio and speaking exercises respectively that get you to start speaking the language confidently.
The app also allows you to customize the language courses according to the language you understand.
For example, I was learning French so the course material was in English and I could easily navigate through the material the translation and meaning of the French to English sentences became very convenient to understand.
In other words, the courses you take can be tailor-made according to your preferences and at your convenience.
In this way, all these features make Babbel a very adaptable language-learning application that you can optimize to the best of your preferences.
What Are The Benefits Of Babbel?
Here are some of the main benefits of Babbel that I feel are good for you to know.
1. It helps develop your ability to focus better
Research says that people who speak or have knowledge of more than one language, for example, bilingual speakers, can absorb new information better and more efficiently than people who speak only one language.
Our brain goes through the process of incoming information and absorbing it using patterns inside when it comes to learning something new. Thus, this in turn is effective in improving the overall functioning of your brain.
It is also called executive functioning. Executive functioning means the brain's ability to send commands and accept new information and form cognitive reactions.
2. It keeps your brain fit
As mentioned earlier, the courses on this app are helpful in processing cognitive functions better. The various exercises in the lessons help in stimulating the brain, thus keeping it fit and going.
It also strengthens your brain muscles with the help of these language-learning exercises.
Thus, Babbel helps you in learning a new language with all the benefits that come with learning a new language that helps to deal with memory and testing your skills in the course of time.
3. With Babbel, you can learn a language at your own pace.
Since it is an online language learning app, the best part about this is that you can learn the language whenever and wherever you like. Thus, it does not impose any time or place restrictions.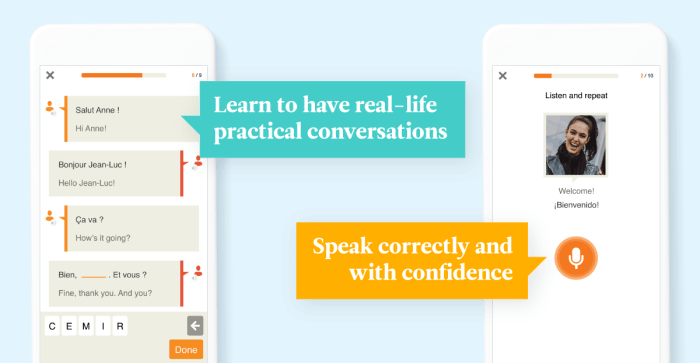 Unlike traditional, in-person courses, this app is extremely flexible when it comes to learning in general because it allows you to learn at your convenience.
You can even skip through the lessons you already know if you are an intermediate learner and not an absolute beginner.
You can even repeat some lessons if you feel like they are complex enough and repeating them will help you in understanding the concepts better.
4. It encourages you to use the language you learn in your daily conversation
The main aim of this app is not only to be proficient in your desired language but to also be able to use it in your daily life like speaking with native speakers or writing in that language.
The flow of the courses of this app allows an absolute beginner to go from slowly forming sentences to learning complex verb conjugations. This flow helps the learner to get used to the language in all aspects and gain confidence in it.
Babbel Pricing Plans
Babbel is an online subscription-based language learning platform.
The membership fees begin at 12.59 USD on a monthly basis. You can also buy multiple months' subscriptions.

Their six months billing subscription is their best-selling service. There is also an option for a premium subscription that grants you unrestricted access to the vocabulary program of your choice.
Considering the fact that traditional language learning courses often start at prices like 200 USD for beginner to advanced level language learning, Babbel is a relatively inexpensive program.
Here are the costs that Babbel mentions for subscription on their website:
| | |
| --- | --- |
| Feature | Description |
| Price (Monthly) | $6.95 to $12.95 |
| Languages | 14 |
| Course Structure | Flexible Structure |
| Skills | Reading, Writing, Listening, Speaking |
| Overall Rating | 9.3/10 |
One month (monthly billed) – USD 12.95.
Quarterly (billed every three months) – USD 26.85 (or USD 8.95 / month).
Every six months (billed every six months) – USD 44.70 (or USD 7.45 / month).
Annually (billed every 12 months) – USD 83.40 (or $ 6.95 / month).
Babbel Customer Reviews and Testimonials
Babbel is excellent – short and sweet and effective lessons and great quick review which is key to remembering. I love it! I'm learning Dutch!!

Celeste
Babbel has helped me to get a good grasp of the language in a fun and challenging way. I enjoy the dialogues and scenarios, which include helpful phrases that can be used in various situations.

Roslyn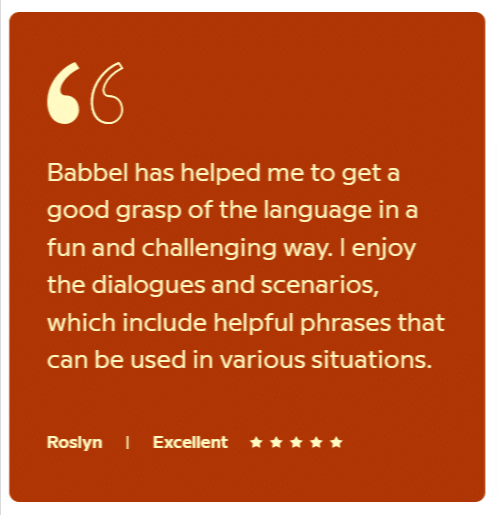 Great way to learn a language. Fun, interactive, and engaging. I am enjoying the course immensely and would recommend it to anyone who wishes to learn a second language

Pat
I love the app. I particularly like how it explains grammatical concepts as they come up in dialogues and practice sentences. I also love how they sneak in extra vocab in the dialogues that they don't quiz you on. What I like to do is write down all the extra vocab that comes up, then make cards in

Alexei Cifrese
It's challenging which forces me to actually remember. And it's not like other apps that start you out learning random words, you go right into learning sentence structure and how to actually start speaking, reading, and writing. I'm glad I decided to choose Babbel.

Molly McGuire
I decided to try for 6 months only. Ive been using for about a month now I have yet to get the mic to work on my android phone. Also some of the voices seen to be muffled at times. Both pc and phone. Lastly, on occasion they integrate sentences that have words i have yet to learn. Im taking spanish

Richard svalesen
The speaking portion almost never works, will act like it wants me to talk but there's no feedback on whether it hears me or not until a long wait. Pressing it again sometimes gets it to go through but a big enough annoyance that I turn that off and just repeat it aloud without mic. App is also more

Michael Zeckner
Babbel Social Presence
Let's look at the social profiles that Babbel has been using to help its users learn better.
LinkedIn Profile
Babbel uses its LinkedIn profile to share some interesting tips and useful guides related to its platform.
Instagram Profile
Babbel is on Instagram with over 53k followers, where they post different stories of their platform and users around the world.
Youtube Channel
Babbel is also on Youtube, where they share some great tutorials related to learning different languages and about their platform.
Facebook Page
Babbel is also on Facebook with over 1.5M followers. They post some really interesting things about the words and language that interest people to learn a new language easily.
Twitter Profile
Babbel has over 3,372 followers on Twitter, where they share news about their learning platform.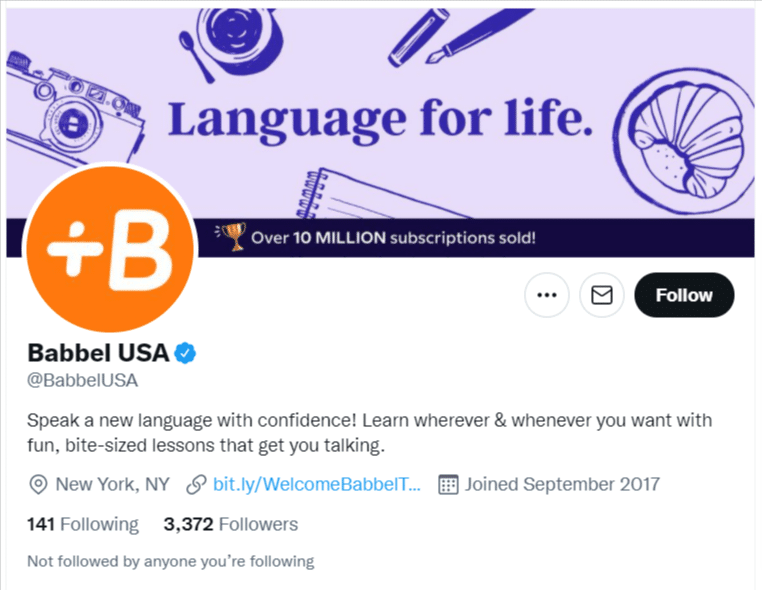 Babbel Alternatives
Here are some of the best alternatives to Babbel.
1. HelloTalk
HelloTalk is also great for intermediate learners as it helps improve their conversational skills.

With HelloTalk, you can converse with native speakers and help each other learn the language. It also becomes very authentic and realistic since it is kind of like a practice session for your real-life conversations.
Also, this app supports 150 languages. The software also includes translations and fixes hence if you are a beginner, you don't need to worry, since it has got you covered.
The basic service offered by HelloTalk is free. Although with the additional payment option you can study additional languages and get some more precise translations.
2. babbel vs duolingo
Duolingo is another application similar to Babbel. The only difference is that it does not ask you to pay to access their language learning materials unless you want some additional materials.
Another difference is that Babbel has lessons ranging from 10 to 15 minutes but Duolingo lessons only last for 5 minutes. So, if you are on a time crunch, Duolingo might be better for you.
This app supports over 20 languages and you can learn multiple languages simultaneously since it is absolutely free. It has a very simple course structure which makes it a great choice for beginners.
| Feature | Babbel | Duolingo |
| --- | --- | --- |
| Price (Monthly) | $6.95 to $12.95 | $0.00 to $12.99 |
| Languages | 14 | 36 |
| Course Structure | Flexible Structure | Strict Structure |
| Skills | Reading, Writing, Listening, Speaking | Reading, Writing, Listening, Speaking |
| Overall Rating | 8.9/10 | 7.4/10 |
3. Rosetta Stone
This is one of the oldest language-learning platforms available. It offers a very immersive environment for language learning.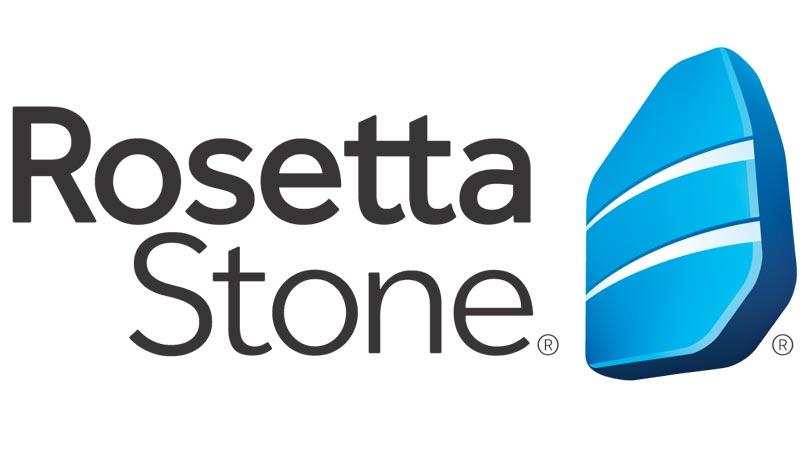 Rosetta Stone offers 31 languages on the desktop version but the mobile version only has 24 languages to offer. It is also more expensive compared to Babbel.
The annual subscription costs USD 179. The learning method is completely different from Babbel's. You may even say it takes a traditional approach to learning.
| Feature | Babbel | Rosetta Stone |
| --- | --- | --- |
| Price (Monthly) | $6.95 to $12.95 | $6.99 to $11.99 |
| Languages | 14 | 24 |
| Course Structure | Flexible Structure | Strict Structure |
| Skills | Reading, Writing, Listening, Speaking | Reading, Writing, Listening, Speaking |
| Overall Rating | 8.9/10 | 7.0/10 |
Final Thoughts On Babbel
In this article, we have done Babbel Review which is a great online language learning platform for beginners as it can help them get used to the language and reach an intermediate level.
If you still have any questions, do let us know in the comment section below and we will love to answer them.
Frequently Asked Questions
What languages can I learn from Babbel?
Babbel offers programs in 13 languages. Dutch, Danish, French, Indonesian, German, Italian, Polish, Norwegian, Portuguese, Swedish, Russian, and Turkish is among the languages that can be learned through this platform. There is even an English course that can be taken in German, French, Italian, Portuguese, Polish, or Swedish.
What level can you get to with Babbel?
Depending on the learning language, Babbel offers courses for beginners (CEFR level A1) all the way up to proficient learners (CEFR level C1). When you subscribe, you gain access to all courses and lessons, allowing you to discover something that suits your learning level, objectives, and requirements.
Can I learn Spanish in 3 months?
In just 3 months, you can learn to speak Spanish. You can read, write, talk, listen, and comprehend if you tackle this challenge with the appropriate mindset, set aside plenty of time, and keep your goals in mind.
What's the hardest language to learn?
Mandarin is widely regarded as the world's most difficult language to master! The language, which is spoken by over a billion people worldwide, can be incredibly difficult for those whose native languages employ the Latin writing system.
Is Babbel really effective?
Babbel offers you to learn Danish, Dutch, French, German, Indonesian, Italian, Norwegian, Polish, Portuguese, Russian, Spanish, Swedish, and Turkish. A program to learn English is also available, with tuition in French, German, Italian, Polish, Portuguese, Spanish, or Swedish.
How can I become fluent in Spanish fast?
9 Ways to Improve Your Spanish Fluency and Find Your Voice Become a member of Spanish Media. Subscribe to things, Never Stop Talking, Listen to Audiobooks, Move or Visit Abroad, Find a Spanish-speaking "Partner," Do Some Daily Spanish Writing, Talk to Yourself Out Loud, and Learn Your Grammar are the initial steps toward fluency.
is Babbel good for fluency?
If you're seeking a learning aid, look no further. Babbel would provide you with a foundational understanding of a language, but you would be far from fluent. Babbel is best used as an introduction to a language or as a supplement to other resources for practice.