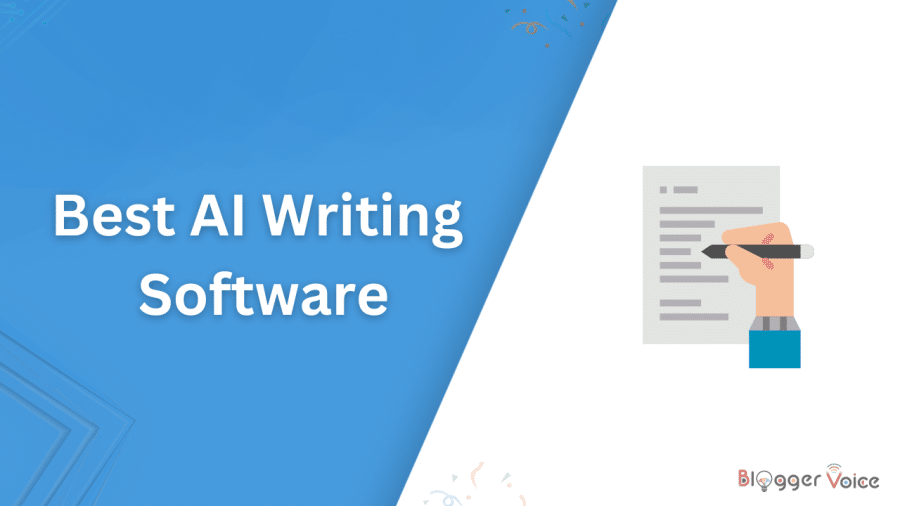 Are you looking for the best AI writing software that is brutally honest and comes from someone who utilizes these platforms? Then you have found the right page.
You can increase your output and eliminate errors with the help of AI writing software. With so many options for AI writing tools here on the web, picking the right one might be challenging.
For that reason, I have compiled a list of the 11 most useful pieces of AI writing software for you.
So let's get started.
What Is AI Writing Software?
AI writing software uses machine learning algorithms and artificial intelligence to create content that looks and sounds like it was written by a person.
Using these tools can improve the effectiveness of your blog posts, emails, email newsletters, ads, and more. It's so powerful that you can instruct it to produce a blog post on any topic you like as long as you give it some criteria, and it will do so in a matter of minutes.
It can improve the content in a variety of ways, such as syntax, context, and tone.
Using artificial intelligence, some word processors can recommend topics for essays. When compared to the cost, they are really worthwhile.
If you need someone to write the content for your website, try using an article generator driven by artificial intelligence.
Top 11 Best AI Writing Software
All of us contribute articles to various web portals. For some of us, the only viable means of contact are digital ones, such as emailing, texting, and using social media.
You need to be routinely creating high-quality writing in a number of media (blog entries, Instagram reels, TikTok videos, WhatsApp Stories, Facebook posts, product descriptions, etc.).
The unfortunate reality is that not everyone possesses the required skills. So, this is where the help of AI writing software really shines.
1. Jasper AI
Jasper AI tool is a wonderful writing assistant, it uses artificial intelligence to totally transform your content into a new version
Blog posts, essays, and poems may all be written with it, and it can even generate fresh content in your own voice and style.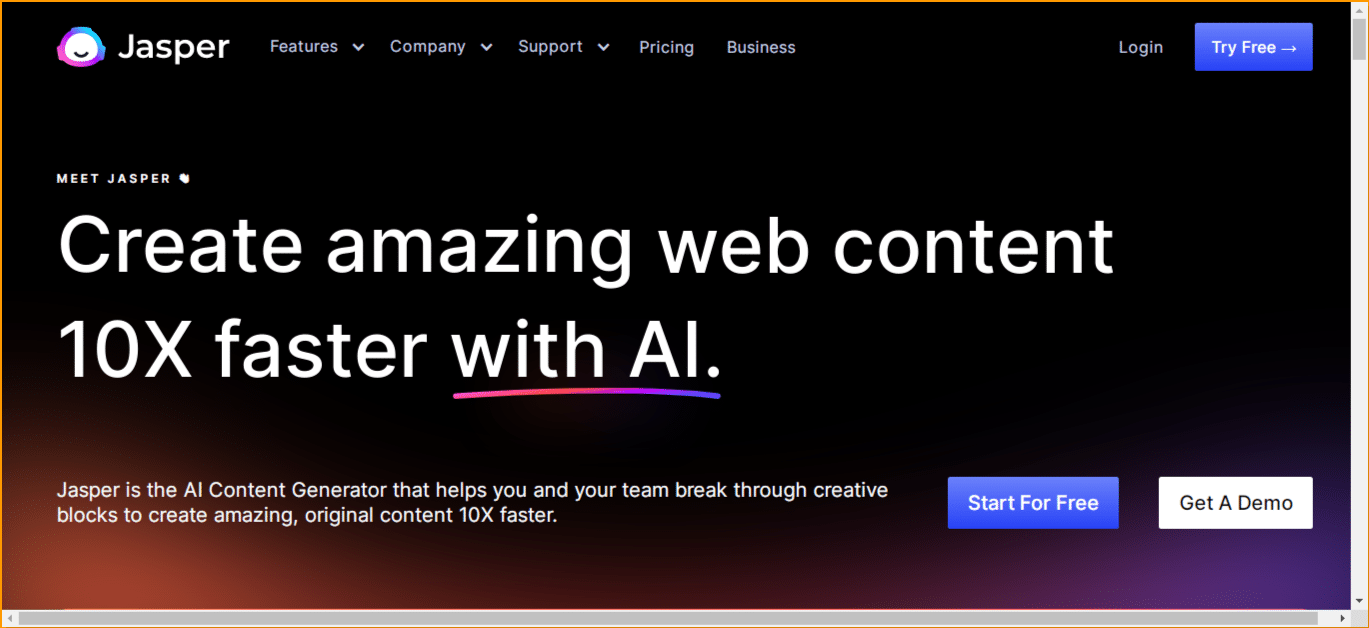 Learn more about the features and functionality of the Jasper AI interface, check out our in-depth "Jasper ai review"
The Jasper command enables you to automatically generate material. You need to simply begin a sentence for Jasper to finish it for you.
Spelling, capitalization, and grammar errors are detected by this automated method. Jasper gives you the option of incorporating visuals into your text.
Your entire content is shown visually, and the images aren't picked at random.
These images will be used to illustrate your text against a suitable backdrop. After a trademark issue with Disney (Marvel), the company has chosen to rename its artificial intelligence (AI) from Jarvis to Jasper on January 24, 2022.
For all of your content curation needs here, we (BloggerVoice) recommend using Jasper AI.
Key Features:
Content for Google Business Listing
Description Maker for YouTube
SEO Description & title generator
Quotations and Paraphrases Automatically
Automated Content Creation for Blogs
Over 25 Languages Supported
Seo Embedded in Browsers
Selection of over 11,000 fonts and 2,500 styles of writing
You Can Search For Specific Words To Substitute In Your Content
Automated Content Optimizer for Meta Titles and Descriptions
Online Help Desk
Jasper AI Pricing Plans:
The Jasper demo is available without investing a thing, and it can generate up to 10,000 words. If you find yourself needing access to a larger quantity of words, however, you can choose between two paid premium subscriptions.
Starter Plan: Prices begin with the $29/month starter package, which grants you access to 20,000 words every month.
Boss Mode Plan: The Boss Mode Plan costs $59 a month and provides access to 50,000 monthly words.
If your requirements are more specific than the available options allow, you can modify the word count and the price.
Bonus: Get the latest, exclusive Jasper AI discount coupons and offers right here.
2. Grammarly
I consider Grammarly to be among the greatest artificial intelligence writing software because it can be used on any device, anywhere. It corrects your spelling and grammar as you type.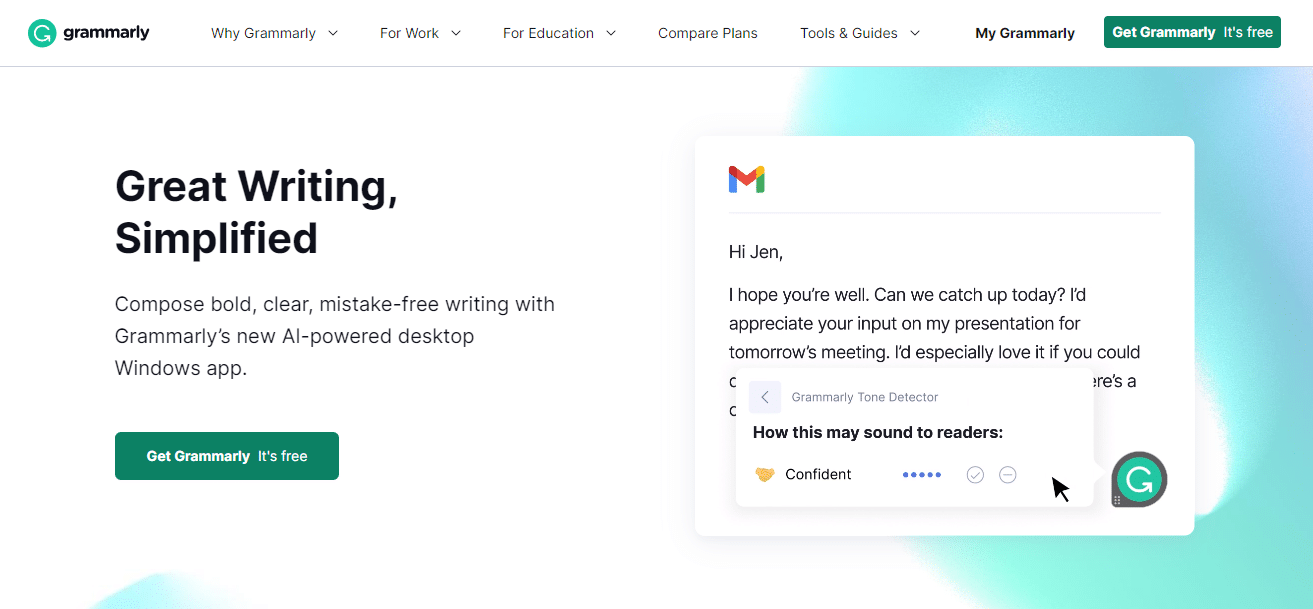 As well as checking for errors in American and British English, Grammarly also checks for them in Canadian and Australian English.
In addition, your writing will be checked by Grammarly for plagiarism. Until then, it offers suggestions for how to gradually raise your writing standard.
A Chrome add-on can also be used to check for spelling and grammar mistakes as you type.
These extensive tests have a high possibility of catching mistakes, so writers need to do little to no more work to ensure their work passes them.
Key Features:
Full Validation Utilizing AI.
Checking for Grammatical & Spelling Errors in Context.
Connect to every business app out there.
Help for several different tongues.
Safe browser extension.
Similarity Detector.
Language and Voice Analyzer.
Indices of Readability.
It's suitable for both mobile & desktop use.
Indicator of the overall quality of the content.
Pricing Plans:
There are three different price points available on Grammarly. To check for typos in grammar, punctuation, and spelling, use Grammarly's free plan.
We also do some basic textual analysis, looking at things like voice, quality, and clarity.
The $12 per month premium plan has no limits on features like the free plan does.
All Premium plan features are included in the Business Plan, saving you $12.50 per month per user. If you pay yearly, you'll save an additional 60%!
3. WriteSonic
WriteSonic, with its state-of-the-art AI technology, is the greatest content generation tool for e-commerce businesses, digital marketing agencies, and content providers in general.
In a matter of minutes, you may make a nearly exact replica of any text. Create landing pages, ads, email campaigns, product descriptions, and more with ease using this all-in-one tool.
To construct a similar statement, they utilize an algorithm that has already been taught. Ask it a question, and it will give you an answer.
With a few clicks of the mouse, you can create a comprehensive blog entry. It can even compose poetry or a summary if given specific instructions.
Key Features:
Uses the Proven AIDA and PAS Copy Formula to Increase Revenue.
Make Original Material Available in Over 20 Languages.
Quickly and easily produce content on any subject.
A Grammar Checker That's Already Built In.
See the AI in Action with the Free Demo!
Landing Page Templates Included By Default.
Content Authoring and Editing Software that Works Like a Text Editor.
Tool for Increasing and Rephrasing Content.
Draft Text for Websites, Blogs, Products, and Commercials.
Articles that have been enhanced for search engine optimization.
Pricing Plans:
With a WriteSonic free trial account, you get 10 credits to use however you like. In addition, there are four separate price points to choose from.
Basic Plan: For $15 a month or $150 a year, the Basic plan provides access to 75 credits.
Professional plan: The Professional plan's unlimited credit allocation comes at a yearly cost of $450 (or $45 per month). For $95 per month or $950 per year, the Startup plan provides uncapped credit usage.
Agency plan: The Agency plan, which costs $195 per month or $1950 per year, features an unlimited credit allocation.
4. ProWritingAid
If you're writing academic content and can't afford a single spelling or punctuation mistake, the finest option is ProWritingAid. Improved wording and grammatical checks, along with detailed feedback from experts, are all included.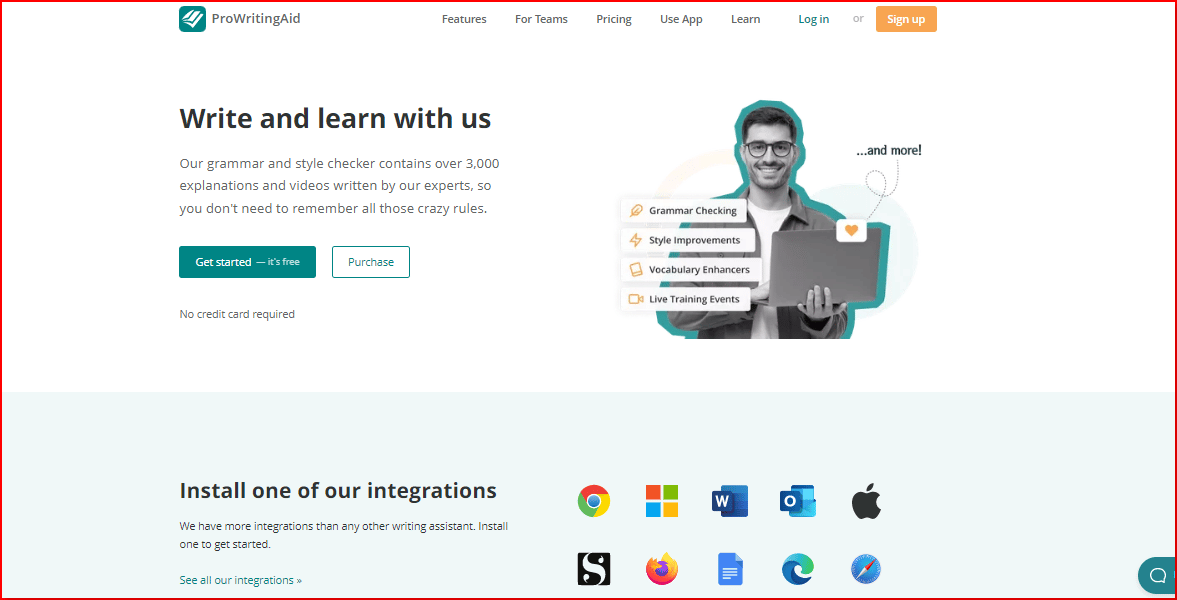 More than a thousand preinstalled fonts and layouts are at your disposal. With in-depth reports of your writing, you may evaluate your method and identify areas for development.
Films, articles, writing prompts, and other forms of creative stimulation are used in the editing process to increase motivation and fresh ideas.
Find and remove extraneous information from your writing with the help of ProWritingAid. It learns how you normally propose and makes corrections accordingly.
Key Features:
Finds Plagiarism and Fixes Grammer Errors.
Extensive Written Reports.
Easy-to-understand metrics for involvement.
Easy Access to the API.
Tone-based text analysis.
Data visualization.
Sentence style formatting.
integration with well-known platforms such as Gmail and Medium.
One hundred percent an online service.
To avoid ambiguity and improve your writing, consult a thesaurus that understands context.
Pricing Plans:
ProWritingAid is available for no cost for basic use; however, the premium features can be unlocked for $20 monthly, $79 annually, or $399 all at once.
If you sign up for the lifetime subscription, you'll have access to all future updates and improvements, as well as priority access to our top-notch support team.
5. Rytr
While it's true that overcoming writer's block might be difficult, Rytr makes it feasible to conceive ideas within a very short timeframe.
Get fresh ideas for blogging from this writing prompt and get them up on your site as quickly as possible.
Producing material that could result in sales could be done much more quickly. Prior to the generation of an article, you can select from a number of distinct emotional states.
Enter the term you want to emphasize and select the content type, then relax while Rytr generates your material.
Key Features:
Choose From More Than 20 Different Applications.
More than 30 languages are supported.
Gain Access to More Than Twenty-Five Distinct Forms of Content.
The Structure of a Sentence.
The range of voices is more than 18.
Creator of Style Guide.
Simple and Straightforward User Interface.
A Premier Community Service for All Users.
Similarity Detector.
We assign a personal representative to each of our clients.
Pricing Plans:
You can write up to 5,000 words every month with Rytr's free service. Optional lower and higher price points are also available.
For $9 a month or $90 a year, you can have up to 50,000 words generated with the Saver plan. You can have an endless supply of material made for you if you're ready to pay $29 per month for the Unlimited plan.
6. Article Forge
Article Forge uses a deep learning feature to set itself apart from competing AIs in terms of the uniqueness of the material it generates. The anti-plagiarism software Copyscape has given it a clean bill of health.
It produces original, high-quality articles that search engines adore and reward with higher page ranks. The eight deep learning models used by Article Forge are a significant improvement over the single model used by the vast majority of AIs.
In a couple of seconds, it can produce an essay with human-sounding prose and the greatest possible quality material.
In less than a minute, the system can produce high-quality content based on a single keyword and a few other parameters (headings, article length, etc.). No typos or grammatical mistakes were found in this work.
Key Features:
Producing Protracted Content.
Automatically Inserts Videos, Headings, and Titles.
Errors in grammar and spelling are detected and corrected.
Put Your WordPress Posts On Autopilot.
Quick and Effective Content Creation.
Capable of writing in seven different tongues.
Bring in Backlinks Mechanically.
Manages research projects that need to go outside the company.
Articles that have been enhanced for search engine optimization.
Write Complete Articles for Your Blog.
Pricing Plans:
There are two subscription options for Article Forge, as well as a free 5-day trial.
The Standard plan is $57 per month or $27 per year and gives you access to 250K words per month.
Unlimited plan members can upload an unlimited amount of content for $117 per month or $57 per year.
7. Copysmith
Copysmith makes use of cutting-edge machine learning to expedite the production of conversion-optimized content.
Award-winning writers, marketing pros from renowned agencies, and experts in AI from some of the world's most prestigious IT companies came together to create Copysmith.
Through editing and reviewing, the software can "learn" your preferences. Copywriters struggle the most when staring at a blank page and trying to conceive ideas.
Copysmith will do all the hard work for you once you enter your target keywords. When that's done, you can spend as much time as you wish to edit and refine the final draught.
Copysmith serves as a nexus for the generation, refinement, and evaluation of textual materials.
Copysmith may increase your article-writing speed by a factor of 50. Applying this guidance will enhance your blog's and content promotion income by a factor of two or more.
Key Features:
Ideas for often inquired about matters.
Astonishing dedication to the satisfaction of one's clients.
Plagiarism-detection equipment.
Plus a great deal more besides.
Computer-generated text paraphrase.
One who can pull the most important information out of the text.
Easily navigable and comprehended user interface.
Formats for Online Product Description Templates (Amazon, Shopify).
YouTube Video product placements are a form of advertising for consumer goods.
Preparing a plan, creating the piece, and uploading it to a blog are all examples of blog writing.
Templated social media ads for use on sites like Facebook, Google, Instagram, and LinkedIn.
Pricing Plans:
Copysmith currently offers the following three subscription tiers:
Strater Plan: this plan has a monthly subscription fee of $19 or an annual fee of $192.
Professional Plan: The cost of the Professional Plan is $59 per month or $600 per year.
Business Plan: Strategies for Running a Business Users on the business plan are free to pick and choose which services they need.
They can choose from a number of features, such as account white labeling, bulk data export/import, customizable templates, and a personal account manager. Included with this bundle is the option to schedule a live demo with the Copysmith team.
8. WordAI
WordAI is a content spinner that uses the user's input to create new text while preserving the original's meaning.
However, this AI-driven content generator does have one major drawback: it requires you to supply the original content in order to make new copies.
The revised articles will vary from the originals in style, syntax, and organization.
WordAI uses a machine learning model to examine a sentence's context and identify how different words contribute to the meaning of the whole. This practice is employed to create the impression that the initial content was authored by a human.
If you have the original text in.txt format, you can upload that and it will instantly produce new versions in various formats.
Key Features:
Rewrite Multiple Articles at Once.
Changes the meaning of words to give them a new twist.
Makes Up Original Headlines For Articles.
Automation that rewrites articles using artificial intelligence.
Comma Separated Sentences.
Avail yourself of as many as a thousand rewrites of your article.
Connects to the Copyscape system.
Verify for typos and grammatical mistakes and fix them.
Improve the quality of your content.
Available in four languages: Italian, English, French, & Spanish.
Pricing Plans:
If you're interested in trying out WordAI, you can do so without any obligation for the next three days. There are a few distinct price points for WordAI's three subscription tiers.
The monthly plan costs $57, while the annual plan costs $27. Contact the company's sales team for additional information about the Enterprise plan.
9. ClosersCopy
Although ClosersCopy is relatively new in the field of AI writing, don't let its youth deceive you; in its short time on the market, it has absorbed the greatest features from the industry's leading platforms and produced a formidable suite of features for your use.
ClosersCopy, like many other AI writers, is based on GPT-3 technology; however, the business asserts that the GPT-3 modules it employs are far superior. These modules were designed to produce promotional carbon copies.
Due to ClosersCopy's ownership of the underlying technology, there will be no content filters, limitations, or restrictions for users to work around.
ClosersCopy provides a variety of marketing materials, like sales letters, email scripts, advertisement layouts, and website templates. Depending on your needs, you should consult either of these two resources, as they each provide a unique combination of information.
A product description template, for instance, might indicate where information such as the product's name, kind, intended purpose, and so on should be entered.
ClosersCopy will swiftly produce a refined product description based on the hints.
Key Features:
Listserv Promotion.
A truly elegant interface design.
Wandering Automatic Writing.
Optimization Strategy Canvas, or PLANNER.
This is what people mean when they say "long form."
Examination of Search Engine Optimization Methods.
Captions for use on social media and campaign signs.
Using AI in Corporate Settings, Online Journals, and Fiction
One who can translate between more than a hundred tongues.
Pricing Plans:
If you subscribe to ClosersCopy on an annual basis, you are entitled to a 25% discount on any of the available plans.
Power Plan: The annual price of the Power Plan is $419.90 (or $49.99/month).
Superpower Plan: The Superpower Plan can be subscribed to for a total of $79.99 per month, or $671.90 per year. This approach has outsold the other two as the preferred choice.
Superpower Squad Plan: The annual price of the Superpower Squad Plan is $839.90, or $99.99 per month.
10. Peppertype.ai
Peppertype is an AI-based writing tool that can meet all of your company's writing requirements by generating text that is rich in keywords and search engine optimization (SEO).
More than 20,000 consumers and 1200 businesses rely on Peppertype.ai as their primary content solution.
Peppertype.ai expedites the production of high-quality writing by combining human knowledge with artificial intelligence. In order to accomplish this, it provides users with a "Favorites" folder where they can store customized versions of various copywriting styles.
Choose an appropriate theme from more than 30 content types, and press play; the material is already prepared. The user can tweak the final product to their liking.
Peppertype combines AI and ML to quickly generate high-quality articles.
Key Features:
Internet billboards on Facebook.
Copywriting using the AIDA, BAB, and PAS frameworks.
Fun and interesting frequently asked questions.
Those with search engine optimization-focused titles.
Captions for social networking.
Alter the point of view of a piece of writing from the first person to the third.
Synopses of Videos on YouTube Over 30 ready-made layouts to use as a starting point.
Come up with Blog Subjects, Outline, Intro, and Content.
Pricing Plans:
There are presently three price points for Peppertype.ai.
Starter Plan: For independent workers, small firms, and contracting groups, the Strater Plan is an excellent choice. There is a $35 monthly charge and a $25 yearly charge.
Growth Plan: For sole proprietors, small enterprises, and corporate marketing teams, our Growth Plan is the perfect solution. For a total of $165 per year, or $199.99 per month, you can sign up for this plan.
Business Plan: Our adaptable business plan is ideal for wholesalers, retailers, and other market intermediaries, as well as larger businesses.
Due to the individualized nature of the service, a quote will need to be requested by calling Peppertype.ai's help desk.
11. ChatGPT
ChatGPT, OpenAI's newest offering, is a text-based answer generator calibrated with a customized version of the GPT 3.5 language model.
OpenAI employed the RLHF (Reinforcement Learning Human Feedback) method to train ChatGPT to interact with users in a human-like manner.
It works similarly to a conversational interface, so all you have to do is type in a question and it will provide you the information you need. If you don't like the response you got, you can request a different one.
InstructGPT is quite similar to ChatGPT in that it functions as a human-like question-and-answer system. Original works can be developed with the help of ChatGPT.
To illustrate, I typed in "List the finest AI writing software," and the results are depicted in the graphic below.
Since ChatGPT uses the data already saved on its servers rather than accessing an external database, it isn't always accurate.
Key Features:
We received a prompt reply.
Many applications.
Refuses unwanted requests.
Keeps in mind past talks.
Educated in the ways of humanity.
It's based on the GPT-3.5 model.
Pricing Plans:
Beta versions of ChatGPT are freely available to the public to promote exploratory studies. However, details on costs (pricing plans) are on the way.
What Are The Best Free AI Writing Software?
All the mentioned AI-enhanced writing tools have free versions or trial periods you may check out. free AI-powered content writer.
Jasper ai
Copy AI
WriteSonic
WordAI
Rytr
Why Use AI Writers?
Even more so in today's competitive business climate, when you need to crank out a large volume of pieces fast to keep ahead of the pack, the process of writing content is arduous and time-consuming.
Any profession can benefit from using the artificial intelligence sales software.
With the help of AI writers, you'll never get stuck again. It only takes a few clicks to put together a piece of content. Companies can refocus their efforts if they no longer need to devote as much time to content creation.
Because of this, you'll be able to increase your site's traffic. Several forms of advertising copy can be generated by AI writers. It's high time you started utilizing one.
Benefits Of Using An AI Writing Software
There are several benefits to having artificial intelligence-based software handle your writing for you.
Because the program handles the tedious details on its own and all you have to do is guide it, you can speed up the production of high-quality content while maintaining the same level of quality.
The software makes it simple to generate ideas for use in subsequent writing endeavors.
It helps you hone your writing voice and steer clear of the grammatical slip-ups that even the most well-read among us are prone to make.
It gives your data a great structure, making it easy to read for your readers. It helps you make content that readers will enjoy and that will benefit your business.
Developers of artificial intelligence (AI) writing software regularly release updates that introduce new features and improve the quality of existing ones.
Is AI Writer Worth It?
Absolutely!
An artificial intelligence content writer tool's primary benefit is that it speeds up the writing and publishing processes, allowing for more information to be produced and distributed faster.
Writing tools powered by artificial intelligence are extremely beneficial to businesses that engage in content marketing, for a variety of reasons, including the facilitation of the planning, the development of ideas, and the removal of writer's block.
If you frequently generate material for blog posts, product descriptions, website landing pages, social media posts, advertisements, video descriptions, and/or emails, using AI writing software can save you both time and effort while producing high-quality content.
Conclusion
My annual review of the 11 best AI writing software programs is now complete. I rely heavily on Jasper AI (formerly Jarvis) and Grammarly. A single typo can ruin an otherwise excellent piece of writing and have a devastating effect on a business's reputation.
Therefore, it is crucial that you often use AI writing software to check your work for mistakes. Enter a keyword, and the software will write the entire piece for you.
In the hopes that it may aid you in making an informed decision, I have compiled a list of what I consider to be the greatest AI writing software. Leave your thoughts on the query about AI-written software below.
Frequently Asked Questions
Can Google detect AI writing?
Always and without fail, Google will detect AI-generated material and the people who use it. Those that attempt to manipulate Google's search engine optimization (SEO) algorithms through deceptive methods have always been unsuccessful, and this time will be no different. The integration of AI into the media production process is here to stay.
Which AI tools is best for writing?
All the mentioned AI-enhanced writing tools have top features to be the best as well as have trial periods you must check out. Free AI-powered content writer: Jasper ai, Copy AI, WriteSonic, WordAI, Rytr, etc.
What is the best AI content creator?
1) marketing-related material, editorials, and articles, Jasper AI is an automated copywriting software. 2) It's artificial intelligence, therefore you should just copy it. Copy AI is a marketing tool that uses AI to write copy.