Whether you've been selling on Amazon for years or you're just starting out in Amazon affiliate marketing, knowing which keywords are the most popular on the #1 eCommerce search engine is a game-changer.
The Amazon keyword tools help sellers figure out who might buy their products. You can use the information you gather to come up with an Amazon marketing plan and make your products more visible and move them up in the rankings.
In this post, we have a list of some of the most popular Amazon keyword research tools. It's not easy to sell on Amazon. Choosing the wrong product and the wrong keyword could cost you time, effort, and money.
Best Amazon Keyword Tools For Extensive Research
1) Sellzone
Semrush, a pioneer in digital marketing, offers you Sellzone, a potent toolkit for Amazon merchants. It began as a tool for doing split tests on your Amazon product listings a year ago.
Since then, it has developed into a whole toolkit aimed at assisting Amazon sellers to maximize their time and resources.
With almost 200 million keywords in its database, Sellzone offers a sizable keyword library. You can simply rank high-volume keywords for your Amazon listing with the aid of the Sellzone keyword research tool.
As your seed keyword, you'll begin with a search term related to your product. To create keyword phrases that are specific to your product, apply smart filters. The tool offers filters that let you access a list of long-tail keywords by phrase, broad, exact, or similar match in addition to the most popular keywords.
Additionally, filters make it simple to omit any superfluous words and phrases. From there, you may identify the quick wins to focus your listing optimization on. The list of words and phrases is exportable if you want to further enhance your product listing.
2) Jungle Scout
We adore Jungle Scout for a variety of reasons, but one of our favorites Keyword Scout tools. On the basis of vital data points displaying both specific and general search volumes, you can compile high-ranking keywords.
Additionally, you can discover exactly what purchasers are looking for thanks to their reverse ASIN search feature.
It's incredibly simple to locate high-converting keywords and see the historical search volume of any keyword using Jungle Scout's Keyword Scout Tool.
You might learn more about the keyword approach of your rivals. The best thing is that sorting the lengthy keyword list is simple with advanced filters.
Additionally, you get discounts using a Jungle Scout promo code worth 55%.
Jungle Scout currently supports nine Amazon marketplaces, including the following:
Canada
France
Germany
India
Italy
Mexico
Spain
United Kingdom
United States
3) Helium 10 Magnet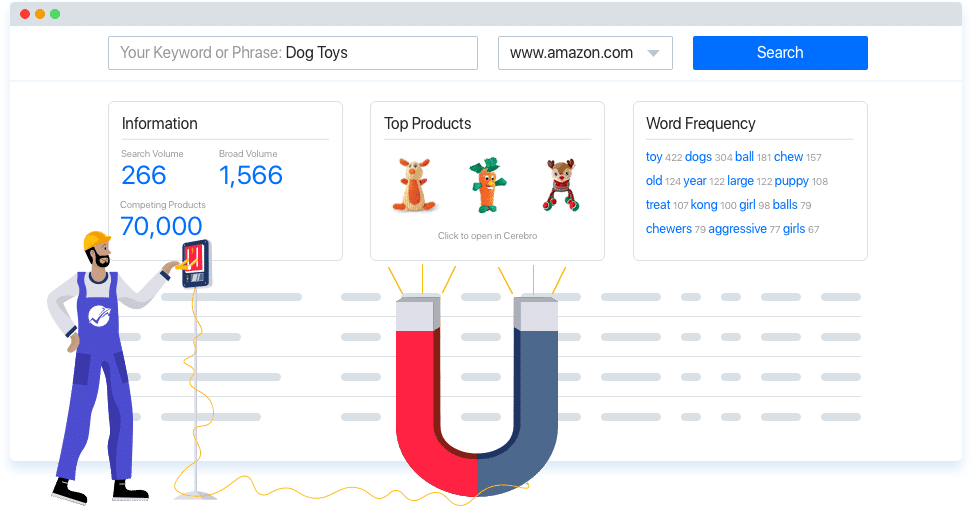 Helium 10 promotes its product as a ridiculously powerful software tool for Amazon sellers. With good reason.
This Amazon tool is one of the most potent tools on the market right now.
Helium 10's keyword research tool allows you to quickly find hundreds of easy-to-rank and relevant keywords for your products. The best thing about Helium 10 is that it has the world's largest keyword database. The magnet can also be used to search for long-tail keywords.
Helium 10 supports the following markets and databases: France, the United States, the United Kingdom, Spain, Italy, Denmark, and others. Even Helium 10 provides a free trial, allowing you to try the Helium 10 keyword research tool without paying a dime.
4) Viral Launch
A keyword research tool is one of a number of Amazon goods called Viral Launch.
You'll get a big list of pertinent terms at your disposal after entering your selected keyword in the search bar, along with helpful metrics for priority means.
You can arrange the findings in a useful way and access them later when necessary by exporting the results.
Viral Launch software uses exact and broad match keywords to combine historical trends and purportedly best-in-class straight from Amazon traffic predictions to refine a small number of phrases that will have the biggest impact on your organic work and ad efforts.
5) Scope by SellerLabs
The scope can help you find profitable keywords as well as products.
Each keyword in their database is accompanied by supporting information such as monthly search volume, relevance score, impression rates, and CPC costs. Using these key insights, you can eliminate guesswork from your PPC campaigns and select the most profitable keywords.
The tool can also perform Amazon reverse ASIN searches. It displays the keywords for which a competitor's products are currently ranking.
This is an excellent option for sellers who already have an Amazon store and use Amazon FBA.
Because these are paid plans with no free trial period, you should carefully read the details of each plan before clicking the pay button.
6) Unicorn Smasher
A free Chrome extension called Unicorn Smasher appears in the upper right corner of your screen to show you what is currently functioning.
A Chrome extension tool called Unicorn Smasher aids with product research.
If you sell products on Amazon, you should think about using Unicorn Smasher to uncover successful keywords.
The author of Unicorn Smasher, AMZ Tracker, also allows users to integrate with it.
The Amazon seller visits the Amazon website, conducts a keyword search, and then uses Unicorn Smasher to retrieve the data for each keyword.
The very best?
The use of this tool is cost-free!
Both the United States and the United Kingdom can use Unicorn Smasher.
7) MerchantWords
MerchantWords is an excellent Amazon keyword tool for sellers looking to boost sales. Sellers can use this tool to obtain valuable keywords without requiring extensive SEO knowledge.
Merchant Words should be near the top of your list if you're looking for a well-rounded and reasonably priced tool. Even better, they'll recommend longtail keywords, which far too many Amazon sellers overlook.
The tool includes a powerful ASIN lookup tool to help you spy on your competitors. You can also easily create and save a keyword list there. The thing is, MerchantWords supports all of the major Amazon marketplaces, including the United States, United Kingdom, Canada, Australia, Japan, Italy, and Denmark.
8) DataHawk
With the help of artificial intelligence and semantic analysis, Data Hawk can help you find keyword opportunities and improve your organic ranking. It can also show you how hard it is to rank for each keyword, so you can figure out which ones are worth it.
You can find keywords to bid on for pay-per-click campaigns by using Data Hawk. It can store data from the past, so you can look at and analyze data from weeks or months ago.
Data Hawk can be linked to more than one Amazon Ads account.
From an easy-to-use dashboard, you can get a lot of information about your ads, like the number of impressions, clicks, conversion rate, total sales, and more.
Conclusion
In Amazon's increasingly competitive marketplace, you must make use of all available information and insights. Every Amazon keyword tool listed above can assist you in gathering keywords to increase sales and optimize your listings.
There are two top choices for the best Amazon keyword research tools. And those are listed below:
Jungle Scout provides the most accurate and trustworthy keyword data and insights.
Helium 10 — A mobile solution with a powerful yet user-friendly keyword research module. (The first option for beginners).
That's it; we've explained which tool you should use. Now it's your turn: which tool from the list above will you choose?