Using Amazon PPC software is a requirement for any Amazon merchant. It can be challenging to maintain track of all your campaigns and their key performance indicators because Amazon's ad system is getting more and more complicated.
In fact, Amazon's market share in the U.S. eCommerce retail market is predicted to surpass 50% this year, according to Statista. Consumers claim to be more likely to buy something from Amazon than any other website, with over 90% saying this. Naturally, Amazon doesn't limit its sales to justify itself.
It enables third parties to sell on their marketplace. In fact, Amazon has almost 2 million active sellers right now. In the first three months of 2021, Amazon added 280,000 new vendors, and an additional 1.2 million are anticipated to do so over the rest of the year.
That is why I have compiled this list of the best Amazon PPC software and tools to assist you in determining which will be best for you in the long run.
Fortunately, there are a variety of Amazon PPC software tools available to assist you in setting up, managing, monitoring, and optimizing your campaigns. There is a wide range of useful tools to make your life easier, from simple dashboards to full Amazon PPC automation software.
In short, here are the best Amazon PPC tools as per our findings:
Overall #1 Recommended PPC Software: Adtomic by Helium 10
The Best for Managing Your Ad Campaigns: Sellics
The Best Tool For Managing Your Amazon Campaigns: Kinetic PPC By Viral Launch
Best Amazon PPC Software Management Tools
1) Adtomic By Helium 10
Note: To get more detailed insights into AdTomic make sure to check our detailed Helium 10 Review here.
The all-in-one platform Helium 10 has a wide range of capabilities to support Amazon sellers. Every stage of the seller journey is covered by their solutions, from locating profitable goods to selling to boost your conversions.
You can quickly create your campaigns in accordance with your objectives by using the helpful predefined campaign tactics and templates offered by Adtomic, a part of Helium 10's Amazon PPC software. Additionally, some Adtomic functions, including keyword bid management, are AI-driven.
With its automatic keyword suggestions, this function helps you save hours of keyword research. You have access to over 23 tools with Helium 10 that can help you take your business to new heights. We have also listed the Helium 10 Coupons for the same.
2) Zon.Tools
Zon Tools makes software for Amazon PPC that helps with enterprise management and automation. It automates the best ways to use Amazon Sponsored Products and lets you manage your campaigns. Their smart engines are adaptable and can fit any Amazon Advertising goal or strategy.
You get training materials to help you learn how to set up this tool, and you also get a tour of the tool. But this isn't the best way to automate PPC campaigns with one click because it takes a long time for PPC campaigns to show an increase in ACOS. Advertising on Amazon is always changing, but Zon.Tools stay on top of it so that their users are always up to date.
They have a variety of algorithmic engines that are their own. Some of these are Auto-Mate 3.0, KeyWord Miner, Target Miner, Bid Gambler, Term-Inator, ASIN-Ator, KeyWord Guardian, KeyWord Recycler, and Bid Nailer.
3) Teikametrics
Teikametrics is the best choice if you want a simple and dedicated Amazon PPC software. Many Amazon seller software providers aim to provide sellers with an all-in-one solution, but Teikametrics focuses solely on Amazon advertising. It can manage your keywords, create campaigns, and automate bid management, among other things. You can even delegate optimization decisions to the tool's AI.
Create product-specific campaigns for product launches, sales growth, profitability, and more. To attract new customers and beat the competition, use keywords to target buyers.
It makes use of algorithmic keyword bidding. Teikametrics' self-learning models use your product margins, lifecycle stage, conversion rates, sales, and price changes to develop keyword bids that are in line with your objectives.
4) Sellics
Sellics primarily provides advertising software for Amazon. The software is intended to put you back in control and allow you to focus on growing your business. Their optimization strategies are tailored to your specific advertising goals, whether they are to maximize revenue, optimize ACoS, or both.
The proprietary AI algorithm developed by Sellics can quickly evaluate sales, peak keyword clusters, and manage your campaigns based on a variety of parameters.
Sellics allows you to spy on your competitors and compare the performance of your campaigns to those of your competitors. It also provides you with access to additional tools such as SEO optimization and reviews management tools.
5) PPC Entourage
With the help of software from Entourage, businesses can create successful brands on Amazon by increasing ad income, lowering ACoS, and increasing profit margins. PPC Entourage is one of their instruments. Without the need for complicated spreadsheets, you can use this to quickly optimize and extend your Amazon advertisements.
You can use the PPC SCOPE optimization method to consistently launch profitable advertisements. PPC SCOPE is used by sellers and PPC management companies from all over the world.
You can utilize default optimization filters in PPC SCOPE to enhance your campaigns. It warns you when advertising or deals aren't working so you can take action right away and save money.
View all of your crucial performance indicators in a single, easy-to-use dashboard, and quickly determine which campaigns, ad groups, and keywords are most effective for you. The longer you use PPC SCOPE, the more your data history develops with you, unlike Amazon's Campaign Manager.
6) Ignite by Seller Labs
SellerLabs provides a comprehensive set of tools to assist you with your Amazon business. It has a dedicated PPC management tool called Ignite.
It can assist you in lowering your ACoS percentages and increasing your profit. It recommends keywords and intelligent bids for your Amazon campaigns.
It has a feature that creates automated campaigns based on your target, budget, and goals.
Based on these factors, it will generate various campaigns. Their AI algorithm will evaluate all of your campaigns. If you don't want the AI to control your every move, you can use the intelligent suggestion feature and base your decisions on it.
7) SellerApp
A software package called SellerApp includes an Amazon PPC feature along with additional helpful tools for product research, listing optimization, and other tasks.
The suite's advertising features rely on machine-learning algorithms to make it easier to optimize your campaigns.
8) Kinetic PPC By Viral Launch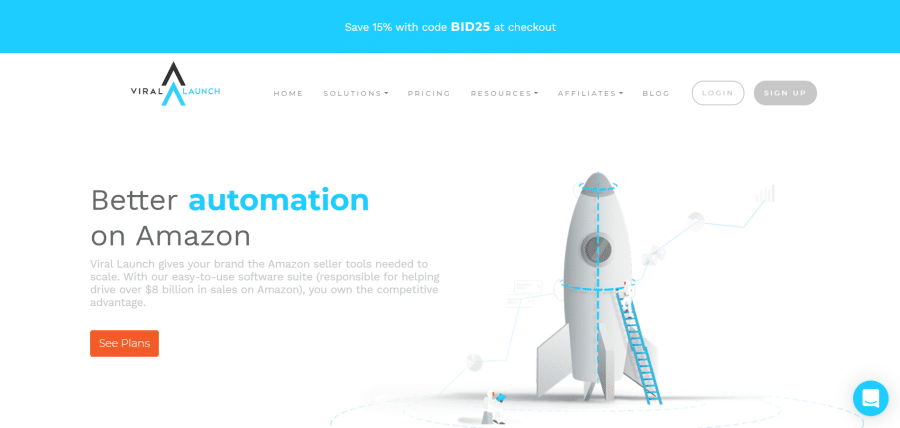 Viral Launch's Kinetic PPC tool is also one of the best Amazon PPC software. It claims to be the only tool you'll ever need to manage your Amazon campaigns. It enables you to control your results through customizable rules that can maximize your return on ad spend. These customized automation rules are simple to create.
It provides you with additional data such as campaign analysis, reports on immediate positive impact, and PPC vs organic sales data. You can also schedule free one-on-one setup calls with Viral Launch's experts.
It also grants you access to features such as keyword monitoring, campaign management, change tracking, automation creation, and so on.
Also Read: Viral Launch vs Helium 10
Conclusion
So, here is my list of the best Amazon Pay-Per-Click (PPC) software. Now, the only thing left to decide is which one to pick.
I use Adtomic by Helium 10 because it has a lot of features and can do a lot of things. Beginners can also use the Kinetic PPC tool from Viral Launch. But it all depends on what you need. The best thing about these tools is that you can test them out for free. You can use these tools and make your own decision.