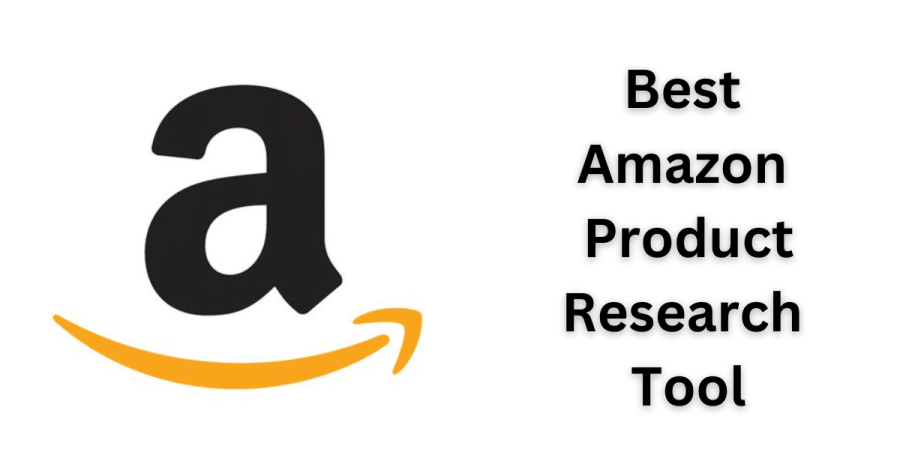 Do you still need assistance finding the Best Amazon Product Research Tool? You have, however, come to the perfect site to obtain all of the necessary information.
You may find more information about a product by using Amazon's research tools. They can also aid in the product's promotion.
People often use these tools to look into a wide range of things, such as past prices, sales volume, expected sales and trends, keyword optimization, competitor activity intelligence, data tracking, and so on.
Trend forecasting, storing data, keeping an eye on stock, and keeping track of expenses are just some of the tools that are used across many platforms.
That means you'll be able to find out quickly about the best products in your field. It also lets you keep an eye on your competitors and learn from their successes.
List Of Top 5 Best Amazon Product Research Tool
The Best Amazon Product Research Tools are listed below for you to evaluate at least once. Let's get inside it.
1. Viral Launch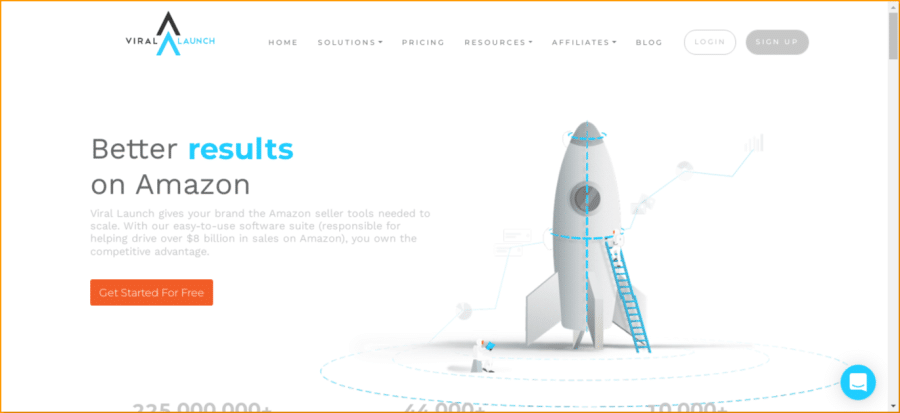 Top-tier salespeople use Viral Launch, a cutting-edge market intelligence solution, to stay current on the business landscape. As an added bonus, it may also be used to launch products and oversee successful advertising campaigns.
It shares many qualities with Helium 10, however, it is less accurate and less practical.
If this is not your first rodeo as an Amazon seller, you should give Viral Launch a try. If you want the best service for introducing your products to the Amazon market, you may also use Viral Launch.
The following are some of the ways in which Viral Launch might help you:
Over 200 million goods, keywords, categories, and brands may be quickly filtered and narrowed down with the use of product discovery.
Researching the highest-earning keywords is the goal of keyword analysis. In order to estimate ad costs and returns, it considers metrics like search volume and priority score.
Use in-depth information like market price trends, sales projections, reviews, and ratings to back up your product of choice. Overall, market research delivers a score for the product idea.
Understanding the advantages and disadvantages of the leading sellers is a function of competitor intelligence. Learn about their approaches to sales, marketing, and keyword usage as well.
Pricing plans:
MI Extension Plan: $25 per month
Plan for Beginner: $59 per month
The Pro Plan: $99 per month
The Brand Builder Plans: $149 per month
The Kinetic Plan: $199 per month
2. Helium 10
The research resources available to Helium 10 members include:
Introducing Black Box, a resource for finding and researching products. By refining your search with filters, you can get relevant results quickly.
With these criteria, you can narrow down a large number of Amazon products. These include the number of sales, the weight of the product, reviews and ratings, expected sales and trends, images, and more.
Product analysis is a breeze with the help of Trendster. A user of Trendster can gather seasonal demand data. Sales volumes estimated market trends, and price fluctuations throughout time are also readily available in a matter of seconds.
With Scribbles, you can improve your listings with minimal effort. Scribbles strive to provide you with highly relevant search terms. Increase the number of people viewing your product pages by using these keywords.
Cerebro is a keyword research instrument. With this helpful tool, you can learn how often people use a particular keyword. A product's ASIN is compared to those of similar ones to see which one will generate the most revenue.
By viewing precise statistics on products in the same category, you may hone in on a certain market. As a result, you can take advantage of new possibilities when you see the right information about products in the same category.
Xray is an extension for the Chrome web browser that allows you to access Helium 10. With this add-on, you'll have easy access to a wide range of resources for researching products. In addition, it facilitates a fast evaluation of a product's potential.
Pricing plans:
Free Plan: $0
Platinum Plan: $97 Per Month
The Diamond Plan: $197 Per Month
The Enterprise Plan: custom pricing
3. Jungle Scout
Numerous users have proclaimed Jungle Scout to be the best available tool for researching Amazon products. There is a wealth of information and resources available on its website that have been used by online retailers to boost sales and visibility for years.
Amazon sellers can do it all with Jungle Scout. Three features are available right immediately. New vendors have their own, long-standing businesses have their own, and brands and agencies have their own.
For inexperienced vendors, the tool's Opportunity Finder feature can help find keywords with strong demand and low competition. The sales history of each product is recorded in the product tracker, including seasonal and yearly figures.
Along with sales data, filters can also be based on rankings, reviews, ratings, opportunity scores, and other things. In the site's Academy section, you can find a lot of guides and how-tos.
Existing vendors can use the Extension function, which raises the rankings of their products by letting more customers rate them.
Pricing plans:
Basic Plan: $29/ month
Suite Plan: $49/ month
Professional Plan: $84/ month
4. Sellerapp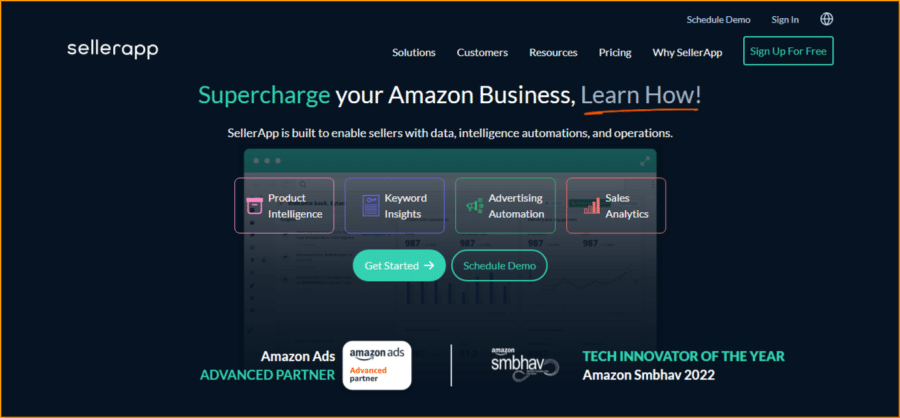 Beyond simple product research, SellerApp is a powerful all-in-one solution. They have three different membership tiers to choose from. Still, even the bare-bones Pro-Lite plan comes with a slew of regular features, such as:
Product research and trends
Tracking and researching keywords
Listing
Search engine optimization Search engine optimization
Index Checker
Analyzer for PPC
Having these options allows you to examine product data from numerous angles. Potential earnings and sales, information on the competition, and analysis of the level of competitiveness are all part of this.
No matter which plan you're considering, you may give it a try risk-free for a whole week.
Pricing Plan:
ProLite Plan: $99/ month
Professional Plan: $199/ month
Enterprise Plan: custom pricing
5. AMZ Scout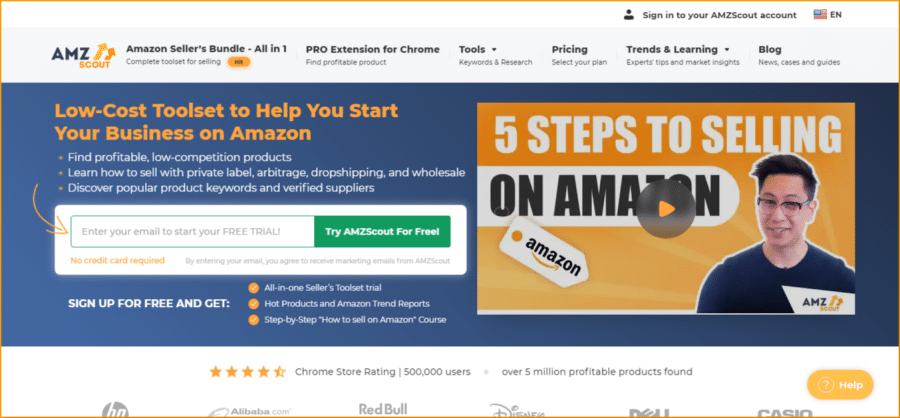 If many well-known companies already sell products in the same market, it can be tough to attract customers' attention to yours. This is why a lot of sellers on Amazon focus on specific demographics.
AMZ Scout is useful for this purpose. Some of the most well-known companies, including Dell and Disney, use this software.
AMZScout is a trend-spotting tool created specifically to aid retailers. You can use the platform's features to evaluate the viability of a popular subfield after you've found one.
You might also benefit from knowing what other sellers are doing in a certain market.
With AMZScout, you can analyze Google Trends data, find out how much it costs to use FBA, what your product sales projections will be, and how good your listings are.
Pricing plans:
PRO Extension: $44.99/ month
Amazon Seller's Bundle: $49.87/ month
6. Sonar
Sonar, created by Sellics, is a no-cost search engine with access to a 74-million-term index. Sonar can be used to enhance both organic and paid search engine results for targeted keywords.
Sonar allows you to search five different international markets with three different keywords.
You can get related search phrase suggestions with the help of the regular keyword search. In addition to a standard keyword search, you can also conduct an "extended search," which will look for phrases that are similar to the one you entered.
One more function is the ability to search in the opposite direction using an ASIN. Type in any ASIN to see how it fares for specific search terms. In other words, you can spy on what the competition is up to and even steal their high-traffic keywords.
7. Keepa
Many consumers base their buying decisions in large part on price. Therefore, it is up to individual online stores to set reasonable prices for the goods they offer. The problem is less daunting with Keepa's help.
Both short-term and long-term Amazon price trends can be monitored with this handy tool. Keep is able to monitor Amazon's prices in all of their worldwide markets.
Additionally, Keepa will promptly notify you of any price reductions or special offers. Further, the software equips you with valuable data regarding Top and Best Seller Lists.
Looking at the best-sellers in each market might help you discover untapped markets and capitalize on emerging trends.
Pricing plans:
Monthly plan: €15/ month
Annual plan: €149/ year
8. ZonGuru
You can find the best-selling products, supplier databases, and lucrative market opportunities with the help of ZonGuru, one of the best Amazon seller tools on the market.
The tool's "Niche Finder" feature will assist you in locating new niches to explore and in gaining access to ideas for developing related items. Design to learn who the best source is for your products with its powerful, user-friendly source tool.
ZonGuru is a tool that will assist you in finding a product to sell on Amazon that will bring in a healthy profit. All sorts of useful research can be conducted on products, competitors, and prices on this site, making it ideal for those who sell on Amazon.
The fact that you only need one platform to handle all of these tasks is a major selling point.
Pricing Plan:
Researcher Plan: $39 per month.
Seller Plan: $49 per month.
Conclusion: Best Amazon Product Research Tool
Selling on Amazon might be challenging at times, but it also has the potential to be very rewarding. Even within a market segment, there is a lot of competition due to the number of products that are sold on the website.
In point of fact, if you want to be a successful Amazon merchant, you need to do more than just sell things of high quality.
You should also pay a lot of attention to the website and the information that it offers, and you should educate yourself on how to get the most out of both of these things.
And a research tool for products can be of assistance to you in reaching these objectives.
Frequently Asked Questions (FAQs)
What Is The Product Research Tool On Amazon?
When starting an FBA company on Amazon, it is essential to have access to a range of indicators, such as the number of sellers, pricing, price fluctuations, review count, review rating, number of rivals, monthly income, and monthly sales.
What are the benefits of doing Amazon product research?
Doing your homework on potential products on Amazon can help you in many ways. Obviously, it can help you find products that will sell well on Amazon, which will increase your earnings. Amazon product research also aids in avoiding pitfalls like selecting a product with too much competition and revealing what consumers are truly seeking.
How do you research a new product?
Researching a purchase can be done in a few different ways. Do your research and think things over thoroughly before making any hasty decisions. Doing keyword research, supplier research, and product tracking are all important parts of the research process. As an alternative, you can peruse Amazon customer evaluations and Amazon's best-seller lists to see what items are selling well right now.
How do I get product ideas from Amazon?
Amazon provides numerous avenues for generating new product ideas. You may get a sense of what products are doing well at the moment by perusing Amazon customer evaluations and best-seller lists. You may uncover products that are in great demand and have little competition by doing things like keyword research and researching potential suppliers. Last but not least, you can find the ideal product to sell with the use of product research tools.
Can I check the best-selling Amazon products for free?
Yes. Simply navigate to the Best Sellers page on Amazon if you are interested in gaining an understanding of the products that are selling the most copies. It will provide you with an overview of the products that have performed the best in each area.
Are Amazon product research tools worth it?
We think it's wise to invest in a product research tool. Listing products that aren't likely to sell well may be avoided with the help of a solid product research tool, which also aids in staying ahead of the competition.
How do I pick a niche for Amazon?
Several factors should be taken into account here. To begin with, it is usually preferable to sell something that you have a genuine interest in or enthusiasm for. You may also want to think about: Which products have a high margin of profit? What kind of demand can you expect for your product, and how popular is the niche you're thinking of entering? You can also peruse the various sections of Amazon to find something interesting. Product research tools like Jungle Scout and Viral Launch make it easy to assess the market potential and profit potential of a product.
Which tool is best for product research?
Sell The Trend is a product research tool that may assist you in identifying successful goods for your shop. It uses data sources such as AliExpress, Amazon, and a large number of Shopify sites.
What is the best tool for Amazon Sellers?
1) Helium 10: The Best Amazon FBA Tool.
2) Jungle Scout – The Best Keyword Research Tool.
3) Amazon Seller App – The Best Free Tool for Your Amazon Business.
Is Amazon product research hard?
It might be difficult for Amazon sellers to do product research since they aren't sure where to start. It's to be expected, however, since not every product is created equal. You should know what makes an excellent product to add to your stock before you begin your study.
Does Amazon have an analytics tool?
Amazon Kinesis Data Analytics simplifies the analysis of streaming data, providing insights that may be used to meet the immediate requirements of your company and your customers.
What is the most profitable way to sell on Amazon?
Private label sales via the Fulfillment by Amazon (FBA) network are still the easiest method to generate money on Amazon in 2022. Sixty-seven percent of Amazon merchants use private labeling.
Best Amazon product research tool 2022
Here are some of the best Amazon product research tools in 2022, as described in the article above.
1) Viral Launch
2) Helium 10
3) Jungle Scout
4) Sellerapp
5) AMZ Scout
6) Sonar