Here in this article, I have provided a comprehensive analysis of The Best Learning Management System For Small Businesses.
Since employees at smaller companies often have to take on a variety of roles, proper training is especially crucial.
Even though they have a lot on their plates, they must be able to perform each of their job duties to a high standard. For a local company to offer top-notch customer service and stay competitive, this is essential.
What Is a Learning Management system (LMS)?
A Learning Management System (LMS) is a web-based integrated software application that makes it easier to create, deliver, and report on educational courses and their results.
It can be used to add to both in-person and online or hybrid courses.
Using a learning management system (LMS), teachers can keep track of how their students are doing and how they are improving.
There is a built-in function that keeps track of their participation, grades, assignments, and submissions. The same goes for the files and information that students upload and share on the site.
LMSs are made to help training and development managers with their jobs by letting them do things like set goals (both personal and corporate), track progress, and present data.
The Best Learning Management System For Small Businesses
Moodle
Easy LMS
1. LearnDash
LearnDash is a well-known learning management system (LMS) on the market that has been around for a considerable amount of time.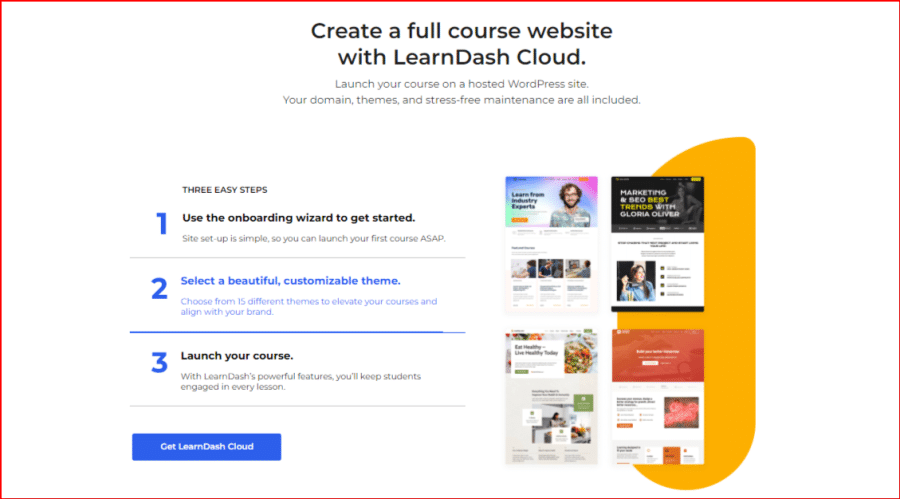 Unlike Thinkific, it is a self-hosted option that operates within the WordPress content management system. This makes it something that can be incorporated into the majority of websites and blogs found on the internet.
It has become the most widely used learning management system (LMS) plugin for WordPress.
Because of the extensive flexibility it offers, it is an excellent choice for the creation of completely individualized courses.
The only potential drawback is that inexperienced users may have difficulty understanding all of that advanced capability. LearnDash is among the most widely used learning management system (LMS) plugins for WordPress.
LearnDash Pros & Cons
| | |
| --- | --- |
| Pros | Cons |
| Active user base. | Limited payment options. |
| Customizable open-source software. | |
| Built on WordPress, so it's easy to add to an existing site. | |
| Page builders, plugins compatible WP themes | |
| Gamification features help promote course completion. | |
2. Thinkific
Thinkific is a popular cloud-based online learning management system (LMS) solution, that can publish and sell its own digital courses to a global audience.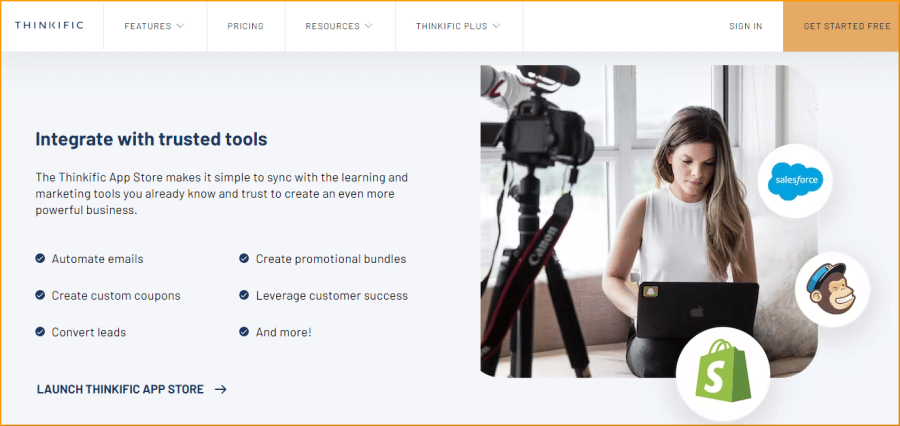 With Thinkific's robust platform, you can easily provide your audience with content that is either free, for a price, or restricted to members only, thereby sharing your expertise, growing your following, and expanding your business.
When it comes to learning management systems (LMS), Thinkific is among the best because of its many in-house integrations.
Although the majority of connectors have a cost associated with them, they help build a stronger LMS overall.
Students at schools that use Thinkific have access to a powerful learning management system that also allows them to easily share video and gif content with their communities.
You also read our article Thinkific review to get in-depth.
Thinkific Pros & Cons
| | |
| --- | --- |
| Pros | Cons |
| Drag drop course builder. | No support live chat at the time available. |
| Easy to use. | |
| You can choose how to brand your own domain or subdomain. | |
| Cloud-based and capable of expansion. | |
| Built-in tools to help you make landing pages and sales pages for your course. | |
3. iSpring Learn
iSpring Learn is a robust learning management system (LMS) that may either be run in the cloud or on-premises.
This platform is dedicated to promoting education in settings other than the conventional classroom by making it easy to take classes using any computer or mobile device.
This software solution has a tonne of features that can be customized to fit your requirements, making it suitable for use regardless of whether your goal is to retrain your team or to introduce them to new practices.
You have the option of subscribing to iSpring Learn LMS on a monthly or annual basis, and your decision will be influenced by the number of people who will be logged in at the same time. In addition, they provide you with convenient free trial periods and several payment choices based on the quotations you receive.
iSpring Learn is the leading cloud-based learning management system (LMS) for online corporate training, and it can get you up and running with eLearning in no time at all. Learners and training administrators will both appreciate how user-friendly the layout of the learning management system (LMS) is.
iSpring Learn is a cost-effective learning management system (LMS) that offers all of the essential functions as well as some additional features.
iSpring learn pros & Cons
| | |
| --- | --- |
| Pros | Cons |
| Simple and effective user management. | Limited integration options. |
| Customizable user roles. | |
| Excellent technical support. | |
| Gamification through the use of leaderboards and badges. | |
| API that can be used to integrate it with other platforms. | |
4. LearnWorlds
LearnWorlds is an excellent learning management system (LMS) that is simple to use and comes with a tonne of tools for teaching and selling courses online.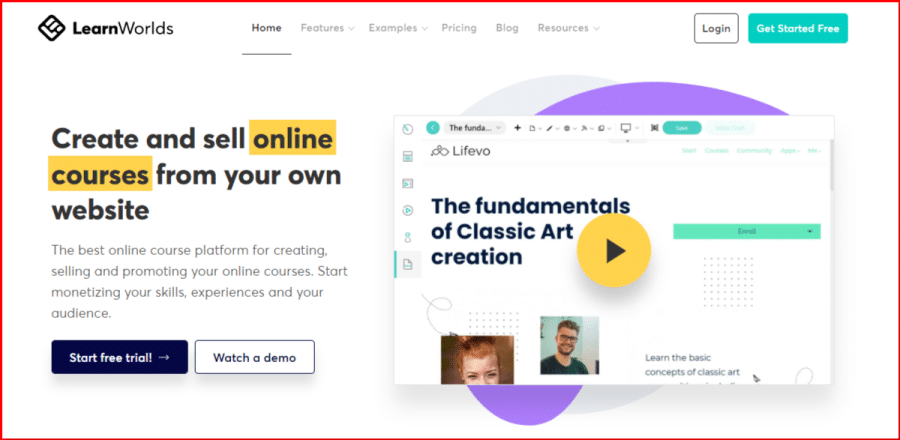 Businesses can use LearnWorlds, a cloud-based online course platform, to design and launch their own online training courses or educational programs.
Educating customers, growing staff and aligning partners are all possible outcomes of developing interactive courses.
The application's user-friendliness stems from the fact that many pre-made templates can be modified to fit the user's needs without the need for coding or design expertise.
LearnWorlds is a ready-to-use learning platform that frees up course vendors from worrying about technical details.
Cloud-based applications are accessible from any mobile or desktop device. As a result, there will be no need for system downtime or version tracking. It's free to try, but after that, plans start at $29 per month.
LearnWorlds Pros & Cons
| | |
| --- | --- |
| Pros | Cons |
| Can use of a library of videos. | On a cheaper service without 24/7 customer support, you may not get instant help. |
| The content that you can interact with is very impressive. | |
| Language customization options are available. | |
| 30-day free trial. | |
| Affordable. | |
| | |
5. TalentLMS
TalentLMS is a cloud-based LMS that allows you to deliver interesting and useful e-learning materials to your customers, channel partners, or employees.
The features of this lauded program that deal with course creation, distribution, and management merely scratch the surface.
a content management system (CMS) designed to facilitate the training of employees and partners in an organization.
This software is aimed at mid-sized businesses, although it also includes enterprise-level features for a wide range of niches. It boasts a secure data transmission system and fast file delivery servers and has a reputation for being easy to use.
TalentLMS Pros & Cons
| | |
| --- | --- |
| Pros | Cons |
| Open course catalog. | Limited reporting and analytics. |
| Customizable user roles. | |
| Gamification. | |
| The design of each branch can be changed separately. | |
| E-commerce capabilities. | |
| Free version. | |
6. Moodle
Moodle is a free, open-source learning management system that can be used on-site. Teachers can use it to make dynamic courses that students from all over the world can use.
This program lets users do things like make a lot of courses at once and take care of simple plugins.
It also has tools for easy file management, ways to change the look of a site, the ability to support multiple languages, and secure authentication options. Moodle is a web-based learning management system that users from anywhere in the world can use for free.
Moodle pros and cons
| | |
| --- | --- |
| Pros | Cons |
| Administrators can add or build functionality using plugins. | UI lacks the visual finesse. |
| Language assistance is unparalleled. | |
| Generous progress tracking and reporting options. | |
| Open-source. | |
7. Easy LMS
EasyLMS's online test builder is one of its most important features. This shouldn't be a surprise, since the platform was originally used to make tests and assessments instead of a full-fledged LMS.
This program has a built-in course builder and the ability to make tests that can be taken on their own.
With Easy LMS, it's easy to make a course. Courses can consist of a variety of media types, including written materials, audio recordings, visuals, and interactive exercises, as well as tests.
And if you desire your students to have fun while they learn, you could make quizzes that use parts of games to help them learn.
Seeing who is at the top of the scoreboard can encourage employees to play more than once. The best use is made of both the time spent playing and the points scored.
Easy LMS Pros & Cons
| | |
| --- | --- |
| Pros | Cons |
| Simple user interface. | Insufficient safety measures. |
| Account can be divided into academies with different designs. | |
| Zapier, Mailchimp integrations | |
| Allows browser-based quizzes and evaluations | |
| Usable in 10 languages. | |
Final Words
The learning management system platform is a potent resource for any enterprise. You may save a lot of time by using it to automate routine company tasks, monitor key performance indicators, and provide a single location for staff training and skill development.
The key is picking a solution that works for your current situation as well as your long-term goals. For its rapid performance and cloud capabilities, which allow it to be integrated into any kind of website without the need for additional software maintenance, Thinkific is a favorite of ours.
When a self-hosted platform is crucial for your use case, we recommend LearnDash since it provides a high level of control and allows for extensive customization.
With the help of a good LMS, your company can expand to new heights and make it simpler than ever to teach your customers and employees new skills.
Frequently Asked Questions
What is Thinkific LMS plus?
Thinkific Plus is an enterprise-ready learning management system (LMS) that simplifies the production and distribution of educational materials at scale. Adjust everything to your liking. Create a memorable brand presence with flexible experiences. It will seem tailor-made for the people who utilize it.
Does Microsoft have a LMS?
LMS365 is the Learning Management System that is approved and certified by Microsoft. It was built specifically for Microsoft 365 and Teams.
What is iSpring LMS used for?
iSpring is a powerful authoring toolkit for producing eLearning courses. Easy to learn and use, the program operates under the well-known PowerPoint interface and lets writers make use of PowerPoint slides as a foundation for their work.