The idea of making online courses sounds like a dream come true. You share your knowledge with other people and make a good living this way.
But you'll need an online course platform to build your online courses, sell them, keep track of your students, and grow your own online school.
Based on my ten years of experience as a course builder, online business owner, and college professor, I've ranked the 7 Best Online Course Platforms.
Let's begin.
What Are The Best Online Course Platforms?
Here comes the list of best online course platforms in 2022.
1. Skillshare
Skillshare is currently one of the most widely used platforms for online education.
It features a large library of over 27,000 lessons that are organized into the following three categories: Thrive (Lifestyle, Productivity), Build (Business Analytics, Freelance & Entrepreneurship, Leadership & Management, Marketing), and Create (Animation, Film & Video, Graphic Design, Music, Creative Writing, Photography, Web Development, and more).
Skillshare advocates for a kind of education known as project-based learning, which encourages students to cultivate their creativity and find real-world applications for the knowledge they gain.
Every lesson is broken up into two parts: the first is a video presentation that might take anywhere from 20 to 60 minutes, and the second is a group project.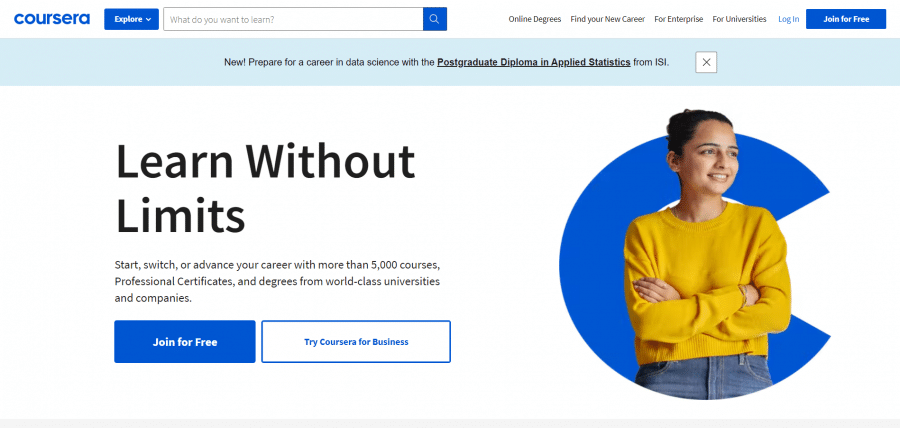 Coursera is a platform for online education that provides access to courses at the university level as well as certification programs. The classes are led by lecturers hailing from prestigious institutions and organizations, such as Stanford, Yale, and Princeton, among others.
The cost of individual classes ranges anywhere from $29 to $99 per session. On the other hand, there are thousands of courses that provide an Audit option, which enables you to participate in the course without paying any fees.
You will not receive graded assignments, a certificate, or other additional materials if you choose to audit the course instead of taking it for credit. The majority of classes include video lectures, various assignments and reading materials, multiple-choice tests, group projects, and discussions.
Courses can be taken in a wide variety of languages, including but not limited to English, Spanish, Russian, Chinese, Portuguese, Arabic, French, German, Korean, Vietnamese, and Japanese.
The Arts and Humanities, Business, Computer Science, Data Science, Information Technology, Health, Math and Logic, and Personal Development are only a few of the subject areas that are covered in these classes. It takes between four and six weeks to finish each class.
If you want to become an expert in a certain field, you can get a Specialization, which is a collection of online courses that take between four and six months to finish on their own.
You will be awarded a Certificate upon successful completion of the Specialization, which you can then include on your CV. When you sign up for your first membership, you are entitled to a seven-day free trial during which you can test out a Specialization at no additional cost.
Mindvalley is regarded as one of the most effective venues for personal development and change.
The purpose of this program is to assist students in achieving success in their professional lives while also releasing the full potential of their bodies, minds, and spirits.
People who have a lot of various aspects of their lives that they want to improve in a short amount of time are the ones who will benefit the most from using Mindvalley.
The library at Mindvalley contains over fifty different courses (also known as quests), all of which are presented by leading authorities in their respective fields.
These authorities include the CEOs of large corporations, best-selling authors, celebrity coaches, famous therapists and entrepreneurs, and international speakers.
The quests can be broken down into the following categories: performance, kids and parenting, career, entrepreneurship, relationships, mind, body, and soul.
It typically does not take more than twenty minutes per day to finish a video-based lesson and a practice exercise, and each quest can run anywhere from thirty to fifty days.
A membership to Mindvalley costs $499 per year and includes unlimited access to all quests along with many perks such as official certifications for completed quests, monthly live coaching calls with Mindvalley's authors, and even a 22-minute assessment that will assist you in determining the aspects of your life on which you should place more of your attention.
When you consider all that you are getting for your money, I believe that the price is extremely reasonable.
Udemy is another well-known online educational resource. Because of its enormous library of more than 150,000 different classes, it is the one that ranks highest in terms of substance.
You can increase your knowledge and capabilities in virtually every area imaginable with the help of Udemy, from business and marketing to hand weaving and clowning. Udemy was founded with the intention of shaking up and democratizing the traditional educational system.
Udemy, in contrast to Skillshare, MasterClass, and LinkedIn Learning, does not offer limitless membership plans. Instead, users are required to pay for each individual course they wish to take, which is an obvious drawback.
On the other hand, the courses are quite reasonably priced, beginning at just $9. You have up to a month after making a purchase to request a refund if you decide the course you bought is not for you.
The fields of science, mathematics, and computer science are the primary subjects that are covered on the Brilliant online learning platform.
Both children older than 10 years and adults are welcome to participate in the activities. Because of its mission to infuse learning with a sense of play, engagement, and interaction, Brilliant is widely regarded as one of the most effective online educational platforms, particularly for adolescents and young adults.
On Brilliant, you can study a wide range of topics, such as algebra, logic, advanced mathematics, calculus, geometry, classical physics, quantum mechanics, foundational computer science, and many more.
Brilliant provides users with unlimited access to all of the platform's courses as well as thousands of practice tests that cover each and every subject area through monthly and annual subscriptions.
The Nanodegree programs offered by Udacity are quite well-known. A skill and project-based learning program is referred to as a Nanodegree.
Each Nanodegree is comprised of a collection of individual courses that cover a variety of subjects, including Artificial Intelligence, Coding, Robotics, Mobile Programming, Business, and Data Science.
The vast majority of programs can be finished in three to six months. All students enrolled in the Nanodegree program at Udacity have access to one-on-one technical mentoring.
When it comes to education and online learning, Udacity is the epitome of what it means to be innovative. When you sign up for one of Udacity's Nanodegree programs, your chances of getting a job once you finish the course significantly improve.
Udacity is not an officially recognized educational institution; however, the skills they teach are current, in-demand abilities that employers are actively looking for in prospective employees.
Udacity's prices, on the other hand, are significantly more than those of competing online education companies. Between $1200 and $2400 is the typical price range for completing a Nanodegree program.
When you prepay for a certain number of months, you are eligible for a discount.
Everyone seems to be talking about the online learning platform called MasterClass these days. The fact that the lessons are delivered by well-known figures in their fields and in the entertainment industry is a key differentiator.
It is possible to take acting lessons from Natalie Portman, filmmaking lessons from Martin Scorsese, singing lessons from Christina Aguilera, cooking lessons from Gordon Ramsay, writing lessons from Dan Brown, and so on.
You get unrestricted access to any and all classes for just $15 per month. The typical length of a single lesson in any given class is about 10 minutes, and there are typically 20 lessons spread across any given curriculum.
The classes consist of high-quality video lectures, reading assignments, and workbooks, as well as community service opportunities.
You are also able to participate in discussions in which you can pose questions, receive responses, and make connections with other students. Since there are no time constraints, you are free to study at your own rate.
Through the use of a mobile application, any of the videos can be saved for offline watching.
The courses can be broken down into the following nine categories: Film & TV, Culinary Arts, Writing, Music & Entertainment, Sports & Games, Business, Photography, & Fashion, Business, Politics & Society, Lifestyle, and Science & Technology. Film & TV, Culinary Arts, Writing, Music & Entertainment, Sports & Games, and Business, Photography, & Fashion.
There are no certificates of completion available through MasterClass.
Final Thoughts
Now that I've provided you with an in-depth explanation of the finest online course platforms to start your own online course business, my hope is that you are better able to comprehend which one will be most suitable for the manner in which you wish to educate your students.
Before you make a commitment to a certain online course platform, you should make sure you have a solid understanding of the platform's capabilities in the areas of course creation, marketing and sales of online courses, teacher support, and student management options.