Are you looking for the Best Plagiarism Checker in 2022? Read on.
Every writer's or editor's workflow should include a good plagiarism check.
If you're concerned about unintended or purposeful plagiarism, don't be. The top free and paid tools are covered in this post.
We also look at how accurate plagiarism detection programs are and what to anticipate from them.
So, let's start with the list.
What Is The Best Plagiarism Checkers in 2022?
The tools mentioned below scan internet content databases for previously published works using various algorithms and AI technology.
They may produce extensive reports in some circumstances. They also give links for a writer to review in some circumstances. Some free and paid tools cater to ordinary writers, while others are more suited to academics and essayists.
1. Grammarly
Grammarly's premium plan includes a plagiarism detector.
You can use Grammarly for free to check for grammar issues in your paper, Docx Word file, or web page, but you'll need to upgrade to check for plagiarism.
Grammarly is a good plagiarism detector since it finds duplicates in my work and on this website. These kinds of discoveries assist me in self-editing and ensuring that I only publish unique material.
Grammarly is accessible for iOS and Android devices, as well as mobile and desktop computers. It's an excellent option for both professional writers and students concerned about plagiarism. However, unlike academic plagiarism software, it does not consider print books.
The Grammarly price structure is as follows: $30 USD each month for a monthly subscription. The cost of a quarterly subscription is $60 USD for three months (billed as one payment) and $144 USD for a one-year subscription (billed as one payment).
You can also check out more about Grammarly Free Trial and learn how you can avail of the premium plan for free.
Pros & Cons Of Grammarly
| | |
| --- | --- |
| Pros | Cons |
| Grammarly is massively accessible | The Free version is very limited |
| Very simple to use | It doesn't always work perfectly |
| Grammarly is more than a spell-checker | Lags while editing a larger piece of text |
| Highly accurate | |
| Grammarly works with English-language variations | |
| It automatically saves your work | |
| Real-time grammar correcting | |
| Grammarly help guide your tone | |
| It comes with a plagiarism checker | |
Features Of Grammarly
This program allows you to conduct a batch search of the material.
When text aligns with online content or in the database, Grammarly generates plagiarism alerts.
It detects plagiarism by comparing your content to more than eight billion web pages.
It includes a variety of writing styles as well as grammar, vocabulary, and syntax tips.
The Grammarly quick report will tell you how many content duplication concerns there are.
The program determines your document's total originality score.
This plagiarism detector protects your work.
Pro Tip: If you are in a school or university and preparing for an assignment then you can avail Grammarly Student Discount.
2. ProWritingAid
ProWritingAid is a flexible tool that's an excellent choice for authors on a budget who wish to verify their work for plagiarism fast and efficiently. While working with popular tools like Scrivener, you may use this copyright checker to scan your writing.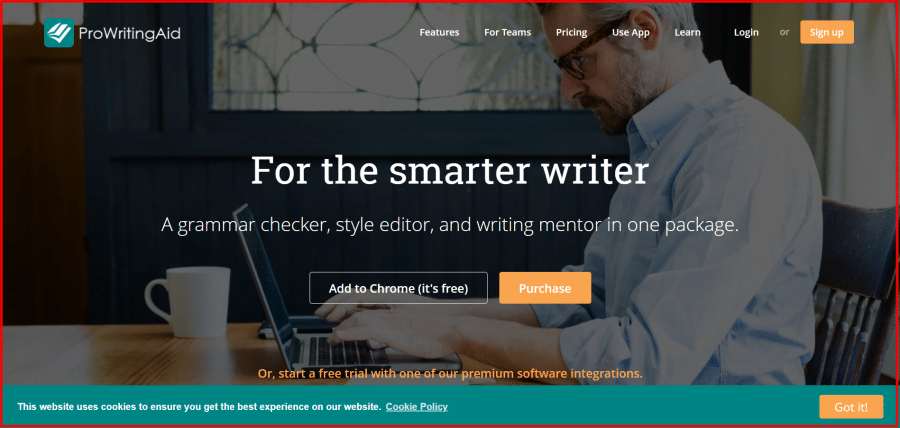 You may also check for plagiarism by uploading an article, essay, or document.
To conduct a plagiarism report on a piece of work, you must first purchase credits. I utilized the plagiarism checker to verify book chapters for missing quotation citations when writing my latest book.
I was blown away by the reports' accuracy. It does not, however, take into account print media. It's also not ideal for content creators.
Pros & Cons Of ProWritingAid
| | |
| --- | --- |
| Pros | Cons |
| Easy-to-use interface | Takes time for users to learn the different features |
| 25 types of writing analysis reports | Time-consuming when editing documents with 10,000+ plus words |
| Numerous integrations | |
| Free trial | |
| 14-day money-back guarantee | |
Features Of ProWritingAid
It assists with self-editing.
More than 20 in-depth writing reports are available from ProWitringAid.
It works with Word, Chrome, Google Docs, Gmail, and other programs.
The gadget is simple to operate.
Supports a large number of file types.
It assists you in locating facts, questions, ideas, phrasing, and other aspects of your job.
ProWritingAid allows you to preserve control over your words.
3. Copyscape
Copyscape provides a fantastic function that allows you to check for plagiarism by entering the URL of a web page and seeing if it matches a previously published piece. Copyscape is another tool that writers may use to check for plagiarism.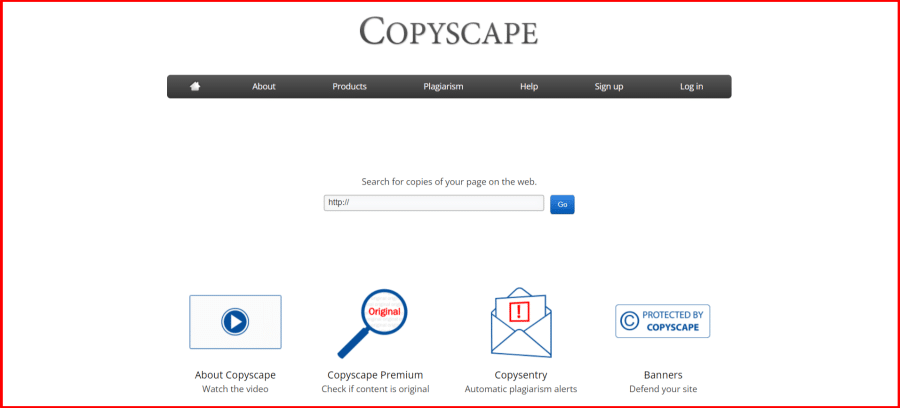 Copyscape is a valuable tool for managing the health of a website if you put material on it on a regular basis. You may use an API tool to connect to it, and you can also set up notifications for existing information.
It differs from Grammarly in that it is proactive rather than reactive plagiarism software.
Pros & Cons Of Copyscape
| | |
| --- | --- |
| Pros | Cons |
| Many languages supported | Slow customer support |
| Easy to use | Lack of device support |
| Search engine database | |
Features Of Copyscape
Batch search the material.
It lets you compare two pieces of content side by side.
This plagiarism checker has a private index that allows you to check for duplicates in your text.
Allows for case administration and tracking.
This plagiarism checker website allows you to filter out results from sites you're already familiar with.
It has a user-friendly interface.
Offline content indexing is supported.
4. Writer.Com
I'm thrilled with Writer.com, a modern plagiarism detection. It's designed for organizations, with more security and compliance features than standard writing software.
It will examine your work for plagiarism, both intentional and unintentional.
If Writer.com discovers content that has been used elsewhere, it will highlight the text and offer you a URL to examine. At $11.99 per month, it's also less expensive than Grammarly.
Pros & Cons Of Writer.Com
| | |
| --- | --- |
| Pros | Cons |
| A high-quality, one-of-a-kind style guide checker | It is not intended for single users or writers. |
| It's simple to use and develop guidelines. | It takes time to understand and establish a comprehensive style guide. |
| There are several resources available to companies. | Some authors may find content verification obtrusive. |
| Allows companies to create their own content guidelines. | |
Features Of Writer.Com
Grammar, spelling, and punctuation are all important.
The user interface is simple.
Chrome, Word, Google Docs, and other programs are all seamlessly integrated.
Convert plain language to another language.
Preferred terminology (e.g., "people" rather than "users").
Excellent safety.
Email customer service is available.
5. PlagScan
PlagScan is a reliable plagiarism detector that has been around for over 10 years. You may access the web browser for free by signing up with a Google account or your email address.
It operates on a credit system, but you can still examine up to 2,000 words for free.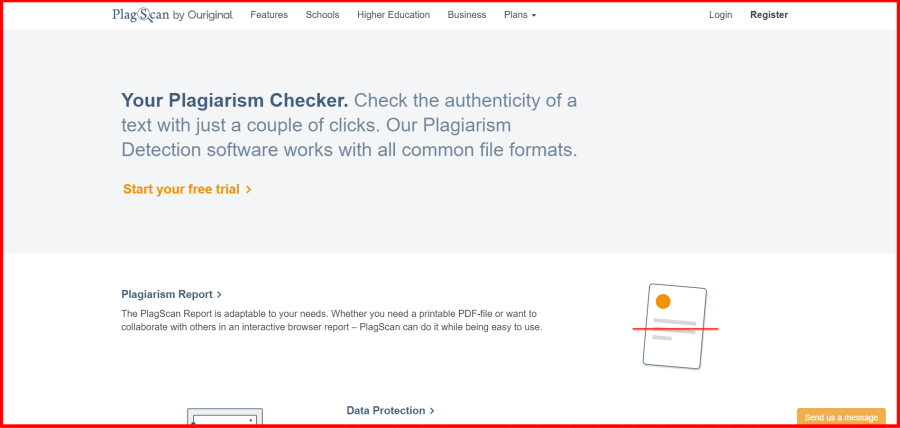 For the trial period, signup is quick and straightforward and does not require a credit card. I received quick free credits when my email was validated, enough to verify the passage as well as several upcoming papers.
You may upload word documents, type directly in the text, or paste a URL. My paper was scanned in approximately a minute. Then it sent me a report with links to potentially plagiarised material.
Pros & Cons Of PlagScan
| | |
| --- | --- |
| Pros | Cons |
| Fast scanning and performance. | When compared to other instruments, the pricing is somewhat costly. |
| Canvas, Moodle, and other LMS connectors are perfect. | Prices per page scan have been improved. |
| Remove any instances of plagiarism from the text. | It might take a long time for an exe to install on a Windows operating system. |
| A thorough examination of the content of other websites | It should have more integrations with other applications, in my opinion. |
| It is compatible with any operating system. | |
| Reports that are simple to comprehend | |
| Reporting in great detail | |
| It ensures total data security. | |
Features Of PlagScan
All matches in the papers, including web and internal sources, will be highlighted by this program.
It allows you to work without being connected to the internet.
A plagiarism report can be shared with others.
Plagscan allows you to drag and drop the document or upload it.
Side-by-side comparison of papers with matched sources.
You may verify a document by dragging and dropping it from your cloud storage, PC, or drag and drop.
It gives you the option of sharing or deleting your papers.
Why Should I Use a Plagiarism Checker?
Plagiarism is a sin that cannot be forgiven, especially in academics.
Furthermore, if detected (which is easy to do with the best plagiarism checkers), researchers' reputations in the field may be jeopardized, and they may be dismissed or even terminated from their respective universities.
Study papers, like any other type of documentation, need careful research, the development of a structure, and adherence to the established criteria. Many people would rather avoid all the hassle, and this is where things go wrong.
Plagiarism isn't always done on purpose. It might be due to a lack of knowledge, poor time management, a misunderstanding of what constitutes plagiarism, and so on. Using an online plagiarism checker, however, may be readily prevented.
You should scan your articles using a plagiarism checker because:
Plagiarism is detected completely using freely available tools and plagiarism checkers.
For simpler navigation, it indicates precisely copied information.
Plagiarism detection software frequently provides a percentage match.
Most plagiarism detectors will also detect information that has been wrongly paraphrased.
The use of plagiarism detection software demonstrates the writer's sincerity.
How to Choose the Best Plagiarism Checker?
A plagiarism checker is a piece of software that detects plagiarism in other people's work. There are a plethora of plagiarism checkers available on the internet, each with its own set of capabilities. How can you know which plagiarism detector is right for your project?
So, before choosing a plagiarism detection application, there are three important elements to consider.
1. Cost of the Tool
While there are some free internet tools, they are not as sophisticated as the expensive ones. Although free plagiarism-checking applications are widely available, they do not provide complete checks.
They do not always detect copied information from all sources.
Paid plagiarism checker tools, on the other hand, frequently include advanced features such as spelling and grammar checks, document authenticity score calculation, and the ability to integrate with websites and third-party applications, in addition to comprehensive plagiarism checking across multiple databases.
2. Ease of Access
Our task should be made easier with the use of digital technologies. However, tools can sometimes make our tasks more difficult. As a result, having a user-friendly tool is critical, particularly when seeking a quick and simple approach to verifying your papers.
3. Scope of the Tool
It's critical to figure out what the tool's capabilities are and how they relate to your needs. It must be obvious if you want a solo plagiarism detector or a full suite of writing and editing tools.
Some plagiarism checker applications also include advanced writing and language enhancement functions in addition to plagiarism detection.
Grammarly Social Profile
Let's find out the social profiles of Grammarly.
Facebook
Grammarly joined Facebook on July 19, 2010, and currently, they have 6,860,284 followers on its Facebook page.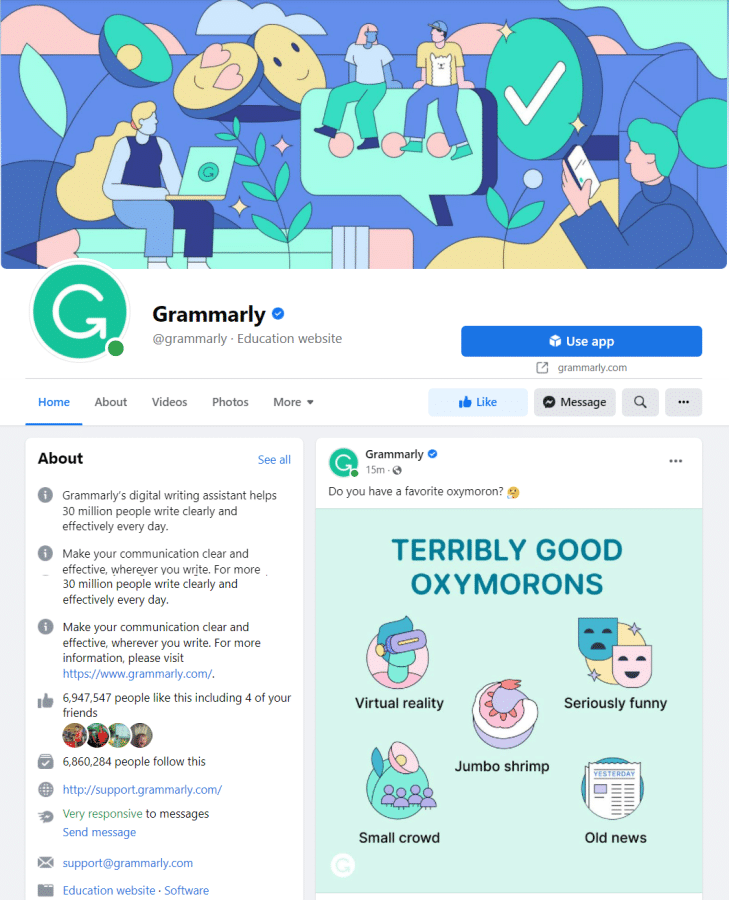 Twitter
Grammarly Joined Twitter in June 2009 and currently, they have over 210.2K Followers on their Twitter profile.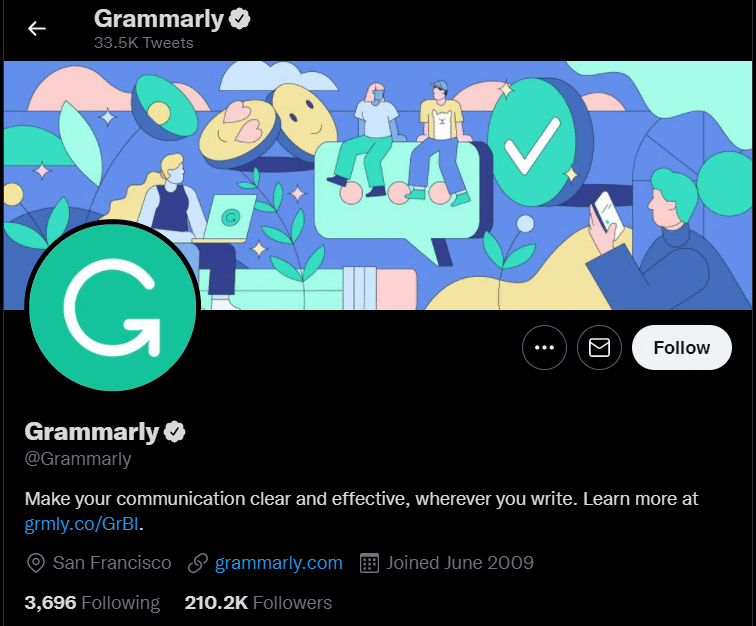 Instagram
Grammarly currently has 339k followers on their Instagram profile where they share images related to communication and their platform.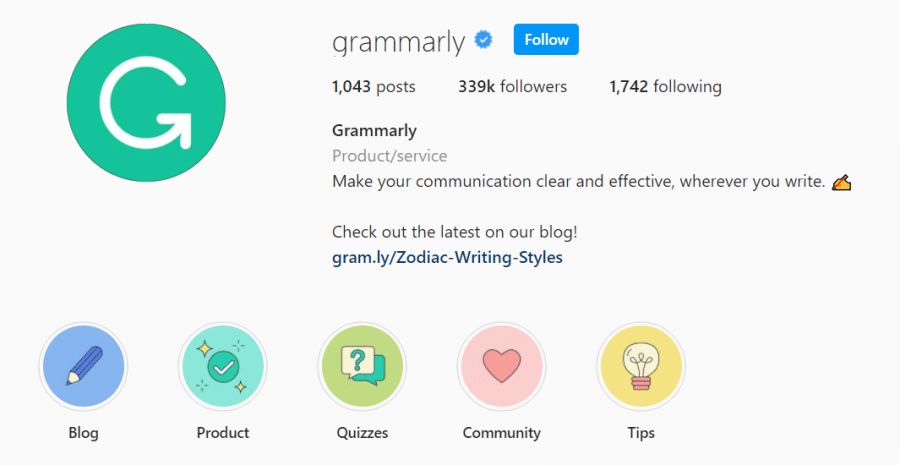 LinkedIn
Grammarly has 68,907 followers on their LinkedIn profile where they share posts about communication and their product.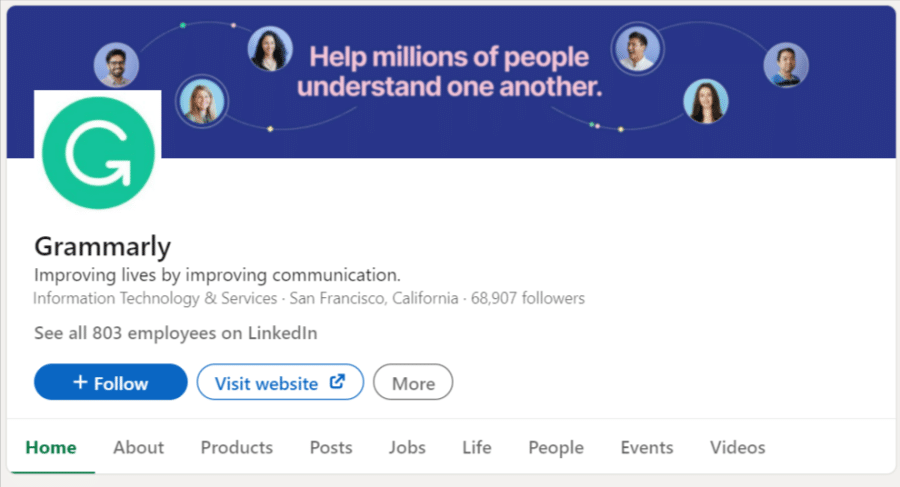 Final Thoughts
A Plagiarism checker can be very useful when you are writing a long piece of content.
It is very common that you may encounter plagiarism content accidentally while writing a piece of content.
The above list of Plagiarism checking tools will help you to scan your content and be sure about the uniqueness of your content.
I hope this article helped you find the Best Plagiarism Checker in 2022. If you have any questions do let me know in the comments.
Frequently Asked Questions
Is Grammarly or CopyScape better?
The top plagiarism-checking software is Grammarly and Copyscape; nonetheless, both may still improve in key areas: Grammarly is only available in English. You can't save reports with Copyscape's duplicating program.
Is Grammarly the best plagiarism checker?
Grammarly is the best option for comprehensive verification of grammar, spelling, and originality in your writing.
Is Grammarly a reliable plagiarism checker?
Is Grammarly a trustworthy plagiarism detector? Yes, it is dependable, but no program can guarantee that it will detect plagiarism 100 percent of the time. Grammarly identifies plagiarism by scouring the Internet for millions of distinct sources. Millions more documents, on the other hand, were published in hard form and never made it to the Internet.
What is the most effective plagiarism checker?
Scribbr is the most accurate plagiarism checker, according to our research. Many free plagiarism checkers either fail to detect all plagiarism or flag content as plagiarism when it isn't. Plagiarism checkers operate by scanning your writing against existing texts using complex database technologies.
Is PlagScan as good as Turnitin?
PlagScan is well-suited to businesses such as education and publishing. Turnitin is a better option for all industries. If you're still undecided between PlagScan and Turnitin, look at whether the software contains industry-specific modules. Industry-specific capabilities will boost efficiency and return on investment.
Is quetext good?
Whether you're a blogger, freelance writer, or academic expert, Quetext is unquestionably legitimate and a must-have tool in your content arsenal. It features one of the largest searchable databases of books, online pages, and more than 1 million journals, making it difficult to get around with duplicate content.
What plagiarism checker do teachers use?
Turnitin is suggested for institutions wishing to subscribe to a tool that helps students create better papers while avoiding plagiarism. It's a popular choice among schools and institutions, which consider the service to be well worth the money.
Do plagiarism checkers steal your work?
No, but you must use reputable software such as Turnitin and similar programs at the same time, sir. It's difficult to research. Depending on the settings and type of account subscription, plagiarism software may not steal the manuscript but may keep a copy in its database.
Is Grammarly as good as Turnitin?
Grammarly differs from Turnitin in that it is an all-around writing helper tool, whereas Turnitin is primarily focused on plagiarism detection. Although the Turnitin plagiarism detector is far superior to Grammarly, Grammarly offers a better grammar checker, spell checker, and is more user-friendly.
How many percentages of plagiarism are acceptable?
Journals normally accept a text resemblance of less than 15%, while a similarity of more than 25% is considered a significant percentage of plagiarism, according to the convention.
How is plagiarism detected?
If the tone, formatting, or style of your content differs in different portions of your paper, or if they're familiar with the plagiarised source, your professor or readers will be able to discover plagiarism.
Many colleges also employ plagiarism detection software such as Turnitin, which analyses your content to a big database of other sources and flags any similarities.
Plagiarism by accident is more often than you might assume. To ensure you haven't overlooked any citations, use a plagiarism checker before submitting your paper.