A Podcast Hosting Platform is a unique service that provides storage for and distribution of audio and video data for podcasts.
If you are looking for the best podcast hosting platform, then you are on the right page.
In this article, I have provided an in-depth analysis of some of the most competitive podcast-hosting platforms. This evaluation will assist you in determining which podcast hosting platform is the most suitable for your needs.
So, let's get started!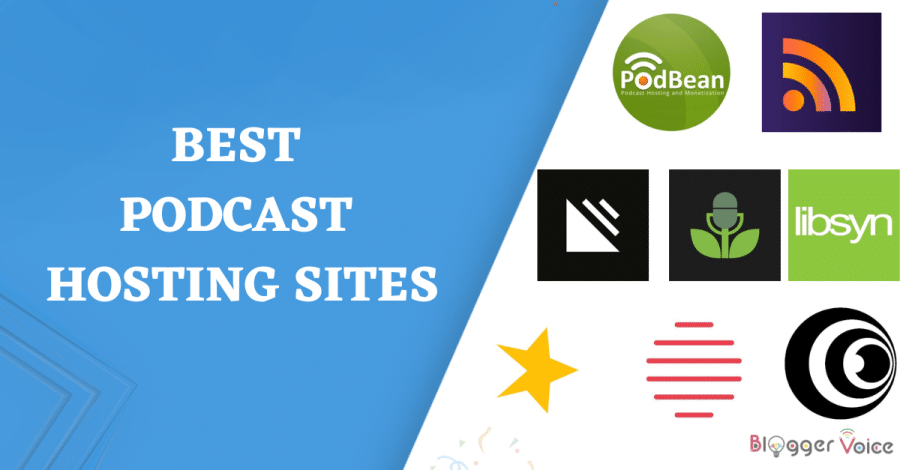 What Is Podcast hosting?
Podcast hosting is a service that stores and distributes media files and turns a podcast's ideas into a product that can be used.
For a podcast to take up as little space as possible, special software has been made. Large media files can be stored on servers that are just for podcasting.
Extras that help grow the audience are just one type of extra that hosts might offer.
Choosing reliable podcast hosting software makes the process easier, so you can spend more time making content, finding your own voice, and moving your cause forward.
Top Podcast Hosting Platforms
Here I have mentioned a list of the best platforms for hosting podcasts that have been tried, tested, and recommended by experts.
1. PodBean
PodBean is one of the most reliable podcast hosting services. It gives you everything you need to make a successful podcast for your audience.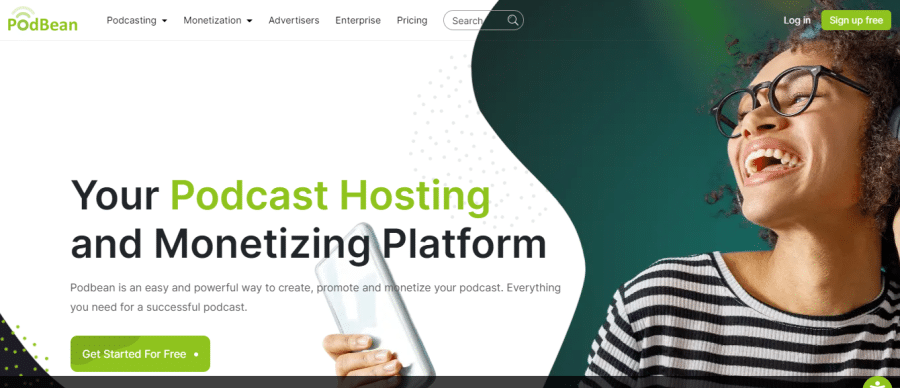 One of the best things about their services is that they make it easy for both experts and newcomers to get started.
PodBean is different from the other hosting services on this list because it has a plan that doesn't break the bank and gives you unlimited bandwidth. Podbean makes it easy and simple to make a podcast.
There are many important features of PodBean that users should pay attention t
Here I have listed some ofPodbean important features here:
Reporting and Statistical Measurement
Management of the Distribution Network
Production of Live Streaming Content
Branding that may be personalized
Keeping an Eye on Performance
Analytics performed in real time
Transmission of Data in Real Time
Live Streaming of Social Media
Data Storage Management
Multi-Channel Distribution
Engagement Tracking
Streaming in Real Time
Specialized Domains
Audio/video file upload
Third-Party Integrations
Session Recording
Bulk Uploading
PodBean Pricing And Plans
Mainly PadBean has four different pricing plans:
1. Basic Plan: $0
2. Unlimited Audio Plan: $9/month (if you are billed yearly)
3. Unlimited Plus Plan: $29/month (if you are billed yearly)
4. Network Plan: $79/month (if you are billed yearly)
PodBean has offered $5, $10, and $20 from every PodBean pricing plan respectively(Audio plan, Plus plan, and Network plan). To get more deals, click on the PodBean coupon code.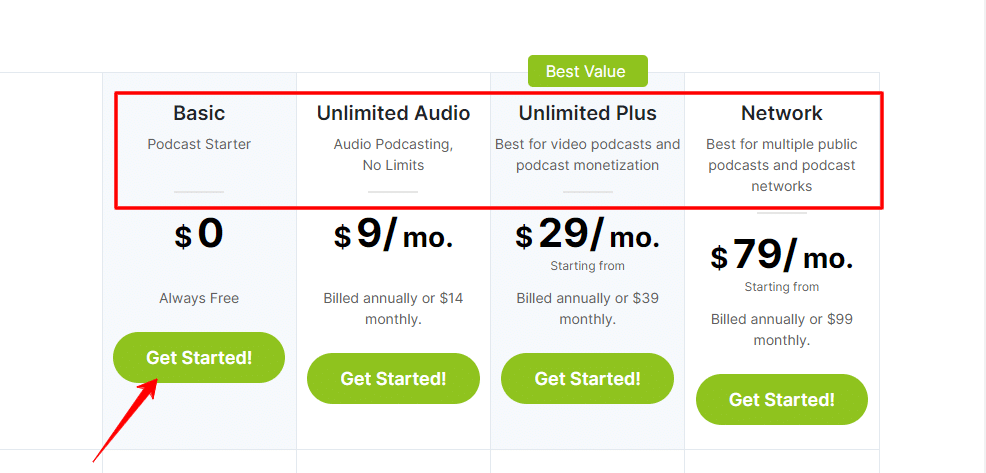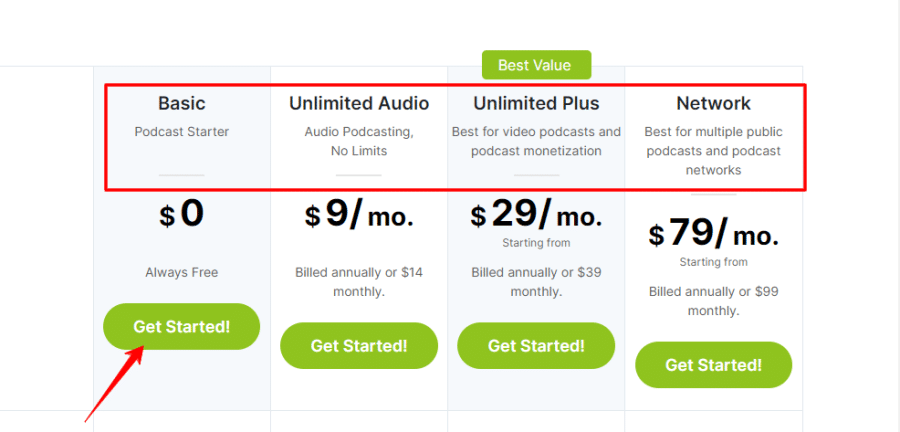 2. Buzzsprout
BuzzSprout is the best option if you want a podcast hosting service that is both simple and powerful.
Buzzsprout enables businesses to integrate a podcast player directly into their website, allowing subscribers to listen to and share episodes directly from the site.
Managers have the option to list podcasts in many podcast directories and broadcast episodes through services like Google Podcasts, Stitcher, PocketCasts, Spotify, and more.
Key features of Buzzsprout:
Podcast analytics is Incredible
Easily add a chapter mark for an episode
It's easy to add your podcast player directly to your website
You can polish your sound with the Magic Mastering add-on
Dynamic ad placement is an option
Hosting space for audio files is unlimited
tools for marketing that you can trust
Buzzsprout pricing plan
Mainly pricing has four different plans
1. Free Plan: $0
2. Paid Plan 1: $12/month
3. Paid Plan 2: $18/month
4. Paid Plan 3: $24/month
3. Libsyn
Libsyn is podcasting and content management software that enables businesses to create, organize, release, and publish podcasts on a wide range of external platforms.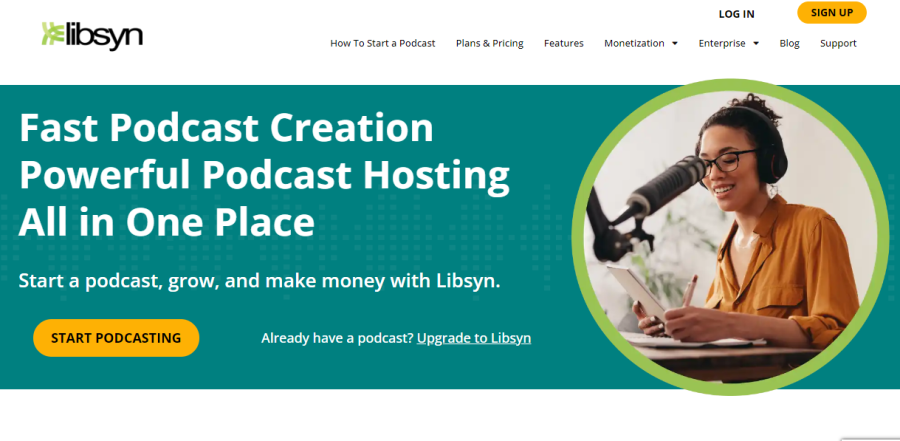 WordPress, Facebook, Twitter, Spotify, and YouTube are some of these sites.
But if you want your podcast to stand out and give you and your listeners a better experience, you will need a good podcast hosting platform. We come into play here with Libsyn.
Libsyn is an abbreviation for "Liberated Syndication," which is the name of a website that helps podcasters host, distribute, and make money from their shows.
Key Features of Libsyn:
Excellent daily, weekly, and monthly data
Easy podcast recording
Integrated Canva button for the outstanding podcast episodes and show artwork
Great podcasting tools
Custom podcast branding for promotion
Friendly staff with great customer service
Expert and professional assistance tools for enterprises
Libsyn Pricing Plans
Libsyn pricing has three different plans:
1. Paid Plan 1: $5/month
2. Paid Plan 2: $15/month
3. Paid Plan 3: $20/month
4. RSS.com
There is no need to look any further than RSS.com to start, grow, track, and monetize a podcast.
Using RSS.com, podcasters have access to an unlimited number of episodes, a free website where they can display their recent episodes, episode schedule, unique episode embed players, cross-platform analytics, and automatic distribution to the main podcast directories like Google Podcasts, Spotify, Apple Podcasts, and more.
A podcast cannot be listened to without first signing up for the feed that hosts the episodes. Without an RSS feed, people cannot subscribe to or listen to your podcast. Every single podcast needs to have an RSS feed.
Key features of Rss.com:
Patterns and statistics for overall downloads
The approximate number of followers
Where your audience members are located
Software designed to play your podcast
Metrics for your show can be exported to a CSV or an Excel file
Sponsorships and other monetization options
Podcast embeddable
Productivity-boosting episode scheduling
A simple dashboard to launch your podcast in five minutes
RSS.COM Pricing and plans
Rss.com has three different plans:
1. Student & Ngo plan: $4.99/month
2. All in One podcasting plan: $14.99/month
3. Podcast Network plan: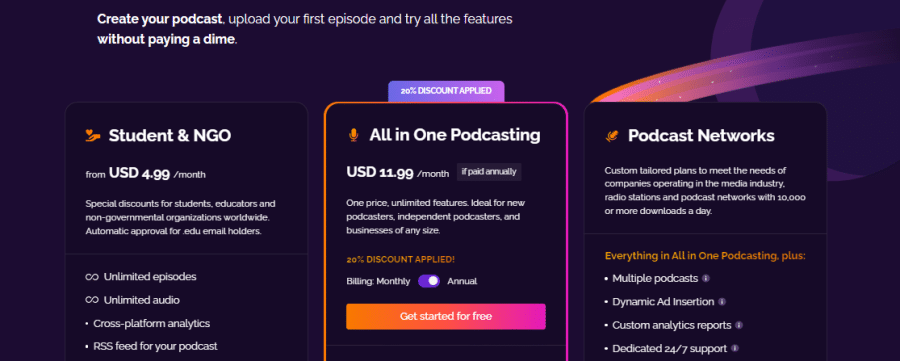 5. Podcast Websites
Podcast Websites has a wide range of useful features and tools to help you host your podcasts.
On this platform, podcasters can use built-in analytics, website hosting, regular backups, and security features. The same people also run sites like Captivate that let you listen to podcasts.
Podcast Websites is the best way to host your podcast on a self-hosted WordPress site, but it is one of the more expensive ways to do it.
With this service, you can install powerful plugins on your WordPress site to get more people to listen to your podcast.
Key features of Podcast Websites:
Simple user interface.
Drag and drop website builder.
Stunning designs for use with podcasting on WordPress.
Strong protection for a website.
Tutorial videos and a media repository.
6. SimpleCast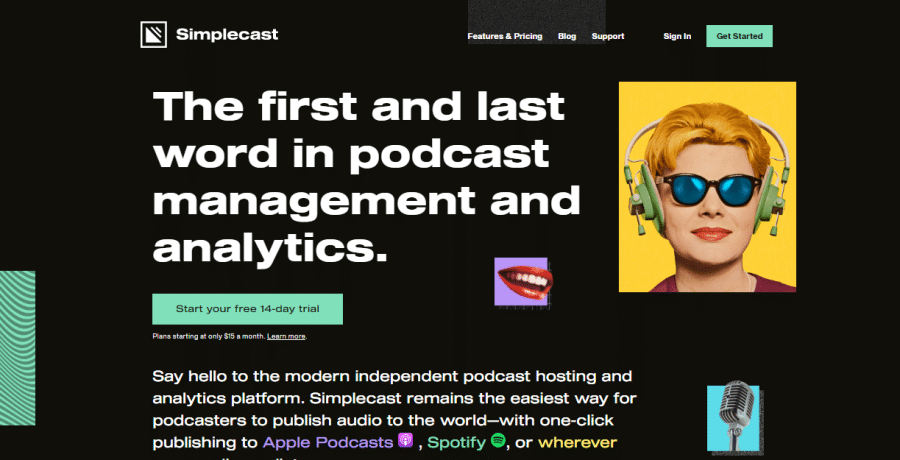 Simplecast is the best platform for managing and analyzing podcasts.
It is used by some of the most well-known creators and brands in the world, like Dax Shepard, Facebook, Politico, Shopify, TechCrunch, Harvard, Twitter, and Fast Company, among others, and delivers nearly a billion audio streams each year.
Simplecast is still the easiest way for podcasters to share their audio with the world. With just one click, podcasters can send their audio to Apple Podcasts, Spotify, or anywhere else their audience listens.
Simplecast key features:
Analytics of the Audience.
Audience Engagement.
The Uncovering of Data
Data Visualization.
Management of the Distribution Network.
Engagement Tracking.
Streaming in real-time.
Multi-Channel Distribution.
SimpleCast pricing plans
SimpleCast has three pricing plans:
1. Basic plan: $15/month
2. Essential plan: $35/month
3. Growth plan: $85/month
7. Captivate
Captivate is the premier podcast hosting provider because of its emphasis on audience development.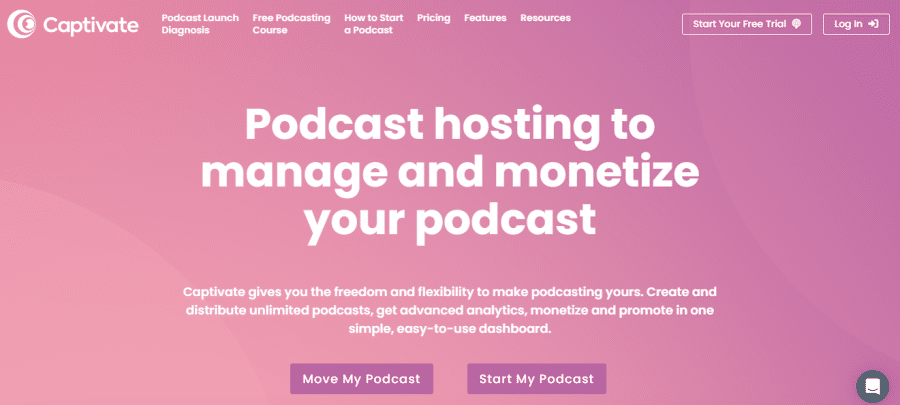 Using the hosting service, you can publish as many podcasts as you like, allowing you to expand your audience and even generate income or positive brand awareness.
Plus, Captivate is a hosting service that's intuitive to use, so even newbies can get up and running quickly.
All Captivate plans include unrestricted podcasts, hosting, and team members.
You can host an unlimited number of shows from a single account, and there are no limitations on file size or the number of uploads. However, keep in mind that all downloads come at a cost.
Key features of Captivate:
The podcast player has built-in CTAs
There are no limits on podcasts or RSS feed URLs
Free imports for people who make shows and podcasts
Your podcast will have more advanced and in-depth analytics
Make private podcasts that only members can listen to
Simple one-click access to podcast directories
Tools for marketing
Thoughtful marketing for podcasts
Anyone can join the team
Capatatve Pricing Plans
Capacitive has three different pricing plans:
1. Personal plan: $19/month
2. Professional plan: $49/month
3. Business plan: $99/month
8. Firstory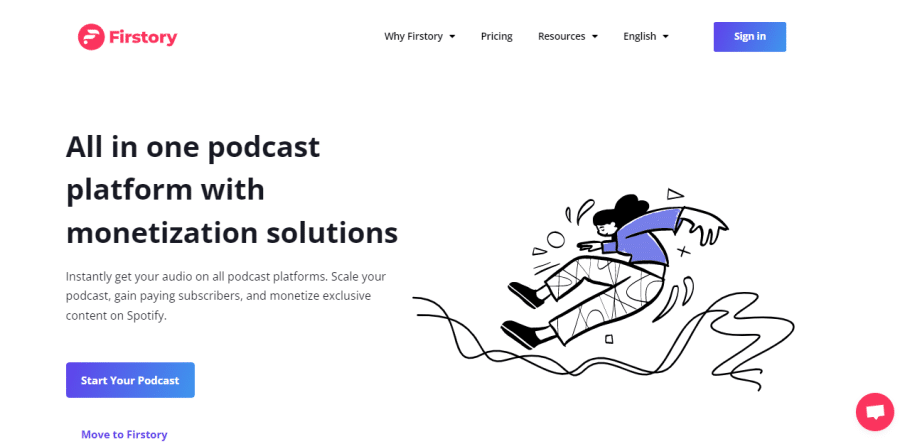 Firstory is the best service for hosting podcasts because it's easy to use and works well for both beginners and experts. Asia's largest media companies and most influential people have used Firstory to host their podcasts.
First of all, it works with all of the major media streaming apps and can upload your podcast episodes there automatically with just one click. The list will also be updated automatically to include the podcasts that will be uploaded soon.
Firstory key features:
Unlimited bandwidth, uploads, and storage
Flink Sharing generates universal links
Cross-platform comments
Podcast audio/video support
Monetize your podcast by inserting adverts
Unlimited free plan
Easy distribution to hundreds of major podcast apps
Free custom podcast players and websites
Integrated advertising and subscriptions
Firstory pricing plans
Firstory has three different pricing plans:
1. Free plan: $0
2. Pro plan: $19/month
3. Enterprise plan: $199/month
9. RedCircle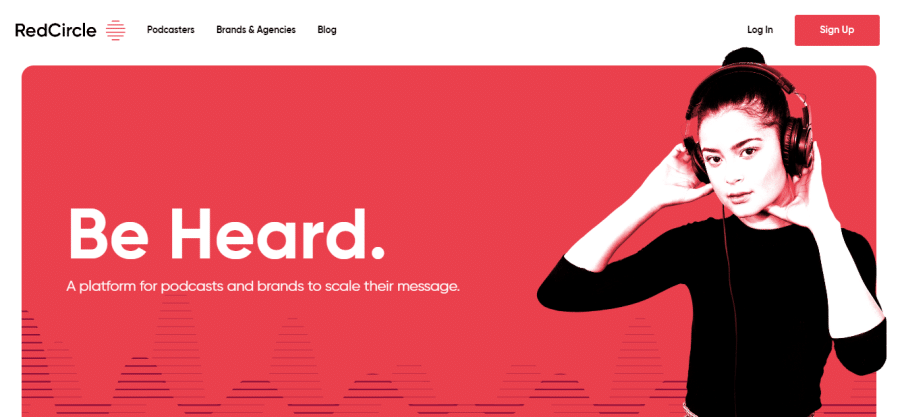 RedCircle is the industry leader in podcast hosting.
RedCircle is the ideal tool for new podcasters who want to stand out from the competition, increase their listenership, and monetize their work.
Podcasters can make money using the RedCircle platform through advertising, contributions, and cross-platform partnerships.
It's one of our top choices for podcast hosting services because of the complete editorial freedom it offers.
Key features of RedCircle:
Unlimited podcast hosting
It has several great tools for audience growth
Donate to keep making great content for your listeners
Connect with programs from other platforms to expand your reach
Maintain podcast revenue with a subscription model
RedCircle pricing plans
RedCircle has three different pricing plans:
1. Growth plan: $12/month
2. Pro plan: $35/month
3. Enterprise plan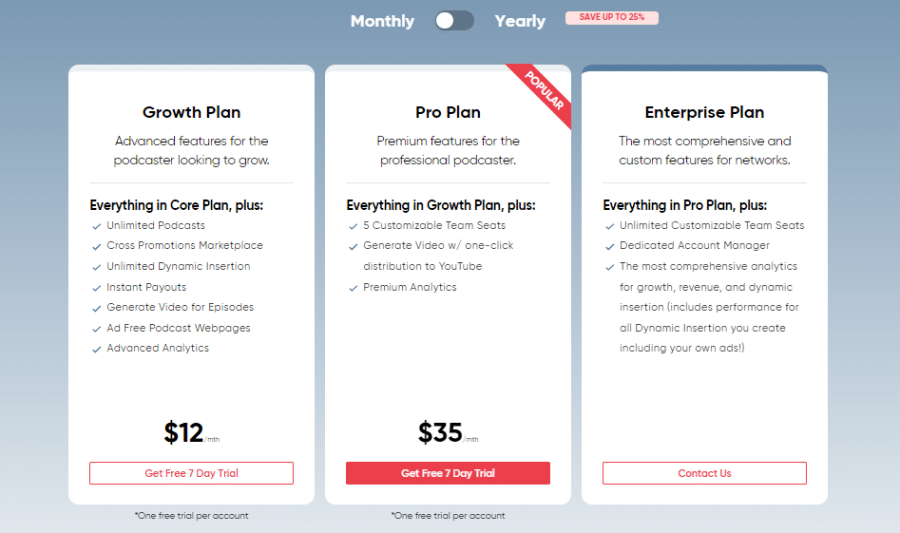 10. Spreaker
Spreaker is a one-stop-shop solution made just for the podcasting community that can meet all of a podcaster's needs.
With the help of a hosting platform, it's easy to make, share, and make money from podcasts.
There are web and mobile tools that make it easy to record and share podcasts from any device, at any time. The Spreaker studio in the app can be used to record audio for podcasts.
Spreaker doesn't have video podcasting or built-in features for live streaming or remote recording, which is a big downside.
Spreaker works best for podcasters who are in the middle of the pack and have a reasonable budget.
Key features of Spreaker:
Analytics of the Audience
Audience Engagement
A recording of sound
Management of the Distribution Network
Engagement Tracking
Streaming in real time
Multi-Channel Distribution
An Examination of Performance
Recording of a Session
Spreaker pricing plans
Spreaker has five different pricing plans:
1. Free Speech plan: $0
2. On Air Talent plan: $8/month
3. Broadcaster plan: $20/month
4. Anchorman plan: $50/month
5. Publisher plan: $120/month
Conclusion
When it comes to hosting a podcast, you have different options, each with its own set of features.
Now that you've gone through the whole list, you've probably noticed that most hosting services offer the same features, with only storage and bandwidth being different.
But some podcast hosting services are better than others at one thing, while others are better at something else. If you're still not sure which podcast hosting service to choose, we recommend picking the one that suited your needs and budget.
Frequently Asked Questions
Does Google podcast cost money?
The Google Podcasts Manager is completely free to use and the only requirements for signing up are a Google Account and a podcast feed.
Is RSS a good podcast hosting?
Yes, absolutely, 100%. An RSS feed is the only way an audience can access a podcast's content. Without an RSS feed, your podcast will not appear on your website or any podcasting directories, making it impossible for people to listen to it. Every podcast needs an RSS feed, there aren't any exceptions.
Is it free to put a podcast on Spotify?
In addition to spreading your podcast to a wider audience at no cost, this is also a great way to get started. Very few individuals who subscribe to podcasts on Apple iTunes/Podcasts also listen on Spotify or any of the other providers.
Is Spotify podcast profitable?
Over the next 5 years, it predicts that podcasts' gross margins would increase between 40% to 50%. The music streaming service's gross margin was 28.3% in 2021, and it is Spotify's goal to increase that to between 30 and 35% in the next 5 years.
Can I monetize my podcast?
If you already have a substantial following, there is a good probability that many members of that audience would be willing to pay money to have extra chances to hear from you. As a result, giving special premium content that can only be accessed after making a payment is an excellent strategy for monetizing your podcasts.
How do podcasters get paid?
Most podcasters' income comes from commercial sponsorships. In this case, the podcast will mention the sponsor several times throughout the episode. At least a few times per episode, the marketers on your favorite shows likely get a shout-out from the screen. How much money you make from a sponsor is proportional to the number of times your episodes are downloaded.