Are you in search of the best webinar software to advertise your products and services?
Then you're in the right place!
In this post, we'll examine and contrast some of the tops and Best Webinar Software platforms for hosting webinars and video conferencing available today.
To further assist you, I will describe the primary webinar features available on each platform, as well as the optimal scenarios for utilizing these tools.
Keep reading to learn more…
List Of Best Webinar Software Platforms compared
1. Livestorm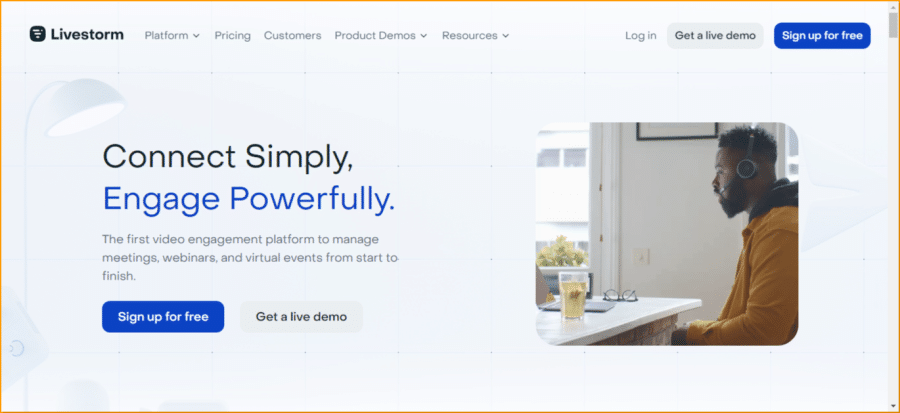 Livestorm is a webinar and online meeting video conferencing platform. Everything can be used immediately without installing any additional software. The webinar platform is compatible with 1,500+ other apps as well.
With Livestorm, you can host interactive webinars in real-time, complete with screen sharing and the ability to put any participant center stage.
In addition, live chat and question-and-answer sessions with upvoting, reusable polls, and call-to-action buttons for limited-time offers are also available. Webinars can be live, recorded, and replayed at your convenience.
Livestorm's webinar signup forms can be styled to fit your brand, embedded anywhere on your site, and filled out in a manner of your choosing.
In addition, there is a basic email system for sending out invitations, reminders, and thank you notifications; however, you can integrate with your own email provider to give your campaign a boost.
It is possible to monitor the number of attendees, their level of participation, and where they came from by using UTMs and viewing their profiles, all with the help of built-in analytics.
Key Features:
Notifications can be sent through a simple email system.
Personalized registration forms can be made.
Hosts live, recorded, on-demand, and recurring webinars.
supports up to six guest speakers.
works with more than 1,500 apps.
Includes analytics and insights that can be used.
For business and marketing professionals looking for a webinar platform that can also be utilized for virtual meetings, Livestorm is the finest option. However, when compared to other products, its webinar functionality falls short.
Pricing Plans:
The free version of Livestorm only allows for webinars with up to four people and a time limit of twenty minutes. And the price of their top-tier plan begins at just $109 per host per month for groups of 100 or less.
2. WebinarNinja
WebinarNinja is a unified webinar platform that supports live, automated, hybrid, and series webinars. Slides may be uploaded and shared, screens can be broadcasted; chats can be held; questions can be fielded; polls can be taken; and deals can be promoted.
Because it uses WebRTC, which is the most cutting-edge technology for sending and receiving live video, you can be sure that your high-definition webinar broadcast and interactions with your audience will always happen in real-time with no lag.
As an added bonus, the webinar software may be set to automatically send emails to registrants with reminders and confirmations, as well as to follow up with both attendees and those who could not make it.
In WebinarNinja, you'll find high-converting templates for your registration and thank you pages, which you can modify with the Page Builder by including your brand's colors, photos, and videos. Even better, you may add the completed documents to your template library for future use.
By putting your webinars on WebinarNinja's Webinar Finder, you make it more likely that more people will sign up to watch them online. Your webinar might be easier to find if you host it on a platform with a good search engine for webinars.
Key Features:
Runs webinars that are Live, Automated, Hybrid, and Recurring Series.
WebRTC webinar software is used to record and broadcast in HD.
Adds your webinars to the search engine Webinar Finder.
works with more than 1000 marketing apps.
Its integration with Stripe makes both free and paid webinars possible.
Rates of conversion, attendance, and retention are kept track of and measured.
If you're a marketer looking for a reliable webinar platform with lots of cutting-edge features, WebinarNinja is your best bet. Use a variety of webinar formats, including live, automated, recurring, and one-off events like summits.
Pricing Plans:
Starting at $49/month, WebinarNinja offers multiple subscription tiers that scale with the number of live registrants.
3. Demio
Demio not only equips you with the advertising tools you need to increase your earnings but also offers your viewers a straightforward, no-download webinar experience.
For your convenience, Demio offers five distinct HD webinar formats: live, hybrid series, demand-driven, automated, and on-demand. Your company's name and logo can be used in conjunction with any event type you choose.
Demio allows you to publish your presentation slides or share movies without having to switch between applications. Aesthetically attractive and intuitive, the browser-based platform keeps your audience interested.
Webinars are a great way to engage your audience by allowing for polling and Q&A sessions, highlighting calls to action to promote new products and services, and providing downloadable resources for attendees.
Custom registration and thank you pages, email notifications, and contact management are just some of the marketing and promotion tools at your disposal.
Everything about your campaign, from signups and attendance to engagement and interaction, can be tracked and analyzed.
Key Features:
Offers webinars that are life, in a series, hybrid, automated, and on-demand.
Allows your audience to join right from their browser (no downloads).
Use polls and special offers to get your audience interested.
Includes everything you need to promote and market your webinars.
Includes analytics and insights that can be used.
works with other apps for marketing.
When it comes to living events, Demio is the best webinar software for entrepreneurs and marketers.
Pricing Plans:
The monthly cost of a Demio subscription can be as low as $49, depending on the number of users who will be hosting and attending meetings.
4. EasyWebinar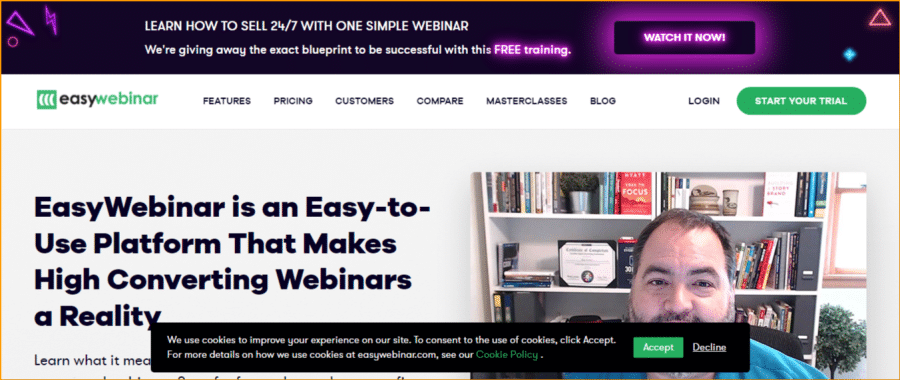 Connect with consumers, automate engagement, and improve every campaign with the help of EasyWebinar, a cloud-based webinar platform with built-in marketing capabilities.
With their real-time, HD webinars, you may have as many as four different speakers, as well as conduct polls, show off discounts, and have a conversation with your audience at the moment.
The presentation can be broadcast live on platforms like YouTube and Facebook, and it can also be recorded for later use.
The automated webinars can be run on-demand when a visitor visits your website or as a scheduled evergreen event, but they have the appearance and feel of a live event.
Use the built-in, dynamic email system to create and send notifications before and after your webinar. It is compatible with both real-time and archived webinars due to its ability to trigger email notifications based on attendees' registration times.
In addition, EasyWebinar's marketing connectors make it simple to add webinar registrants to your email provider and set off targeted mailings depending on factors like whether or not a participant attended, saw an offer but didn't take advantage of it, etc.
With EasyWebinar, you can analyze your webinar's results and gain insights that you can use to make your next webinar even better.
The number of people that registered for your event, the percentage of people who stayed for the entire webinar, and the percentage of people who departed before it ended are all metrics that may be tracked.
In addition, you may search for individual webinar participants and view their conversation history.
Key Features:
Runs webinars that are either live or automated (one-time, recurring, and evergreen).
Includes registration and thank you pages that are ready to use.
It gets people involved and working together more.
Live webinars are streamed at the same time on both Facebook and YouTube.
It works with platforms for CRM and email marketing automation.
Includes advanced analytics and performance reports on webinars.
For a dependable and low-priced webinar solution that is designed for marketers, EasyWebinar is your best bet.
Pricing Plans:
With EasyWebinar, you can host webinars with anywhere from 10 to 5,000 attendees for as little as $78 per month.
5. GetResponse
While GetResponse's primary strength is in its email marketing capabilities, the platform also offers webinar software that aims to boost conversions and participation. Further, the seamless connectivity allows you to follow up with leads with automatic email invitations and reminders.
You may think of it as a marketing engine that is already assembled and ready to go, complete with conversion-optimized registration pages and payment gateways for both free and paid webinars.
Sharing your screen, using interactive whiteboards to generate ideas, holding live conversations, gathering input through polls, and promoting special deals with call-to-action buttons are all simple ways to keep your webinar attendees interested.
You can quickly capture live webinars and transform them into evergreen on-demand events that your audience can access anytime they want by utilizing GetResponse.
It also keeps tabs on the demographics of your webinar audience, how long they tend to stick around on average, where they come from, what kind of technology they use, and the results of any polls or surveys you may have administered.
Key Features:
Gives attendees easy online access without having to download anything.
Live interactions will keep your audience interested.
Integrated email marketing software helps you keep in touch with your leads.
Makes webinars that are always available from live recordings.
Use paid webinars to get paid for your knowledge.
Tracks data and looks at statistics to help improve things in the future.
GetResponse is the best option for marketers looking for a webinar platform that also offers email marketing, automation, and sales funnels. You can still save time and money by streamlining your technology infrastructure with GetResponse, even though the platform's developers are focused on other projects.
Pricing Plans:
Prices for GetResponse's various subscription plans begin at $40.18 per month and go up from there based on factors like the length of your mailing list and the number of people who sign up for your webinars.
6. WebinarJam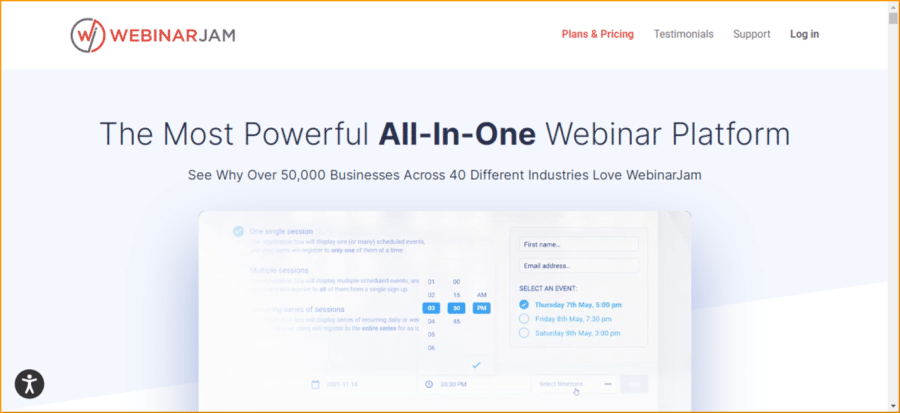 High-definition webinars with up to six presenters can be hosted using WebinarJam's cloud-based technology, which can reach up to five thousand participants. If you're on the go but still want to host a webinar, you can use your mobile device.
Webcams, screen-sharing tutorials, and PowerPoint presentations are all viable options for giving a presentation online.
In addition, the integrated whiteboard allows you to improve your presentations by jotting down notes on top of your slides or sketching out a diagram to clarify a point.
Presenter mode, when anyone can show their screen or webcam to the group, can be activated and deactivated with a simple drag and drop of a participant.
Live chat, Q&A, private comments, highlighted remarks, and sticky announcements are just a few of the interactive options available to you to maintain your audience's interest.
In addition to recording your live webinar presentation, WebinarJam's Replica Replay tool may also capture the chat remarks, surveys, and product offers that were made during the webinar. A hybrid event combines a live beginning and ending with a recorded middle section.
You can host a webinar now, schedule it for later in the week, create a series of events, or make it an "always on" session thanks to the platform's adaptable scheduling options.
The in-app page builder provides you with pre-made, fully-functional templates for your webinars that have already been created by professionals and optimized for mobile devices.
You can then modify these templates to your liking by adding your own brand's colors, fonts, photos, and logo. In addition, you can compare the number of signups for two distinct versions to determine which is more successful.
Key Features:
Runs webinars in real-time, on-demand, on schedule, and on a regular basis.
Includes a page builder that can be used to make pages for event registration.
Record both your webinar presentation and what the audience says.
Offer live chat and live deals to get your audience interested.
Built-in analytics for traffic and engagement.
Through an API, it works with marketing apps.
If you're looking for webinar software that can accommodate a huge number of attendees and a number of presenters without breaking the bank, WebinarJam is your best bet.
Pricing Plans:
WebinarJam offers a variety of annual subscription plans, with prices starting at $499.
7. BigMarker
With BigMarker, you can host and market webinars and other online events, as well as create, promote, deliver, automate, monetize, and expand your business through the use of these mediums.
This comprehensive platform allows you to produce an unlimited number of high-definition (HD) webinars that are viewable and audible on desktop and mobile devices, whether they are live, recurrent, automated, or on-demand.
The landing page builder provides more than 15 premade designs from which to choose when designing your webinar registration page. In addition, you can set up reminders and invitations to be sent out automatically via email.
BigMarker also has the option to customize the 'presentation room' to match your company's colors and branding. Prerecorded movies can be played, screens and apps shared, slides presented, and important points highlighted using the whiteboard feature.
The webinar platform is web-based, so there's no need for participants to install any special software. And once your webinar is live, you can invite people on-screen to interact with you face-to-face, collect data with polls and quizzes, distribute handouts, promote special deals, and more.
You may save time and effort hosting the same information over and over again by using BigMarker to integrate recorded webinars into your website for visitors and potential clients.
Key Features:
Webinars can be run Life, On-Demand, Recurring, Always Open, or Evergreen.
Your webinars will be streamed to YouTube Live and Facebook Live.
Holds online courses and web summits.
Contains around 15 different templates in addition to a landing page builder.
It works with apps for marketing, learning, and paying for things.
Gives you information about your performance and how engaged your audience is.
If you're looking for a flexible webinar platform, such as BigMarker, you've come to the right place. BigMarker excels in hosting virtual summits and conferences for up to 10,000 attendees.
Pricing Plans:
Beginning at $79/month, BigMarker offers a variety of subscription levels that scale with the number of participants and hosts.
8. ClickMeeting
When it comes to webinar platforms, ClickMeeting is touted as a one-stop-shop because it can be used for:
Online meetings for business and working together
Online classes and sessions of training
Demos of products and marketing
Huge online events
To generate a good first impression, you can personalize the registration page and invites in addition to the waiting and webinar rooms. With PayPal, you can even charge attendees for your webinars.
Once your webinar is up and running, you can encourage audience participation through the use of polls, surveys, screen sharing, annotating presentations using the interactive whiteboard, presenting special offers with CTA buttons, and live chatting, which can be supplemented with rapid Google translation if it is required.
Your webinar can be recorded and made available for viewing, downloading, and sharing by anybody who has access to the recording. You may also just leave it on the site and utilize it as a webinar that plays automatically on a regular schedule or as an on-demand webinar.
ClickMeeting keeps track of your webinar's attendance and statistics, allowing you to examine and compare data on your webinar's success over time. Also, you have the option to continue communicating with participants after the webinar has concluded.
Key Features:
You can put your logo and colors on your waiting rooms and webinar rooms to make them your own.
It works with PayPal so that you can run paid webinars.
Runs webinars that are both live and on-demand.
Your webinars will be streamed to YouTube Live and Facebook Live.
Includes chat translation with other attendees in real-time.
Stats about webinars and attendees are collected so that performance can be analyzed.
When it comes to a feature-rich webinar platform, ClickMeeting is your best bet if you're a serious webinar marketer. Not only can you auto-stream on Facebook, but you can also automatically publish to YouTube.
Pricing Plans:
Pricing for ClickMeeting starts at $25 per month for up to five users.
Finding the right webinar platform for your business
It's no secret that webinars have exploded in popularity over the past few years. There are a number of intriguing facts, all of which point to sustained expansion.
When it comes to webinar software, the transition from cumbersome, expensive program installs to some sleek, web-based browser solutions has been quite smooth.
These days, most webinar platforms provide a decent set of tools at a reasonable fee. Depending on your specific needs, WebinarNinja may be the perfect webinar software for you.
You just have to determine how important features like hybrid webinars, whiteboard annotations, and in-built marketing tools are to you.
The good news is that you may try out a number of different platforms before committing to one because most of them have free trials and monthly subscription options that you can cancel at any time.
So, why are you stalling? Decide on a medium, and host a webinar.
Conclusions: Best Webinar Software Platforms
For both social and professional reasons, webinar platforms have become indispensable. Many different kinds of effective instruments are available on the market nowadays.
Online webinars can reach thousands of people at once thanks to advancements in technologies such as video conferencing, live broadcasting, and real-time video editing.
These sites make it easy for professionals to hold live online meetings with their teams, share lessons with students, or showcase their work to a global audience.
We advise getting started with either Livestorm or Zoho Meeting if you need a full-service webinar generator for professional or personal use. EverWebinar is ideal if you want to share recorded webinars with your audience at any time of the day or night.
frequently asked questions (FAQs)
What Is A Webinar Platform?
Using a webinar platform, presenters can give live lectures, demonstrations, and even sales pitches to online audiences. Most frequently, people will use media like videos or slides that have been enhanced with features like chat rooms, surveys, and special deals.
Why Webinars Are Important?
Giving something of value first is the best way to build a connection with someone. Making a sale typically begins with informing the buyer. We can educate our leads about the benefits of our product and help them see the big picture by hosting webinars. Webinars are a great way to help your audience put a face to a name. They facilitate one-on-one communication and connection.
What Are Webinars Good For?
Webinars excel in the following situations:
1) Video Marketing
2) Engage with your audience
3) Increase lead generation
4) Educate and train
How Do I Choose A Webinar Platform?
Think about how many people will be attending, what kind of functionality they'll require, and how much money you have available. The software's interface, customer support, and analytic features are also important factors to think about.
How Much Do Webinar Platforms Cost?
The cost of your webinar will vary widely depending on a number of factors, the most important of which are the number of live attendees and the features you require. Prices start at $39/month and go as high as $199/month, while most customers spend $129/month or less.
Which software is best for webinar?
For those interested, here is a list of some of the best webinar software available. Like Livestorm, WebinarNinja, Demio, EasyWebinar, GetResponse, WebinarJam, BigMarker, ClickMeeting
What is the cheapest webinar software?
For those interested, here is a list of some of the best and cheapest webinar software available. Like Livestorm, WebinarNinja, Demio, EasyWebinar, GetResponse, WebinarJam, BigMarker, ClickMeeting
Is there a free webinar platform?
Zoom, unlike many other webinar platforms, is completely free to use. One of its main selling points is that it's a free video conferencing and meeting service. Includes features like screen sharing, chat, and recording; can accommodate up to 500 attendees. We hold our meetings in this space, and it's great for webinars too!
What is webinar software?
Software designed specifically for webinars makes it simple to host, record, distribute, and keep tabs on online seminars. If you have such a program, you can host webinars at any time, whether they be live or recorded. They make the material readily available, offer crisp audio and video, and facilitate group work.
What is webinar software?
To host, record, distribute, and keep tabs on webinars with minimal effort, you need webinar software. To host webinars, both live and on-demand, you need a platform like this. They make the material accessible to the audience with minimal effort, offer high-quality audio and video, and facilitate group work.
What equipment do I need for a webinar?
There are three essential pieces of webinar equipment that must be purchased by anyone who plans on hosting a webinar of any caliber: Mic-adjustable headphones. Camera Web High-Definition. Online seminar software for marketing professionals.
How can I host a webinar for free?
Using a live streaming platform like Facebook Live or YouTube Live is the simplest way to host a webinar without spending any money. The benefits include convenience, scalability to accommodate a large number of attendees, and little effort required to promote the event.
What is the first step in preparing for a webinar?
An interesting presentation is the first stage in getting ready to host a webinar. The first slide of your webinar presentation should focus on technical specifics and the presentation timetable. However, it is essential to make the presentation fascinating because most people won't be able to pay attention.
What are the do's and don'ts of webinar?
Here are the top 6 Things to Do and Not to Do When Giving a Webinar
1) Don't think about webinar sales before you think about who you're trying to sell to.
2) Don't use slides with a lot of text.
3) Don't forget about how your webinar works technically.
4) Don't wait until the last minute to plan your webinar.
5) Don't talk about what you remember; write a story.
6) Do talk to the people watching.