Are you looking for the Best WordPress Page Builder in 2022? Keep reading as we have listed 7 of them.
Visual page builders didn't exist recently. Anyone without coding skills couldn't construct a basic sales page or landing page to promote a new invention.
You had to hire expensive web engineers and designers. Developers and designers had to use CSS and HTML to create even the smallest style modification on a website, which took forever.
Installing a WordPress page builder changes everything. Experienced developers can speed up work, and newbies can avoid messy code.
So let's find out the best WordPress Page Builder for 2022 and beyond.
What Are the best WordPress Page Builders?
Here comes the list.
1. Elementor
Elementor is a free plugin, but the Pro edition costs money. Pro costs $49 for one site and $199 for limitless. You can also make use of the Elementor Pro Discount to get an additional 30% off.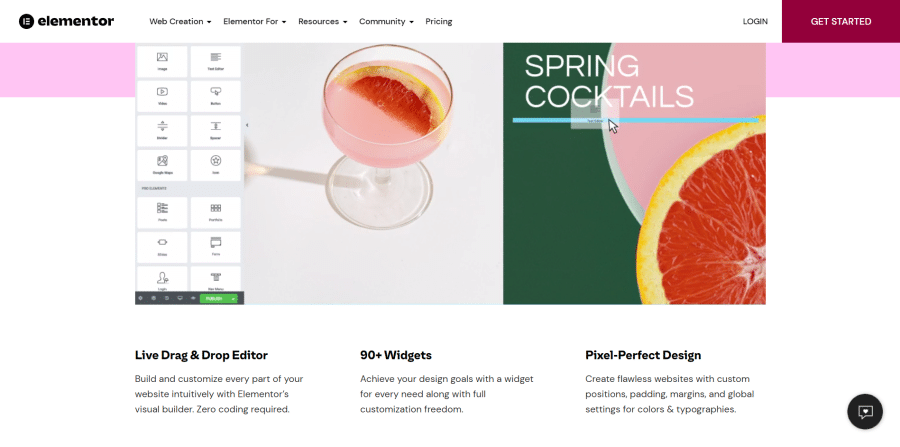 Elementor is a free WordPress website builder with one of the fastest interfaces. Live editing and page loads are instant. Animations, shape dividers, gradient backdrops, and headline effects are standard.
You can choose from a variety of beautiful WordPress designs. Elementor's free mobile version includes tools for maintenance mode, under construction pages, landing pages, and more.
It doesn't matter which version you use for performance and features. Depends on your site's needs. Elementor Pro is beautiful.
Elementor Pro features 26 widgets for creating eCommerce, portfolio, or company website pages.
You may add Facebook buttons, pages, and comments to your website and use WooCommerce widgets like categories, goods, and element modules. The live form editor eliminates backend formwork. You can store widgets for other pages or websites.
Best Features:
The free edition includes templates, a fast design area, and live design.
The paid version costs $49 per site.
Maintenance, coming soon, and landing pages don't need separate plugins.
Save widgets for website use.
Over 26 widgets including films, buttons, icons, social icons, image galleries, and counters.
Websites can be translated into several languages.
The Elementor plugin's developer API allows for extension and integration.
2. Beaver Builder
Beaver Builder is a sophisticated WordPress page builder for creative individuals who want more. There's a lite and premium version. Most builders charge less. Beaver Builder costs $99 for limitless sites.
Beaver Builder's Agency plan ($399) includes white-labeling, thus the company clearly has development firms in mind.
The WordPress page builder gives you full control over design components by using current, stylish themes and a drag-and-drop interface. Beaver Builder's visual builder is more precise than others with fiddly controls.
Beaver Builder's live, front-end editing shines since you don't have to continually click Preview or guess when making changes. It's mobile-friendly and supports WooCommerce for online stores. Save and reuse rows and modules, and use shortcodes and widgets when third-party plugins don't integrate.
Best Features:
The live, front-end editing works in real-time, so there's no guesswork and no waiting.
The page builder is WooCommerce-friendly.
Some premium plans include a Beaver Builder theme with a simple, strong design and presets for creating dozens of designs with a click.
Photos, text editors, separators, accordions, calls to action, number counters, subscribe forms, and pricing tables are included.
The Agency Plan includes white-labeling, network-wide settings, and a DIY web publishing platform.
Your website layouts can be saved and reused. You could also use these layouts on other websites.
3. Divi
Elegant Themes' Divi has gained popularity. Elegant Themes plugins, themes, and other great features are only available to members.
It's a hub for developers and agencies needing WordPress plugins and themes. At $89 per year, it's hard to argue against membership.

Divi Builder allows many columns, yet certain Elegant theme designs use long-form content for blogs and landing pages. Elegant Themes says Divi is great for storytelling with vertical graphics and interactive components.
Simple configuration choices make coding unnecessary. If you can't find what you want in Divi, you can apply custom CSS.
Divi can duplicate and replicate any element with a single click, like many other WordPress page builders. You can hide or lock a module on the backend to save it or prevent others from altering it.
Best Features:
Divi features one of the most extensive libraries of website elements to pick from, with 46 content modules.
Even some lovely templates are provided to get things started.
Lock, deactivate, and duplicate things.
To consolidate your view and clean the region for a less cluttered design experience, Divi offers a special "collapse" tool.
Undos and redos are similarly infinite in Divi. You may therefore go back to a revision that was made a long time ago and still jump to that revision.
4. WP Page Builder
WP Page Builder is a free WordPress page builder that launched on August 1, 2018. Page builder features are useful. Themeum reportedly spent years on R&D to create the ultimate product.
This page builder's sleek and straightforward design makes it easier to use, especially for beginners. The toolbar makes using rows and columns easy.
Add-ons are designed to do specific jobs perfectly. The library section lets you save add-on rows at any time. This functionality saves time by reusing your work.
WP Page Builder has useful predesigned blocks and layouts. One-click can generate a single page using drag-and-drop. These blocks are content-rich and well-designed.
Layout kits provide a ready-made page in seconds. Packs contain one or more pages, so you can utilize simply one. Read our WP Page Builder review for more information.
Best Features:
The page builder focuses on front-end editing to show users their work. It's ideal for live-editing fans.
This page builder's drag-and-drop feature lets you transfer add-ons, blocks, and layouts around any page.
It lets you disable or hide existing items for later cleanup and saves them.
You'll have access to predesigned blocks and layout packs, which will help you work faster.
WP Page Builder doesn't require coding abilities, however, you can use custom CSS for complex design.
5. Visual Composer
There is a strong team behind Visual Composer! It was created by the people behind WPBakery, one of the most well-liked page builders available on CodeCanyon.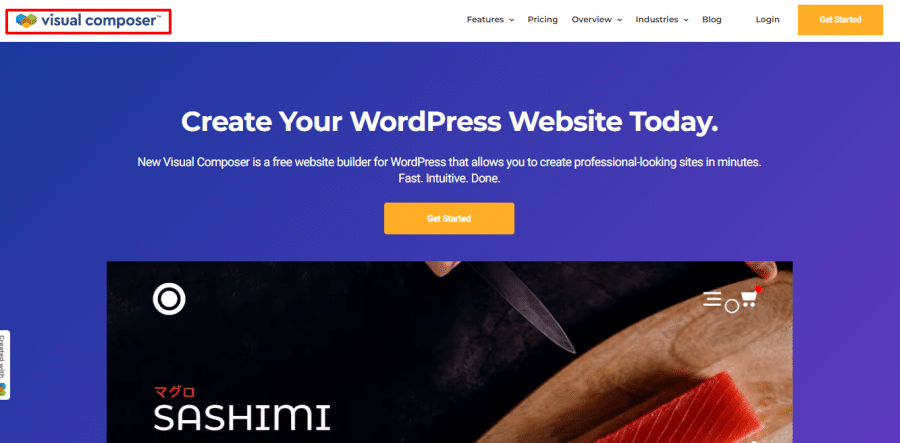 In addition to being simple to use, it has a tonne of capabilities that experienced and intermediate web developers will appreciate.
For instance, you get 100 premade layouts and more than 50 premium content items. You can start off correctly with more than 40 grid design templates, and you can't go wrong with more than 200 exclusive third-party add-ons.
Both front and backend visual editors are offered by Visual Composer. While the backend editor is more of a grid-based interface with modules to drag and drop, the frontend solution displays you real-time results as you make changes to your website.
Visual Composer requires no coding, as you probably guessed. "Tree view" turns your builder into a layered interface, like Photoshop or Sketch Layers.
If you can't make a design element seem perfect or want to be creative, use custom CSS or Javascript. This can be done worldwide or locally when you need to add a website style.
Best Features:
Drag-and-drop editor to handle layout and page elements.
Separately, it's $59
You get the backend, live frontend editor, and tree view.
Visual composer lets you conceal elements to clear up your design area and remember the module.
The WordPress page builder requires no coding skills, however experienced users can customize CSS and Javascript.
6. Oxygen
Oxygen app is distinct from a typical WordPress page builder since it uses a separate sandbox plugin.
Oxygen removes most of the tabs and toolbars you'd normally see in WordPress and focuses on page builder features like containers, paragraphs, and text blocks.
$99 buys Oxygen. 30-day money-back guarantee and lifetime updates for unlimited websites. You don't need to pay yearly for support and updates.
Oxygen lets you create websites in minutes using prebuilt components. HTML elements are supplied if you prefer a more traditional approach.
Oxygen's import/export capability moves designs easily between sites. Oxygen works with Visual Composer, Beaver Builder, and Elementor.
Oxygen's interface resembles Photoshop's. After some practice, it's easy to use and contains a lot of tools. First-time users may find it intimidating.
The support for Javascript, HTML, PHP, and CSS should appeal to more experienced developers.
Best Features:
With Java, HTML, PHP, CSS, and a strong visual frontend builder, Oxygen offers complete coding capabilities.
If you like features from both, you may combine Oxygen with other page builders like Elementor.
You may use this WordPress page builder on as many client sites as you'd like, and it comes with lifetime updates and support.
7. Brizy
Brizy is a new page builder plugin, although ThemeFuse has been making WordPress themes for years. They're WordPress veterans who know what users want. They simplify internet page design.
Brizy is free and pro. Pre-sale versions cost $231. This isn't a membership, unlike most premium page builders. You pay once and get all features and upgrades for life, plus limitless sites.
You don't need to know any coding to get started designing with Brizy. Everything is either a single mouse click or a simple drag.
Best Features:
The pre-sale edition has a special license. Pay once and use it on all your WordPress sites for the rest of your life.
An excellent user interface for a page builder plugin, to say the least.
There are more than 150 ready-to-drag blocks to choose from.
The auto-save option ensures that you never lose any of your work.
There is a Brizy user group on Facebook where you may get advice and help from other Brizy users.
8. ConvertKit
ConvertKit is a landing page builder in addition to being an email marketing tool for creatives; however, it wasn't always on this list of free landing page builders.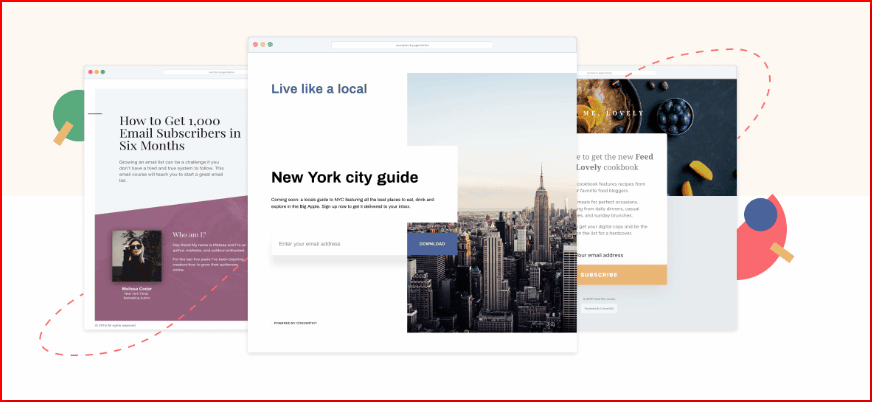 ConvertKit is a tool for email marketing for creatives. Nevertheless, we are delighted to let you know that they presently do!
Especially when you consider that the free plan grants you access to an unlimited amount of landing pages, forms, and traffic, in addition to providing you with a domain that you can customize.
At this moment, there will only be room for a maximum of 1,000 subscribers.
One of the best features of ConvertKit is the option to use your own domain name. Having access to an infinite number of landing pages is a huge perk as well.
Additionally, you'll find a decent collection of templates to work with, with nearly 50 updated layouts to pick from.
Best Features:
Personalized compliments for your accomplishments.
Integrations with a variety of additional tools.
Delivery of lead magnets automatically.
Join up with an automated system.
Acquire in-depth, specific data.
GDPR compliance.
it is an adorable landing page builder and email marketing software, for more information check out our article ConvertKit review.
Final Thoughts
I hope you liked our list of the 7 Best WordPress Page Builders in 2022, if you have any suggestions or questions then do let us know in the comment.
Frequently Asked Questions
Is WordPress a Page builder?
Yes, WordPress is a page builder that lets you build, edit, and change the layout of your website without having to write any code.
Is Elementor free with WordPress?
Elementor has a free plan, as well as a variety of paid subscription options, including an annual subscription. Everything you need to make your site a success is included in the free version: a drag & drop editor, 40+ basic widgets, and 30+ templates.
How good is Elementor?
Elementor is one of the most popular website creation platforms out there. Create your own professional website with the help of Elementor's front-end page builder, live editor, and a vast range of pre-designed themes.
Which is better Elementor or beaver?
Elementor is cheaper, but you can only use it on a certain number of websites. Beaver Builder costs more, but you can make as many websites as you want with it. There is no clear winner here because different users will find better value depending on their situation.