Today, in this article Bloom Institute of Technology review, I'll tell you about an online school that 110% promises you a job, and you won't have to pay any fees unless you get hired.
Isn't that fascinating?
We've all heard the phrase "you get what you pay for," and the higher education system is no exception.
Some universities aren't designed to educate their students, and they're more concerned with creating graduates than skilled workers.
Bloom Institute of Technology previously known as lambda school is a free online coding Bootcamp that prepares students to work as software engineers, data scientists, or backend developers.
So, let's get started.
What is Bloom Institute of Technology?
Bloom Institute of Technology, formerly Lambda School, is a ground-breaking way to learn to code or advance your existing coding abilities.
People can get trained for free and pay as they go, rather than paying for a pricey Bootcamp. It's a fantastic alternative for both new and seasoned coders.
The computer institute offers full-time, 6-month web development and data science programs, as well as a 9-month backend development and training program.
Students will demonstrate knowledge of core frontend and backend technologies, as well as computer science basics, throughout the rigorous curriculum.
Bloom Institute of Technology's incoming sharing agreement deferred payment choices let you postpone paying them until you find work, while also proving that they're committed to assisting you in finding work when you graduate.
Bloom Institute of Technology Curriculum
Bloom Institute of Technology, formerly Lambda School is an online repository of knowledge and information for professional-caliber programming.
It provides four key online educational programs that will assist you in obtaining the highest-paying job in the computer business which are as follows:
Data Science Course
Full Stack Web Development
Backend Development
Free Intro To HTML and CSS
Let's take a closer look at these programs so you can get a better idea of what these courses have to offer.
Data Science Course
Learn the abilities you'll need to be a data science specialist. It's one of America's fastest-growing areas right now, and it may also be a lucrative career path.
While pursuing a career in data science, you will be able to take advantage of some genuinely outstanding benefits, such as generous median pay and a variety of exciting job prospects.
It's fine if you're new to data science the specialists will teach you everything from the ground up.
The online data science course will provide a hybrid learning experience, with interactive video lectures accessible from anywhere in the world.
Your training will take place in a live, online setting, with skilled data scientists instructing you on how to prepare your meals using the most up-to-date tools and techniques, as well as best practices for dealing in the Python environment.
You will learn principles that may be used in a variety of situations, such as evaluating consumer behavior to improve a company's marketing strategy and better customize a product or service to the needs of customers.
The knowledge is applied across a wide range of disciplines, including business, finance, life sciences, social sciences, computer science and engineering, and education.
As organizations recognize the importance of data and the need for data scientists to analyze data and extract important information, the discipline is developing. You may be the next big thing in data science.
This is a 24 weeks course and after completing this course, you will have a better understanding of the tools you'll need and the data sets that are available for analysis.
Full Stack Web Development Course
This is 184 days of learning web development from high professionals and getting to know how the web is built and how full-stack developers are behind it.
There are numerous factors that go into designing a website, and having a full-stack developer is one of the most critical.
In this context, full-stack refers to a developer who can manage the entire website from beginning to end, from the client side to the server side (the data-handling portion of a site).
Although this is a non-standard meaning of full-stack, it is widely used today. A full-stack developer is like a chef who handles everything in the kitchen.
The professional team of renowned developers will walk you through the fundamentals of learning HTML, CSS, and Javascript in this course.
You'll not only learn how to use and recognize RDBMS databases like SQLite and PostgreSQL to back up essential data, but you'll also learn how to construct web servers using Node.js.
This could be just what you're looking for if you want to learn from the top specialists in the country.
After this 24-week course, course specialists will provide you with some interview pointers, and you will have the opportunity to practice a variety of real-world tasks.
Backend Development Course
This is a 9-month online backend web development course designed in collaboration with Amazon to prepare you for entry-level engineering employment at firms of all sizes.
The unsung heroes of the web development industry are back-end developers. They work in the background to guarantee that your users enjoy the greatest possible experience.
They may not receive the same attention as front-end engineers, but they are critical to a website's success. The back end of a website is the set of procedures that link the front end to the database. Your website will be meaningless without a back end.
The back-end developer's tireless efforts ensure that everything operates properly.
In the operating room, the back-end developer is similar to the chief surgeon.
The back-end code is what makes everyone in the team's lives easier. Core application logic, integrated databases, data integrity, APIs, and other backend activities are all handled by backends.
Experts will train you on how to build, maintain, test, and debug the complete back end. This covers the program's basic logic, databases, data and application integration, APIs, and other user-experience-related operations.
Full Intro to HTML & CSS
HTML and CSS are the two web languages that are currently in use on every website you visit.
HTML, or Hypertext Markup Language, is responsible for a website's content and structure, while CSS, or Cascading Style Sheets, is responsible for its color and style.
The internet is made feasible by these simple languages. They are, nonetheless, the basis for "real" languages such as Python and JavaScript. They're what make the internet a platform on which anyone can develop almost anything.
And they'll help you obtain a job as a developer, whether you're just starting or have years of experience.
You read the headline correctly: this course is completely free. You can go ahead and watch the lessons right now to get a sense of what it's like to design your first website.
Click Here to start learning!!!
Admission Process Of Bloom Institute of Technology
Getting started in BloomTech is a lot easier than you would imagine. Check out the Admission Requirements as a first step.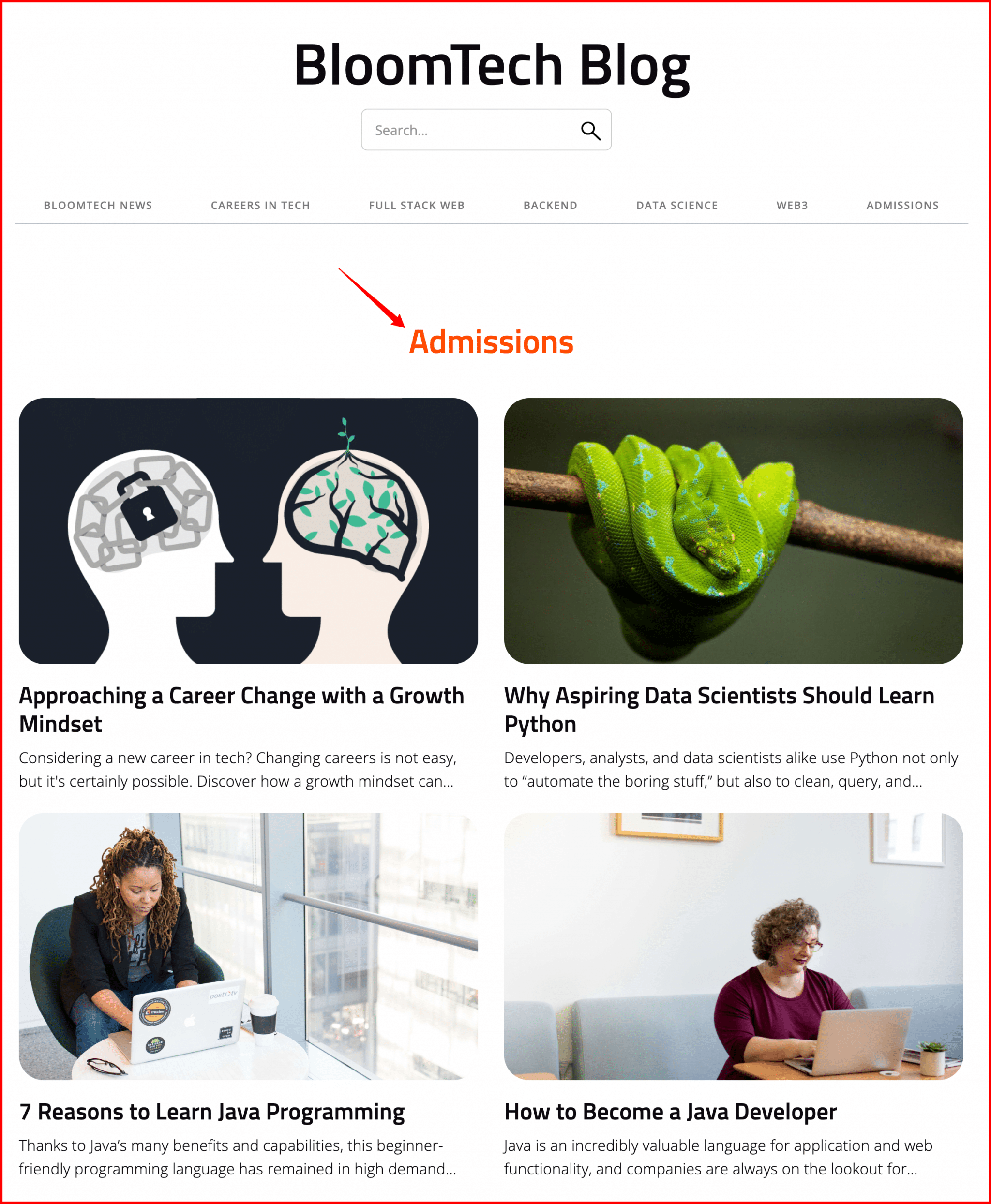 The admissions procedure is meant to guarantee that students are equipped to tackle the challenges of the BloomTech curriculum and can keep up with the quick pace of BloomTech classes.
Each course has its own set of entrance requirements. BloomTech will find a solution if a requirement is not met.
You must complete the following 5 steps to apply for the professionally developed course. Each course's application process varies slightly, so be sure it's the appropriate fit for you before applying.
Fill out an application.
Pass the entrance exam
Sign the enrollment paperwork.
Complete the Canvas Orientation course.
Finish the pre-course work.
Step 1: Register Your Account
Step 1: To begin studying, you must first register an account on their website and remember to use a secure password that is easy to remember.
When you log in with your credentials, you'll be able to access their study materials as well as the video lecture schedule.
Then you'll fill in your personal information.
If you're having trouble deciding which course is right for you, Bloom Institute of Technology offers a brief quiz that analyzes your basic skills and recommends the ideal course for you.
Click here to play the Quiz.
After you've chosen your steps, go through the enrolling process.
Step 2: Give CCAT Assessment
Step 2: You have the Criteria Cognitive Aptitude Test(CCAT) scheduled for your admission, which is wonderful since it will allow you to determine what talents and values you need to access BloomTech's commitment.
You will be given 15 minutes to complete the task, during which time you will be asked 50 questions. This test assesses the five essential characteristics required for success as a software engineer at any company, not just BloomTech.
If you are still having doubts about having CCAT, you can learn more about it here.
In the case of data science – Data science candidates must also complete a challenge called the Data Science Skills Challenge at this point. Applicants will have 45 minutes to complete this challenge, and as part of their preparation, they should examine the Data Science Skills Challenge Guide for assistance.
In the case of the Backend development program – To enroll in the program, you must pass a test that consists of 10 multiple-choice questions and must be completed in 30 minutes.
When answering the questions, you can use publicly available resources such as our free Backend Skills Assessment study guide or online Java courses.
If one feels insufficient about his or her knowledge level of any topic being evaluated, the evaluation is open book, and you have a resource of your choice to utilize as a reference to answer the exam questions.
Verify your Education:
Next, you need to verify your educational background if you live in DC, CA, or TX. You can either email them an official copy of your transcript or upload one of the papers below:
College Transcripts
High School Diploma
GED Certificate
Step 3: Guidelines To Follow
Step 3: After the completion of the previous steps you can check your mailbox. The BloomTech catalog, which you will get through email, will have a list of tasks that you can do before starting lessons.
As BloomTech students, the company expects you to follow their policies and live your way of life while performing these duties and progressing through the course.
Next, they will guide you through the following substeps:
You must select a tuition payment option from the available options.
Confirm your selected course start date whenever you're ready to go all in.
Bloom Institute of Technology will email you an enrollment agreement to review and sign after you've selected your dates.
Last but not least, you'll finalize your tuition payment option and start learning.
Step 4: Attend the orientation
Step 4: You'll need to attend the orientation course, which is designed particularly for all students and will walk you through everything you need to know when you begin our program. 
This self-paced course is designed to provide you with a crash course in online orienteering so that you can get started on your project right away and learn how to use the resources required for this online education program.
Following this orientation course, the next stage in your preparation would be to complete the prework tasks that meet the requirements in order to be fully prepared before beginning your projects.
Step 5: Complete the pre-course work
Step 5: When it comes to learning programming at the Bloom Institute, it's highly recommended that you take our precourse to ensure that you have everything you'll need to succeed once you've completed the first unit of your program.
It will take approximately 15 hours to complete all of the parts in this segment, therefore students should start working on self-study pre-work as soon as possible before their first lesson.
It is strongly advised that you complete the pre-course work. The curriculum goes quickly, and students who have no prior coding expertise may fall behind if they do not begin self-study on day one.
BloomTech Application Process & Interviews
The BloomTech application procedure is basic, and it begins with the completion of the BloomTech application form on the BloomTech application website.
For account registration, you'll need a valid email address, but you may also sign up using your Facebook or Google account if you have one.
Following the creation of your account, you should review the BloomTech application checklist to ensure that you are following the correct procedures.
Learn how to become a data scientist, backend developer, or web developer. You will be given the option of choosing between these three options. BloomTech tuition options are available in a variety of time zones and class schedules to accommodate your needs.
The next step in applying to any BloomTech program is to complete a 15-minute online assessment known as the Criteria Cognitive Aptitude Test, which is available 24/7.
There are approximately 50 problems covering themes such as verbal thinking, math and logic, and spatial reasoning.
If data science is of particular interest to you, you will be required to complete the data science skills challenge, which should be finished in 45 minutes.
Candidates for the Java development course must be familiar with Java programming and must complete the Java skill challenge, which lasts around 30 minutes.
Successful candidates will be prompted to provide information about their educational background and will then be notified of the outcome of their application.
Because there is no BloomTech interview process at this time, you should provide your best effort during the exam to enhance your chances of being admitted.
The Bloom Institute of Technology (BloomTech) interview process might be intimidating. What should you do to prepare? The Bloom Institute of Technology (BloomTech) admissions process, according to the majority of user feedback, is a positive one to be involved in.
Furthermore, reviewers said that the Bloom Institute of Technology (BloomTech) interview process was relatively quick and that they received a decision within a short period of time.
Bloom Institute of Technology/lambda school scholarship
Bloom Technology is awarding $300,000 in scholarships to promote equal access to software engineering employment.
The Unlocking Potential Scholarship was founded in the hopes of providing financial assistance to aspiring and beginning software engineers so that they can follow a career of their choice without the high costs connected with such positions.
BloomTech is dedicated to assisting students in participating in the design, development, and distribution of computer technology.
Their parallel approach to education makes learning about the latest technological breakthroughs easier and more manageable. BloomTech is a welcome addition to more typical higher education settings.
Scholarships, according to the Bloom Institute of Technology, are extremely valuable to many families who cannot afford higher education. With the support of this scholarship, the platform is providing worthy individuals with an opportunity to shine in the future.
What Type of Student is Best-Suited for Bloom Institute of Technology?
This platform is best suited for someone who is fully devoted, passionate, and eager to put in the effort necessary to pursue a profession in technology. Not everyone is a good fit for Lambda School.
They are searching for persons who are serious about pursuing a career as a software developer. This platform isn't going to be the ideal fit for you if you're hoping for a job with a set schedule and compensation.
Bloom Institute, on the other hand, is the appropriate decision if you're seeking a career shift, if you're committed, and if you want to work hard to achieve it.
Folks who are prepared to put in the effort to reach their goals because that's what it takes to be a software developer.
Bloom Institute of Technology Pricing Model
Lambda School provides a cutting-edge educational model. There are several options for assisting you in achieving your coding objectives.
You may learn production-ready skills while working as little or as much as you like from the comfort of your own home, with access to vast volumes of content.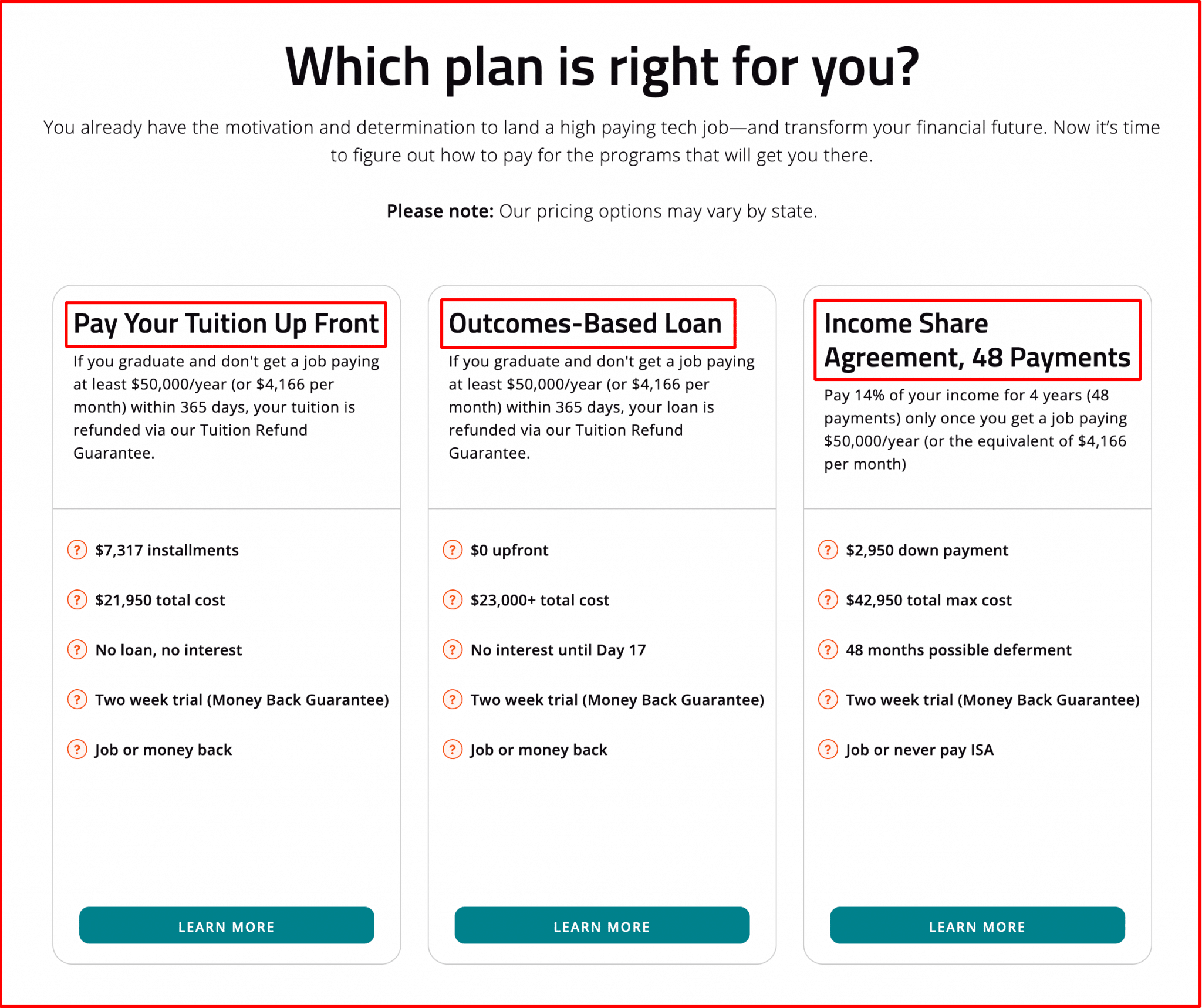 If you're new to coding, you can learn the fundamentals at your own pace, with help available anytime you need it.
As a student, however, you'll have the choice of choosing your preferred Learning Portal, so whether you attend one of Lambda School's locations or study remotely, each option is built for flexibility so that people like you can get an excellent technical education for a fraction of the cost.
They offer 4 plans which you can avail of.
BloomTech Pay your Tuition Upfront
If you graduate and do not find a job paying at least $50k per year, or $4,166 per month, you will receive a complete refund through the Tuition Refund Guarantee.
$7,317 installments
$21,950 total cost
No loan, no interest
Two-week trial
Job or money back
BloomTech Outcomes-Based Loan
If you graduate and do not find a job paying at least $50k per year, or $4,166 per month, the Tuition Refund Guarantee will refund your whole tuition fee.
$0 upfront
$23,000+ total cost
No interest until Day 17
Two-week trial
Job or money back
BloomTech Income Share Agreement, 36 payments
In this plan, you need to pay 14% of your income for 3 years only once you get a job paying $50k.
$7,950 down payment
$37,950 total max cost
48 months possible deferment
Two-week trial
Job or never pay ISA
BloomTech Income share Agreement, 48 payments
In this plan, you need to pay 14% of your income for 4 years only once you get a job paying $50k.
$2,950 down payment
$42,950 total max cost
48 months possible deferment
Two-week trial
Job or never pay ISA
Pros & Cons Of Bloom Institute of Technology
Here are the pros & cons of Bloom Institute of Technology.
| | |
| --- | --- |
| Pros | Cons |
| An engaging, top-notch education platform | Payment varies depending on the state, and rates might be quite costly at times |
| The platform's virtual environment allows for an interactive learning experience comparable to that of a typical university | The free HTML and CSS course has a subtitle fault, and it also provides very little information |
| Professionally designed curriculum | The admissions test might be quite advanced |
| Course content is created by top-tier experts in the subject | |
| You'll be able to solve projects that are relevant in the real world with the Bloom Institute of Technology | |
Final Thoughts On Bloom Institute of Technology Review
In my Bloom Institute of Technology review, I've gone through every detail of the company.
I must add, the institute's founders are doing an excellent job.
They are essentially an employment hub because they guarantee that if you follow their guidance and follow their organized curriculum, you will find a wonderful job.
Even though you must invest $30k in their fees, I believe it is worthwhile.
With sophisticated video lectures and excellent study materials, I believe it is worth a shot if you are considering a job in the software business.
After years of experience as a software developer at Walmart and evaluating all aspects of the platform, I believe you should dive right into its guidance and make your passion your goal.
Good luck with your future buddy!!!
Frequently Asked Questions
Is Lambda an accredited school?
Bloom Institute of Technology, formerly known as Lambda School, is a state-accredited institution that has been granted permission to operate by the government. The educational system in the United States is governed by certification, accreditation, and licensing standards. They are recognized as symbols of high-quality education that have been endorsed and reviewed by regulatory agencies.
How much do Lambda school graduates make?
Once you're all in, this platform will accept full responsibility for you, and according to their payment arrangement, you'll only have to pay if you obtain a job paying $50,000 or more otherwise, you won't have to pay. So they guarantee you'll make $50k per year 110 percent of the time. Many graduates have gone on to work for major software companies such as Google, Yahoo, Flipkart, eBay, and others.
How does Lambda school make money?
While the program's tuition may be set at $30,000, Lambda is largely run on income-share agreements. Students who enroll in the company are not required to pay until they have secured a job that pays at least $50,000 per year. After that, they keep 17% of their earnings for up to two years.
What does Lambda school teach?
Lambda School, now known as Bloom Institute of Technology is an educational institution dedicated to providing its pupils with a high-quality education. They take pleasure in their commitment to quality and dedication to the achievement of their pupils. Their payment structure is unique in that they will not accept payments unless and until you acquire a $50,000-per-year job, and they will promise you will pass the job interview with flying colors 110 percent of the time.
Is Lambda School and Bloom Institute of Technology the same?
Yes. Bloom Institute of Technology was previously known as Lamda School. They are the same educational company that offers high-quality online learning to anyone interested.