Are you looking for Unlimited Sales Funnels on the WordPress website for free? Here, in this Cartflows Review, I will be reviewing a tool that offers an unlimited click/sales funnel absolutely free. I think you'll surely love to know more about Cartflows.
There are many Cartflows alternatives like ConvertPages, and Convetri and don't forget to check out tools like ThriveCart and SamCart and a few more to set all these up.
Do you know that the sales funnels concept is gradually increasing with time? Yes! If you have money and time then, your business future is amazing as Cart Flows helps you to make sales funnels on the go (OTG).
Don't you think this learning journey of how to create unlimited free sales funnel with Cartflows will be exciting and amazing?
And, let's know what are the features and functions of Cartflows in our detailed review. Grab a cup of coffee and focus on the content completely.
Cartflows Review September 2023: Is This Checkout Software Good Enough?
CartFlows Inc, was founded by two Co-Founders (Sujay Pawar and Adam Preiser) in October 2017. They are the same man behind the world famous Astra theme and WPCrafter website.
Cartflows is on a mission to build a system that gives full control over every aspect of the buyers journey with the goals to make WooCommerce buyer friendly and reduce shopping cart abandonment with a frictionless checkout.
CartFlows Inc, 2035, Sunset Lake Road, Suite B-2, Newark City, County of New Castle, DE 19702.
What Is Cartflows?
The day I got to know about this Cartflows I didn't understand anything?
Everyone has started talking about Cartflows this! Cartflows is that! me.
So I opened a new tab, scooted over to the Search engine, and typed "Cartflows Review" into the search box. Then I get to know about this.
Cartflows is a stunning software one can use to make any kind of funnel for several minutes. It offers unbelievable functions that will assist you in making what you need, doesn't make any difference in case you are an expert or an amateur in this field.
To lay it out simply, high-level skills do not make any difference if you want to make a creative design in a shorter time.
The checkout interaction is everybody's no. 1 concern and with Cartflows, that is settled as well!
Besides, it is really easy to utilize and keeps any unreasonable measure of money from being discarded very much like that.
So everyone is excited about this WordPress plugin?
Well! It says that Cartflows is a WordPress tool or plugin that helps to create an unlimited sales funnel that is user-friendly and affordable.
Up-sell, back, online store withdrawal solutions, and place scratches are all included in all sales funnels to increase the overall order value of customers.
You must also know that it is quite compatible with WooCommerce and all of its add-ons. In simple words, it helps you to sell all your products on WooCommerce with more ease.
Cartflows have two subscription packages, one is free and the other is the premium version.
If you want to use it on your WordPress website then, you do not need to purchase the plan as it is absolutely free and comes with basic sales funnels.
In case you go for power and the most advanced sales funnels then, you need to pay for the paid version subscription plans.
I would recommend going with the Cartflows Pro if you want advanced sales funnels. Do you know why Cartflows Pro? Because it creates more profit as well as complicated sales funnels in WordPress.
Now, let's start to take in-depth knowledge about Cartflows features, functions, pros, and cons in detail.
Cartflows Review: Pros And Cons
CartFlows is fairly easy to use.
It lets you create unlimited sales funnels using the funnel templates.
This tool offers unlimited upsells and downsells.
Checkout Both Regional & Global
Suitable for everyone: be it be debut sellers, existing sellers or selling enterprise
Supports Almost All Page Builders
Multiple payment gateway support
30-Day Money Back Guarantee
Unresponsive Customer Support
Why Do You Need CartFlows?
If you have used WooCommerce before, you're probably aware of how narrow it is.
You won't be able to customize your business website in any way.
Let me tell you something: 7 out of 10 people who begin the checkout process abandon it halfway through.
So Well, I can't say I start blaming them.
Many checkout processes had been abandoned by me simply because they were frustrating.
I'm not sure why I'm being asked for my recovery email and address when I'm doing mobile recharge, and CartFlows gets it.
They'll help you modify, conceal, or add new checkout areas.
The most attractive aspect of CartFlows, in my experience, is that it allows you to use your preferred landing pages. To summarise, CartFlows merely creates fast sales funnels.
Key features of CartFlow
Cartflows has tucked a lot of tricks inside its sleeves, whether it is about creating sales funnels or email list funnels.
Let's see some unique and key features in a nutshell, Cartflows help me….
1) Pre-Made Templates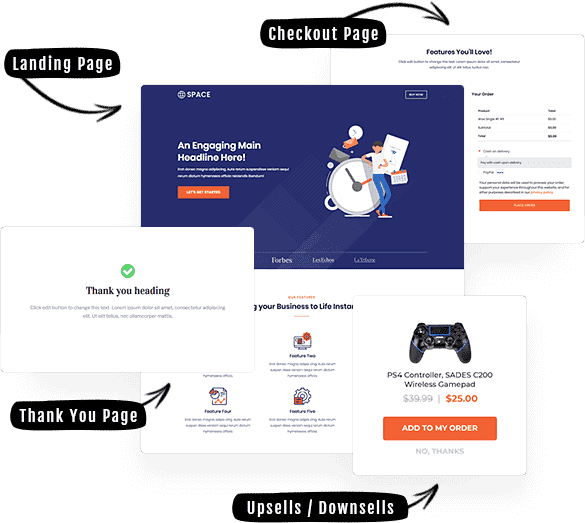 Cartflows has 10 ready-made or ready-to-use themes or templates. Of 10 templates, 4 templates are free and 6 templates come with a premium package. All these templates are used to create a quick first funnel or flow.
All these templates work for almost all page builders including Beaver Builder, and Divi Builder.
It also supports the WordPress Page Builder and it doesn't matter whether you have freemium or premium subscriptions.
2) Custom Check Out
If you want to add additional checkout forms like newsletter subscription, gender, age, and others then, the Cartflows Pro version allows it in just one click, isn't it great and amazing!
You can easily and smoothly change or rearrange each field position, label, width, and any other options. All these are in just one click in a custom checkout field and only to premium users.
It also supports the global checkout field in case you're using a traditional WooCommerce page.
CartFlows Checkout Layouts Are Ideal For:
It provides its customers with distraction-free and high-converting checkouts, as well as more appealing designs.
Cartflows Layout is also a dense and frictionless presentation that is ideal and can easily interact with online people.
3) One Click Order Bumps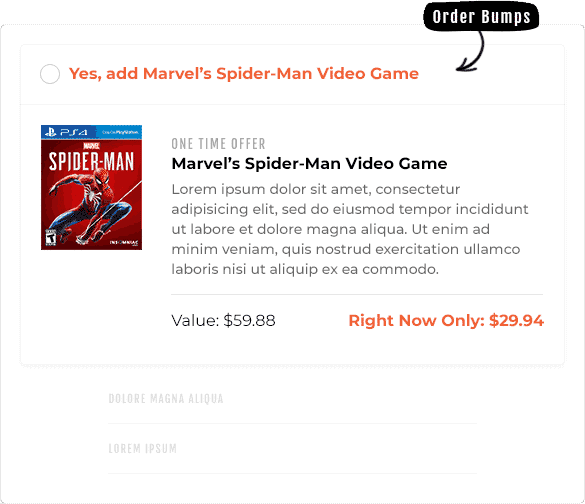 The ability to add order bumps to checkout pages is another outstanding and premium feature added to Cart Flows.
With this feature, you can avail of the products at some discounted prices of products to shoppers. This automatically leads to the total purchase value of any consumer.
Order Bumps from CartFlows are Ideal For:
It is a business that sells complementary products to people.
Excellent in their training programs that increase their knowledge of those who are unaware of the order bump.
Distribution of Insurance Products to clients.
4) 1-Click Down & Up Sell
In order to increase the customer's average transaction value then, 1-Click Upsell and Down-Sell play a vital role. These two offer the following selling strategies:
One-time and Unique Offers
Courses
Tripwire Offering
Products Maximum Quantity
High Price for Software
Free and paid template features are also available for Upsell and Down-sell pages.
You can also import your already created templates or create a new one in just one click. And, these features only Premium users can access so, lose your purse to add it to your bucket list.
One-Click Upsells In Cartflows Is Ideal for:
It has One-Time Offers as well as cross-sell offers for related items.
It's ideal for course founders who want to sell their courses as a mastermind group. But oh well! You're aware that it has a device with a more expensive pricing plan.
What could be more important than one's health, it sells a lot of health supplements.
5) Shopping Cart Abandonment
I am assuming that you know what exactly Shopping Cart Abandonment is!
Do you know it is the most-fearing issue a seller can face? And, to resolve these issues you need a strong and advanced tool with integrated solutions.
"CartFlows is probably the most exciting product in the WP space in recent years. Totally a game changer!"
However, ClickFunnels offers and integrates the solution but it is more expensive.
But, using Cartflows hardly costs you and comes with the same integrated solutions and only pro customers can use these advanced features.
6) A/B Split Testing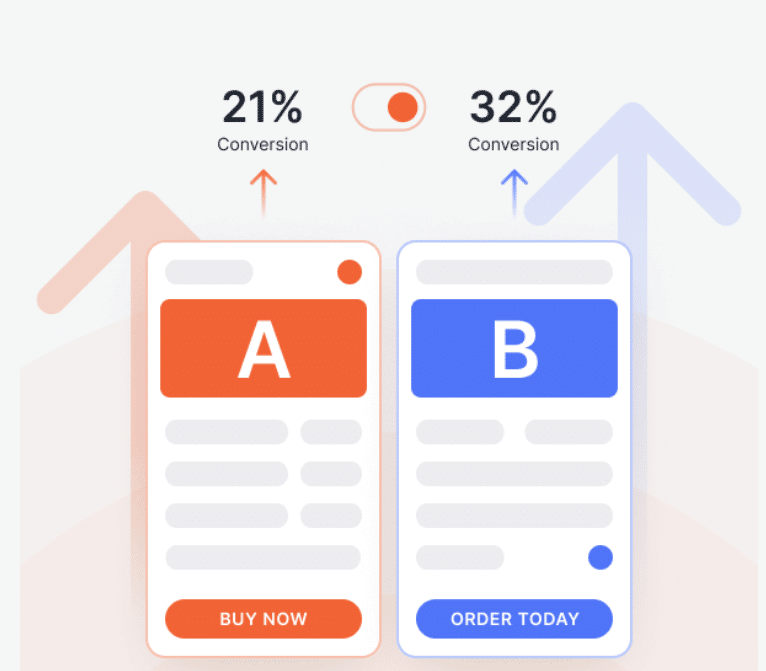 Split testing your funnels is a breeze with CartFlows.
You may simply select the A/B test option for any single flow phase from the list of flow stages. Automatically, a duplicate version of that step is created.
To split-test various variations, you can create as many duplicate versions as you like.
After that, you can easily split-test each aspect of this particular phase.
A/B Split Testing In CartFlows Is Ideal For:
Finding the better pages and determining whether the page needs to be changed or not.
It also lowers rebound rates and allows for testing.
Directing traffic to pages that perform better and convert at a higher rate.
7) Lead Generation Tool
For this reason, CartFlows is the best WordPress lead generation plugin. It enables you to create engaging lead magnets using simple templates and begin converting visitors right away.
The Lead Generation in Cartflows is Ideal for:
It aids in the generation of leads, the building of a mailing list, and the creation of global brand awareness.
Customers' sales funnels are being created by them.
Lead generation aids in the growth of sales and the spread of awareness among the general public.
8) Conversion Optimization Layouts
CartFlows allows you to create optimal landing pages with no coding and WordPress experience.
CartFlows's sales funnel templates are tailored for various purposes such as:
Ecommerce businesses
Course creators
Events
eBook stores
Consultation services.
Conversion Optimized Layouts Is Ideal for:
You can add a beautifully made fairly complex flow from the flow book store to your website with a single click. All you need to do now is add your images and text.
A website, shopping cart, upsells, and thank you page template are all included in the stream.
Are you unhappy with the current templates? So, using CartFlow, you can start creating your streams.
Types of CartFlows Steps
A Cartflows is a collection of steps. Different step types have different features available to them. Here are the various step types from which to choose.
Create a Homepage
The Homepage step is appropriate for any kind of homepage or lead generation page. There can be multiple Homepage steps in a flow.
Checkout Procedure
Your sellers can place their orders in the shopping cart.
It will include choices available for linking it to an item, adding an upsell (pro), adjusting the usable fields (pro), and styling the template. A flow can only have one booking step.
Step of the Upsell (pro feature)
Only after the booking step can the Upsell step be added. If an upsell step exists, the purchaser will be advised thereafter to place their order on the booking step.
This is the stage where you can make this decision.
Step of the Downsell (pro feature)
After the upsell step can the down-sell step be added. When the purchaser reaches the upsell step, he or she is allowed to refuse it; if there is a down-sell step, they will be targeted there if they decline the upsell.
This is the stage at which you can make a counteroffer to the purchaser. There can be more than one down-sell step in a cart flow.
Latest Optin Woo (Free/Pro)
Only the Optin Step sample can be used among the Landing Step and the Thank You Step. So we must focus on providing simple virtual/downloadable items at no cost.
When the user reaches this step from the home page, he or she will enter their knowledge and generate access to the product as specified.
Step of Gratitude
Last Step Of the CartFlows. If you're using the booking step in your flow, this is where you'll be able to see the order details.
Thank You page step is an excellent place to teach your purchasers the next steps they should take.
Who Should Use Cartflows?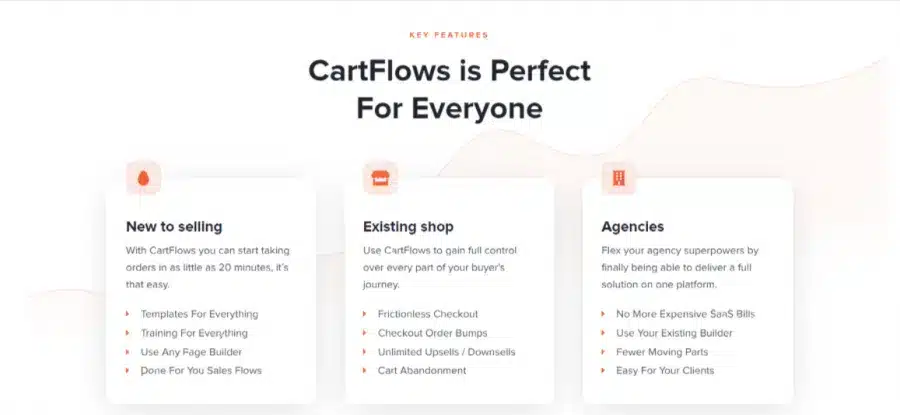 New Selling: This Cartflows can help you to take orders in less time and it's a very easy method to do. Some important characteristics of Cartflows are that it helps to promote for everyone and delivers designs for learning so that everyone can use it.
2. Many Existing Stores: This Cartflows allows us to have complete control over every step of the buyer's journey. Also, some main points for this Cartflows review:
It provides buyers with unlimited upsells and down shells, as well as a fast and efficient checkout.
3. Agencies Around the world: Cartflows easily flex your agency's superpower by finally putting the solution to its problem from one place to another.
It does not provide purchasers with expensive SaaS bills, and it is also simple for clients to use it without any problem.
CartFlows Insights & Analytics
CartFlows analytics give real-time data for your all funnel optimization needs. These detailed insights can be used to improve conversion, offer better customer experiences, and grow your revenue faster.
The analytics dashboard covers the various metrics and gives data about your store such as:
Traffic
Sales
Average Order Value
Conversions
Total Revenue
Using real-world testing data, you can uncover the pages that perform best together to deliver high conversions and put your store up for success.
Insight displays information in Cartflow Is Ideal For:
Many Visitors
Conversions and the Amount of Conversion
Order Bumps' Gross Sales Revenue
Money at each stage of the process
Order Value as a Percentage of Total.
What type of funnels can CartFlows create?
CartFlows allows users to create a wide variety of funnels. You are not even restricted to basic sales funnel with a payment page; you can also build the funnels listed below:
Tutorial funnel in action
Refund funnel
Software funnel for clients
The funnel for launching a product
Brand funnel with no cost
Webinar and training program registration funnel
Conversion funnel for lead magnets
2-Step Motion sensor Funnel for Subscription.
It's just to analyze what CartFlows can do for you all. This kind of funnel may necessitate the use of 3rd payment.
How to Start a CartFlows From a Product Page?
This latest feature is for you if you want to begin your Page right from the product description so here it is.
This article shows that you should know how to begin your flow from the product description and how to use it with various types of products.
In this function, we've placed a CartFlows setting in WooCommerce's device settings.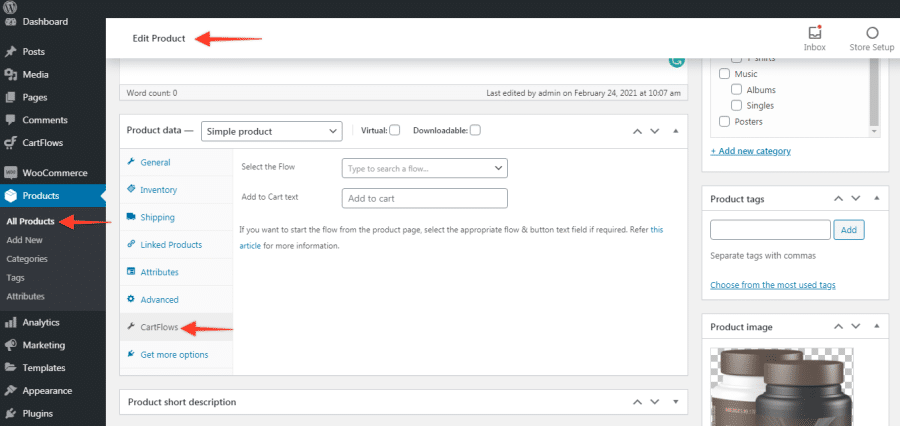 When the customer uses the item single page and adds it to the cart for selling after selecting the flow in the item's settings, he will be automatically transferred to the CartFlows flow in the starting step.
Does CartFlows Work With Or Without Global Checkout?
There are numerous scenarios in which you may be perplexed as to how CartFlows works and whether it will assist you in achieving the targeted flow for your funnels to improve product sales.
All of those concerns will be addressed in this paragraph. You can find many posts and pictures about the workings of CartFlows on the internet, but this one will provide more guidance.
Now, let's look at how CartFlows works with or without the Global Checkout.
Global Checkout
This is how CartFlows works by default: you can connect your checkout page through a home page, which means your account setup will go Homepage -> Checkout Page -> Upsell Page -> Downsell -> Appreciation Page.
You can also use this flow to promote your products through social media or website advertisements.
With Global Checkout
If you have a variety of items, this case will be more useful. Creating a flow for each good or service is complicated. This is where you can buy all of your CartFlows goods.
You can utilize this second to pass on your customers from any piece of your website page or a web-based media webpage to your website's shop/store page, and afterward, this CartFlows shopping basket, where the CartFlows will be utilized to purchase the things.
Is Cartflows Easy to Use?
CartFlows works directly within WordPress, so if people know how to use WordPress, you'll be happy with CartFlows. Near fear, Cartflows is here!!
Let's Talk About Some Key Features:
Price / Value Of the Cartflows Is Here: You'll get direct links to all premium functions as well as an internet user group for a valid annual membership fee.

Support Provided By Cartflows To Customer: CartFlows customer support team responds quickly and effectively, resolving customers' issues.

Cartflows 100% Risk-Free Money-Back Guarantee!: AMoney Back guarantee surely protects you with everything and no problem will be there after buying this sale funnel. They will happily refund your money if you do not like our items within the next 30 days.
It integrates with the most popular page builders, allowing you to quickly start using layouts or creating your own.
Customer service is fast in responding and very helpful.
It works awesome with WooCommerce sites. Everyone who is working for WooCommerce also performs for CartFlows.
CartFlows is easy to use and enables users to create professional-looking inflow in minor seconds.
You won't have to study any new technology because it's designed to work right inside WordPress.
Cartflows Pricing Plans: Get $50 Off On Pro Plan
As per my Cartflows Review, Cartflows offers two different types of packages. The first one is Free and the other one is Paid Version (named Cartflows Pro).
However, the Cartflows Pro asks $209 inclusive of all features and plugin updates, and tech support.
Annual License ($209/year)
You can get an annual license for $209/year and then let's go with it without fearing heavy prices and use the CartFlows coupon code from the site. The Annual License has many benefits ;
Create several funnels
Premium Templates On Various Websites
Conversion Integrated Payment system.
Checkout Offers
Lifetime License
$999 for a Lifetime License and spend once and use it for the long-termx. There will be no memberships or repetitive subscription fees!
Their lifetime License has many benefits;.
Disused Cart
Superb Service
Inspiring User Community
Excellent information and training videos.
Is there a free plan for CartFlows?
CartFlows' free edition has enough capabilities to allow you to build a basic sales funnel including a checkout page and a thank you page.
However, purchasing the premium edition is recommended if you want to develop complicated funnels with order bumps, upsells, and down sells.
Which One Should You Get: CartFlows Free or CartFlows Pro?
Go Through the view of the free version Of Cartflows includes sufficient characteristics that help you build a basic sales funnel with a payment page and thank you page.
The free version must satisfy this if you all are looking to do this right now. Although this one is also a great option for you all.
However, purchasing the premium version is the best option if you want to build innovative funnels with order bumps, upsells, and down sells.
These features are very important if you have a defined retail site or business and would like to maximize your profits.
How to Upgrade to CartFlows Pro?
To upgrade to CartFlows, follow the steps outlined below:
Step 1: To begin, log in to your CartFlows account.
Step 2: You must go to the 'memberships option' to see a record of your current memberships.
Step 3: Finally, you will see an option to 'Upgrade to Lifetime' when you click 'view' on the right of your desired membership.
However, it's important to note that the total amount will only be visible on the shopping cart.
The annual membership fee for your current plan will be deducted from the cost of the life-long installation.
How do I activate the CartFlows Pro license on a multisite installation?
CartFlows can be assembled via network authentication or manual authentication if you're running a WordPress Multisite, based on whether you're using the unlimited or Pro term.
Activate the network
It entails installing plugins on each of your multisite network's child sites. This method is only available if you are using the free app of CartFlows, as it is not supported by the CartFlows Pro plugin.
STEP 1: Simply navigate to the Plugins menu > Add New in the network admin panel.
STEP 2: Install the CartFlows plugin in the same way that you would in a standard WordPress site.
STEP 3: Click on the Network Activation in the Installing Plug-ins display.
Activate Manually
CartFlows Pro is only available for manual activation.
It can accomplish by first logging in as a network admin to the toddler site and then activating the WordPress site.
STEP 1: Simply navigate to the Plugins menu > Add New in the network admin panel. CartFlows is a plugin that should be installed.
STEP 2: Return to Plugin Installer from the Installing Plugin screen.
STEP 3: Navigate to the site admin screen where you want the plugin to be activated. Select CartFlows from the Plugins tab.
STEP 4: Press the button. Finally, they offer the CartFlows Pro license.
Does CartFlows affect website performance?
We had a customer who writes a bad review of CartFlows weeks ago because they were under the perception that CartFlows performed poorly "in their checking."
Oof! No one wants to have a 1-star review of their item, let know about its quality.
According to our research, the full-size time on GTMetrix.com was 3.5s – 7.3s, with a maximum of queries.
As evident, CartFlows not only adds 6 requests to the checkout page but also minimizes the overall page size by removing your theme's header and footer.
Update: Gutenberg Blocks of CartFlows
Gutenberg Blocks are now ready for CartFlows 1.5.12 and CartFlows Pro 1.5.20.
CartFlows Review is introducing these blocks to provide a new experience to create the funnels which we have separated into two sections that are CartFlows free and CartFlows Pro Blocks.
Our Next step is Button/Link Block.
Form of Optic
Block of Checkout Form
Upsells and Downsells Shortcodes such as Connectivity Options and Offer Accept & 5. Reject Block is available.
Order Review Section ( Thank you page).
Oh well! You all should keep in mind that these Blocks will only be visible on their profile page. That is, when you open/edit the home page, the Next Step Button/Link block will appear.
How should I install Square Gateway for upsells and downsells in Cartflows?
In the most recent CartFlows Pro info, 1.5.10, we added personalized support for the much-anticipated payment method, Rectangular Online Payment.
You can now use the Payment method to offer CartFlows Sell. You will get to know how you can set it up to work with CartFlows.
Some Basic Questions are put up below to understand this concept better.
a) What Are the Main Prerequisites that are required to configure the gateway?
Ans: If you want to begin, you must log in to your Payment Gateway password from this page.
If you have not yet created an account, you can do so from the same page.
After signing in, obtain the Application ID from the "My Devices" section of your Payment Gateway account and the "Connectivity Token" from the Account section.
Now, go ahead and download and install the Payment Gateway Tool from this page.
CartFlows Is Compatible with Multi-Currency Plugin?
Is CartFlows Compatible with WooCommerce Multi-Currency Plugin?
So, to add multiple currencies and currency swiping, we'll use the WooCommerce Multi-Currency plugin.
In this headline, we'll go over how to install and activate the WooCommerce Multi-Currency plugin. Also, how to add a drop-down list option to convert the market based on the customer's selection.
You don't know about multi-currency and what it includes so let's know about it!
This multi-currency plugin includes a set of Unicode characters that can be used to showcase the currency plugin option on any page of the site.
You may need to include the multi-currency shortcode in the footer, header, or even the toolbar plugin when using this shortcode.
The reason for this is that CartFlows does not access any plugins or the theme's header and footer on its sites by default.
It is not necessary to provide the same shortcode in the CartFlows shortcode because the shortcodes are distinct.
What is CartFlows' "Return Offer" function?
The Refund Policy is now available on CartFlow. This offer is valid in CartFlows Pro 1.5.3 and later versions will be coming. This will enable you to return the money offers products, which are those that were bought/sold from the Upsell & Downsell sites.
CartFlows' Refund Offer function will only operate with Payment Gateways that CartFlows supports. It offers various offline payment gateway such as Cash on Delivery, BACS, and Cheque Payment gateway will not operate with this function.
How does Cartflows Return Offer Function Work?
This function will include a meta box in the WooCommerce > Orders > Current Order section.
This meta box will only look if the offer product has been bought. To repay the item, simply just press the refund button in front of the item you wish to repay.
You will be prompted to enter the billing reason in the pop-up after clicking the Payout Button. To continue, enter the reason and click OK.
The payment will be examined through the same Payment Gateway that was used when the purchase was made.
A popup will appear after the refund has been completed successfully, and a Purchase Note will be inserted into the relevant purchase notes.
The order will be modified and the payment information will be presented on the same page as soon as the page is reactivated once the item has been refunded.
CartFlows Review: What I Like About It?
Customer support is responsive and very helpful.
It works with all major page builders so you can easily start using templates or create your own.
It's designed to work right in WordPress so you don't have to learn new software.
It works perfectly with WooCommerce. Anything that works for WooCommerce works for CartFlows.
CartFlows is easy to learn and allows you to create amazing feeds in minutes.
Our team behind CartFlows is agile and is constantly working to add more features and functionality.
CartFlows: What I Don't Like About It?
The Knowledge Base is missing more detailed articles and troubleshooting tutorials. This is critical in order for users to get what they want in no time.
CartFlows Customer Support Overview
They strive to provide exceptional support so that the experience is amazing for all of our users. CartFlows try to answer queries within a day and goes one step further by writing custom scripts tailored to the needs of the users.
Their support team makes an effort to reply to inquiries within one business day, and we go over and above by composing custom scripts tailored to the customer's specific requirements.
There are a lot of are praising our service, so take a look over it if you're willing to participate.
But you don't have to take our word for it. You can also check out our article on Funnelytics review as well, go and check it out!!
Best Cartflows Alternatives & Competitors 2023
Best CartFlows Alternatives
Samcart is an online shopping cart that allows you to sell both digital products, online services, and can even be used to sell physical products.
The concept of Click Funnels is to automate the sales process to control every step of the buyer journey.

OptimizePress is an advanced marketing WordPress plugin that can be used to create professional landing pages, sales pages, sales funnels, membership websites, online courses, event pages and more.
Are you searching for a CartFlows alternative? So finally you've found the right place!
In this paragraph, we have compiled a list of some excellent CartFlows alternatives in case you are dissatisfied with its facilities.
1. ClickFunnels
Russell Brandon and his team decided on the fantastic funnel-building device ClickFunnels.
While I have respect for what they have created, there are a few characters of ClickFunnels that I hate. ClickFunnels' page builder is atrocious. It's awkward, difficult to handle, and has many restrictions.
Organizing your content on a domain other than your own is always difficult and will inevitably harm your marketing strategies in the long term.
This is mainly why CartFlows is intended to function within WordPress. It is designed so that you can host your funnel and build it from the ground up.
The concept of a click funnel is to automate the sales process to control every step of the buyer journey.
The funnel takes users through your web pages that aim to sell your products and services by adding options to your sales process to increase sales.
Price: ClickFunnels charges $97 per month for the basic features. Checkout our full detailed ClickFunnels review
2. SamCart
SamCart is a web-based payment platform that offers conversion-optimized payment models as well as one-click upsell, order increase, subscription, and payment plan features to maximize profit from every sale.
If you're having trouble deciding between Cartflows and Samcart, take a look at some of the unique features these tools have to provide and see which one suits you best.
You can easily create your home page according to your strategy using this function. This method allows the founder to create a stunning home page that boosts conversions.
Price: SamCart pricing starts as low as $49 per month.
3. Thrive Architect
"Well, ThriveArchitect allows using your funnel from your domain," While you all are thinking about this that how and what's the difference?
You'll create your funnel outside of WordPress with ThriveArchitect. As a result, you'll need to use the latest technology and learn different functionality and way of doing things.
Because CartFlows is built on the site of WooCommerce, anything that works with WooCommerce should also work with CartFlows.
Instead of using a fresh bulky page builder, you can use your original page builder. These advantages can help you save a lot of money.
4. OptimizePress
OptimizePress is a low-cost Cartflows alternative for Web pages. OptimizePress allows marketing funnels as a breeze.
It's the page builder; it also helps to build a complete sales funnel, so your users' journey starts from the beginning to the end.
5. Retainful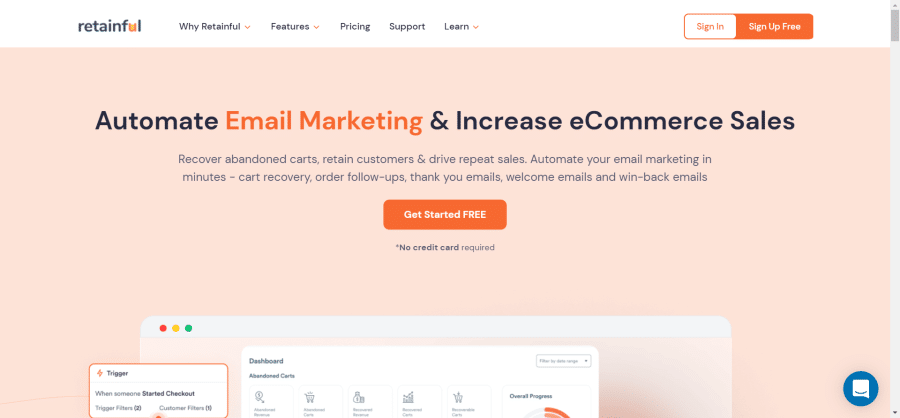 Retainful is a not-too-expensive version of Cartflows. It allows the user to access your customer's abandoned cart and thus increase your exchange rate.
Retain is simple to combine with Online stores and WooCommerce. Here is what Retainful offers:
Restore discarded carts: Retainful sends out little email notifications to clients, encouraging them to respond to the homepage and complete the financial statements.
Consultations: By introducing a consultation program, you can increase your shop's sales. Your previous user will receive a unique email address so that they can share it with others. You can give them a coupon so that they can use it on your next purchase.
Comprehensive Evaluation: Retainful provides a real-time study of all actions performed on your shop. You can quickly determine whether your shop's cart abonnement rate, consultation schemes, and repaired cart ratio have increased or decreased.
Customer service: To contact their customer support, you must send a message via their official site.
CartFlows User Reviews & Testimonials
Here is what users have to say about CartFlows: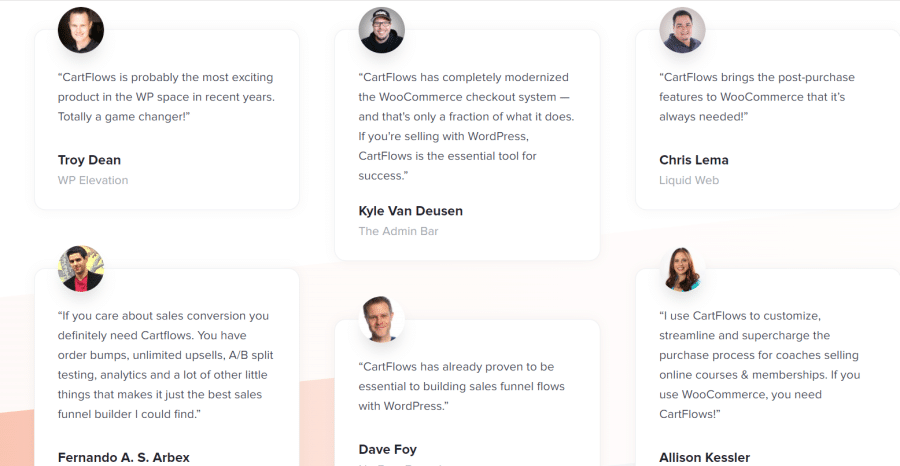 "Amazing tool to ensure beautiful sales flows"


What do you like best?


Cartflows was the second tool I used after WooFunnels and it lived up to all the hype. I like the founding members behind this tool (Adam from WpCrafter and the team at Brainstorm Force) and I believe in their vision to solve known problems in digital marketing. The best part about the tool is that it integrates flawlessly with page builders and I personally found it to be more user-friendly than other tools. It allows having both comprehensive and minimal forms depending on your need and includes its script on whole website for easy pixel tracking as well.

Source: G2
CartFlows on Social Media
CartFlows on Facebook:
CartFlows' Facebook page has had 1,438 likes and 1,637 followers since they have launched. From time to time, CartFlows share various useful tips and guides on their page.
Here is what customers on Facebook say about CartFlows:
CartFlows on Twitter
CartFlows Twitter page has 110 tweets and around 500 followers for now.
Cartflows Review On Twitter:
We monitor tweets for cartflows and apply sentiment analysis to classify tweets as positive or negative. This allows us to create an appropriate rating score based on real people, and positive and negative opinions about cartflows on Twitter. The success rate of cartflows is 85%. This is based on a total of 508 tweets mentioning Cartflows on Twitter. There are 428 mentions sharing a positive opinion and 80 mentions expressing a negative opinion.
Cartflows Rating
Cartflows vs Competitor Ratings
Just published a 4000 words, really in-depth guide on how to create sales funnel in WordPress with Astra, @elemntor @WooCommerce and @CartFlows Star-struckStar-struckStar-struck
Building your WordPress Landing Pages just got a whole lot easier. Build the basics in seconds, customise every element with #Elementor and include easy buying options with #CartFlows.
Justin Ferriman Boxing glove
Don't sleep on this. CartFlows is going to be one of the hottest #WordPress #ecommerce solutions in 2019. FireFireFire
If you're running an existing @WooCommerce store and you have many daily orders, I'd recommend 3 solutions to you - regardless of who you have hosting your store.
@CartFlows I tried to migrate my flows & steps from one site to the other... the flows are there but the steps are not. I opened a support ticket but didnt get it ansered. Please help!
If you're running an existing @WooCommerce store and you have many daily orders, I'd recommend 3 solutions to you - regardless of who you have hosting your store.
@CartFlows When do you see releasing Beaver Builder templates? Having a hard time using Elementor as a BB addict. 🙂 I'm doing a workaround with UABB Landing Page templates, but it's not as smooth.
CartFlows Popular Videos
CartFlows' YouTube channel has 4.7k subscribers and they often share video guides, tips, and tutorials on their channel.
How To Create Sales Funnels With LearnDash & CartFlows?
How To Add An Email Capture Step To Your Flow – Sales Funnel
How To Add Product Options To Your WooCommerce Checkout – Double Your Average Order Value
How To Add WooCommerce Product Variations?
Conclusion: Cartflows Review 2023 | Should You try CartFlows?
Since you and I both know that sustaining in the highly competitive market is almost impossible. Until and unless you try something unique that is also cheap.
If you're thinking about setting up a business, funnel creation is required. As a result, you must be very careful about how you design your webpage and make it simple, perfect, and glamorous.
Yes, if you're interested in working in the WordPress environment.
Using ClickFunnels can be great because it comes with many bundled features which are unique and amazing. However, the price makes the difference and limits you.
Just to overcome this disadvantage, Cartflows play a significant role. It avails all the similar features not only for free. And, also some premium features are affordable as it charges only $299 a year.
These layouts are excellent, and the supportive team is because the society is limited, and the co-founder interacts with users directly on the Fb page or other social sites on a regular basis that provide quick customer services.
Cartflows Pro comes with all integrated solutions to resolve upcoming issues. Moreover, its in-built features function very properly and smoothly.
Have the best time with this WordPress Sales Funnel Builder! Time will tell what Is Right!
And that concludes our Cartflows review.
If you're looking for a fully optimized tool or plugin then, grab Cart Flows today, what are you waiting for! And, enjoy all the comprehensive features embedded in it.
Most Frequently Asked Questions About CartFlows Review
Here are the most frequently asked questions about CartFlows:
1. CartFlows is one of the most effective and user-friendly tools for promoting goods and services on your official site?
It's a WordPress sales funnel builder that lets you create simple and quick sales funnels with your favorite page builder. A 30-day money-back guarantee is given without any trouble. 
2. Is CartFlows a good investment?
Yes, it saves time and effort. CartFlows is simple to use and allows you to create stunning-looking flows in seconds. It's designed to work within WordPress, so you won't have to learn anything new. Important features help you to build sales funnels and buy goods and services on your webpage with pricing strategies.
3. Is CartFlows a hold solution that doesn't require WordPress?
CartFlows does not need to be installed on a WordPress site.
4. Is there a CartFlows lifetime offer? 
Aside from the yearly plan, Cartflows has a limited-time offer. On our website, you can view the lifetime plan. 
5. Which payment Gateway does CartFlows Accept?
CartFlows is an alternative for anyone who finds themselves in this situation. CartFlows integrates with any WooCommerce payment gateway, including Debit Card or Credit, Paytm, Color, and Cash on Delivery. 
6. Is it necessary to use CartFlows to pay subscription fees?
CartFlows works with the online payment and additions that WooCommerce already has. It works with the official WooCommerce Subscriptions plugin.
7. What is the technology stack of CartFlows?
Jetpack, WooCommerce, Query Migrate, and Amazon Simple Email Service are among the techniques used by CartFlows.
8. How can CartFlows be put to use?
It's all possible! Selling product designs, digital distribution, memberships, coaching, or physical goods can all help you to make money.
9. Does CartFlows work with Thrive Architect?
Yes, CartFlows is compatible with Thrive Architect, and they also offer several templates that you can download and use with the software.
10. Do you really need sales funnels for your business?
Yes. Any internet business owner who wants to improve sales and profits requires more clients. Consider a Sales Funnel to be your best salesperson. It never gets tiring, never asks for a raise, and never stops making money for your company, 24 hours a day, 365 days a year.
11. Is there a limit on the number of funnels built?
No, CartFlows pro lets you build an unlimited number of funnels.
12. Can CartFlows be used as a standalone solution without WordPress?
No, You need to install CartFlows on the WordPress site.
13. Does CartFlows Work With Shopify?
CartFlows doesn't work with Shopify. However, they are on a product roadmap.
14. Is CartFlows compatible with Facebook's pixel?
The CartFlows script can be added to each stage of the project. It has been used on a variety of sites, including PixelCaffeine and PixelYourSitePro.
15. What is CartFlows WordPress?
CartFlows is a powerful and easy-to-use WordPress sales funnel builder that can help you generate leads and convert visitors into buyers. There are over 200 thousand users on the site. It's impossible for more than 223,242 people to be wrong.
16. Does CartFlows work with Divi?
CartFlows works with WooCommerce as well as a number of the most popular page builders, including Divi. You can easily adjust these pre-built sales funnels to meet your needs and preferences.
17. Does CartFlows work with Gutenberg?
Gutenberg Blocks are now available for CartFlows 1.5.20 and CartFlows Pro 1.5.12 and higher versions. These Blocks will give the shortcode more stylistic possibilities and give the CartFlows pages greater design flexibility.
18. Can I use CartFlows without WooCommerce?
CartFlows is built on top of WooCommerce, therefore you'll need to have WooCommerce installed and a product created there first.
19. What is a sales funnel builder?
A sales funnel builder is a tool that lets you put up the various components of your sales funnels, such as: To entice visitors to join your email list, and create a landing page with a sign-up form or pop-ups. Email marketing campaigns and automated email sequences. A visually appealing website and online store.
20. How much do funnel builders make?
As a funnel builder, you can earn well over six figures per year. A simple opt-in funnel can cost anywhere between $250 and $450. A sales funnel can cost as little as $750, but an in-depth sales funnel might cost as much as $10,000.
21. How long does it take to build a funnel?
If it's just you and you're a newbie, we recommend giving yourself 6-12 weeks to complete a funnel from beginning to end. (This includes the creation of the final product.) While it may appear to be a long period of time, the truth is that a well-designed funnel can earn you millions of dollars.