In this ClickFunnels Alternatives post, I have come across which one is the best alternative to ClickFunnels.
ClickFunnels has been at the forefront as a tool that helps businesses manage their brands online, make more sales, and distribute their products and services more efficiently, all with the goal of increasing their number of leads.
The product's distribution and promotion are simplified thanks to a variety of funnel options that may be adjusted to meet the needs of individual companies.
ClickFunnels Overview
The ClickFunnels product is referred to as a landing page builder.
The websites specialize in building sales funnels, which means they attract targeted prospects and convert them into customers as a byproduct of their business. As a direct consequence of this, landing pages perform significantly better than commercial websites.
Russel Brunson, a well-known innovator in the field of one-of-a-kind marketing software, is the man responsible for starting ClickFunnels.
Russell's work in email marketing software established his reputation before he began working with the marketing funnel.
If you want to reduce the pricing of your ClickFunnels, Checkout our article ClickFunnels discount code, where you get amazing discount offers.
ClickFunnels Alternatives
There are many ClickFunnels alternatives, here I have explained the best alternatives:
1. GetResponse Overview
GetResponse is an email marketing solution that is dependable and also has some marketing automation features. It is designed for enterprises of a size ranging from small to medium.
It comes with an affordable price tag and a somewhat long number of appealing integrations with third-party services. GetResponse has undergone significant changes and improvements since the last time we examined it, including the addition of online push notifications and email chats.
Additionally, it expands SMS text marketing and enhances workflows for automated processes. In addition, there is a renewed and heightened emphasis placed on integrating with the e-commerce platforms offered by third parties.
Key Features and benefits of GetResponse
Email contact list with space for up to 500 people.
The plan that is free forever.
Guaranteed full refund within 30 days.
Integrated capacity for hosting webinars.
A builder of landing pages of high quality.
In-depth statistics to track conversions, return on investment, and leads.
24/7 multilingual support.
2. CartFlows overview
CartFlows is a sales funnel builder that will help you overcome the limits that WooCommerce imposes on your business. The WooCommerce checkout flow customization is set to have very limited flexibility by default.
Therefore, the majority of websites that use WooCommerce have a very similar appearance.
When you install CartFlows, however, your WordPress page builder transforms into a sales funnel builder that gives you complete control over its appearance and functionality.
You don't need to spend time learning anything new in order to use CartFlows because it utilizes the drag-and-drop capabilities of your page builder.
As a result, the sales funnels you create with CartFlows will look great and convert well.
Key features and benefits of CarFlows
Editor for the checkout page.
Templates for anything and everything that has been expertly designed.
Drag and drop sales funnel creator.
Tools for A/B testing and for gaining information
Place your order for the bump and upsell tools.
Abandonment of cart functionality
It is compatible with numerous CRM and email platforms.
Free version.
3. Kartra Overview
The marketing tools you need to create, market, sell and manage your digital product business can all be found in one place with Kartra.
Services such as hosting, landing pages, payment processing, customer relationship management, email marketing, affiliate management, video marketing, short message service marketing, and help centers are also included.
Imagine your company's campus headquarters, where all of your divisions are housed in one enormous structure and are in constant contact with one another.
The objective is to streamline business operations while maintaining a high degree of capability for each tool, saving you time and money.
As I've said before, Kartra doesn't stand out in any manner. However, no other method provides results as good as or better than this one.
Key Features and benefits of Kartra
Marketing with videos as well as an integrated calendar tool
A split test was conducted for both the subject lines and the email bodies.
Effective techniques for making one-time offers, creating a sense of scarcity, and engaging in behavioral marketing.
The capability to export funnels and campaigns created in your account to the accounts of other users.
Unlimited sales funnels.

Affiliate program designed to attract, retain, and manage affiliates while simultaneously enhancing product promotion.

Native integrations as well as a comprehensive API.
4. BuilderAll overview
Builderall is an all-in-one online marketing platform that was developed by Erick Salgado.
It is filled with important tools that are designed to assist small business owners and entrepreneurs in maximizing the effectiveness of their digital efforts.
Around the year 2011, it was first made available, and its primary target audience was business owners who were interested in expanding their online operations or launching new ones.
They released BuilderAll 3.0 with improved tools and many additional perks that look quite promising.
You will find a wide variety of tools to assist you in the creation of sales pages, websites, landing pages, sales funnels, videos, mobile applications, and many more inside these five categories.
Key features and benefits of builderAll
Helps maintain a website membership.
Multiple websites, applications, and landing page builders that use a drag-and-drop interface.
Hosting service for websites.
Several different marketing tools and functionalities are available.
Heat mapping.
Testing on subgroups
integrations with a variety of services provided by other parties.
Customizable templates.
5. Thrive Suite Overview
Thrive Suite, formerly known as Thrive Themes, is a WordPress theme that you may use to build an interesting website without having to pay for the services of a professional web designer.
The Thrive theme builder offers a set of tools that, when used together, make it possible for you to rapidly construct and personalize a WordPress website without having to touch a single line of code.
Key features and benefits of Thrive Suite
A/B Testing.
Editor with a sophisticated drag-and-drop interface.
There are a lot of different ways to customize it.
Reporting and insights that can be put to use.
Pop-ups that are uniquely yours.
Ribbons that are sticky.
Multiple integrations of APIs are available.
Locking the content and incorporating forms in-line
Technology is known as SmartExit and SmartLink.
6. Leadpages overview
Leadpages allows you to design landing pages, which the company will then host and publish on a custom domain of your choosing.
You also have the option of including these landing pages and other conversion-focused content on your WordPress website. Some examples of this type of content are pop-ups and alert bars.
Leadpages also allows you to design full websites, providing you with a speedy method for establishing an online presence for your most recent endeavor.
You don't need anything more to get started because your Leadpages account already provides hosting for any landing pages and sites you develop, in addition to a subdomain for the content you publish, so there's no reason to go further.
If, on the other hand, you own your own domain, you can use it rather than a subdomain to give your landing pages and webpages a more serious and credible appearance.
Key features and benefits of Leadpages
Mobile-responsive templates.
There is no limit on the number of visits or funnels.
Page builder with powerful drag-and-drop functionality and a wealth of personalization choices.
Zapier, Drip, MailChimp, and Infusionsoft are all supported integrations.
Analytics performed in real-time.
Unrestricted access to A/B testing
Notifications to lead stakeholders and compliance with GDPR.
Free hosting and personalized domain registrations.
7. Instapage Overeview
Instapage is a landing page creation and publishing platform that is cloud-based and contains everything you require to get started making and publishing landing pages.
Instapage makes it easy for you to create landing pages that are focused on conversions, regardless of whether or not you currently have a website or other online presence.
These landing pages can help you generate more leads, sell more products, or elicit some other action from your visitors.
Because the capabilities of Instapage truly do ease the process of producing effective landing pages — regardless of what it is that you are attempting to promote — there is no requirement for any previous knowledge of coding or design skills.
You can make your landing page designs more effective by using the data from your visitors to improve the designs of your landing page using tools such as heatmap, analytics, and split-testing.
Key features and benefits of Instapage
A 14-day free trial.
Encryption using SSL and compliance with GDPR.
Powerful landing page builder with more than 500 different templates.
Advanced technology for lightning-quick speeds is provided by the Thor Render Engine.
Unlimited A/B testing as well as a comprehensive set of analytics tools.
Instablocks.
Heatmaps and Google Tag Manager both come into play.
Real-time visual collaboration.
An unrestricted number of conversions.
ClickFunnels social media platforms
Social media platforms are the best way to share and promote something. ClickFunnels also makes use of different social media networks to advertise and promote products.
Facebook
On its Facebook page, ClickFunnels gives you ideas for how to set up a marketing funnel for your business. On Facebook, it has 391,932 likes and 422,637 people who follow it.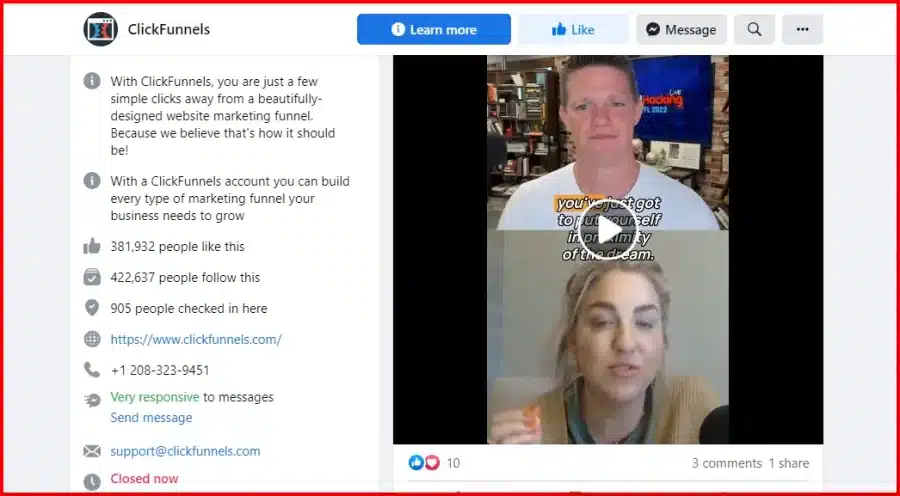 Twitter
ClickFunnels has 6,698 tweeted tweets and 22.1K followers on its Twitter profile. It tweets ideas and plans for how to grow your business.
LinkedIn
On its LinkedIn profile, ClickFunnels has 16,396 people who follow it as connections.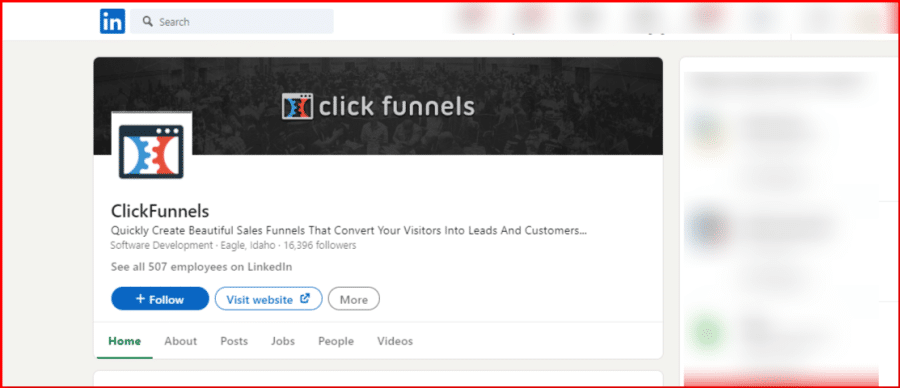 ClickFunnels Customer Reviews and Testimonials
Here is what users say about it:


"Best Funnel Building Online Software"


What do you like best about ClickFunnels?


I have been using Clickfunnels since I first started out on the online space in 2015 and had zero experience in creating anything like a funnel. Since then I have personally created my original and first website (I had zero funds and was bedridden at the time) and have gone on to create over 28 funnels. I have tried other funnel builders occasionally over the years but find I love how easy Clickfunnels is to use and how naturally intuitive it is.

Source: g2
Day 15 of OFA


Day 15 of OFA; I have found so many things extremely helpful about this challenge that's it's hard to name just a few. The amount of videos, and hands on training is wonderful. The coaches have helped me avoid potential issues by showing how they set theirs up in the zoom calls. The one thing I hope will be covered before the challenge is over is how to set up a OnePager to use as a lead magnet and how to promote that lead magnet in a funnel.

Date of experience: October 03, 2022

Source: Trustpilot
Conclusion
It's not always in your best interest to go with the most well-liked alternative. No matter which option you go with, the correct choice regarding software should always be based on the requirements of your organization.
I really hope that this post provides you with a comprehensive summary of all of the alternatives to Clickfunnels that are currently accessible.
Frequently Asked Questions
What are the best ClickFunnels competitors?
GetResponse and Leadpages are the best alternatives, and they come with functionality and features that are comparable to those of the original, but at a considerably lower cost. For those who use WordPress, ThriveThemes is by far the superior option to ClickFunnels. GrooveFunnels is the most effective free alternative to ClickFunnels.
How does ClickFunnels work?
When you use ClickFunnels, they will help you create a sales funnel that will lead to more leads and potential consumers. It communicates with those site visitors until they are converted into paying clients. Everything a company needs to build profitable sales funnels is included. Integrating your sales funnel with your method of accepting payment is also beneficial.
What is ClickFunnels used for?
In order to enhance both website traffic and sales, organizations utilize ClickFunnels to build lead and sales funnels. SaleFunnels facilitates the advertising, selling, and shipping of a product or service online. By providing customizable funnel options for different types of businesses and services, it facilitates online product marketing and sales for those firms.