In this post, I have come up with a complete explanation regarding ClickFunnel pricing plans.
Without a doubt, Clickfunnels is one of the most potent brands of online marketing software available.
It's natural for a business owner to seek assurance that their money is properly spent, or at least a high level of confidence that the items in which they've invested will bear fruit.
That's why it's crucial that you read this Clickfunnels pricing thoroughly before pulling out your credit card so that you can select the most cost-effective and efficient plan for your business.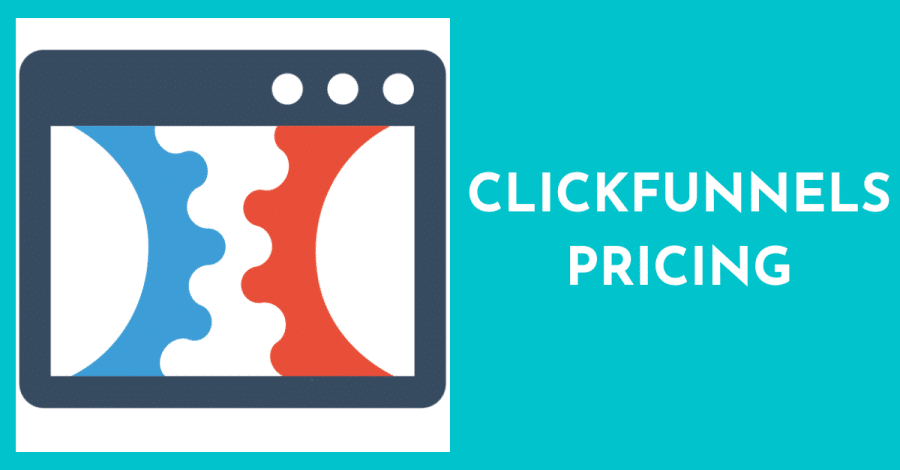 ClickFunnels Pricing Overview
It's important to note that Clickfunnels is not cheap before delving into the specifics of each plan's assessment.
Because of the reliability and ease of use it provides, Clickfunnels is a premium online service that every business can afford.
When compared to other popular options like Leadpages, Clickfunnel pricing is noticeably expensive. Click funnels' high price tag is understandable when weighed against the value you receive from the service.
I recommend, you can check out the ClickFunnels discount post, where you will get massive savings regularly to get rid of ClickFunnels' higher pricing plans.
Mainly ClickFunnels has three pricing plan options.
1. Basic Plan
2. Pro Plan
3. Hacker Plan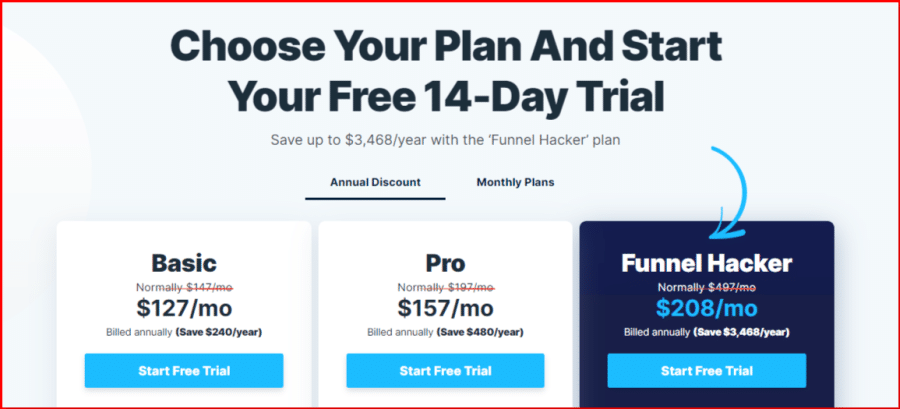 1. Basic Plan
ClickFunnels basic plan cost $97/month and $80/month(if you are billed yearly).
On the basic plan, You can make up to 20 unique funnels, which is more than adequate for the vast majority of users, and you have access to pretty much all the features.
Top ClickFunnels basic plan features:
3 Payment Gateways
20,000 Monthly Visits
Unlimited Contacts
3 Custom Domains
Email Support
20 Funnels
100 Pages
1 Sub User
FunnelFlix
2. Pro Plan
ClickFunnels platinum plan costs $297/month and $247/month(if you are billed yearly).
Which has now undergone a significant overhaul, used to provide access to the funnels but now provides access to an unlimited number of funnels and its tools, Actionetics, which are focused on automated email marketing and hence require a different email marketing platform.
Top ClickFunnels platinum plan features:
Unlimited Funnels
Unlimited Pages
Unlimited Monthly Visits
Unlimited Contacts
9 Custom Domains
9 Payment Gateways
Priority Support
FunnelFlix Platinum
Follow-Up Funnels
Weekly Hackathons
Backpack (Affiliate Tools)
3 Sub User
what Is ClickFunnel Hacker Plan?
The ClickFunnels Hacker pricing plan is the most expensive option available in ClickFunnels 2.0.
It has a monthly cost of $297.00, and for that price, you will receive many features and benefits, including the following.
Here is the list of ClickFunnels Hacker plan benefits and features:
System for managing affiliate relationships
Analytics performed in real-time.
Drag and drop page builder.
Builder of membership websites.
Sales funnel builder.
CRM funnels.
Blog builder.
Software for marketing via email
A/B testing.
Who is for ClickFunnels Basic Plan?
If you choose the Basic plan, you won't have to worry about the 100-page limit affecting your membership area.
But as you can see from the comparison table above, the Starter plan doesn't provide anything much.
In other words, you can only have 20 active funnels at a time, and those that are used to follow up with leads that have already passed through your initial funnel do not count.
However, you will absolutely require email marketing in order to turn a profit from your sales funnels, so keep that in mind as a restriction.
And while it is possible to link ClickFunnels with an email marketing solution, doing so will incur an additional monthly fee on top of the $97 that ClickFunnels already charges.
Why Choose ClickFunnels Platinum Plan?
Infinite sales funnels, landing pages, and follow-up funnels are all features that will be useful to marketing companies. Plus, you'll be able to manage 9 domains on your account.
Those who are in charge of managing affiliates or influencers will find the affiliate platform to be helpful. On this platform, you will be able to track your top affiliates and handle paid and owing commissions.
Who is For ClickFunnels Hacker Plan?
You get support for three websites and nine domains with this plan. This strategy is ideal if you own a number of different companies. All of your funnels, pages, products, workflows, and follow-up funnels can grow as large as you like.
This is the only option that provides a dedicated, 24/7 VIP phone line. Additionally, it has top-tier chat assistance.
Advanced Analytics, Affiliate Program, API Access, ShareFunnels, Liquid Theme Editor, and CF1 Maintenance Mode Plan are all things you're interested in.
Which subscription under Clickfunnels is best for your business?
ClickFunnels' basic plan is the best for:
Users just need a straightforward sales-to-funnel system, like Clickfunnels Platinum ($297/month).
Businesses or marketers want to try out Clickfunnels for use in the future.
Even with a limited budget, small business owners want a fully-functional plan.
Those who are just beginning the process of constructing a sales funnel and lack experience
ClickFunnels' platinum plan is the best for:
Large businesses that are offering expensive products and services.
Required the use of more complex sales funnel software with built-in programs such as email automation and an affiliate system.
Is ClickFunnels really worth the money?
I would suggest looking at Leadpages or Email marketing if you only need a landing page builder, as they are both basic and inexpensive.
ClickFunnels is well worth it if you want to design a real funnel and have checkout pages, sell things, and lead customers through your sales process from a lead magnet landing page to a thank you page, etc.
Now, I want you to consider how often and for what purpose you'll be utilizing it.
You can use that information to determine whether or not your investment will be profitable.
ClickFunnels may not be the perfect tool for you if you're just using it to distribute your free guide and aren't seeing any purchases stemming from that guide.
It could be worthwhile if you have a strategy for converting visitors who download your free guide into paying customers.
Just remember that it's a piece of software and not the end-all-be-all of everything. It's not the magic solution; it's just another instrument.
ClickFunnels Social Media Platforms
Social media Platforms are the most effective mediums for sharing and promotion. The advertising and promotion of products are done by ClickFunnels using various social media networks.
Facebook
On its Facebook page, ClickFunnels gives you ideas for how to set up a marketing funnel for your business. On Facebook, it has 391,932 likes and 422,637 people who follow it.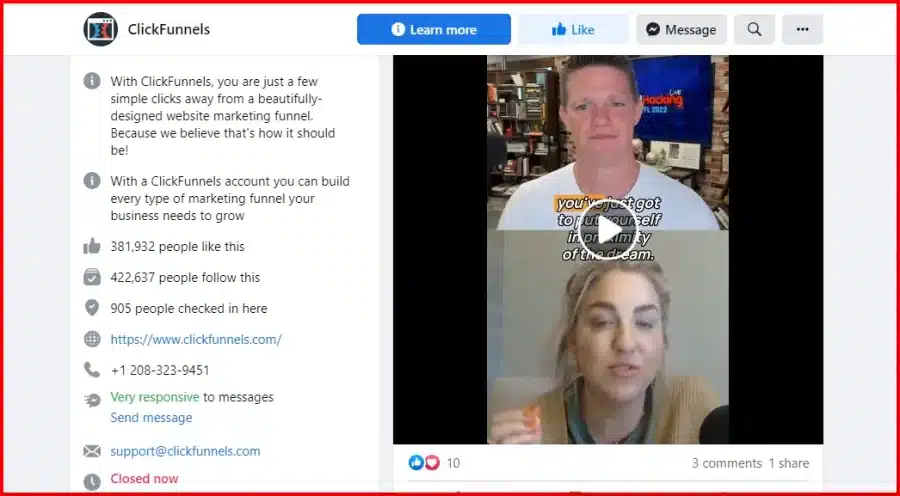 Twitter
On its Twitter profile, ClickFunnels has 6,698 tweets and 22.1K followers. It sends out tweets with ideas and plans for growing your business.
LinkedIn
ClickFunnels has 16,396 people followers on its LinkedIn profile.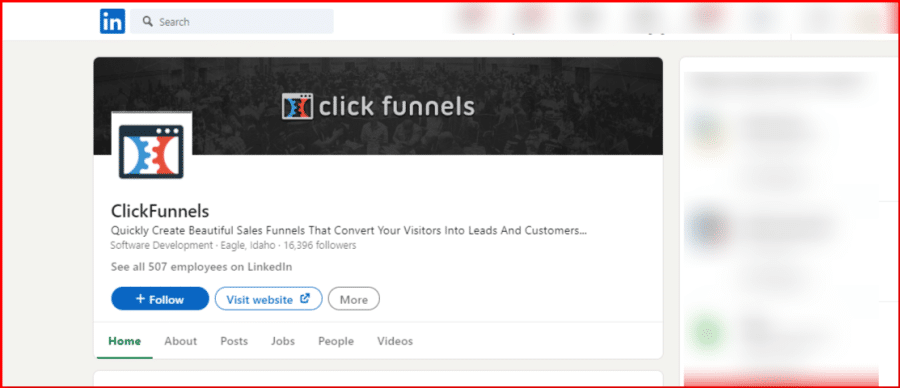 ClickFunnels Customer Review And Testimonials
Here is what users say about it:
"Click Funnels is amazing—Dante Torelli is a ROCKSTAR"


What do you like best about ClickFunnels?


I don't give reviews often, but when I do it meant that the company was really AMAZING or not. I have used other platforms in the past..Kajabi–Builderall–Active Campaign–Groove Funnels and others, none of them compare to Clickfunnels, with the all the amazing free trainings in their back office, the amazing support, Russell has done an amazing job, and the people he has are amazing…Working with CF I have built my first funnel within a week, and building others and now starting to build funnels for realtors to help them get buyers, sellers and rental leads…did I already say Click Funnels is amazing…stop wasting your money and trying all these other platforms, believe when I say CF is way ahead of the rest…

Source: g2


Conclusion
Overall, The ClickFunnels software is an excellent piece of equipment. I've been using it for years, and I can't say enough good things about it.
It is the tool that we use in the agency when we construct funnels for customers, and if I didn't believe in it, I wouldn't promote it to clients because it is the tool that we use.
The most important thing, though, is for you to have an understanding of how ClickFunnels may be of use to your company.
Additionally, you should investigate all of the other tools that are at your disposal, such as Leadpages, Unbounce, and Mailchimp.
When this occurs, you will be able to make a decision that is based more on reasoning than on emotion.
Frequently Asked Questions
Does ClickFunnels offer a free plan?
There is no completely free ClickFunnels plan, but you may join up for a 14-day trial and see if it's right for you. No further charges will be brought against you until after your trial has concluded. The ClickFunnels trial period ends after 14 days, therefore if you don't want to be paid, you must cancel your subscription before then.
How much is ClickFunnels per month?
There are just three ClickFunnels pricing plans, but they all allow you to expand your existing funnels to accommodate a growing business. The most basic, Standard, package is priced at $97/month (1 user – 20 funnels – 100 landing pages). With the Two Comma Club X subscription, you get infinite funnels and landing pages for $2,497 per month, while the Platinum plan for three users is $297 per month.
What Is ClickFunnels?
The goal of Clickfunnels is to automate as much of the sales process as possible so that you have more control over the buyer's journey as possible. The primary goal of Clickfunnels is to furnish online enterprises with an integrated sales funnel. It's a quick and easy replacement for traditional SEO techniques.