When it comes to sales funnels, marketers are split on which solution is best.
There are many tools, but Clickfunnels Vs GrooveFunnels have their own unique approach to marketing automation, and marketers can't dispute that they give the greatest funnel construction tool out there right now.
Building a sales funnel takes time, which is why many marketers choose to buy high-quality products that do all the work for them. All you have to do is submit your list or leads, and the rest will take care of itself.
The greatest sales funnel differs from person to person depending on their needs and wants; for example, for some marketers, ClickFunnels is the best option, while for others, Groovefunnels is the best option because it has a wealth of useful tools.
You may have a wonderful product, service, or idea, but your landing page's presentation of it to the world isn't up to par. Sales funnels are useful in this situation.
So, if you're unsure whether to utilize Clickfunnels or Groovefunnels, you've come to the perfect place.
In this article, I'll compare Clickfunnel and Groovefunnel based on their benefits and drawbacks, features, cost, and more, as well as share my own experience with both of these tools, so you can choose the best funnel builder for your business.
What is ClickFunnels?
Clickfunnels is a software that allows you to create and publish websites yourself with very little effort, obviating the need to employ a designer.
Its platform aids in the creation of sales funnels that include pre-made clickable options and are built right into the pages, making them extremely user-friendly. ClickFunnels is simple to use and makes it as simple as possible to make money online.
What is GrooveFunnels?
Groove Funnels is a sales funnel generator that lets you track your marketing efforts while also creating interesting sales funnels. It's not only a funnel-building system; it also lets you design workflows, collaborate with clients/workers, generate real-time insights, schedule emails, and do a lot more.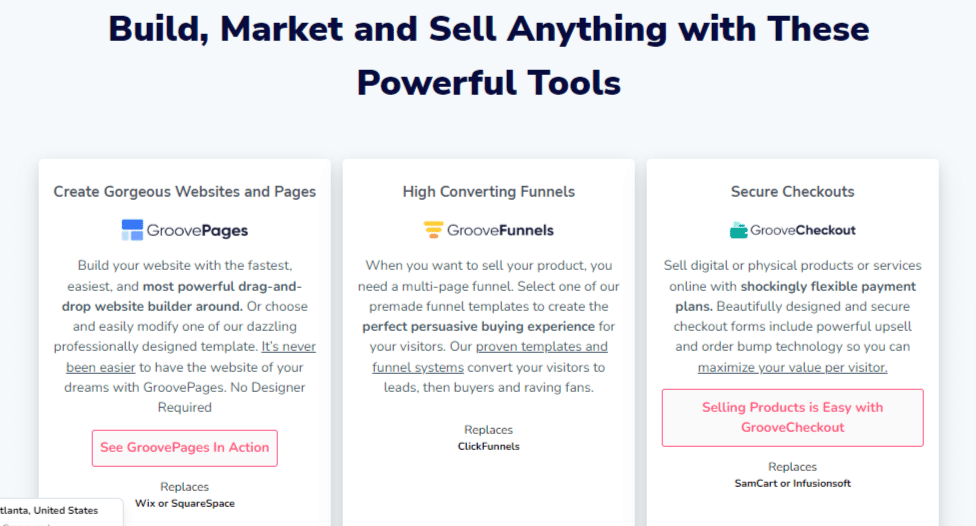 In summary, this funnel-building software has a lot of features that are exclusively dedicated to simplifying business and increasing sales for any organization, and it is also known for its low costs and good value for money.
Pricing Comparison: Clickfunnels vs Groovefunnels
When comparing the features provided by each pricing structure, pricing is an important factor to consider when choosing the best sales funnel builder between Clickfunnels and Groovefunnels. So I'll examine the pricing structures of each of these platforms so you can figure out which one is better for you and offers the best value for money.
Clickfunnels Pricing Structure
Clickfunnels pricing structure is divided into two tiers the base plan and the platinum plan, these are discussed below.
Click funnel's most basic package costs $97 per month. You can also share your funnels with other members, construct 20 sales funnels and 100 pages, and have access to three domains and three payment gateways with the basic subscription. You also have access to their chat assistance and many training courses in addition to all of this.
My take: the base plan offers limited access to all the features provided by Clickfunnels, so according to me it is only good for beginners or small business owners.
Clickfunnels Platinum plan
The Clickfunnels platinum plan eliminates all of the drawbacks of the base plan.
It costs $297 per month and includes all of the features of the base plan plus additional extras like infinite funnels and pages, up to three user seats, nine payment gateways, nine domains, priority chat support, and more.
My take: if you have a medium to large business I would strongly recommend you go for the platinum plan because it will enable you to use the platform up to its full potential.
ClickFunnel's platinum plan is a bit expensive. SoI will suggest you, check out the ClickFunnels discount article, where you get amazing discounts offers
Groovefunnels Pricing Structure
The pricing structure of Groovefunnels is divided into three pricing tiers, viz. The Free Plan, The Starter Plan, and The Pro Plan, these pricing plans are discussed below:
This plan is completely free to use, as the name implies. You can have up to 500 contacts and send 2500 emails each month on the free plan, which also includes a custom domain, 25-page hostings, and 5 video hostings.
You'll also have access to an infinite number of ecommerce sites, as well as three payment methods (Paypal, Stripe, and Groovepay), all of which charge a 3% platform fee.
My take: the free plan is free for life and anyone who is starting out can opt for it to test out the basic features offered by groovefunnes. Though it offers limited access to its features, it's enough for beginners who are just starting out.
Groovefunnes Starter Plan
If you choose the GrooveFunnes starter plan, you will be charged $99 per month for a monthly payment plan and $79 per month for an annual payment plan.
You can send 50,000 emails each month and have 5000 contacts with the beginning package. You'll have access to 5 custom domains, 250 page hostings, 50 video hostings, as well as an unlimited number of ecommerce stores and payment gateways.
My take: if you are new to GrooveFunnes or if you are someone who is using the free plan for a long time I would recommend you to go for the starter plan because it has everything an average business needs.
Groovefunnels' Pro plan costs $299 per month for a monthly payment plan and $239 per year for an annual payment plan.
You can have 30,000 contacts with this plan, which can be upgraded to 100,000 contacts by paying an extra $100 each month. The pro plan eliminates all of the prior plan's limits by providing unlimited access to all of the Starterplan's features.
My take: the Pro plan is best for large business owners who are willing to invest a good amount for their business, so if you are not satisfied with the starter plan you can upgrade to the pro plan.
Features Comparison: ClickFunnels vs Groovefunnels
Both Clickfunnels and Groovefunnels have all of the required features prepared for you; they have characteristics in common with one another as well as unique features, so I'll divide this part into the common and unique features offered by both clickfunnels and groovefunnels.
Common Features of Clickfunnels and Groovefunnels
Listed below are the common features offered by clickfunnels and groovefunnels
The ready made templates can make your work much easier let's look at what both websites provide.
ClickFunnels
You can choose from a variety of pre-built templates in ClickFunnel, so you won't have to start from scratch if you don't want to. They have Lead Capture opt-in pages, Sales Funnels, Order Pages, and more in their templates.
Making a full-fledged sales funnel using Clickfunnels takes less than 15 minutes on average.
Groovefunnels
Groovefunnels also has a tonne of templates that are simple to use and customise. It offers a fantastic drag-and-drop tool that allows you to quickly customise your page to meet your specific needs and tastes.
Pop-ups, which are also highly configurable, can be used in your sales funnel. These pop-ups also have a timer that must be turned on.
Creating Membership areas
It's important as a self-employed vendor to know what your clients think and feel about your services. That is why both platforms that are currently offering membership with great perks come forward with this kind of feedback service.
ClickFunnels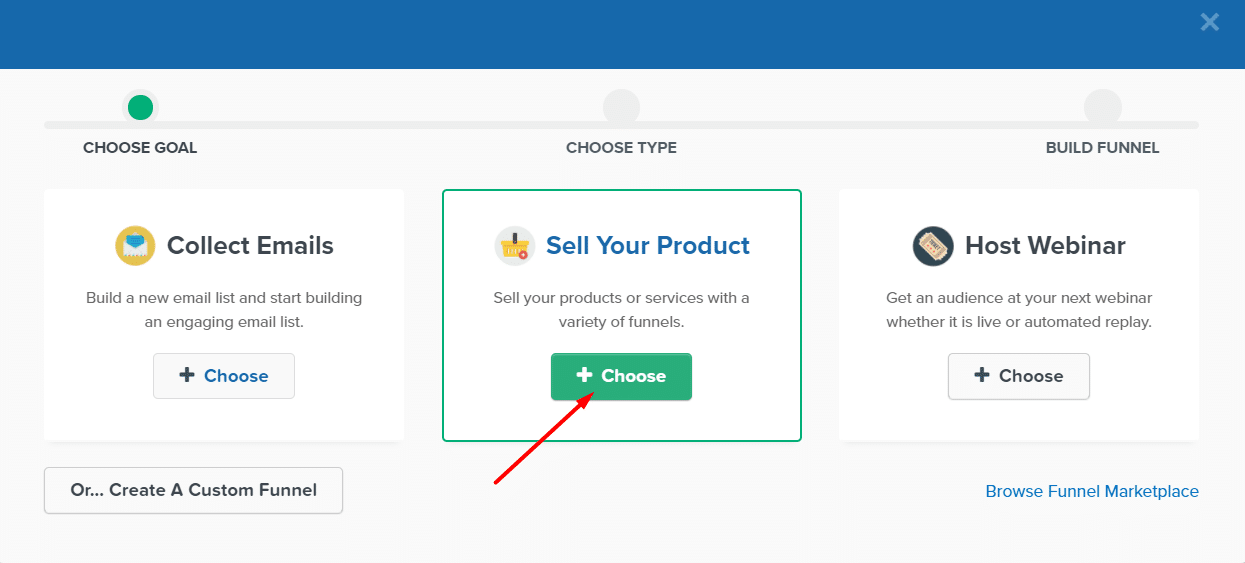 Customers can access the membership portal that is included with Clickfunnels. It has a third-party plugin that allows users to choose what level of access they should have based on the path they wish to take to achieve their entrepreneurial goals.
Groovefunnels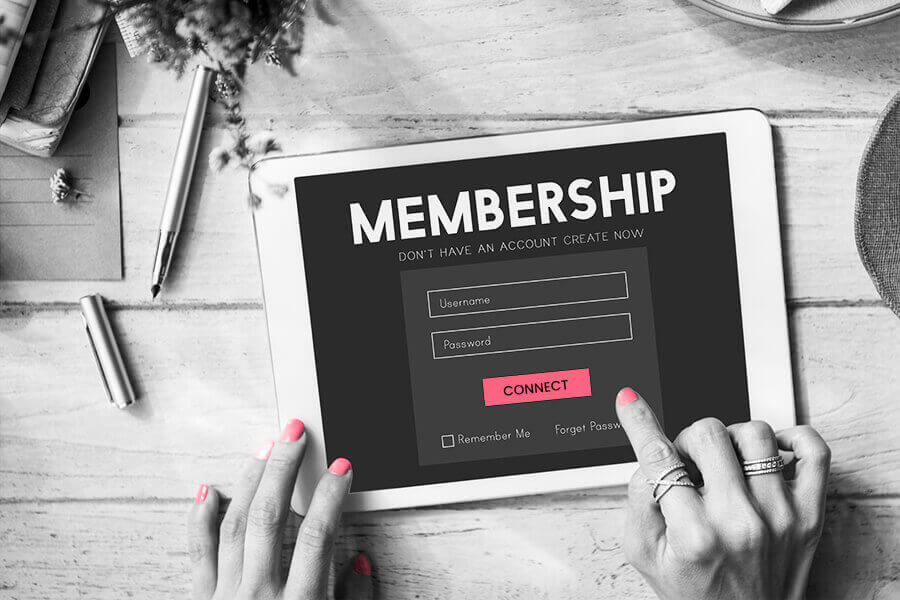 After subscribing for membership, a person can become a user and access the network through Groovefunnels' simple setup process. Because Groovefunnels is so simple, it's designed for a single owner to establish a business and handle everything at once – it supports both gap and drip content and has a variety of membership levels starting at free.
Sharing your funnel with other platforms is a good idea because you never know where leads from one campaign may eventually take you.
ClickFunnels
ClickFunnel allows the owner to share an existing funnel with new workers. In such cases, ClickFunnel creates a unique URL which enables them to access a cloned version of the funnel you have worked on right away and they get a clean copy of your funnel.
Groovefunnels
Groove Funnels is well-known for its ability to collect data from various web pages and organize it into a certain pattern. Users can easily integrate the information in CSV format into their own layouts so that it can be used as an important element of their design.
Affiliate marketing has become a major 'trend' in the last few years, and one of the best ways to grow your business is by capitalizing on e-retailers and other marketplaces.
Clickfunnels
Individual marketers and entrepreneurs can use the ClickFunnels system to develop lead capture funnels and allow others to advertise the product through an affiliate scheme. Affiliates receive 40% commission on each sale. It has partnered with Tipalti, a third-party affiliate management programme, however customers must pay a monthly fee to use this service.
GrooveFunnels
GrooveFunnel provides all of the features you'll need to run a successful affiliate programme, and it's completely free for members. Members have unrestricted access to everything in their account, and there are no monthly costs, so you'll never lose money if your plans change or you're unhappy with the platform.
There is no third party engaged in any aspect of the integrated Affiliate Management Tool because it is hosted alongside GrooveFunnel.
A/B testing is a process of randomization and experimentation in which two or more variants of the same object are compared to see which one performs better.
Marketers, for example, routinely conduct A/B tests by displaying two copies of the same advertisement in various locations on the same website while adjusting particular factors to determine which one gets the better response.
Clickfunnels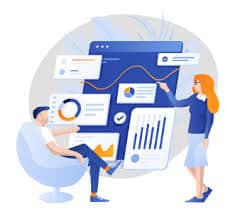 Your sales funnels and marketing campaigns can be made better using the A/B testing tool that is provided in Clickfunnels' platform. That way, you know which one to use knowing which one will convert your prospects into users and paying customers most of the time so that you optimize and make more conversions than before.
Groovefunnels
At one point it seemed as if GrooveFunnels lacked A/B testing and failed to keep up with competitors like ClickFunnels. However, lately GrooveFunnels has been working hard not only to bring the feature to its users but also improve on it compared to their direct rivals who've had the feature for much longer than them.
Unique Features offered by Clickfunnels and Groovefunnels
Listed below are the features which makes clickfunnels and Groovefunnels unique:
Clickfunnels unique features
The most prominent features which are unique to Clickfunnels are
ClickFunnels enables you to easily collaborate with other Funnel creators. ClickFunnels gives you a chance to check different Marketing and Sales Funnels, so you can contrast them with the ones that you already have.
Following up with customers has a significant role in any sales funnel. It is one of the best ways to get back a user who did not convert on their purchase, reassure your existing audience you are still as committed to them as when you first started out and furthermore helps to upsell users to higher tiers which in turn generate more revenue.
Drag and drop visual editor
Clickfunnels' drag and drop system essentially allows its users to change any aspect of their sales funnel. By clicking on various elements of your sales funnel you can freely edit your different pages or just change text or repaint colors if you see fit, all without having to learn code.
Groovefunnels unique features
The most prominent features unique to Groovefunnels are
Groovefunnels eliminates the need to pay for a hosting charge by offering free hosting on your own custom domain. Domains are free of charge with Groovefunnels and come pre-configured so you can start working on your site right away.
A lot of businesses are choosing to run software that triggers pop-ups on online (or even off-line) websites. These pop-ups can help you direct the attention of your audience towards something on your website, or act as an incentive for them to engage with your product more frequently, resulting in more leads and sales over time.
Countdown Timers and Progress Bars
When you're looking for services, it is easy to get lost in the vast world of marketing tools, and there are so many applications that sometimes we don't know what to choose. I recommend GrooveFunnels as a tool which can take your campaign progress to a whole new level thanks to countdown timers and progress bars.
These items build an atmosphere of urgency around your marketing material and make users act faster by responding positively to the pressure.
My take: Both ClickFunnels and Groovefunnels have nearly identical functionality. Both of these programmes are extremely powerful tools that businesses can utilise to build effective sales funnels. Each application has its own set of characteristics that distinguishes it from other similar services now available on the market.
Many people are undecided about whether they should use ClickFunnels or GrooveFunnels. Both platforms are fantastic and have their own set of distinguishing features. Many individuals are overwhelmed when they first see all of the information on the sales pages, but trust me when I say that it's not as frightening or complex as it appears at first sight.
What I'm trying to convey is that both of these websites will meet your needs, so don't get too worked up about which one to pick in the end; simply choose the one that best matches your current business strategy.
Pros and Cons: Clickfunnels vs Groovefunnels
Each and every tool has its own set of pros and cons, so now I will be going over the pros and cons of both Clickfunnels and Groovefunnels.
Clickfunnels Pros
Easy to create sales funnels.
Features a drag and drop builder.
Multiple payment options.
Customizable template designs.
Adds a professional look to your business.
Clickfunnels Cons
Pricing structure is quite expensive when compared to groovefunnels.
The customer service needs improvement when compared ro groovefunnels.
Lacks CRM( Customer Relationship Management) Functionality.
GrooveFunnels Pros
You can create unlimited sales funnels
Great customer support.
Features an easy to use drag and drop builder.
The platform is updated regularly.
GrooveFunnels Cons
The website is still in Beta.
It lacks some features like funnel tracking
Still a lot of features are waiting to be launched.
Customer Service: ClickFunnels vs Groovefunnels
Customer service and support is an important part of any successful company. So let's take a closer look at how Clickfunnels and Groovefunnels stack up next to each other in this category.
Clickfunnels
ClickFunnels provides world-class customer service across a number of departments, including onboarding, account management, and assistance. They may be reached by phone or email, or you can contact them via live chat if you need an immediate response. They provide a large online library of materials and resources for both new and experienced marketers.
Groovefunnels
GrooveDesk is a GrooveFunnels feature that allows customers, business partners, and others to submit complaints and comments through the app. With GrooveDesk, you can streamline everything from having an instant messaging chat to producing top-tier solutions, so your team can go back to doing what it does best.
My take: According to me, ClickFunnels and GrooveFunnels have good customer support in many ways, but because of different reasons each tool is a good fit for some businesses, so it's really just a matter of what will work best for you.
ClickFunnels vs GrooveFunnels, Which one should you choose?
Now as I sum up this comparison, the big question that arises is which tool is your best bet: GrooveFunnels or ClickFunnels? While both have pros and cons and their own set of features, they both excel at different things.
Clickfunnels focus on helping marketers succeed at every step of their funnel. You will want to target people who are highly engaged and ready to part with cash. Clickfunnels page is a great method for reaching these engaged prospects.
The conversion rates are high and the landing pages are designed for marketing experts and you can easily build them, because of its intuitive drag and drop editor that has all the options available in it that you may need to create an attractive and effective landing page.
You won't find any bugs with the Funnel Stacks in Clickfunnels. It also features great educational materials which can help you to gain more knowledge about the market and devise a sound strategy.
GrooveFunnel is carefully crafted and hand-tuned to be practically a steal at the price. Moreover, you can also lock in a lifetime free account.
You'll be paying much less money than some of your competitors because GrooveFunnels saves you so much in terms of time and other expenses associated with things like marketing automation software or CRM services.
If you're looking for a powerful, all-encompassing tool to build your online business using a sales funnel GrooveFunnels can certainly help. In fact, the website that features our software in action so you can see how easy it is to create your own funnel with our drag and drop tools.
So this was all about the comparison between Clickfunnels and Groovefunnels, if you have made it this far in reading this article I hope it has helped you in choosing the best sales funnel for your business.
FAQs
Which sales funnel is better?
Both ClickFunnels and Groovefunnels are equally good, for some clickfunnels works best while for others Groovefunnels works best. So the choice is yours.
Will I be able to share my funnels? 
Yes with both Clickfunnels or Groovefunnels you will be able to share your funnels.
Are these websites legit?
Yes both Clickfunnels and GrooveFunnels are renowned websites so they are completely legit.
What are the best alternatives of clickfunnels or groovefunnels?
Builderall, Unbounce, Leadpages can be some of the best alternatives to both Clickfunnels and Groovefunnels.