If you are looking for the best landing page builder, Here is the answer for you. In this Clickfunnels vs Leadpages article, I have done a comprehensive comparison that help you decide which is better.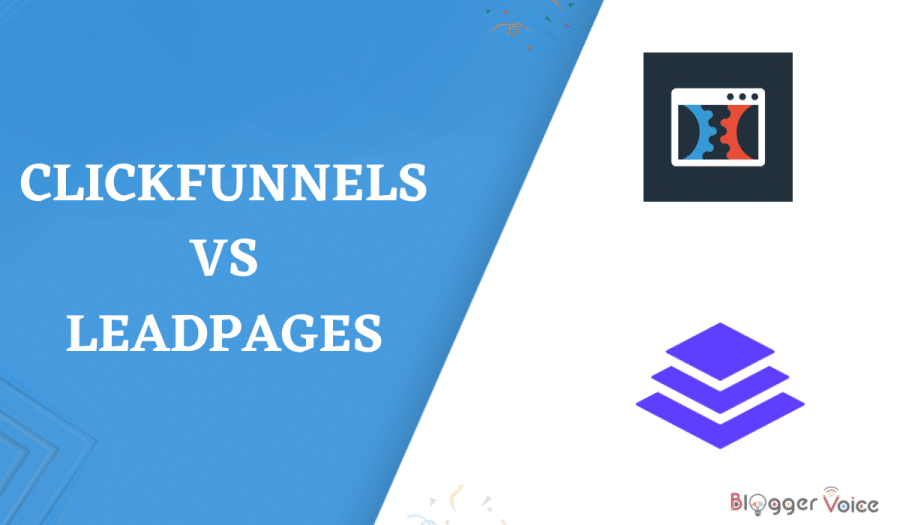 Business is not about how attractive your product is but it depends on the fact that it contains human psychological triggers. If yes, your company is bound to rise.
Before I tell you about the differences between Clickfunnels and Leadpages, let me explain how this psychology works in business and the concept of a sales funnel.
ClickFunnels is the best choice if you want to build a complete marketing platform that comprises both a sales funnel and a membership site. Leadpages, on the other hand, might be a better deal if all you want to do is make landing pages that convert well.
What is clickFunnels?
ClickFunnels is your one-stop shop for all your online marketing needs. This is accomplished by allowing users to create landing pages, sales funnels, high-converting offers, and webinars all in one location.
It makes it easier to sell your products and services to a bigger audience by converting the traffic you already have into leads and purchases.
Clickfunnels is a simple-to-use sales funnel builder that helps you develop sales funnels for your company. It also includes landing pages for each step of your sales funnel, allowing your visitors to effortlessly move through the process.
Russell Brunson, an online marketer, invented Click Funnels in 2014. Russell Brunson has over 15 years of experience in the online business world.
When he started thinking about how to make it easier for small businesses to flourish online, he built Click Funnels.
You can sell anything that you can imagine with ClickFunnels. To get to know more about Clickfunnels, read our article, ClickFunnels review. Where I have done in-depth ananalysis.
What Is Leadpages?
Leadpage is a simple-to-use yet powerful landing page application that allows you to quickly construct high-converting landing pages and sales funnels.
Leadpages assist you in attracting more clients, expanding your business, and increasing revenue. It's the best landing page builder on the market, and anyone can use it, from tiny businesses to multinational enterprises all around the world.
Clickfunnels vs Leadpages: Pros and Cons
Well, the click funnels vs lead pages review have come to an end so I'd like to go over the benefits and drawbacks of each platform so you can make an informed decision before you opt for one.
Clickfunnels
Pros
As previously stated, Click Funnel is an all-in-one platform that can help you with everything from creating professional sales funnels to developing landing sites
Customer service with an inbuilt chat service is available for either of the plans
Clickfunnels hosts weekly Q&A webinars, which is a wonderful benefit
The built-in email autoresponders are a great feature of this platform
Cons
The plot has become highly hard for newcomers as a result of trying to maintain the balance between the landing page and the sales funnel ClickFunnels
It is expensive for beginners
Leadpages
Pros
It is a very beginner-friendly platform that focuses more on landing page design and customization
The standard plan is very reasonable
200+ free templates which are professionally designed and have been proven to convert leads into customers
Additionals features like lead boxes, lead links, and lead digits are added
Powerful landing builder page capture
Cons
A/B testing is not available on the standard plan, whether you pay on a monthly or annual basis
For standard plans, according to me, the customer service is limited which can be a big issue for beginners
Though this platform claims to be a sales funnel builder the tools available are limited
Clickfunnels vs Leadpages: Features Compared
Let's do a side-by-side comparison of Clickfunnels and Leadpages and learn more about their cutting-edge features.
Ease of use
Clickfunnels
Clickfunnels is one of the best online applications for marketers with no prior expertise or knowledge of marketing. It's just one solution that walks you through the process of creating your own sales funnel, landing pages, and more.
If you're looking to convert your website, visitors, into regular clients, this platform has you covered. You receive a ton of functionality, templates, themes, and designs, as well as over 50+ elements.
This solution reduces the requirement for marketers to have the technical knowledge to expand their business.
Simply concentrate on your concept, and Click Funnel will take care of the rest.
Leadpages
You've come to the right place if you're a complete beginner who wants to take the first step by establishing a landing page. When it comes to getting your leads' attention, Leadpage's landing page builder is the best.
The templates have all been professionally created and tested for lead conversion with good results.
You may even construct your full sales funnel on this platform, which contains all of the tools you'll need to make it flawless but the tools are limited when it comes to funnel building.
Leadpages is more user-friendly than Clickfunnels, which might be difficult for beginners.
Winner – Leadpages
Templates and Customizability
Clickfunnels
Thousands of sales pages have been built and tested, and a variety of the highest-converting templates have been introduced to the Page Editor.
You can change many features of your template to make it feel like it was created by you. You may create your look using the free, user-friendly design tool, which allows you to choose from a variety of colors and font styles.
The text and picture boxes can be customized in terms of color, size, and shape. You can also add music, modify the backdrop color, and add images or graphics.
The templates, like the program, are updated regularly.
Sections, Rows, Columns, and Elements are the four essential building components of all web pages.
Clickfunnels makes it so simple to mimic the layout and structure of any page or site on the internet with its drag-and-drop editor. With Clickfunnels and four basic page-building pieces, you can construct a page in minutes.
Leadpages
Leadpages templates are excellent for starting a business. With Leadpages numerous templates, you may construct your landing page.
You'll be able to pick from a variety of professional layouts, ready-to-use templates, and customizable templates that you can personalize. You can also utilize a selection of themes to create your landing page.
You can also use Leadpage's customized template builder to construct your landing page. You simply need to drag and drop all of your information into it.
The template collections of lead pages are of the next level and are tested and organized according to high conversion rates.
They are customized professionally and the success rates are great. With a gallery of 200+ templates and among the best landing pages you can choose the best one to use for your product.
All content is mobile-friendly and looks great on platforms of all sizes, including desktops, tablets, and smartphones. Device-specific display options allow users to build certain parts and show (or hide) them on specified devices.
Winner – Clickfunnels
Conversion Tools
Clickfunnels
The tools that will assist you in converting leads into customers are referred to as conversion tools. With Clickfunnels, you can collect contact information in a variety of methods, making it simple for all of your customers to sign up for your email list.
Clickfunnels can gate membership-only content, which is a fantastic feature.
You may use A/B split testing to test the effectiveness of your website. They've also built a "Stats" tab dedicated to giving mission-critical analytics which is a very crucial feature.
There are numerous other tools available, such as image resizers, image compressors, invoice generators, slogan generators, and many others, to assist the user in growing their business.
Leadpages
The conversion toolbox gives you more options for converting your hard-earned internet traffic. Leadmeter predicts how well your page will perform and advises you on how to improve it before the page goes live.
With a non-intrusive, mobile-friendly alert bar, you can capture your audience's attention and increase conversions.
With the Leadpages pop-up builder, you can capture your audience at the peak of their interest. A/B unlimited split testing method helps people distinguish the effectiveness of the pages.
Winner – Clickfunnels
Integrations
Clickfunnels
You'll need to learn how to set up your basic Clickfunnels integrations to add your custom domain, custom email address, SMTP, and payment gateway after you've set up your Clickfunnels account.
The following are the important integrations available :
Twilio is a service that allows you to personalize and schedule SMS messages
Embed A Calendar In Your Funnel – Allow leads to schedule themselves on your calendar by embedding a calendar into your funnel. For integration, a variety of calendar software can be used
YouZign – You may use YouZign to host bespoke photos and then publish those same images on Clickfunnels
VWO Engage – Set up push alerts for your funnels with this tool
If you want to combine SalesForce with your Clickfunnels account, use this
Warrior Plus – Use your Clickfunnels site to sell Warrior Plus items
When someone places an order in your funnel, use Disc Delivered to enable automatic order fulfillment
Stripe Payment – Integrate Stripe as a payment processor and deliver Stripe receipts to funnel consumers
Kajabi – Use Kajabi to integrate your Clickfunnels items with Kajabi membership areas
Use PayPal to add a PayPal button to your Clickfunnels page and accept PayPal payments
WordPress – This plugin allows you to connect your Clickfunnels account to your WordPress site
Use Shopify to link your Shopify account to your Clickfunnels account
Slybroadcast – Use Clickfunnels to send voicemails from Slybroadcast to your subscribers
Use Shipstation to set up order fulfillment once someone purchases Clickfunnels
Use Zapier to connect your Clickfunnels account to other popular services
ZenDirect – Send client information from Clickfunnels to ZenDirect for ZenDirect to ship things
The built-in affiliate program, which lets you motivate others to advertise your product or service, as well as their template marketplace, where you can access community designs, are both bonuses to Clickfunnels.
Leadpages
There are many different types of integrations accessible on Leadpages. Google, Bing, Instagram, and Facebook Ads are examples of digital advertising.
Email marketing tools such as Mad Mimi and MailChimp are also available. Intercom-style live chat. Zapier, for example, is a marketing automation tool.
The list is extensive enough to meet marketing requirements not met by Leadpages. You'll improve your marketing game by combining sophisticated widgets and integrations with easy-to-configure integrations throughout your whole marketing stack.
The important integrations available in lead pages are :
Google Analytics – Use Google Analytics to integrate your Leadpages data
InfusionSoft — Use this to link your LeadPages account to InfusionSoft's CRM
Use Zapier to connect your Leadpages account to other popular services
Connect your Leadpages account to your Shopify store using Shopify
WordPress — This plugin allows you to link your Leadpages account to your WordPress website
Connect your Leadpages account to your Active Campaign email account with Active Campaign
Connect your Leadpages account to your MailChimp email account via MailChimp
Use LiveChat to integrate with your Leadpages landing pages
Connect your Leadpages account to the HubSpot CRM with HubSpot
PayPal – Use PayPal to accept payments on your Leadpages landing pages
Stripe – Use Stripe to accept payments on your Leadpages landing pages
Calendly – Use Calendly to add calendar scheduling options to your Leadpages
Winner – Clickfunnels
Customer Support
Clickfunnels
Customer service at Clickfunnels is among the best I've seen among the companies I've looked into.
The personnel is kind and informed, and response times are satisfactory. If you ever find yourself in a difficult circumstance, don't hesitate to call Clickfunnels' customer service team, since they are really helpful. They are there to assist you with any questions you may have 24/7.
There are support documents available that provide basic yet useful information. You also get access to the Facebook community, which may help you with any questions you may have.
There's also a marketplace where you may buy templates. You will be given access to a chat assistant who will assist you in resolving your issues and questions.
Clickfunnel's community component will be ready shortly, allowing you to browse resources, connect with other people using different sales funnels, and learn and grow your ideas.
Leadpages
The support system is rather strong and vast when compared to its competitors. It's very beginner-friendly, you will be able to access tons of documentation with every topic discussed in detail.
Leadpage knowledge directory holds the answers to every question that you may have in the world of online marketing.
Leadpages hosts training webinars regularly to help you get the most out of their software. I particularly appreciate their large knowledge base, active blog, and marketing resource library.
I wish they had a live chat option on their website, but it turns out that chat is only available for Pro and Advanced subscribers inside the Leadpages app.
Winner – Leadpages
So, before I wrap up my honest review of Clickfunnels vs Leadpages, let's have a look at the pricing options available on these platforms.
Pricing
Clickfunnels
Clickfunnel's cost is determined by the length of the sales funnel. As a result, the more pages you have in your funnel, the more money you'll spend.
Depending on the features you choose, Clickfunnels starts at $97 per month for the Basic plan or $297 per month for the Platinum plan.
Basic plan
You can design dozens of various types of sales funnels with a single click of a button, including opt-in funnels, sales funnels, webinar funnels, subscription sites, and more
Compatible with your chosen shopping cart CRM and email autoresponders
20 Funnels, 100 Pages, and 20,000 Monthly Visitors
Premium plan
Traffic, pages, funnels, and domains are all unlimited
Backpack will track the clicks and sales of your affiliates
Take advantage of actionetics that create self-action funnels
Create customized follow-up sequences for each visitor, including emails, messages, and more
Clickfunnels offers a 14-day free trial, allowing you to try out both plans before committing to a paid subscription.
Leadpages
Monthly and annual plans are available from Leadpages.
Both monthly and annual plan comes with standard and pro plans.
Monthly
Standard – The standard plan for Leadpages is available for $49.
The benefits included are as follows :
You will get one website
Facilities include pop-up bars and alert bars
You can contact customer support only through emails
Pro – The Pro plan for Leadpages is available at $99.
The benefits included are as follows :
You will be getting three sites
You get all the facilities included in the standard plan
Unlimited A/B standard testing is available
You can contact tech support through phone chat or by email
Yearly
Standard – Paying yearly the standard plan is available for $37 per month.
The benefits included are as follows :
You get a free custom domain and free hosting from lead pages
Professionally designed templates
You can contact tech support through chat and email
Pro – Paying yearly the pro plan comes at $74 per month.
The benefits included are as follows :
Just like the standard plan, you get a free custom domain and hosting
Reach tech support through phone, chat, or email
Unlimited A/B testing
Online sales and payment option is also available
When billed annually in the case of a standard plan you get to save $144 and in the case of a pro plan you get to save $300 a year. And if you are looking to get lastest offers, checkout our article Leadpages discount code.
WELL, we all know great things come at a great price, even though the pricing plan of lead pages is less when compared to ClickFunnels but the features available in ClickFunnels are more in numbers and it got the right tools to build a perfect sales funnel or a landing page.
Customers Reviews And Testimonials
Clickfunnels
Leadpages
Social Media: Clickfunnels vs Leadpages
Clickfunnels On Facebook
A Facebook page can help you connect with customers and provide important information about your company, products, services, and upcoming events. ClickFunnels has a 5-star rating, 384,136, and 426,920 followers on its Facebook page.
Clickfunnels On Twitter
Follow the official Groove Funnels account on Twitter at @groovefunnels. An End-to-End E-Commerce Platform for All of Your Digital Goods and Services. There are 6818 tweets on its profile and 297 people following it.ClickfunnelsFollow the official Groove Funnels account on Twitter at @ groovefunnels. An End-to-End E-Commerce Platform for All of Your Digital Goods and Services. There are 6818 tweets on its profile and 297 people following it.
Clickfunnels On Linkedin

With ClickFunnels, a professionally built internet marketing funnel is as close as a few simple clicks away as it could possibly be. Simply because we have faith that this is the case. Clickfunnels has 16,373 followers on its Linkedin Page.
Leadpages On Facebook

The World's Most Powerful and Comprehensive Internet Marketing Platform! Create anything from a simple web page to a complex sales funnel, and everything in between! Leadpages has 4.4- stars, 84,633 likes, and 86,979 followers on its Facebook page.
Leadpages On Twitter
The World's Most Powerful and Comprehensive Internet Marketing Platform! Create anything from a simple web page to a complex sales funnel, and everything in between! Leadpages has 34k tweets and 29k followers on its Twitter page.
Leadpages On Linkedin
With THE WORLD'S MOST COMPLETE AND POWERFUL DIGITAL MARKETING PLATFORM, you can attract new customers every day and sell more. Builderall has 6,826 followers on its Linkedin page.
Conclusion: Clickfunnels vs Leadpages
According to my experience, if you're looking to sell stuff online, Clickfunnels is the best all-around platform that took the idea of sales to funnel to the next level.
It's no secret that a sales funnel is the most effective technique to increase your company's sales.
It allows you to reach out to thousands of potential consumers via the internet.
Clickfunnels is the finest platform to consider if you're seeking one of the greatest sales funnel builder platforms.
You can quickly design a professional-looking sales funnel with this software. Furthermore, you have complete control over the design of your sales funnel.
If you are just new to this world of online marketing or just want to create a landing page then according to me lead pages might be the best option for you.
It comes with some good-built templates and features and the pricing is cheap when compared to click funnels.
Finally, what do you believe is the better business decision between Clickfunnels vs Leadpages?
Also read:
Frequently Asked Questions
Who should use ClickFunnels?
If you run a marketing agency or run a digital marketing agency and need to conceptualize landing pages or sales pages as funnels, ClickFunnels is for you. If you want to make landing pages that convert well or use a webinar or sales funnel template to make a whole funnel, this is the solution for you. It's also great if you want to start your own membership site with a paid affiliate network.
Who should use Leadpages?
Leadpages is a landing page generator designed for folks who want to create high-quality landing pages quickly and easily. Each of our sales landing page themes is built from the ground up to attract qualified prospects and increase sales. Leadpages is not the best option if you're searching for a pre-built, multi-step sales funnel.
Which is better: ClickFunnels or Leadpages?
ClickFunnels is the go-to program for building high-converting sales funnels. Leadpages creates landing pages for lead generation and CRO. Leadpages doesn't offer funnel templates, therefore you must manually build one.
Leadpages doesn't offer affiliate marketing, while ClickFunnels does. Leadpages is a good choice if you want to create many leads and set up your own sales funnels.
Both of these online marketing techniques are useful and should be regarded as investments if you want to monetize your side hustle. Your pick should be based on your business goals.
How long will it take me to figure out how clickfunnels works?
The answer is no, it's not that hard. Because of how widely used this tool is, there is a wealth of data already online for you to peruse. They also have a frequently asked questions page to answer any initial questions.
Is clickfunnel just a landing page builder, or is it more?
It's not just a landing page service, either. Depending on the purpose of the landing page, it can aid with either product sales or consumer data collection. You can contact the client again via email, SMS, Facebook messaging, or any other medium.
How can leadpages increase conversion and internet business?
Landing pages created using Leadpages are effective at attracting new subscribers and collecting valuable client data. You can utilise this data to start a conversation with possible new customers.