In this post, I have come up with a complete analysis of ClickFunnels vs Shopify.
With ClickFunnels, businesses can advertise their products and services and send them directly to consumers.
For those interested in selling their wares online, Shopify is a convenient e-commerce platform.
Both ClickFunnels and Shopify have enticing benefits and features that customers should keep an eye out for.
So let's get started!
ClickFunnels Overview
ClickFunnels is an online tool that helps businesses advertise, sell, and ship their goods and services online.
It has many premade sales funnels made by experts and time-saving and revenue-boosting marketing automation options.
Using ClickFunnels, you can create opt-in sites and landing pages with ease.
Additionally, it might make a great helper for organizing the many forms used in your sales funnel. By creating sales funnels, you may increase the efficiency of the marketing tactics used on your eCommerce website.
If you know in-depth of ClickFunnels, read our article Clickfunnels review.
Shopify Overview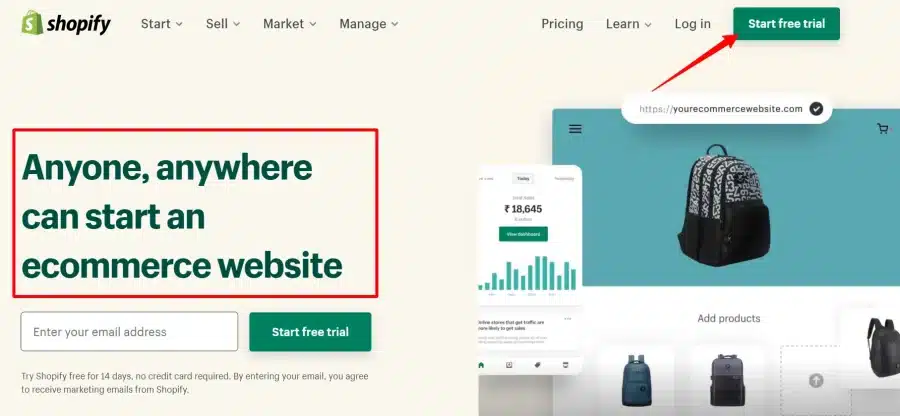 Shopify is an e-commerce platform that gives you the tools you need to run and grow your online store, including a robust architecture, fast and efficient e-commerce templates, and support for different payment gateways.
If you want to open a webshop and sell goods online, you might consider using Shopify. In addition to digital products, physical products can also be sold on the site.
Shopify's extensive library of tools and information makes it possible to launch and manage a business with unprecedented speed and ease.
With Shopify's user-friendly interface and a plethora of available themes, you can quickly and easily set up an online eCommerce store with a polished appearance and helpful features for expediting the buying process for your clients.
These factors are equally essential for online commerce as they are for traditional retail outlets.
ClickFunnels vs Shopify: Main Differences
Shopify performs a better job of assisting you in managing both your inventory and your customers, but Clickfunnels provides a number of services, one of which is ready-made sales funnels.
Shopify has three different plan options, however, Clickfunnels only has two to choose from, the most affordable of which is their basic package.
On the other hand, Shopify has a mobile app that can be downloaded for free on both Android and iOS devices, whereas Clickfunnels does not.
ClickFunnels Vs Shopify: Features Comparision
Both ClickFunnels and Shopify have excellent features which provide customers with a variety of customizable tools that can improve their online marketing and sales experiences while also making the processes easier to manage and more streamlined.
Analytics
E-Commerce
Page Builder & Funnel
Customization
1. Analytics
Both ClickFunnels and Shopify give their users with different analytics dashboards that display graphs regarding the user's traffic, orders, and sales respectively.
On either platform, you can use Google Analytics to gain insight into client demographics as well as the amount of time they spend on your website.
The pricing point and the features that are required are going to be the deciding factors in the end.
2. E-Commerce
You are able to create well-designed, fundamental e-commerce websites with the help of ClickFunnels. The cost of the tools is extremely costly in comparison to those offered by other platforms, which is the primary barrier to entry.
Shopify, on the other hand, is widely considered to be one of the greatest e-commerce platforms. This is due to the fact that it provides users with a number of web design elements that may make their pages look more appealing.
It offers a fantastic user experience and works rapidly to bring about the realization of your ideal marketplace. There is also the possibility of interaction with various sales channels and payment methods.
3. Page Builder & Funnel
Both ClickFunnels and Shopify provide users with a number of pre-designed templates from which they may construct a sales page or sales funnel.
Using the editor's drag-and-drop functionality, creating a custom layout that includes text, graphics, external links, as well as other integrations is a simple process.
However, ClickFunnels allows users to choose from a variety of unique theme choices, which ensures that their websites are easily identifiable.
Shopify possesses an impressive library of themes that can be modified in a user-friendly manner, allowing you to customize them on your own.
4. Customization
Shopify would be far superior to ClickFunnels in terms of the ability to develop a one-of-a-kind website. If you are familiar with ClickFunnels, you will be able to recognize its templates regardless of where you are.
Shopify is particularly useful for people who wish to construct web pages that are congruent with their brands and products in today's world.
There are hundreds of themes that may be customized, all of which were. developed by skilled and well-known designers and are available for you to tailor to your preferences.
5. Marketing & Sales
ClickFunnels provides its users with one-of-a-kind sales and marketing solutions that are reliable.
Customers can be guided to a checkout page containing products with the assistance of an automatic sales funnel builder.
In addition to the numerous automation options that are at your disposal, you also have the opportunity to profit from affiliate marketing.
Shopify provides marketing solutions that facilitate the promotion of the merchant site to a larger and more specific audience.
These marketing tactics run on autopilot and include search engine optimization (SEO), rebates, and gift cards.
ClickFunnels vs Shopify: Pros and Cons
ClickFunnels pros & cons
| | |
| --- | --- |
| Pros | Cons |
| All-in-one e-commerce tool. | A bit pricey. |
| Unlimited Templates. | |
| A/B Split Testing. | |
| Excellent sales funnel flow. | |
| 14-day free trial. | |
Shopify pros & Cons
| | |
| --- | --- |
| Pros | Cons |
| Easy to use. | Compared to other online store builders, free themes are scarce. |
| Attractive, responsive templates. | |
| Shopify supports multi-currency sales, | |
| Affordable. | |
| Shopify is free to try without a credit card. | |
ClickFunnels Vs Shopify: Pricing & Plans
ClickFunnels
Mainly ClickFunnels has three pricing plans.
Basic plan: $127/month(if you are billed yearly).
Pro plan: $157/month (if you are billed yearly).
Funnel Hacker plan: $208/month (if you are billed yearly).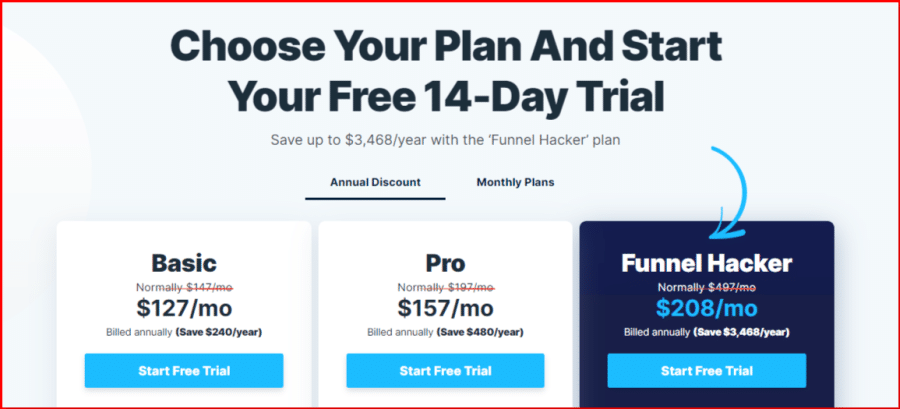 Shopify
Mainly Shopify has also three pricing plans:
Basic plan: $29/month
Shopify plan: $79/month
Advanced plan: $209/month
Conclusion
Overall, With respect to business applications, ClickFunnels remains unparalleled. Shopify, on the other hand, is near as user- and wallet-friendly for newcomers.
Many business owners choose to do both, as doing so expands their possibilities in areas like automation, landing page creation, marketing, product management, and shipping.
So long as you need every feature and function, integrating the two systems is preferable to choose just one.
Frequently Asked Questions
Can I use ClickFunnels with Shopify?
If you use Shopify as your online store's payment and order processing gateway, ClickFunnels will transmit any shipping orders from your funnel there without your intervention. This implies that Shopify can handle all of your sales, whether they are referred from the sales funnel or done immediately on the sales page.
Is ClickFunnels worth the money?
To market to sell your products in an almost automated fashion, you need a comprehensive marketing platform, and ClickFunnels is just that. Practically every feature or function can be added or augmented with its help. True, it's pricey, but you're paying for a high-quality product or service. It's money well spent in every sense of the word.
Why is Shopify so popular?
When it comes to online storefronts, Shopify is a top contender. That's not hard to understand. Shopify provides all the tools necessary to launch, manage, and expand an online store. It's flexible, expandable, and comes with a large community of services and apps to let you tailor your online shop to your specific needs.
Is it worth paying for Shopify?
Shopify should always be considered, regardless of the size of your business. One of the reasons for its widespread acceptance and acclaim is the ease with which it may be expanded. The eCommerce platform guarantees the highest satisfaction even for massive stores by including an astounding number of add-ons & integrated functionality.