Are you looking for in-depth Coach Training Alliance Review, you came to the right Place.
Acquiring a coaching certification from a respected organization is one of the most effective strategies for establishing one's reputation in the field of coaching.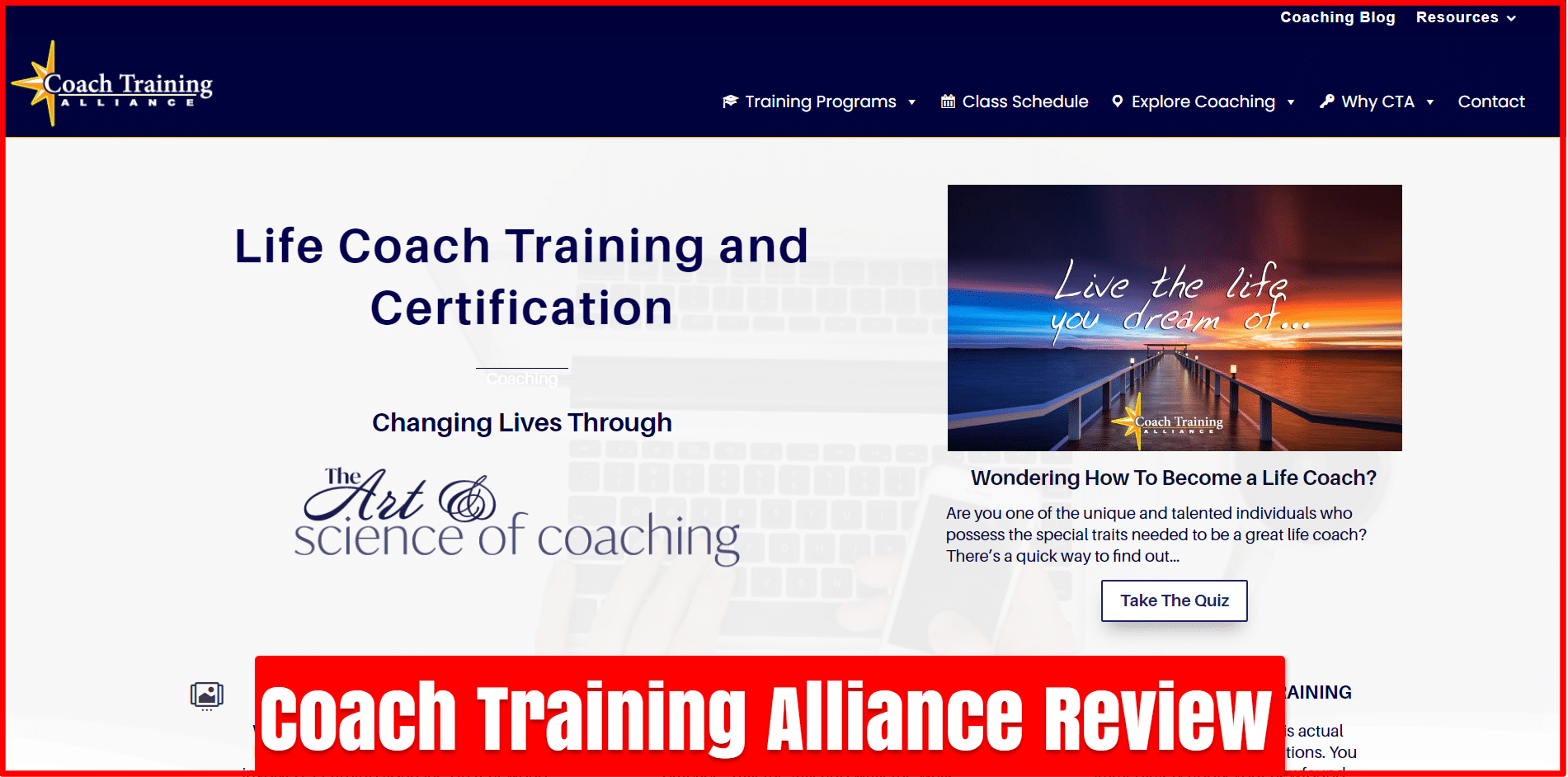 This is the first piece in a series in which we will investigate several schools and programs that offer training and certification for life coaches.
Today, we are going to have a look at an organization known as Coach Training Alliance. This is an establishment that provides a variety of well-known coaching certification training and programs.
We go through their coaching programs, including the prices involved, feedback from previous graduates, and how to determine if Coach Training Alliance is the best fit for you.
About Coach Training Alliance
Will Craig, who had previously served as president of the Denver branch of the International Coach Federation (ICF), established the Coach Training Alliance in the year 2000.
Since that time, they have successfully completed all of their training programs and certifications, certifying over 10,000 different coaches.
They teach you how to be a coach in a way that is extremely applicable to real-world situations, with a strong emphasis on fast learning and the immediate application of what you've learned to your professional life and career.
The end product is what is known as "condensed coach training that involves an apprenticeship in which you earn as you learn."
Coach Training Alliance Review – Coaching Programs Explained
It's true that Coach Training Alliance is a coach tutoring company that educates you to master your passion and empowers you to share it with others by developing you into the greatest.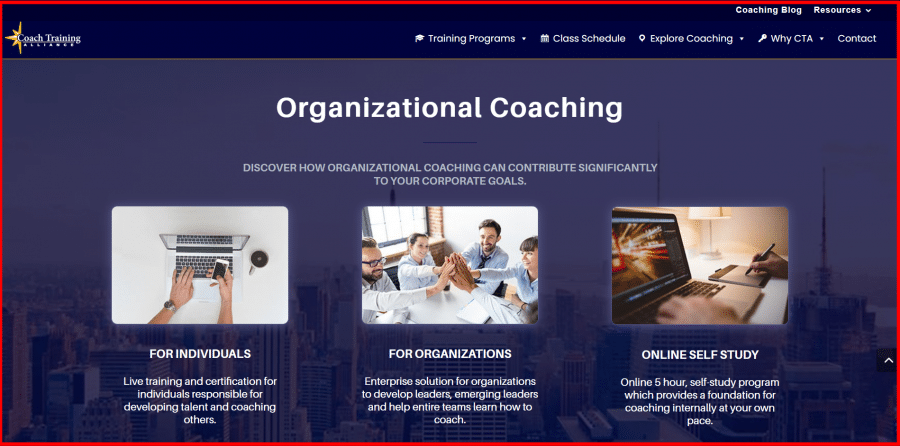 Coach Training Alliance doesn't stick to just one program. It is a platform that resembles an umbrella and contains a variety of training programs under several categories.
Coach Training Alliance has 7 useful features, including free courses.
Free classes (CTA workshops)
Self Study Programs
Career Coaching Program
Certified Coaching Program
Organizational Coaching Program
Graduate Coaching Program
Yoga2Life Coaching Program
Free Workshops by CTA
Before participating in the class led by outstanding mentors and licensed coaches, you may complete a CTA quiz to test your knowledge about coaching in general.
All of your skeptical questions are answered in the workshop. Make the most of the list by adding your own inquiries without holding back.
You will be able to discover customer demands, client expectations, and how to succeed as a professional coach as a novice at the end of the CTA class.
Self Study Program
You will study coach tutoring independently through self-paced courses, as the name implies. The self-paced lessons are a plus, but you also gain access to a ton of CTA's pre-recorded multimedia training sessions.
Additionally, Coach Training Alliance's self-study course offers an exclusive "become a coach in 20 weeks" option, which is a great way to organize the courses.
If you are concerned that the self-study program won't be as successful as the live programs, let me assure you that Coach Training Alliance has world-class coaches, experts, and mentors who have hand-picked the self-study program as well.
The only distinction would be that you wouldn't be receiving direct instruction from them. Regarding the quality, you are offered a carefully picked collection of learning modules in CTA.
Career Coaching Program
You are in good hands since the International Coach Federation oversees the Coach Training Alliance's support of the Career Coaching Program.
The CTA career counseling program lasts for seven weeks. With seven 90-minute recorded sessions and illuminating annotations, you can tune in effectively.
After completing the career coaching program, you will be able to persuade consumers, instill moral principles, and meet their demands.
A career coach is necessary for that specific circumstance since making a job shift is a significant decision. Only if the career coach has strong morals and is properly qualified can he advise them.
Most people who change careers feel helpless. Although it may seem profit-oriented, you might see it as a worthwhile opportunity and seize the moment.
Naturally, the career counseling program will shape you completely with numerous components, and you'll start making money off your career advice once you start monetizing it.
What Are The Coach Training Alliance Pricing Plans?
The fee of Coaching Training Alliance is the same as that of every other online learning and tutoring program. You can nonetheless take part in the free workshops that CTA routinely offers. The majority of CTA courses change depending on the requirements.
I'd guess that a round-off rate may be anything between $100 and $500.
It can cost roughly $3000 with no hidden expenses or additional recurring fees if you want to become a certified coach by CTA and get the most out of the coaching programs in CTA. It may be paid in several installments.
The whole cost of the preferred program from CTA can be paid in three to seven installments with no interest. Additionally, CTA's return policy is rather convoluted.
I've got you covered. The policy states that while every program is unique, not every refund request will be given equal weight.
The return process is difficult, but not impractical, as I stated. Not to worry. It's alright.
With the hard-earned money you put into the programs, you may discover a way out if you are dissatisfied with your CTA experience and get your money back.
Related:
Final Thoughts
So far, it's been a wonderful experience. I learned about coach-building.
Marketing, business, client hunting, etc. Live classes by coaches from Coach Training Alliance covered everything.
Coach Training Alliance is exciting because coaches educate coaches to improve. I didn't want to make it a tongue twister, but you'll understand if you watch.
Coach Training Alliance is an excellent investment if you're seeking a coaching platform that offers assistance, tools, and mentoring.