Looking for an in-depth comparison of Treehouse vs Codecademy? Read on.
When you say PUBG I can hear the C++ compiler working, When you say Battlefield I can see the strings in Python working.
The programming craze has reached new heights. You don't need facts and documents to prove it. You're all aware that programming is a fantastic career option.
In this article, I'll compare Treehouse vs Codeacademy, the two most popular online programming platforms, so you can pick the ideal one for you.
Codecademy is a free and paid online interactive platform in the United States that offers coding classes in 12 different programming languages, including Python, Java, Go, JavaScript, Ruby, SQL, C++, C#, Swift, and Sass, as well as markup languages HTML and CSS. Learn the technical skills you'll need to land the job you want. Join the over 50 million people who have chosen Codecademy to launch a new career (or advance in their current one).
Treehouse is an online technology school that provides courses ranging from beginner to advanced in web design, web development, mobile development, and game development. Its courses are designed for beginners who want to learn coding skills in preparation for a career in the tech industry. Sign up for expert-led video courses to get started in coding, programming, and design. Ideal for beginners, intermediate, and advanced students.
Codecademy is a free, user-friendly platform with high-quality courses. However, there is no instructor support, a limited sense of community, and no career counseling or job placement assistance, so Codecademy may not be for you if you require additional assistance.
Treehouse is a good option for beginners who learn best through video-based instruction. The vast majority of course offerings concentrate on the fundamentals. Examine the platform and take advantage of their 7-day free trial.
Codecademy is a subscription-based service that offers two pricing options. The Basic plan is available for free. Codecademy Pro is available at a variety of prices: $39.99 per month, billed monthly; $239.88 per year, billed annually (which works out to $19.99 per month, saving you $240 over the monthly plan).
There are three pricing options for Team Treehouse: The basic plan costs $25 per month. The pro plan costs $49 per month and includes access to additional content such as lectures from industry leaders, bonus workshops, and the ability to download course videos for offline learning.
You can contact Codecademy for any help related to Codecademy Pro, Codecademy Curriculum, My Account, Fix a Problem, Using Codecademy, Codecademy for Business visit: https://help.codecademy.com/hc/en-us
Send them an email with a link and a screenshot to help@teamtreehouse.com, and visit https://teamtreehouse.com/support,  If this bug hasn't already been reported, they'll also give you a special Exterminator badge as a thank you!
A Basic Study of Codecademy vs Treehouse
Treehouse
Treehouse is a website and app that provides video tutorials and courses on web design and development, mobile development, game development, programming languages, business skills, etc.
The Treehouse platform was launched in the summer of 2011 as an online education firm. For aspiring coders and designers, it is one of the most popular online learning resources and digital Bootcamp.
Codecademy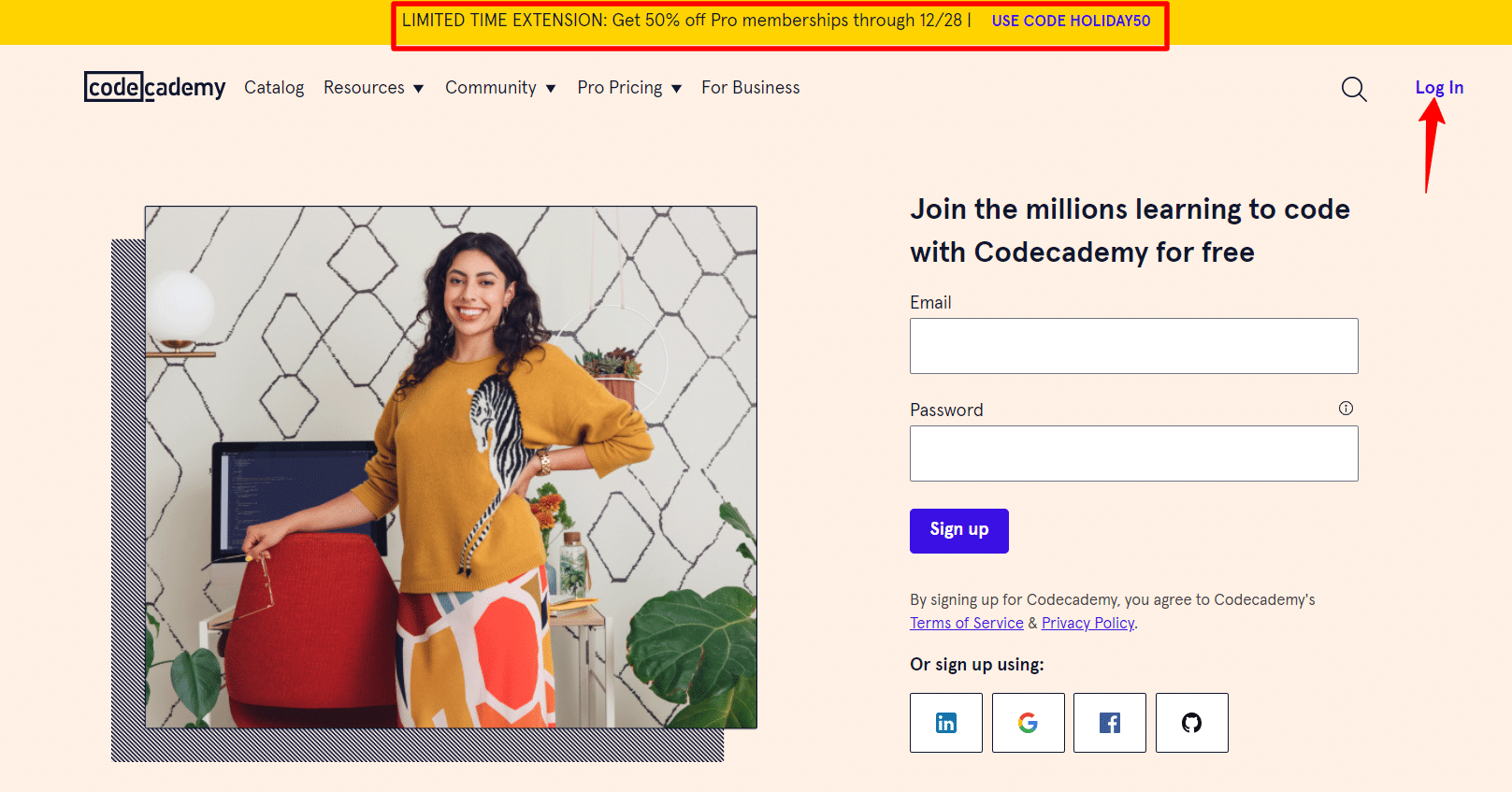 Codecademy is an education company like Treehouse, that offers coding classes to all. It is one of the best leading digital services that will help you with coding languages.
They have over 50 million users in total and they will teach you everything you need to know to become a pro programmer. The platform offers courses in HTML, CSS, JavaScript, and other popular coding languages. It's an easy way to learn how to code.
Check out our detailed comparison Between Udemy Vs Pluralsight, And find out which one is good for you.
Treehouse vs Codecademy – Key Differences
Both Treehouse and Codecademy have their own unique characteristics. The following is a rundown of the primary distinctions that can be made between the courses offered by Treehouse and Codecademy:
Codecademy provides coders who prefer verbal learning with its text-based training, whereas Treehouse caters to visual learners with its video-based lessons.
The members of the Treehouse team individually go over each student's submitted project and provide them comments in a straightforward manner.
Treehouse is an online education platform that offers self-paced courses for novice and advanced coders alike who are looking for expert help. Codecademy, on the other hand, offers less expert guidance.
Treehouse provides free live help through Slack and Zoom for students enrolled in the Techdegree program. Codecademy offers a comparable premium option with prices beginning at $29.99 per thirty minutes on a weekly basis.
The cheapest plan at Treehouse is $25 per month, while the most expensive plan at Techdegrees costs $199. The monthly subscription fee for Codecademy is $39.99.
While Treehouse facilitates peer-to-peer communication and provides support personnel via a secret Slack channel, Codecademy does the same thing using a private Facebook group.
Codecademy vs Treehouse: Features Comparison
Teaching method
Treehouse
In its way, the Treehouse teaching style is unique. It connects with you through video tutorials to ensure that you comprehend the course material.
To make the learning experience more engaging, several technologies such as forums, progress tracking, badges, and social media are employed in addition to the videos.
The Treehouse's videos are concise and to the point. The videos are also quite fascinating. To explain technology or technique, treehouse employs a lot of movies, games, and applications as references.
This platform also includes subtitles, making it much easier to follow along. They also conduct interactive quizzes, exercises, and coding challenges to test your understanding of the topic.
Even if you are new to the world of coding they offer a course called " Learn to code for beginners".
This track will provide you with an overview of several programming languages and disciplines that are necessary for a successful career in the industry.
This Track is for those who are ready to dig in but don't know where to begin. No matter what your background is, all of the sessions are well-suited for a true beginner. Knowing the fundamentals of each can aid you in deciding which field to pursue and which career path is best for you.
Codecademy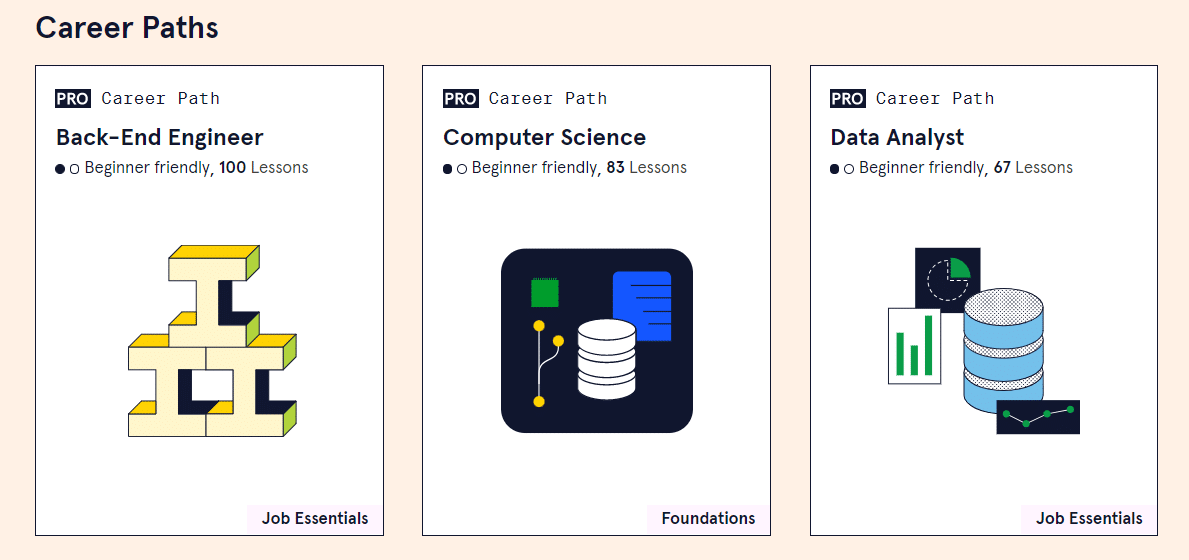 Codecademy is a fantastic resource for learning to code, but you must adhere to the lessons to get the most out of it.
You must first read the lesson documentation,(Only a few lessons have video lectures available) after which you will be given an exercise to complete.
The beautiful thing about Codecademy is that you can work through the lessons at your speed and come back to them at any time.
You'll practice the exercises on the website at first, but once you've gotten a little more proficient, you can use their Google Chrome Extension.
Each lesson includes an interactive code editor as well as clear, concise directions for completing the assignment.
The tasks are self-paced, require no prior programming experience, and are enjoyable, making it simple to jump right into coding.
You can try out the workspace in the browser, where you can try out every single interface for different languages. You can simply type the code you already know or are learning and hit save and run.
Codecademy, like Treehouse offers a free quiz also known as a problem solver, that determines the best course to learn based on a few questions, but unlike Treehouse, they don't offer a course to determine the language of your life, which I don't think is a good thing because a few questions can't accurately predict your future skills.
Winner – Treehouse.
Courses Available
Treehouse
There are a variety of courses accessible on this platform, all of them are interactive and fun to learn. This platform has a library part where you may search for topics in a variety of ways, including newest, oldest, alphabetical, and difficulty.
The topics related to programming, development, design, etc are as follows:
Android
APIs
Business
C#
Computer Science
CSS
Data Analysis
Databases
Design
Development Tools
Digital Literacy
HTML
Java
JavaScript
Learning Resources Machine
Learning
PHP
Python
Quality Assurance
Ruby
SecurityEquity
Diversity, and Inclusion (EDI)
Go

Apart from the programming and technology courses, the best thing about Tree House is that it teaches skills that are essential in the twenty-first century.
I'm talking about soft skills here. Soft talents are those that aren't directly related to your work but are crucial to your general development.
Writing, speaking, comprehending culture, conduct, and thinking are among these abilities. Interpersonal skills, professional skills, and general skills are all terms used to describe these abilities.
Soft skills are crucial in your profession since they provide you an advantage over your competitors. Many employers look for applicants who have these abilities.
With professional experience in marketing and leadership, Dan Gorgone will be teaching skills that are necessary for all-round development.
This 21st-century skills course, together with other programming courses you enjoy, will help you operate better in the environment, according to me.
Codecademy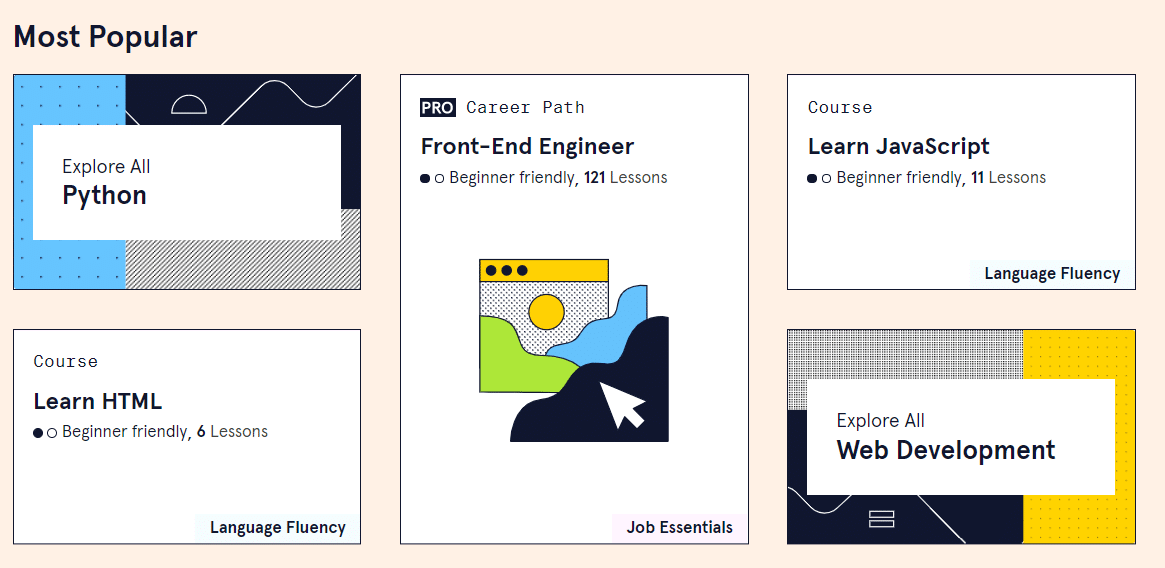 Codecademy courses are designed for people who are new to coding and want to learn for business or personal reasons.
The courses are appropriate for those who have never coded before as well as those who want to improve their coding skills. They're made to be enjoyable and interesting so you may improve your programming skills in a way that fits your learning style.
I've put up a list of the most popular subjects available.
Web Development
Data Science
Computer Science
Developer Tools
Machine Learning
Cyber security
Code Foundations
Web Design
Game Development
Mobile Development
Data Visualization
Interview Prep
You can also search based on languages. Though Codecademy has included cybersecurity and as a budding ethical hacker myself I found that only two courses are available which include beginner-friendly and intermediate courses.
I became sad as the topics were very limited in the intermediate section, similarly, there were are other courses too in which I found the topics are at all beginner levels.
Codecademy has also provided lists of languages that are available.
The languages available are as follows:
HTML & CSS
Python
JavaScript
Java
SQL
Bash/Shell
Ruby
C++

R
C#
PHP
Go
Swift
Kotlin
C
Unlike Treehouse, the courses are not extensive and are designed for beginners, but Treehouse allows you to go through levels.
Winner – Treehouse
Ease of Use: Treehouse vs Codecademy
Treehouse
I visit the site frequently as a subscriber to their courses. With its amazing personalization and functionality, the website is elegantly built.
It is, without a doubt, a very user-friendly website. Treehouse deserves a lot of credit for the way it presented its data.
100 Days of Code is a feature that has piqued my interest. For the next 100 days, Treehouse will ask for 30 minutes of your time. They'll even send you reminder emails and a complimentary podcast to help you along your learning path.
The columns and sections are well-organized professionally and imaginatively, resulting in a welcoming attitude toward the users.
Tech Explorer's Toolkit is available on this platform, along with a bundle of courses. For anyone interested in working in the tech business, the toolkit is jam-packed with free and engaging materials.
This platform's blog area is quite appealing and created in an animated fashion that is sure to grab visitors' interest; also, you may learn a lot in this section.
For instance, how to prepare for a job interview, what is front-end development, what is UX design, and so on.
If you have any questions or concerns, Treehouse is here to assist you.
Codecademy
The built-in of this platform is very appealing. Codecademy is a ground-breaking approach to learning to code. You can learn at your speed and on your terms, all from the convenience of your browser.
The features on this platform have been fine-tuned to perfection. Though the website design appears to be outdated, I must add that it is content-rich.
Set goals is a feature that you'll notice as soon as you land on their page.
You can set goals with the help of this function. You can choose a long-term objective from the various options, as well as a weekly learning target.
When it comes to the resource area, this is a true gem. You can test your knowledge with code tasks based on real-world technical interviews in the challenges area. You can also use it to prepare for a job interview or just for fun.
If you get stuck while completing the objectives, Codecademy will be right there to assist you. You can practice challenges at any time and in any programming language.
You'll be surprised if I tell you that in the project section, you may make a Pokemon-style game or a simple tic-tac-toe game.
You may even use code to forecast if an X-ray image shows someone with covid symptoms, pneumonia, or no sickness at all.
Isn't that cooooollllllll…
Winner- Codecademy
Certifications
Treehouse
Unless you are driven by your passion, becoming credentialed is critical from a job standpoint. Treehouse has you covered when it comes to certificates.
Techdegree is a part of this site. Isn't it incredible?
The features here, on the other hand, are more appealing.
The tech degree is a demanding project-based program that will prepare you for high-paying employment.
The tech degree program is akin to a coding boot camp, but it is entirely online and significantly less expensive. You can go at your own pace, in your own time, with the Treehouse's community's full support.
Experts teach the curriculum, which includes quizzes, coding exercises, workshops, hands-on projects, and more.
You must construct a portfolio of real-world projects as part of your tech degree to demonstrate your abilities and reinforce your knowledge. Finally, you must take a final exam to ensure that you are ready to confront the real world.
You will be given knowledge, experience, and a certificate at the end of the degree.
Codecademy
When it comes to Codecademy you can only earn a certificate if you avail of the pro membership.
Pro membership functions similarly to an added benefit, in that all of the exclusive courses, features, and content work together to make learning simple.
You'll have access to the entire curriculum, which is designed to make online learning more interactive and interesting. You have to work on guided projects as you will learn to put what you've learned into practice.
After you've finished learning from the pro membership and believe you're ready, you can move on to the challenges area to take your talents to the next level.
This section allows you to put your skills to the test, with hundreds of challenges to choose from. You will also get access to the interview prep column, where you will be able to tackle problems that are frequently posed throughout the interview process.
As you progress through the stages, you will come across the puzzles and quiz area, which is a fun way to learn new things. You can also get features like Treehouse's 30-day code.
You'll receive a certificate after completing a Pro course. You can use it to highlight your skills or prepare for a job search by including it in your CV or LinkedIn profile.
Winner – Treehouse
Customer Support
Treehouse
The support system at Treehouse is a major aspect that distinguishes it from other online learning platforms. Treehouse employees are constantly on call, ready to assist you at any time of day to get your online project up and running.
Treehouse's customer service is unrivaled, owing to the fact that they build close bonds with their customers and strive for 100 percent satisfaction on all levels.
Treehouse's support system, which is staffed by an experienced customer service team and operates 24 hours a day, 7 days a week, includes a variety of channels such as phone, email, and instant messaging, among others, to provide candidates with added convenience and allow them to contact Treehouse whenever they need.
You will be given access to a FAQ area, which will answer the most often asked questions. The Treehouse community is fantastic; you can submit any of your questions and concerns and receive a prompt answer. You can communicate with other students and even solicit their advice.
The Treehouse Knowledge Base is a real treasure trove of information. You can find a variety of documents and queries to answer all of your questions.
Codecademy
This learning platform's customer service and support system are excellent.
Your doubts will be addressed as soon as possible.
If you wish to join this platform's community group, you must first join their discord server, which is a unique technique that has never been seen before when compared to other platforms.
The Codecademy help and support site is open to everyone, and you can even search for questions by category.
The category is as follows:
Codecademy Pro
Codecademy Curriculum
My account
Fix a problem
Codecademy for business
Using Codecademy
The platform's Articles area contains further in-depth explanations of ideas covered in the Codecademy course. This article part, in my opinion, can be considered class notes because it contains everything that will be covered in the lectures and allows you to search for more information.
Winner – Treehouse
Pricing Battle: Treehouse vs Codecademy
Treehouse Pricing
Treehouse offers two pricing options: standard courses and, as previously indicated, a tech degree. So let's start with the conventional course plans and their benefits, and then go on to the tech degree prices.
The first one is divided into Courses and Courses plus
Treehouse Courses:
If you choose this plan, the monthly payment will be $25 per month, and the advantages would be limited. You will have access to the best professional video lectures.
The practice session appears in your dashboard.
You will be invited to join an online community of students where you will be able to engage and share your questions and concerns, which will be promptly answered.
Treehouse Courses Plus:
If you choose the plan, your monthly payment will be $49 per month, and you will have access to all of the platform's benefits. You get access to all of the audio and video lectures on this platform.
Users will receive additional content that is only available with this plan.
The best part is that you may download videos and watch them whenever you want.
Treehouse offers a 7-day free trial during which you can evaluate the platform and decide whether or not to switch. However, as a two-year subscriber to this site, I can promise you that you will not need to reconsider.
Now let's talk about the cost of a tech degree; I've previously outlined the several benefits you'll receive if you choose this option.
Currently, the tech degree program is separated into five subjects, all of which are offered for $199 each month. The courses for a tech degree are described below.
Front end web development: In this course, you will learn how to build a website using HTML, how to CSS for the design and look of the website and then you get to know the javascript basics.
Full-stack Javascript: In this course, you will learn how to use the most popular full-stack programming language to create dynamic web pages and complex web applications.
Python development: In this course, you will learn how to use this beginner-friendly and flexible programming language to create basic command lines and web apps.
Web development: This course will take you on a deep dive into HTML, CSS, and JavaScript from the ground up.
Data Analysis: In this course, you will learn how to utilize spreadsheets, databases, and the Python programming language to answer questions, acquire actionable insights, and tell a story with your data, which is a key ability for the twenty-first century.
Codecademy Pricing
The plans are grouped into two categories: Basic, and Pro according to Codecademy.
Codecademy Basic Plan:
The best thing about Codecademy is that the basic plan is completely free. You will have access to all of the documentation for this basic plan that is offered.
However, without money, there are fewer perks. There is no support service for this plan, and the practice of coding on mobile phones is limited, which means the compiler will not operate after several attempts.
Codecademy Pro Plan:
This is the all-inclusive package. You get access to all of the available benefits, as well as unlimited code practice. You also have access to all of the available perks, as well as special content.
This plan's support system is fully working, and don't forget to collect your certificate at the end of the course.
Furthermore, the pricing options are based on a monthly and annual basis.
If you pay monthly, the cost is $39.99
If you pay annually, the cost is $19.99 per month and you get to save $240.
Now that the Treehouse vs Codecademy comparison is accomplished, let me go over all of the platforms' advantages and disadvantages.
FAQs: Codecademy vs Treehouse
Is there something better than Codecademy?
Well, the world is full of alternatives.No worries if you're interested in coding and wish to learn from a different approach. Treehouse is the most effective online platform for learning any programming language. This website is near-perfection in terms of ease of use, and unlike Codecademy, they offer video lessons, which is a terrific method to learn online.
Is Treehouse a good way to learn to code?
It is, without a question, one of the best online learning platforms for learning to code. It is a stand-alone platform with all of the perks, build quality and quizzes. The topics are well-taught by experts and contain a lot of information.
Which is the best website to learn python?
I've been learning this language for almost three years and I'm constantly learning because there's no such thing as too much knowledge. I discovered Treehouse to be the ideal site for learning to code. I recommend that you pursue a tech degree so that you can study Python here. The videos are excellent and suitable for beginners. After completing the course, you will have the opportunity to work on real-life projects as well as a variety of challenges that will allow you to push your limitations even further.
What does pro mean on Codecademy?
Pro in Codecademy refers to the Pro membership, which costs $19.99 per month and gives you access to a variety of benefits.
Is Treehouse pro worth it?
I've been a Treehouse student for three years and chose the pro plan, and I can assure you that you will not be disappointed. Though it will cost a few dollars, every great thing has a price, my buddy.
Conclusion: Treehouse vs Codecademy – The best platform to opt for?
The comparison between Treehouse and Codecademy has come to a close, and I believe you've already made your decision. However, before you move on to the next step, I'd want to conclude this post by stating which, in my opinion, should be your online coding platform.
Analyzing all of the advantages and disadvantages, if you are a newbie looking to develop in the field of coding, Treehouse is the way to go because they offer video lessons that are packed with useful knowledge. As a user, I enjoy their approach to teaching and presenting.
Codecademy's only flaw is its documentation display style, which is lagging. We all know that when you watch a video, you learn and comprehend quickly, but when you read a document, it takes longer to understand.
So, now is the time to take the next step in your programming career and figure out which platform is ideal for you. We hope that this Treehouse vs Codecademy comparison post has clarified why Treehouse is the better option for learning the skills you need to enhance your profession.