ConvertBox Pricing plan has the following options.
Standard Lifetime Deal for $495
Pro Lifetime Deal for $590
So, are you curious to know more about ConvertBox Pricing and how to successfully activate the Convertbox Lifetime Deal?
Let's find out.
convertbox lifetime deal
So you know about the Convertbox lifetime deal. The Deal is for the rest of your life.
After you pay the initial $495 Convertbox lifetime offer, there are no monthly or annual costs for the software's functionality.
Software with these features typically costs around $70 per month or $850 per year. ConvertBox also offers a 30-day money-back guarantee if you are not satisfied with the service.
So, what's the main difference between the Standard Plan and the Pro Plan.
The Standard package allows for a maximum of 250,000 views per month, while the Pro plan allows for 500,000 views per month.
The Standard plan allows you to add Convertboxes to ten websites instead of the Pro Plan's 50.
Unless you work for a digital firm, this is a restriction that won't affect most of you. We have covered an in-depth ConvertBox Review which talks about all the features in full detail.
Let's have a look at the main features of the ConvertBox Standard Plan.
ConvertBox includes wonderful tools like quizzes, surveys, and multi-step funnels that may help you deliver your visitor's personalized offers and messages.
You can use conditional features in the quizzes to appear when a certain condition is met or answered.t
You can improve the effectiveness of your message by including more dynamic content, such as the visitor's name and address.
The multi-step form helps to collect more data from the user instead of asking for a huge amount of information in a single page form.
ConvertBox also gives you the feature to edit the messages which will show to only mobile users.
The powerful real-time analytic help you to understand your audience and track the performance of your message so that you don't lose any of your quality visitors.
ConvertBox also gives you the option to create a timer in your message which creates a sense of urgency in the mind of users and encourages them to take action.
Above all, you need not write a single line of code to implement any of the above features in your message it's all drag-and-drop functionality.
ConvertBox Pricing: Pro Lifetime Plan
With the Pro Lifetime offer, you receive 500,000 Convertbox views every month for an extra $95 on top of the Standard plan's pricing ($590 total).
That's twice as many views as the Standard Plan allows (250,000). That upgrade alone is worth an additional $95 since it guarantees 500,000 monthly views for the lifetime.
Convertbox may be used on up to 50 websites instead of only ten. This is a feature that will mostly benefit marketing agencies with a large customer base.
The Pro account allows 5 sub-users to log in instead of just one. This becomes very useful when you want to give your account access to your employee and still keep the main account secure yourself.
What is Convertbox?
ConvertBox is an on-site email collection solution that is fully automated. Its goal is to increase leads and sales by engaging your visitors in a targeted way.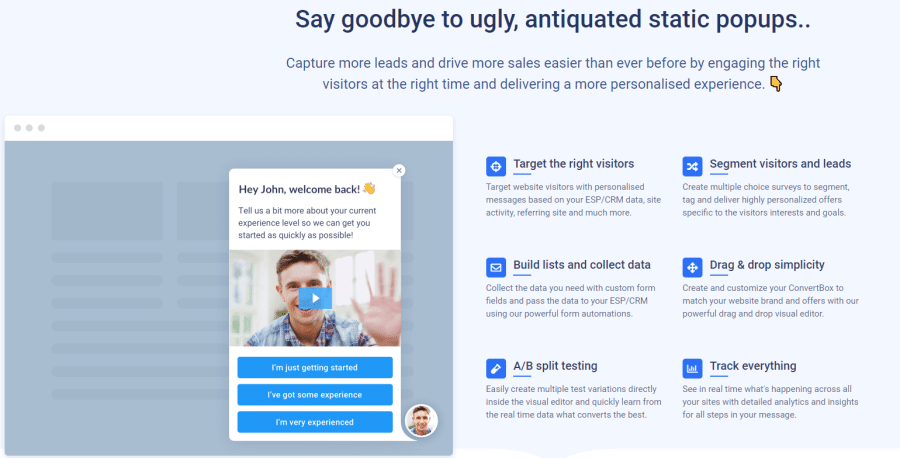 What makes it so powerful is that it uses highly smart on-site messages and engaging lead capture forms to provide your visitors a far more personalized opt-in experience.
This is part of a review of the ConvertBox email opt-in tool's features and functionality. It also includes tactical guidance on how to apply it to your company for optimal ROI.
ConvertBox Affiliate Program – How To Apply For It?
The ConvertBox affiliate network now offers a HUGE compensation rate of 50% on any sales that are generated through referrals to their service.
Commissions are distributed into your PayPal account on a monthly rolling basis and are paid out automatically.
Affiliates who have generated a higher amount of referrals and have a proven track record of success can get in touch with us to seek fast rewards.
How to apply For ConvertBox Affiliate Program?
Sign up on this page if you want to become an affiliate for the ConvertBox program.
Note: If you want to join this affiliate program, you must already use ConvertBox.
The ConvertBox username (the login email) submitted with the application is used to manually check and verify the application.
ConvertBox Customer Reviews on G2
ConvertBox has received a 4.4-star rating out of 5 on G2.
ConvertBox Customer Reviews on Trustpilot
ConvertBox has received a rating of 3.3 out of 5 on Trustpilot.
ConvertBox social presence
Let's find out the social media platforms ConvertBox is using to help and solve their user's queries.
Facebook
ConvertBox is on Facebook with over 582 followers where they share some good stuff related to email marketing.
ConvertBox support
You can get help from ConvertBox on their support page or you can submit a ticket to get your query solved by experts.
Frequently Asked Questions
Does Convertbox Work On Any Website?
Yes, Convertbox may be readily deployed on any HTML website, as well as WordPress websites and landing page builders.
Will I be charged additional fees if I purchase a Lifetime Account?
No, once you purchase a Lifetime subscription, Convertbox will not charge you any more fees. Unless you utilize a free plan, the email marketing platforms you connect with will charge costs.
If I purchase the Lifetime Convertbox Deal, Am I entitled to product updates and customer support?
Yes, whether it's next week or five years from now, all upgrades to Convertbox and its features will apply to your lifetime deal account. Since the early access period began, Convertbox has released over 100 updates.
Lifetime members will also get access to a Customer Support staff who will be accessible to answer their inquiries at any time.