In this new ConvertBox Review, you'll learn if ConvertBox is worth your time and money, as well as how this program may benefit you, despite the fact that there are many ConvertBox alternatives on the market, such as Convertful.
ConvertBox is an opt-in tool, a tool for list expansion, and a tool for behavior-based on-site retargeting.
Its adaptability and astounding conversion rates suggest that it may be able to replace numerous programs in your arsenal.
What is Convert Box?
ConverBox is a hosted software tool to build and manage your opt-in forms, calls-to-action tool, and list-growth tool.
It also helps you to capture consumer behavior and journey on your website, it also helps to get instant feedback, and makes the user experience more pleasant and comfortable.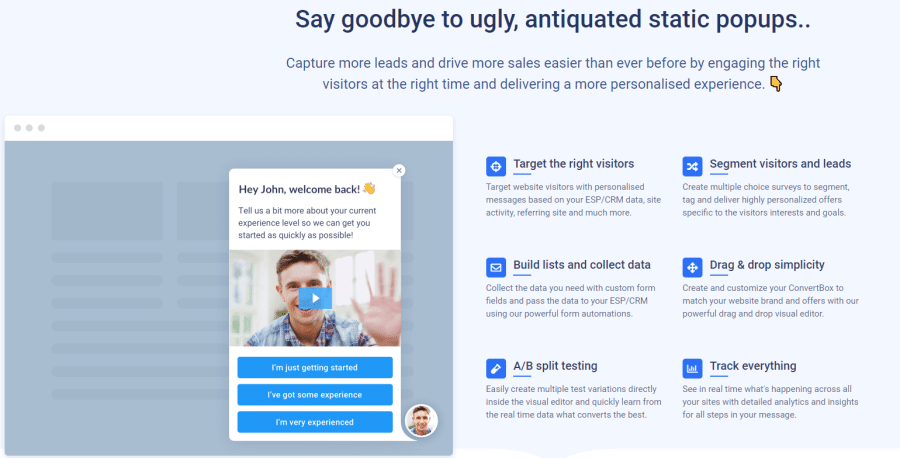 ConvertBox also helps you to capture important data points related to traffic and consumer journey, and helps you further in research and analytics.
It also helps you to do a split test on almost every aspect of your website and the content and hence assists you to decide which one is working best for you.
Hence ConverBox is a great tool to increase the conversion rate and improve the user experience.
convertbox pros and cons
ConvertBox provides a more personalized experience to your clients and targets visitors according to the data provided by CRM and Email Service Provider.
It offers a large variety of custom form fields and layouts.
It supports A/B Split testing, this can help you to decide which strategy, layout, email, etc are working best for you and which one isn't and form the best strategy for your business and website.
With ConvertBox you can do everything with just a few clicks, you can edit the layout, and edit anything by using the Drag-and-drop option and test it.
One big USP of ConvertBox is that you can track almost everything on a real-time basis. This helps you to quickly fix anything that is not going according to the plan.
ConvertBox helps you to target the audience with more accuracy. While showing a particular message to the audience, ConvertBox takes multiple factors into account such as the number of visits, location, scroll percentage, etc. and helps you to show relevant messages to relevant users.
ConvertBox helps to engage the customers by allowing you to display relevant offers to different types of customer.
Options for many integrations to increase the functionality of your website.
There can be more additions to the type of data ConvertBox collects.
ConvertBox editor can be more flexible
For whom the ConvertBox is made?
ConvertBox is made for everyone who wants to grow their business online.
It helps businesses to increase their revenue by targeting their audience/customers more specifically.
It also helps marketers run an effective campaign, increase traffic, strategize new campaigns, and understand buyer behavior and customer journey.
Hence, ConvertBox is made for anyone who wants to stay ahead in the race and create effective and attractive campaigns.
What are the features and tools provided by Convertbox?
ConverBox comes with many features and tools to help you make your website more engaging, help you capture important data, and identify consumer behavior.
ConvertBox has a tool or an integration for all your needs and requirements.
The ConvertBox features are divided into twelve different categories and we will see what kind of features it offers in each category and what are some of the leading integrations that come along with it.
1. Engage
Engagement with the customer is at the core of internet presence and without good engagement, you cannot stay in the game for long.
But every customer/visitor visiting your website is not the same and you cannot engage with every customer in the same manner.
Hence, you need to target your audience more intelligently and offer them a more personalized user experience.
ConvertBox helps you improve engagement on your website by targeting your audience more intelligently by analyzing the on-site behavior and customer journey.
Based on the customer journey, ConvertBox tells them about relevant offers.
ConvertBox will help you to address your customers in a more personalized manner.
2. Guide
An online business needs to offer the relevant products and services to increase conversion rates and also increase your revenue.
ConvertBox helps you to segment your leads and visitors based on various factors such as new visitors, returning visitors, visitors from referrals site, new leads, existing customers, cart abandonment, etc.
This detailed segmentation allows you to treat the visitors with offers that they just can't deny and also benefit them.
This helps you to guide your customers in a more personalized manner and make an offer based on their interests and goals.
By using ConvertBox you can create multi-choice funnels that will help you to capture the needs and goals of the visitors and guide them accordingly.
You can show a different offer to a different type of visitor rather than just showing the same thing to all the customers.
3. Capture
ConvertBox helps you to capture a lot of things from the customer journey on your website and from the device they are using to access your website.
You can collect lead data with form fields and by using the integrations.
You can collect all the data you need by using customizable form fields, checkboxes, dropdowns, and a lot more.
You can then send this data to multiple integrations on ConvertBox and use that data to design your on-site campaigns and improve customer experience and increase conversion rates.
4. Convert
The first thing you need to sell your product or service is urgency in the minds of customers.
And one way to create this urgency and convert the visitor to a buyer is to set a countdown timer on your offer page.
These timers will create a genuine urgency in your customer and convey your call-to-action message to the customer more effectively.
With the help of ConvertBox, it is very easy to create limited-period offers, continuous offers, and other discounts, all you need to do is to click a few buttons and you are there!
You can show all the different forms of content in your CTA, it can be an image or video, or simple text.
Hence, ConvertBox is an effective messaging tool that can increase the conversion rates on your website by a considerable margin.
5. convertBox embed
With the help of ConvertBox, you can embed all the different marketing tools on your website and show that to the right customer at the right time and increasing your engagement and conversion rates.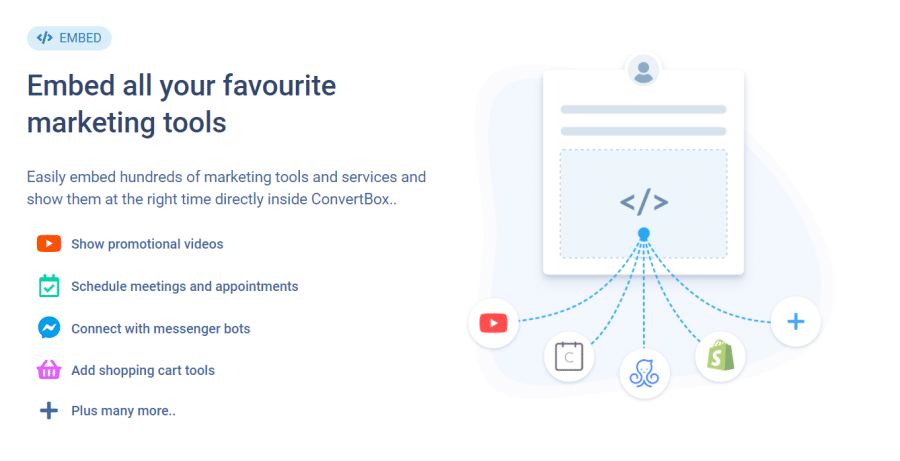 You can embed Promotional videos, Schedule meetings and appointments with the customer, Connect with messenger bots, add shopping cart tools, and a lot more.
Hence, with the help of this tool, you can stay in touch with your customers throughout and keep informing them about new things that you have to offer.
6. Segment
Segmentation of the visitors and the audience is a very important aspect of digital marketing as it helps you target your audience specifically and in a more personalized manner.
Every person has a different goal, preferences, likes, dislikes, etc. and if you are offering the same thing to everyone then you may lose many customers hence, it is important for you to divide your audience into various segments and target them intelligently and it is where the ConvertBox will help you.
ConvertBox gathers different data on various metrics and gives you a complete breakup, this will help you to determine the goal and needs of your audience and help you fulfill them by making relevant offers.
7. Capture
ConvertBox allows you to capture all the data from your website and helps you to make better decisions and create a better strategy.
With the help of this tool, you can target the right people at the right time and with the right offers
ConvertBox uses intelligent targeting rules such as Number of visits, location, goals, device type, ESP Tags, Scrolling percentage, Inactive on-page, CB Activity, Exit intent, Seen page, referring site, URL parameters, etc. by combining all these data, the tool targets the visitor with the relevant offers.
8. Track
ConvertBox is an excellent analytics tool as well.
ConvertBox tracks every activity on your website or any web page in real-time gathers data and displays it on your Dashboard for you to analyze and build a strategy.
You can monitor everything and take prompt decisions by using ConvertBox. It captures data of all the elements and gives you an edge over your competitors.
9. Test
A split test is at the core of Digital, content, and email marketing as it helps you to identify what is working for you and what is not working for you.
With the help of ConvertBox, you can carry out A/B split testing of your messages, page edits, etc, and help you identify which one of the variations is working best for you and has a higher conversion rate than the other one.
This test helps you to quickly identify the best message and campaign and makes you take the decision on which one to take ahead or which one to abandon.
10. Customize
ConvertBox helps you to make and customize the design as per your needs, requirements, and of course what works for you to increase the conversion rate.
ConvertBox also provides a number of pleasant and good-looking templates for all types of pages and campaigns that you can use and customize according to your needs.
ConvertBox provides you various features and tools to customize your page such as a Drag-and-drop builder, Multiple steps funnel, Mobile editor, Quick undo and redo options, A/B Split testing, Fast cloning of the components, Test the flow, and lastly you can also customize the scripts.
11. Integrate
ConvertBox comes with all the leading integrations that you can think of adding to your website.
Some of the leading integrations that come along with the ConvertBox are ThriveCart, Zapier, MailChimp, Drip, AWeber, OntraPort, Mailer lite, ConvertFox, ConvertKit, Infusion Soft, InstaPage, GetResponse, Unbounce, ActiveCampaign, Shopify, and many others.
12. Connect
You can easily connect your website with ConvertBox within 2 minutes.
All you need to do is simply install the WordPress plugin of ConvertBox or just add a small code to your site and you are ready to Capture the Market!

ConvertBox Other Features
You can manage all your ConvertBoxes from the single Dashboard and also make edits from there.
You can trigger your message from a simple regular text link or create a button.
You can create simple Yes/No questions to understand your customers easily
You can embed video messages to your web page to convey your message more effectively
Stop your visitors from leaving your website by showing an Abandonment trigger
Do follow up with your visitors
ConvertBox makes it easy and quick to create any type of campaign and engaging on-site messages for various purposes such as Cart abandonment triggers, Discount coupons, Guided support, Segmentation, Limited offers, promotional webinars, Social engagement, Upgrades, Affiliate promos, Lead generation, evergreen offers, announcements and lot more.
ConvertBox is a complete tool that is made to increase conversion rates and improve your branding online.
Watch the below video to learn more about the amazing lead-capture tool of ConvertBox.
What did I like about ConvertBox?
The best thing about ConvertBox is that it is very easy and convenient to use. You can do any editing to your webpage, or create opt-in forms with just a few clicks.
You can schedule various offers and campaigns on ConvertBox hence, you need not worry about looking after each of them individually.
Split testing is one of the most important calculations when it comes to online marketing and building strategy for the same. You can do all the A/B testing quickly and easily with the help of ConvertBox
Analytics are important, when you have all the numbers on the table then it becomes very easy to plan your next course of action. ConvertBox provides you with all the data and analysis on a real-time basis hence, you can make quick decisions to make all your campaigns a success story.
You can manage your campaigns, forms, messages, etc. on a single dashboard. You don't need to get to different tabs or pages for monitoring different aspects of your website.
areas where ConverBox can Improve?
ConvertBox has few design limitations, especially when it comes to mobiles. There aren't many editing options that are specific to Mobile. Hence, ConvertBox should look forward to improving its Mobile-specific design options
When it comes to analytics and reporting of various convertboxes ConvertBox works perfectly fine. However, you don't get page-by-page reporting of your website.
ConvertBox Pricing & lifetime deal?
Let's break down Convertbox pricing.
ConvertBox is offering a fantastic lifetime deal.
ConvertBox was earlier priced at $99/ month or $1188 annually however, at present ConvertBox is offering you a lifetime ConvertBox account at $495.
Yes, just $495 and you get ConvertBox for a lifetime with no extra fees, no extra charges, nothing! Sounds great?
Well, it is great and we recommend you grab this deal ASAP! Because, this is a limited-period offer or the price of the deal may increase.
With this ConvertBox Lifetime deal you get the following features:
Unlimited ConvertBox access
A/B Split testing
250,000 views/ month
No ConvertBox branding
You can use ConvertBox without any limits
Regular free updates
First-class customer support and a lot more…
Also, you have a 30-day money-back guarantee so if you are not happy with your ConvertBox, you can get a 100% refund from the date of purchase.
How To Setup convertbox WordPress Plugin?
Installing ConvertBox on your website is very simple, all you have to do is to follow these quick steps and you are ready to go.
Step 1: To begin the installation procedure, go to your profile and pick Installation from the drop-down menu.
Step 2: Now on this page, you can see 3 different options to install ConvertBox on your website. Let's see what are they.
Option 1: Install using the WordPress plugin
If you are a WordPress user, then the installation process can become really simple.
You can download and install the ConvertBox plugin from the WordPress repository and it will automatically insert the right code for you throughout the website.
Option 2: Manually add the script to your pages
If you are comfortable with codes and scripts then you can follow this option.
Just copy the JavaScript from the installation page of ConvertBox and paste it before closing the </head> tag of every page on your website.
Option 3: Ask your developer to install the script
You can use this option if you don't want to mess with the technicality of the website.
Just send the embed code and instructions to your developer so that he can install it on your website.
How do you use ConvertBox?
Here is a video that explains how you can use ConvertBox.
ConvertBox Alternative
Let's find out some of the best alternatives of ConvertBox that can help you increase your conversion rate.
AWeber is a specialized E-mail marketing tool, this tool helps businesses to manage their email followups, newsletter delivery, split testing email marketing campaigns, etc.
However, it is only limited to email marketing and has limited functionality.
ConvertBox makes AWeber available as an integration hence, you do not need to buy it separately.
ActiveCampaign helps you in increasing engagement on your website by meaningfully connecting with your visitors and customers.
It automates many processes that provide a personalized experience to the users and help convey the message to the audience more effectively and efficiently.
It targets the messages and campaigns effectively.
Agile CRM is a fully integrated sales, marketing, promotion, service, and support automation solution.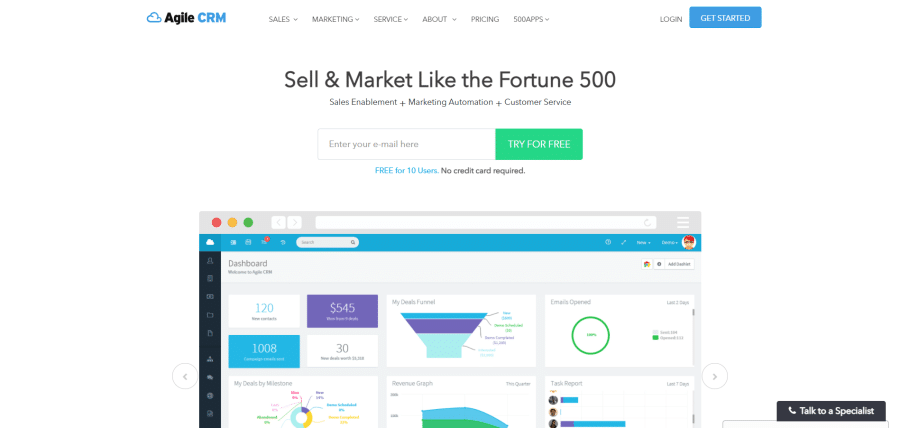 Agile CRM helps small businesses to increase their conversion rates, analyze the customer journey, and hence acts as a complete and automated solution for Customer Relationship Management purposes.
Plerdy is a great platform that can help you increase the conversion rate on your website.
Plerdy also comes with tools and features that help you in effective analytics, data collection, and research.
Unbounce is an amazing tool to create effective landing pages by just using the drag-and-drop method and without meeting any coder or website developer to do it for you.
It allows you to do everything quickly and increase the conversion rate of your website.
Avail instant 20% discount using the Unbounce discount code.
Outgrow is a cloud-based solution for taking on-site surveys for different industries like finance, healthcare, real estate, insurance, marketing surveys, fitness, etc.
Outgrow helps you to track conversions, brand management, campaign management, etc.
Is CovertBox worth it?
In a nutshell, YES IT IS ABSOLUTELY WORTH IT!!
Once, you start using ConvertBox there is no looking back. Everything is right there on your ConvertBox screen and it takes care of all your conversions and helps you increase the conversion rates on your website.
It makes everything easy, from scheduling campaigns, creating personalized messages, email marketing, on-site marketing, survey forms, etc. everything can be done with a few clicks.
Also, it helps you in targeting the audience more specifically and helps you increase the conversion rate as when you target the right audience, the chances of a visitor becoming consumer or customer increase.
The integrations that come along with ConvertBox provide you with more functionality and help you to get the best out of your campaigns and online business.
And lastly, the ConvertBox lifetime deal makes this investment the best investment you will make for your business.
convertbox vs optinmonster
More kinds are available with OptinMonster. It offers a lot better WordPress integration. In the editor, it has additional options.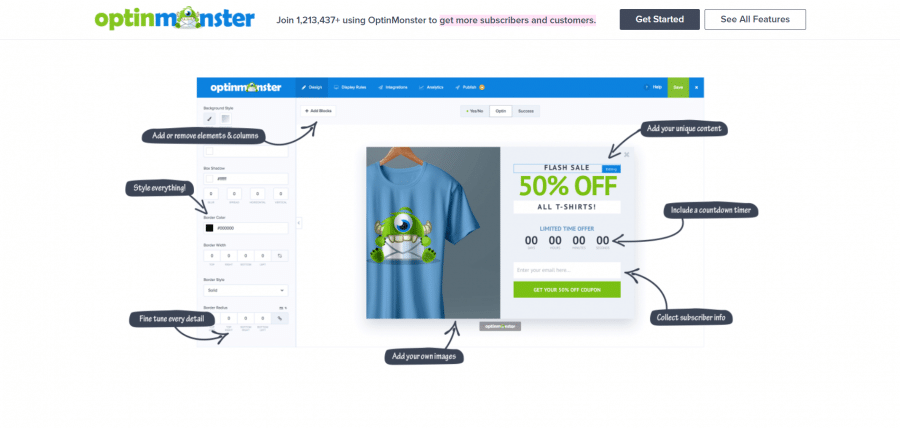 ConvertBox's two-way CRM connectivity, on the other hand, makes it far more appealing than OptinMonster.
Because OptinMonster doesn't do that, it doesn't have the same capacity to work with your whole marketing stack.
I should also mention that ConvertBox is now far less expensive than OptinMonster.
If you only look at it from that perspective, ConvertBox provides a lot more bang for your cash.
Features Compared
ConvertBox has so many features that other tools like Optinmonster cannot provide, let's compare their features side by side.
| | |
| --- | --- |
| ConvertBox | OptinMonster |
| Multi-step forms allow you to collect additional information. | Optins in 2 Steps |
| Add all of your favorite marketing tools to your website. | Exit-Intent Technology is a technology that detects when a person is about |
| Beautiful, high-converting templates for each level of your sales funnel | Various Campaign Types |
| In minutes, you can create, tweak, and launch a website. | Multiple Triggers for a Campaign |
| ConvertBox can be placed anywhere on your website. | Insights that can be put to use |
| Form fields and deep integrations are used to collect lead data. | Campaigns that are specifically targeted |
| Multi-step funnel let you segment and convert more visitors. | Integrations that are seamless |
| Attract the appropriate people at the right moment. | Builder using Drag and Drop |
convertbox vs convertflow
ConvertBox is focused on a single goal: increasing conversions on your website. It also includes lead generation types.
With the use of custom field forms, you can effortlessly gather visitor data with these lead capture forms.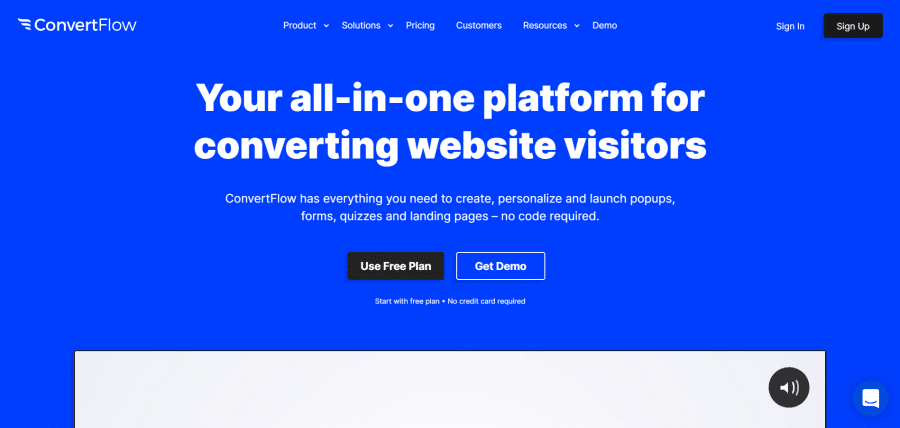 ConvertFlow includes a plethora of useful functions. All of its features are geared at boosting your conversion rate.
ConvertFlow features a large library of templates that you may utilize when creating an online campaign.
| | |
| --- | --- |
| ConvertBox | ConvertFlow |
| Lead Capture Forms | Templates |
| Intelligent Targeting | A/B Testing |
| A/B Testing | Website Personalization |
| Countdown Timers | Marketing Tools Integrations |
| Tracking | |
| Segmentation Funnels | |
| Marketing Tools Integrations | |
ConvertBox Reviews on trustpilot
Here is the review on a customer talking about ConvertBox on Trustpilot.
EXTREMELY limited styling options, a literal styling nightmare Not even basic functionality. Font weight? No. Custom CSS without messing up the spacing? No. Changing the border? No. Previewing your own CB? No.

It has potential, but will not be usable for at least the next year. My advice: wait a few years until they fix their builder, then take a look again. For now? No.

Product doesn't seem to be supported/maintained anymore (no updates in the past 5 months whereas there used to be an update every month)

CB team doesn't listen to feedback, you just get the standard "We've passed along the feedback to our team", but you can tell nothing has been done with it.

Support is friendly, but not at all helpful.

I get why they chose this Lifetime Deal format, if they would have a subscription everyone would leave after the first month.

Matt
ConvertBox social presence
Let's find out the social media platforms ConvertBox is using to help and solve their user's queries.
Facebook
ConvertBox is on Facebook with over 582 followers where they share some good stuff related to email marketing.
convertbox support
Checkout the ConvertBox customer support page where you can find support articles and submit your ticket to get your problem solved.
Final Thoughts: Is ConvertBox worth it?
Well, if anyone asks me for a complete solution for their on-site marketing, opti\-in forms, campaign management, and other analytics purposes then I would definitely recommend ConvertBox.
All this makes the ConvertBox a complete tool that can give you excellent returns over the years and the ConvertBox lifetime deal makes it more affordable for all types of businesses.
However, there are a few drawbacks when it comes to on-page analytics, mobile-specific features, and editing.
But, I am really hopeful that ConvertBox will resolve these issues and improve the functionalities in future updates.
So, yes you can definitely invest in ConvertBox and make your business achieve new heights.
Frequently Asked Questions
Is coding required to install ConvertBox?
No, ConvertBox is a simple plug-and-play solution that takes just a few minutes to install on your website and get started.
Is Convertbox a WordPress plugin?
No, ConvertBox is a software platform where you can create and manage all your ConverBoxes for all your websites. However, ConverBox provides a WordPress plugin for ease of use and installation.
How to split test your ConvertBox
ConvertBox provides you with a powerful split testing tool that you will find right in the editor, this tool allows you to easily create and split test different designs and decide what is best for you.
Can You Run Multiple Sites Through One ConvertBox Account?
ConvertBox makes it simple to create and administer ConvertBoxes across various websites from your account. You can create and manage ConvertBoxes tailored to each site in your account on the site's dashboard.
Is ConvertBox a better alternative to OptinMonster?
With OptinMonster, there are more form options and it also offers better WordPress integration. In the editor, it has more options. ConvertBox's two-way CRM integration makes it far more appealing than OptinMonster.
Is ConvertBox compatible with mobile devices too?
Yes, ConvertBox is compatible and works well on both Android and IOS platforms.
What is ConvertBox designed for?
ConvertBox is a customization and messaging solution that may display personalized messages to visitors based on their behavior. It enables you to send more relevant, highly targeted messages to your ideal customers at the appropriate time.
What OS does ConvertBox Support?
As far as operating systems go, ConvertBox supports both iOS and Windows.
Do you need a convertBox plugin?
Yes, for WordPress websites you need to install their plugin to set up ConvertBox.
Does ConvertBox offer good reporting and stats?
Yes, ConvertBox offers everything that you need right into your dashboard.
How do you create a large and robust email list?
1. For each blog or landing page, create a unique CTA (call-to-action)
2. For each page of your site, create a pop-up or slide-in.
3. Make a pop-up survey that is timed.
4. In your CTA use words like "no, thanks" copy, and use humor or sarcasm…
5. In your CTA, describe the value.
How easy is it to target visitors to increase the quality of leads on ConvertBox?
Using ConvertBox's robust conditional targeting engine, you can quickly target all or select users on your site.
Is ConvertBox customer support good?
ConvertBox supports reply messages within 24hr and their average response time is also very less compared to other email tools
Is ConvertBox easy to use?
It's quite simple to use ConvertBox. Its seamless dashboard provides all the necessary tools in one place that a user may require.
Is Email Marketing Dead?
No, Email marketing is still a very effective way to reach customers. It is more effective and efficient than social media marketing. Email marketing is more than 40 times more effective than Facebook or Twitter in acquiring new clients.
is there any program for convertBox affiliates?
Yes, ConvertBox offers a 50% commission on sales referred. You can join their affiliate program from their official website.
Does ConvertBox provide an API key?
Yes, you can integrate ConvertBox with your favorite tools by going to the integration tab from your ConvertBox account.
What is Marketing Automation?
Marketing automation is all about using technologies to automate marketing tasks. Many marketing departments use software to automate processes like email marketing, social media posting, and even ad campaigns.
Why do we need an online form builder?
It eliminates paperwork and lowers security concerns by collecting data in a regulated manner. With a drag-and-drop builder, you can easily create an online form in minutes.