In this ConvertKit Alternatives post, We have come up with a detailed comparison between ConvertKit and its alternatives.
To reach their clients, small businesses require a robust email marketing platform, and ConvertKit is one of the most popular solutions.
There are other additional email marketing solutions available, each with its own set of advantages and disadvantages.
What is convertKit?
Nathan Barry, the creator of this email service provider (ESP), packed it with all the bells and whistles.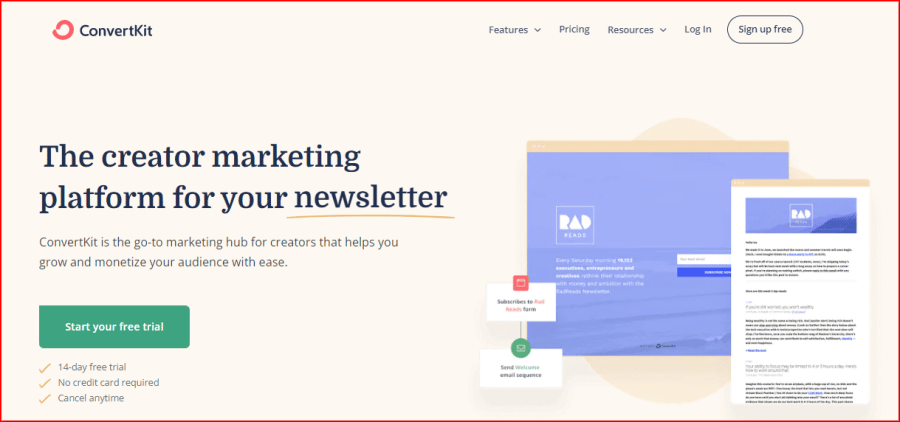 It is one of the email marketing organizations that is expanding at a rate that is among the highest in the industry because of its user-friendliness, automation, and other features.
Additionally, it provides customizable sign-up forms and landing pages, which can assist in the acquisition of additional email subscribers.
ConvertKit is a software program that automates email marketing and is geared toward online content creators.
This is a pretty vague term that indicates that the services offered by ConvertKit are designed to accommodate a wide variety of customers.
Convertkit offers various discount offers to its user, you can check out our ConvertKit coupon code article to avail of amazing savings.
You will only be able to utilize ConvertKit as a mini-CRM if you are content to rely solely on email marketing to cultivate relationships with your leads and customers.
ConvertKit Pros & Cons
| | |
| --- | --- |
| Pros | Cons |
| It provides a landing page builder. | Limited template options. |
| Has a modest and effective visual automation builder. | Bit expensive. |
| Subscriber system based on tags. | |
| With merge tags, you may build dynamic emails. | |
| flexible management of user subscriptions. | |
| Excellent deliverability. | |
Best ConvertKit Alternatives
If you've seen troubles with ConvertKit, it may be time to look at alternate options.
You already know that a high-performing email marketing plan is built with the correct tools in order to achieve the highest possible return on investment.
Picking the right software can help you advertise your work more efficiently and keep your audience interested without draining your money account as a creative professional.
Here are the best ConvertKit alternatives.
1. MailerLite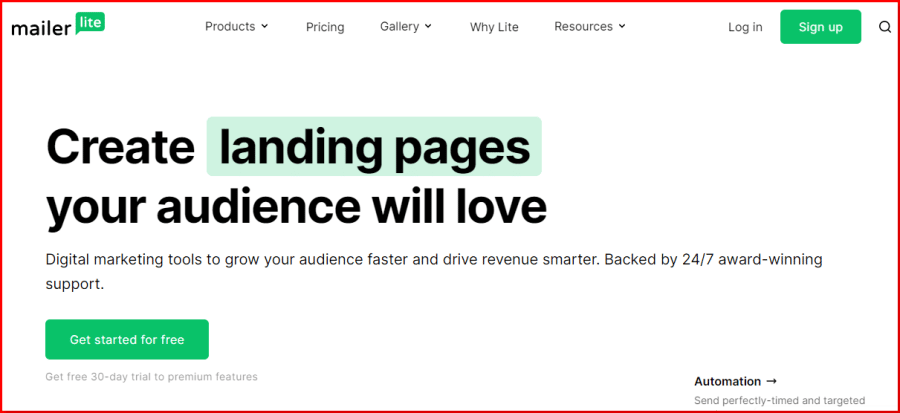 MailerLite is an email marketing software that makes it simpler for growing businesses to organize email marketing campaigns by streamlining the process.
It can assist you in accomplishing a variety of tasks, one of which is the expansion of your mailing list and the automatic sending of emails to leads.
The fact that it provides email templates is what makes it particularly useful for novice users.
Because you have a choice between several distinct layouts for the newsletter, prior familiarity with coding is not required.
In addition, the email editor is a drag-and-drop interface, which means you can make modifications in a matter of minutes even if you do need to make adjustments.
MailerLite Pros & Cons
| | |
| --- | --- |
| Pros | Cons |
| Free Plan That Never Requires a Credit Card to Use It | There is no integration with the WPForms plugin. |
| Excellent Customer Support. | |
| User Friendly. | |
| Lowest Prices. | |
| Powerful Monitoring and Building tools. | |
| A/B testing campaigns, regular programs. | |
| Drag-and-drop editor makes landing page creation easy. | |
2. AWeber
AWeber is an email promotional tool that lets you create and add information to a mailing list. Make newsletters that can be sent to the people on your list of subscribers.
Use "autoresponders" to make your email marketing work on its own.
AWeber's free Landing Page Builder is called AWeber Landing Pages. Use an AWeber Landing Page to get the word out about your book, event, or side business.
It works with 100,000 small businesses all over the world. We help people stay in touch with the people who signed up for their mailing list.
| | |
| --- | --- |
| Pros | Cons |
| It has an outstanding landing page builder. | There is no free plan offered by AWeber. |
| Integration with WPFormThere is a completely free plan available. | Not allowed to import the subscribers. |
| There is a user interface with Canva. | |
| Customer service is exceptional. | |
| All email templates are responsive. | |
| It is incredibly simple to use. | |
| It's a user-friendly and easy-to-use interface. | |
3. activeCampaign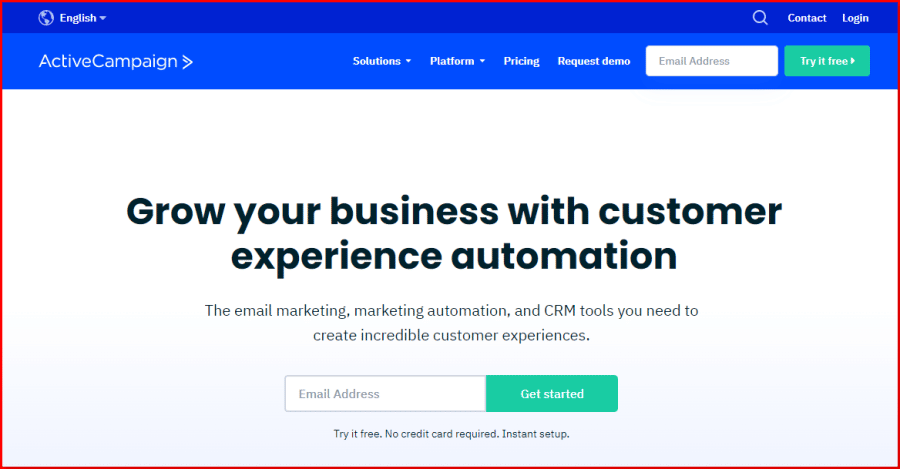 ActiveCampaign is a platform for Customer Experience Automation that assists companies in connecting and engaging with their respective customers.
It does this by automating many of the backstage marketing, sales, and support operations, which in turn provides improved customer experiences.
The cloud-based marketing and sales automation software offered by ActiveCampaign includes capabilities for lead scoring and web analytics, as well as email marketing, a customer relationship management (CRM) platform, and a live chat messaging platform known as Conversations.
AWeber Pros & Cons
| | |
| --- | --- |
| Pros | Cons |
| Campaign reports are comprehensive and simple to understand. | The email window is awkward, and I constantly seem to miss stuff. |
| Contacts can be added or updated automatically with ease. | The CRM is not much responsive. |
| Automation design is incredibly flexible and simple. | |
| The interface is easy to use. | |
| Automation split testing. | |
| Easy to create a graphic email. | |
| Excellent customer support. | |
4. HubSpot
HubSpot is a customer relationship management (CRM) platform that brings together in a single location everything growing businesses require to provide the best possible customer experience for their customers.
Our solution is created, not cobbled together, and it helps teams thrive by providing them with tools that are effective on their own but even more so when used in conjunction with one another.
The free edition of HubSpot is so feature-rich that it outperforms many of the paid CRMs currently available on the market.
This CRM is sophisticated and may be used by marketing, sales, and customer care teams simultaneously.
It is an excellent choice for virtually any company that is interested in enhancing the management of their relationships with their customers.
HubSpot Pros & Cons
| | |
| --- | --- |
| Pros | Cons |
| It is simple to use. | Landing Pages are aesthetically constrained. |
| information about how to get in touch with members. | Bit Expensive. |
| The scheduling of emails. | |
| Simple to begin the process of collecting leads. | |
| Basic features of a CRM system. | |
| Integrates different vendors. | |
| Excellent customer service. | |
| SEO, blogs, and social media presence. | |
5. MailChimp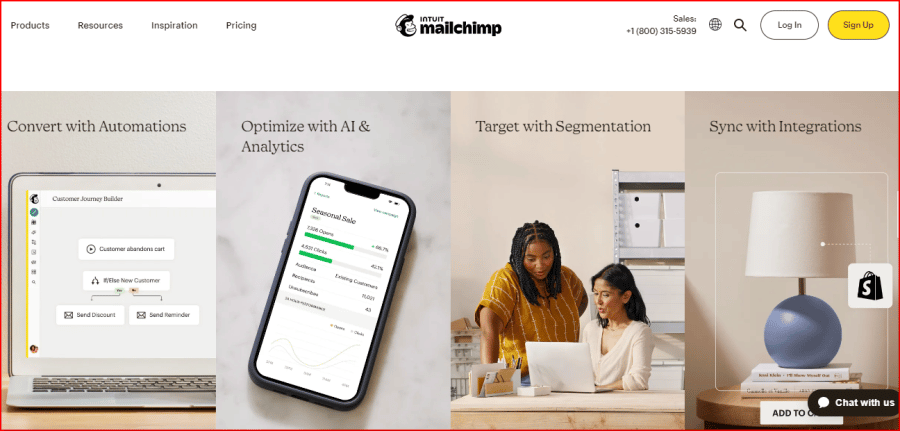 MailChimp is one of the most well-known marketing automation solutions due to its substantial advertising spend.
The platform promises to make email marketing more accessible and has lately launched a variety of eCommerce services.
MailChimp is an excellent tool for the majority of English-speaking customers due to its ease of use, variety of capabilities, and free and pay-as-you-go pricing levels.
Keep in mind, however, that their subscription plans are somewhat costly compared to other newsletter solutions of a similar nature.
MailChimp Pros & Cons
| | |
| --- | --- |
| Pros | Cons |
| A free option is available. | Membership sites can be challenging. |
| It's developed into an integrated advertising system. | some users find the interface awkward |
| Raising your conversion rate is possible. | |
| Easier implementation of the solution would be preferable. | |
| It would be fantastic if there were an independent system for personal servers. | |
| It's an effective promotional method. | |
6. GetResponse
GetResponse is a dependable email marketing service with marketing automation features for small and medium-sized enterprises.
It has an attractive price and a substantial number of alluring third-party integrations.
It is user-friendly marketing automation and email marketing software. They facilitate the creation and transmission of email marketing communications.
You can construct newsletters, autoresponders, and automated funnels with great conversion rates. Getresponse is useful for list development, sales conversion, and abandoned cart marketing.
GetRespose Pros And Cons
| | |
| --- | --- |
| Pros | Cons |
| Elegant, easy-to-use interface. | Analytics are slow and confusing |
| My processes can be quantified and described. | No funnel builder is available. |
| Its statistics system is precise. | |
| It gives original layouts and lets me play with the campaign's concept. | |
| Simple drag-and-drop email creation. | |
| Metrics reporting is available. | |
| 30-day free trial with all the features. | |
7. Constant Contact
Constant Contact is a cost-effective and user-friendly email marketing solution that allows you to develop email marketing templates, automate and manage campaigns, build contact lists, and cultivate customer relationships.
Constant Contact is the greatest email marketing service for small businesses, in our opinion.
It includes reasonable plans and simple-to-use tools, as well as everything a small business needs to build effective campaigns.
Constant Contact Pros & Cons
| | |
| --- | --- |
| Pros | Cons |
| options for email design. | Bit expensive |
| Excellent database management. | restricted background options for selection. |
| Excellent database management. | |
| Contact lists are simple to customize. | |
| Compared to other email marketing suppliers, contact lists upload quickly. | |
| Drag-and-drop can accomplish a lot. | |
| Enables you to contact many people at once via email. | |
Conclusion
We've looked at a wide variety of marketing service alternatives to ConvertKit in this article, and one thing I hope we've accomplished is bringing attention to the fact that the tools you use should be determined by the goals you have for your own company.
Because the majority of them come with some kind of initial trial period, I would advise setting aside some time in your day to make the most of the time you have to get a feel for each one, so that you can figure out which one is the best for what you're doing.
Frequently Asked Questions
Which is better ConvertKit or GetResponse?
GetResponse and ConvertKit are two excellent examples of powerful marketing tools. GetResponse is a better fit for B2B and ecommerce businesses than ConvertKit, which caters to content authors as its primary audience. Either of these systems will be able to assist you in accomplishing your objectives if you wish to operate automated email marketing campaigns.
What is AWeber good for?
Create a mailing list and add subscribers with the help of AWeber, an email marketing platform. Create newsletters that can be sent out to your mailing list's subscribers. Use 'autoresponders' to streamline your email marketing.
What is MailerLite used for?
MailerLite is a website builder and email marketing tool for businesses of all sizes. MailerLite is all about making things easy. We give our customers simple, easy-to-use tools like a drag-and-drop email editor, a website builder, and a simple interface for managing subscribers.
Which is better ConvertKit or MailerLite?
MailerLite is the clear winner when it comes to price. There's a border there with email layout samples as well. With more robust sequences, tags, triggers, and automation, ConvertKit emerges as the superior solution for content writers and bloggers. The best aspects are probably the ease and automaticity with which it operates.