In this post, we have explained about ConvertKit free trial and how you can avail of it.
ConvertKit is the perfect email marketing software for you if you're trying to establish and grow your email list but don't want to struggle with complicated programs.
ConvertKit provides excellent deliverability for the price, and the quality moderation that the ConvertKit team ensures is really impressive.
How to Get ConvertKit Free Trial?
Step 1. Go to ConvertKit official website. It will take you Convertkit home page.
Step 2. You can see the prices on the home page. If you click on "Pricing," you'll go to the pricing page.
Step 3. Once you're on their Pricing page, scroll down to the "Complete" package to see theStep free trial.
Step 4. To get your 14-day free trial from ConvertKit, you will now be asked to create an account. When you're done, you'll get instant access to the 14-day free trial of ConvertKit.
ConvertKit Free Trial or Free Plan
You can try out ConvertKit risk-free for 14 days before deciding whether or not to keep using it.
Understandably, there are restrictions on ConvertKit's free plan, and I must admit that I was initially somewhat dissatisfied.
When I looked through the capabilities included, especially when compared to the free plans offered by competitors like MailerLite and MailChimp.
Here we have listed below, some key features of the ConvertKit free plan.
Up to 1,000 subscribers, with segmenting and tagging.
Separate incentive emails that will automatically distribute lead magnets for each opt-in.
Countless landing pages and forms.
The capacity to connect with your list by sending email broadcasts.
Features Of ConvertKit Free Plan
I've put together a list of the most helpful features that ConvertKit has to offer specifically for you.
Up to 1000 subscribers can receive broadcast (one-time) emails.
Create as many squeeze pages or lead-generation forms as you like. This allows you to swiftly test the waters with a freebie or new product idea, and if things go well, you'll have a pre-built launch list to distribute your wares to.
Countless subscribers are theoretically possible! To start sending emails to those additional subscribers, you will need to begin paying at ConvertKit's standard rates unless you earn free subscriber credits (read on for more information about how to do so). You'll need to subscribe to a paying plan regardless if you want access to advanced features like automation.
To encourage people to sign up for your mailing list, you might offer them a free download in exchange for their email address.
ConvertKit Overview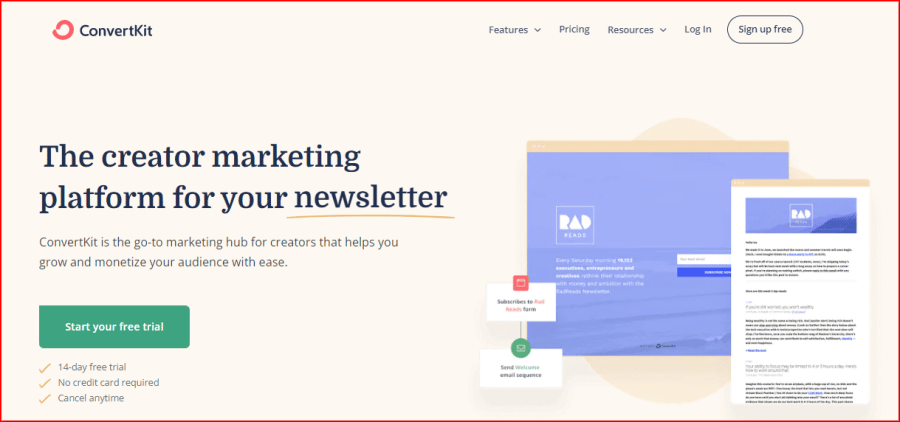 ConvertKit's email marketing software is so simple to use that you'll spend less time in the tool and more time generating for your audience and growing your brand.
Using ConvertKit is a pleasure thanks to its simple user interface. InfusionSoft and ActiveCampaign's learning curves are much steeper.
A non-techie may simply grasp the platform and use it effectively.
This platform is geared toward content creators, hence it has a built-in WordPress integration. A plugin or an embedded code can be used to incorporate your landing pages and opt-in forms into your WordPress website.
It has a tag-based subscriber management system that is quite flexible. Your subscribers can be given tags based on the actions they take in your campaigns.
The workflow automation builder is very flexible and cutting-edge in its design.
The builder offered by ConvertKit is designed to be user-friendly and straightforward, in contrast to other email marketing automation builders. It is surprising how simple it is to create very complex workflows.
When it comes to the generation of leads, you have the option of selecting either popups or models, in addition to landing pages.
Check out the ConvetKit review, to get to know in-depth analysis.
ConvertKit Pricing
The ConvertKit price structure is simple. The more subscribers you have, the more expensive the service becomes, and there are a few distinctions in the options available.
All of these plans start at $15 per month for a limit of 300 contacts and increase in price depending on the number of subscribers you have.
With less than 1,000 customers, they provide a freemium package that does not feature automation and just provides basic reporting.
If you are interested to know more about the ConvertKit pricing plan, read our article ConvertKit plans.
ConvertKit pricing based on subscribers:
Up to 1,000 subscribers pay $29/month.
Up to 3,000 subscribers pay $49/month.
Up to 5,000 subscribers pay $79.00/month.
Up to 8,000 subscribers pay $99/month.
Up to 10,000 subscribers pay $119/month.
To get an extra discount on your desired plans for ConvertKit, check out the ConvertKit coupon.
ConvertKit Pros & Cons
They provide a built-in landing page builder that allows you to create landing pages with simplicity.

Outstanding ability to meet targets.

Organize your email list with categories and segments.

There are no fees for ConvertKit's migrations from other email marketing services.

Integrations with eCommerce Platforms are lacking

expensive compared to competing alternatives
Convertkit Social media platforms
ConvertKit keeps up with customers via a variety of social media platforms. A list of several social networking sites is provided below.
Facebook
ConvertKit's Facebook page has 16,463 followers and 14,450 likes. It shares concepts for developing marketing platforms.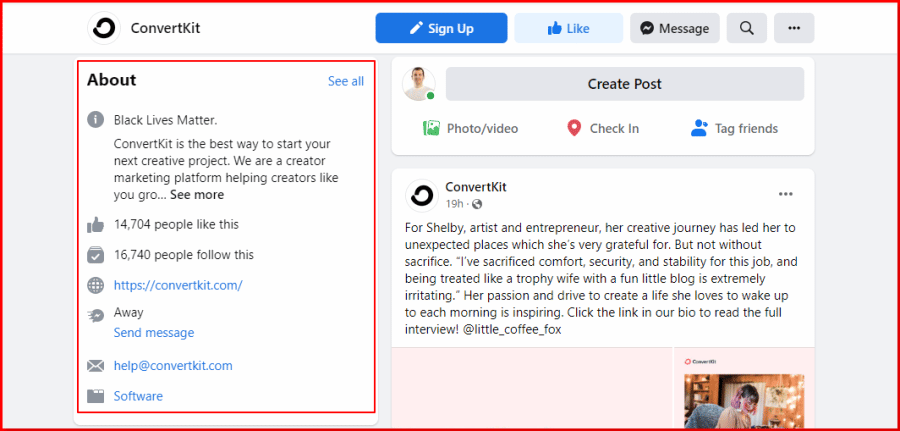 Twitter
ConvertKit supports the creation of marketing platforms and the dissemination of ideas for earning money online. It has 7,005 tweets and 20.2k followers on its Twitter profile.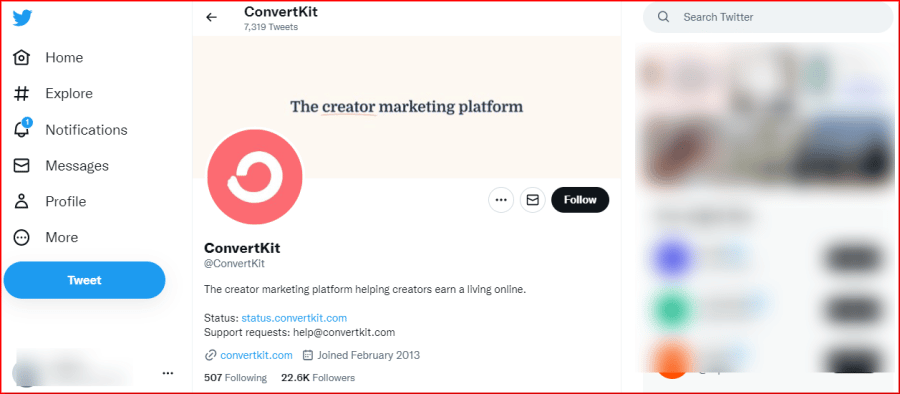 Instagram
Convertkit shares various ideas for creating the greatest marketing platforms, which allows them to generate more money. On the Instagram profile, it has 672 posts and 19.1k followers.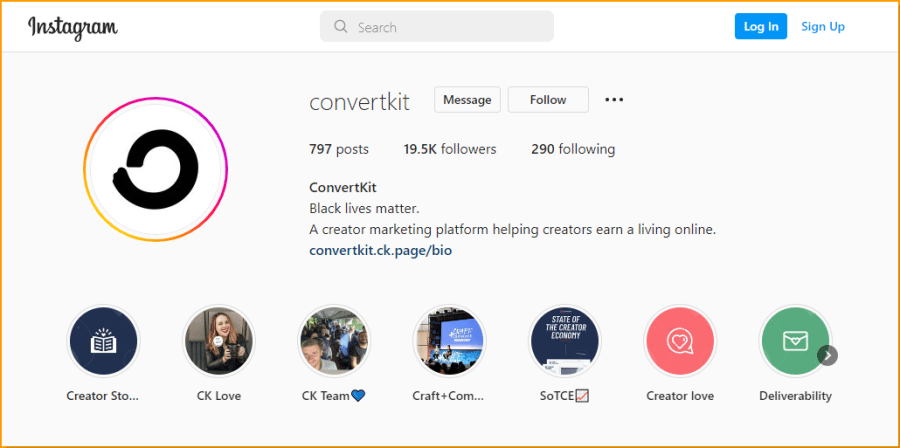 ConvertKit Customer Reviews And Testimonials
Here is what users say about it:
GetApp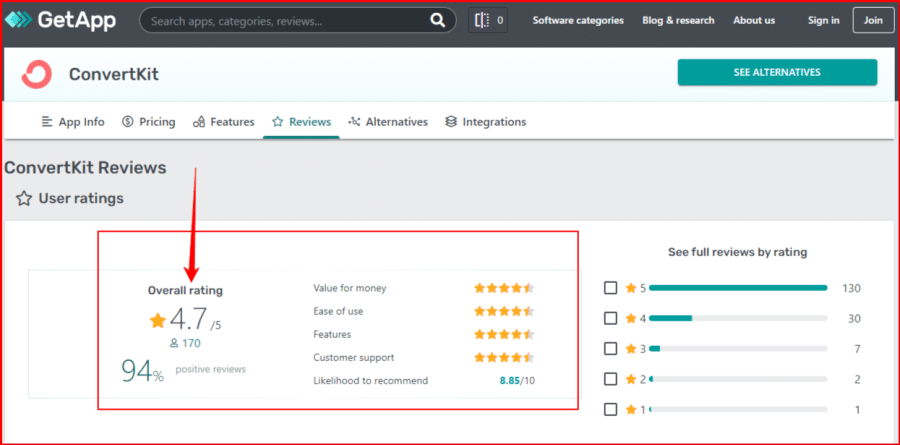 "ConvertKit has been a great way to automate our business."


What do you like best about Convertkit?


The tagging feature is really great because we've been able to keep customers separated based on purchase or what they've signed up for. This way we can better target our emails. The automations/rules was a big game changer. Through that, we've automated so much in our business, which has saved our assistant a lot of time to be doing other important tasks for us. All around an excellent product. I can't imagine running a business without it anymore.

Source: g2
"Best and Easiest email marketing tool have ever used"


What do you like best about Convertkit?


The best thing about this tool is that it has a free version and it is super easy to use. Along with this, all its other features are also very good. You can create any landing page or form in less than 1 minute using its pre-built templates. It has pre-built templates for email newsletters too. You can send an email newsletter to your customers in just a few clicks. You can set a sequence email for a campaign and see the report in the dashboard. Its automation feature is very easy to use. On Convertkit, you can also add your products and earn money by selling them.

Along with these awesome features, it has easy-to-understand documentation, a supportive community, and CreatorUniversity. From time to time, they also send information about learning materials and new products through email.

Source: g2
Conclusion
ConvertKit is a great email marketing platform for online creators like bloggers.
It is highly recommended that you give ConvertKit a try if you are seeking email software that is both simple and powerful to use.
Do you have any other queries regarding the free trial of ConvertKit? Leave a comment below and let us know.
Frequently Asked Questions
Can I use ConvertKit for free?
To sign up for a free ConvertKit account, you don't need a credit card. To continue on the free plan, you must have no more than 1,000 subscribers and no more than one feature that requires a subscription to a paid plan.
Is automation free on ConvertKit?
The free plan does not feature any automation of any kind.
Is there a fee for sending Duplicate emails using ConvertKit?
No. It levies costs only against individual subscribers. When thinking about whether or not to buy this, this is one of the excellent qualities you should take into consideration.
How do I put an end to the free trial for ConvertKit?
Canceling your ConvertKit account is a simple process. You can terminate your subscription by going to their cancellation page directly. You can also send their customer support team an email with your request to cancel your free trial account with ConvertKit at help@convertkit.com.
What kinds of forms are available to me so that I can collect the leads?
ConvertKit gives you the option to choose between three different kinds of lead capture forms: scroll-based, exit-intent, and time-based popups.
How can I get a free trial of ConvertKit?
To grab ConvertKit FREE trial for the next 14 days. No credit card is required and you can cancel anytime you want.
Is ConvertKit easy to use?
For those who create content, ConvertKit is an excellent choice as an email service provider. It provides access to a wide variety of cutting-edge features that can facilitate the establishment of an online business. It is simple to use, and the customer service is excellent, too.
How long do you get with ConvertKit before you have to pay?
The primary advantage of choosing a ConvertKit free trial over the free plan is that you will have complete access to automation and sequences for a period of 14 days. However, if you collect any emails during that time, you will be required to begin paying for the account in order to continue using it after the trial period expires.
What happens once the ConvertKit trial period is over?
You may keep using ConvertKit after your free trial ends; there's no need to worry about losing any of your data because they require a credit card to become a paying customer.
If I'm already a premium user, how can I switch to the free plan?
If you're a premium user who wants to downgrade to a free plan, or if your free plan doesn't yet reflect the new 1,000 subscriber limit, please contact our support staff and we'll get it figured out for you!