I'm glad you came to our page and that you want to learn more before your email marketing turns into a money-sucking machine. In this post, I have mentioned a detailed analysis of ConvertKit Pricing.
Email marketing frequently ends up costing more than anticipated for many people.
Sometimes they choose the incorrect course of action or fail to recognize hidden expenses. When the invoices finally arrive, they are shocked.
Let's go over everything that will affect your bill and how much ConvertKit costs in detail so that you are certain of how your bills would appear with ConvertKit.
What is Convertkit
ConvertKit is the marketing hub that creators go to most often. It makes it easy to grow your audience and make money from it.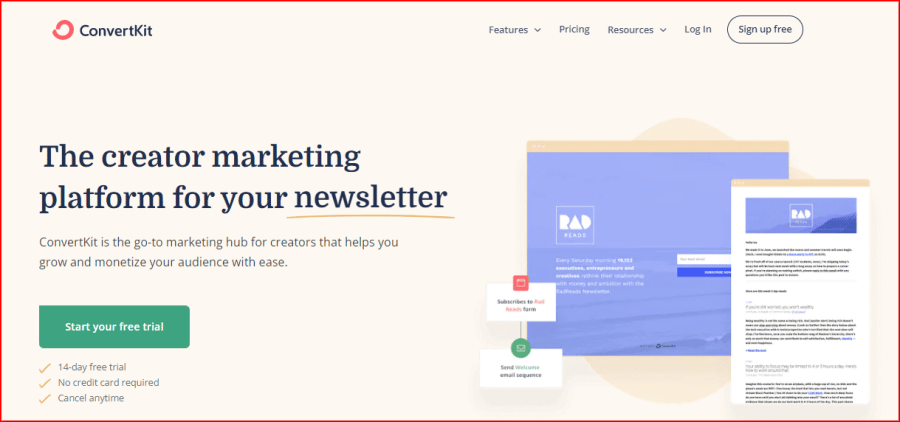 It is actually the new member of the software industry's email marketing field. They offer services to email bloggers with the goal of making email faster, easier, and more reliable for people who blog for a living.
ConvertKit also works with podcasters, people who take courses, and YouTubers. In this post, we've listed the prices for all of ConvertKit's services.
It has a feature that lets you know a lot about the email service provider if you have used it before. So, if you want to switch to ConvertKit, this will be a very small thing to learn. In this case, autoresponders are called sequences.
You can read our article where I analyze ConvertKit in detail.
ConvertKit Pricing Plans Summary
You can see how ConvertKit's pricing fluctuates over time by taking a quick look:
There is no monthly fee for ConvertKit's Free plan.
The ConvertKit Complete plan is $29 per month for 1k subscribers.
The ConvertKit Complete plan is $49 per month for 3k subscribers.
Here are a few more examples of how the Complete plan can bring in more subscribers:
$79 a month for 5,000 people who sign up.
$99 a month for 8,000 users.
10,000 people signed up: $119 per month.
15,000 people signed up: $149 per month.
$179 a month for 20,000 subscribers.
Who Should Use ConvertKit?
Leaders, Bloggers, and Creators who work online Authors of training Video publisher companies. Owners of local businesses (both online and offline).
And, of course, anyone who wants to expand their sales by creating an email list and doing so.
If that's the case, I'm curious to know if you've given this email marketing software any consideration at all. If this is the case, there is a one hundred percent probability that this email tool will be just what you need.
ConvertKit Pricing Overview
ConvertKit is straightforward and simple to use right away. However, more experienced marketers and graphic artists might find it a little too straightforward.
ConvertKit has three pricing plans.

1. Free plan
2. Creator plan
The Free plan is excellent for folks who are just starting their own business. Contrary to other email marketing platforms, which frequently impose time restrictions on their free plans, if they ever do so, trying ConvertKit is almost risk-free.
You can sign up for the Creator or Creator Pro plans for 30 days and get a full refund if you decide it's not for you if you decide you want to try out other capabilities that are included in the paid plans, such as marketing automation and advanced reporting.
The pricing structure of ConvertKit is also something I enjoy. ConvertKit bases its fees on the number of subscribers you have, like the majority of email marketing platforms.
But unlike other providers, it offers 43 various price tiers for members from 1,000 to 400,000.
Accordingly, it is more cost-effective to pay for 8,000 members rather than 10,000 if you have between 5,000 and 8,000 subscribers.
The extremely detailed description of pricing alternatives is excellent for progressively expanding your email marketing without going overboard with your budget.
Nevertheless, ConvertKit's Creator and Creator Pro plans are still quite pricey, which runs counter to the company's intention to appeal to bloggers and other creatives on a tight budget.
1. free Plan($0/month & Free for 300 subscribers)
ConvertKit's Free plan is a generous and alluring choice if you're just starting to advertise your blog or freelance services.
With this free plan, you may create as many sign-up forms and landing pages as you'd like, send an unlimited number of emails, and expand your contact list.
ConvertKit's Free plan, however, is designed more for acquiring subscribers than maintaining relationships with them.
By selecting from a large library of template options, you may create as many sign-up forms, landing pages, and even social network link pages as you like. However, ConvertKit's email-sending choices are rather straightforward.
By categorizing and segmenting contacts, you can organize your list and get thorough reports on new subscribers, including information about the forms and pages they used to sign up.
However, neither email analytics nor third-party integrations nor automation are included with the Free plan.
Therefore, if you're more concerned with how people are joining up than how your campaigns are doing.
You might want to think about using a service like Sendinblue, which includes rudimentary email statistics even on its free plan and, in contrast to ConvertKit, limitless contacts.
Top features of the ConvertKit free plan:
Unlimited email broadcasts.
Unlimited landing pages.
Unlimited forms.
Audience tagging and segmentation.
Sell digital products & subscriptions.
Community support.
2. Creator Plan(Starting at $9/month & $108 billed annually for up to 300 subscribers)
For email marketers with more experience, ConvertKit's Creator plan includes essential capabilities.
With this package, you can choose from more than 70 third-party connectors, automate when and how emails are sent, and even import contact lists and campaigns from competing providers.
However, campaign analytics and reporting are conspicuously missing from the list of features.
The fact that you have to upgrade all the way to the most expensive plan before you can access straightforward open-and-click rate information strikes me as ConvertKit's biggest flaw.
This is available as part of many competing services' Free subscriptions, including MailerLite.
It's uncommon to find a free plan that includes complete access to all of MailerLite's features, analytics, and email campaign statistics.
Top features of the ConvertKit Creator plan:
Unlimited email broadcasts
Unlimited landing pages
Unlimited forms
Visual automation builders
Audience tagging and segmentation
Sell digital products & subscriptions
Live chat & email support
Free migration from another tool
Automated email sequences
Third-party integrations
One additional team member
3. Creator Pro Plan(Starting at $25/month & $290 billed annually for up to 300 subscribers.)
The Creator Pro plan, the most expensive tier of ConvertKit, is designed for marketing professionals seeking cutting-edge capabilities to go along with their email campaigns.
So check out the ConvertKit discount code, if you are looking for the best discount on the ConvertKit pro plan.
One such tool is subscriber engagement scoring, which assigns a score to each of your contacts based on how frequently and by whom they have opened and clicked through your emails over a specific period of time.
Even though, as I indicated, it's useful to know which of your subscribers require further care, it's unusual for a provider to just provide open and-click rate information on its most expensive plan.
The fact that you receive a free Sparkloop referral tool membership as part of the Creator Pro package is an intriguing feature. By rewarding contacts who refer their friends and coworkers to join up using a special link.
You may expand your list in ways other than the typical landing pages and sign-up forms.
You may sync your ConvertKit subscriber segments with Facebook Ad campaigns by integrating with Facebook Custom Audiences as well.
On the Creator Pro plan, you are able to add an infinite number of users if you have a larger team.
On weekdays from 8 a.m. to 8 p.m. EST, you can also take advantage of priority email support, which guarantees a response to your email within 15 minutes.
Top features of ConvertKit creator pro plan:
Unlimited landing pages
Unlimited forms
Unlimited team members
Newsletter referral system
Unlimited email broadcasts
Audience tagging and segmentation
Free migration from another tool
Priority live chat & email support
Subscriber scoring
Automated email sequences
Visual automation builders
Third-party integrations
Sell digital products & subscriptions
Advanced Reporting
More About ConvertKit Pricing
You have a full thirty days from the date of purchase to test out ConvertKit and request a refund if you are not happy with the service (the free ConvertKit accounts are free for life).
If you develop your email subscribers' contact list to the point that it exceeds the limit of your account, you will immediately be elevated to the next pricing tier so that you may continue to capitalize on the market momentum you have gained.
Comes with a helpful referral program: if you join up a friend for the ConvertKit email tool, the capacity of both of your lists will rise by 100!
Does ConvertKit Worth The Price?
The three ConvertKit pricing tiers are based on the total number of subscribers you want to offer services to. The initial account plan is $29 per month and includes 1000 service members.
As you move up the tier, you have an intermediate level that costs $49 and 3000 subscribers. The third accounting plan is $79 a month and is for 5000 users.
ConvertKit's pricing may initially seem a bit high to certain people, however, it all depends on the user.
ConvertKit's pricing won't be the most affordable on the market if you require all of the newest and most sophisticated features and you have a large list.
However, for the majority of casual users, the price won't be an issue. You actually receive a lot more for your money. The same kind of features is not offered at this low cost for lower plans by other online cheap email solutions.
Because it provides its customers with a large number of features and a great deal of flexibility, ConvertKit's pricing is well justified.
Does Convertkit have a Free Trial?
It's important to know that the ConvertKit free plan has some restrictions.
When I first looked at the features, I was pretty disappointed, especially when I compared them to those of MailerLite and MailChimp, which have free plans that seem to have more to offer.
You can set up a demo with their sales team if you have more than 5,000 email subscribers. They will show you how the app works and answer any questions you may have.
If you're still not sure, you can try out all the features for free for 14 days.
So you can stop using the services after 14 days, or you can give your credit card information and keep going. They don't ask for your credit card number right away.
Key ConvertKit Features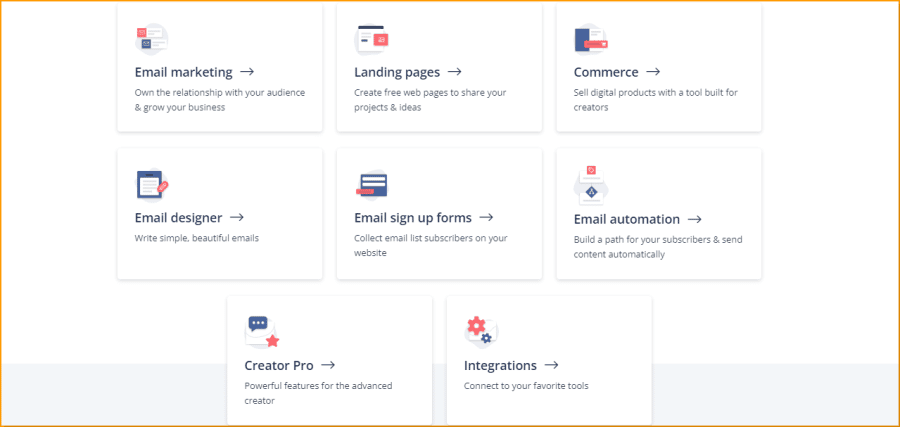 As an email marketing tool, ConvertKit allows you to manage your mailing list.
In order to sell your products and services, you can use email marketing tactics. With the platform, you have access to a variety of pre-made templates for emails, forms, and landing sites.
ConvertKit's best features are listed here.
1. subscribe forms
Your website's traffic will increase if you have an email sign-up form. Each of the templates offered by ConvertKit has customizable fields and designs that may be tailored to your specific needs.
You can use as many templates as you want. Your users' privacy and security are ensured by their compliance with the General Data Protection Regulation (GDPR).
In order to customize the templates to meet your website's design, you must be an expert in HTML and CSS coding.
2. Email Marketing Tools
You need a strategy to engage with your audience on a personal level if you want your emails to accomplish more than merely clutter up inboxes.
In order to escape the spam folder of your mailing list, ConvertKit offers a 98% delivery rate for your newsletters.
A 30% average open rate is promised, which is higher than the industry average of 18.5% for successfully delivered emails.
These technologies allow you to tag your subscribers, which means that you can offer relevant material to your audience.
These tools, unfortunately, are difficult to utilize.
Because you can only tag individuals manually, these tags can be tedious and time-consuming.
3. Landing page Template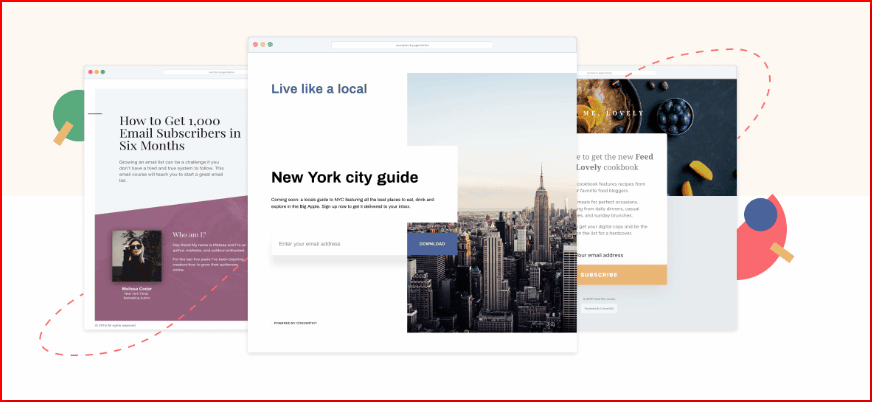 Your new content and offerings will look fantastic on a landing page. If you don't currently have a website, you can still utilize these landing pages to build an email list with ConvertKit.
Your landing page's search engine optimization can be improved by using ConvertKit's templates (SEO). The paid plans allow you to automate your website's conversion rate analytics, but only if you're willing to pay for the service.
4. Segmentation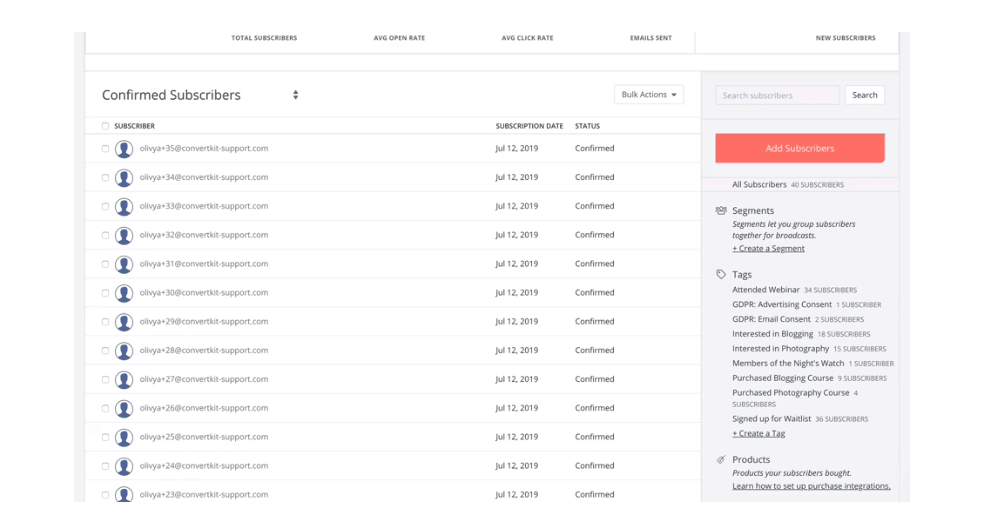 ConvertKit has provided you with the possibility to subscribe and divide your customer lists into various pieces.
Tags indicate a particular action since they are labeled with the tag you create. After you've built email segments, you can send an email to individuals on your list who have completed a specified action.
Different tags can be selected for enhanced usefulness. As you begin to build tags, you will be amazed at how simple it is to ensure that only the appropriate clients receive your communications.
ConvertKit Social Media Platforms
ConvertKit communicates with clients through a multitude of social media sites. Below is a list of several social networking sites.
Facebook
The Facebook page for ConvertKit has 16,463 followers and 14,450 likes. It presents ideas for creating marketing platforms.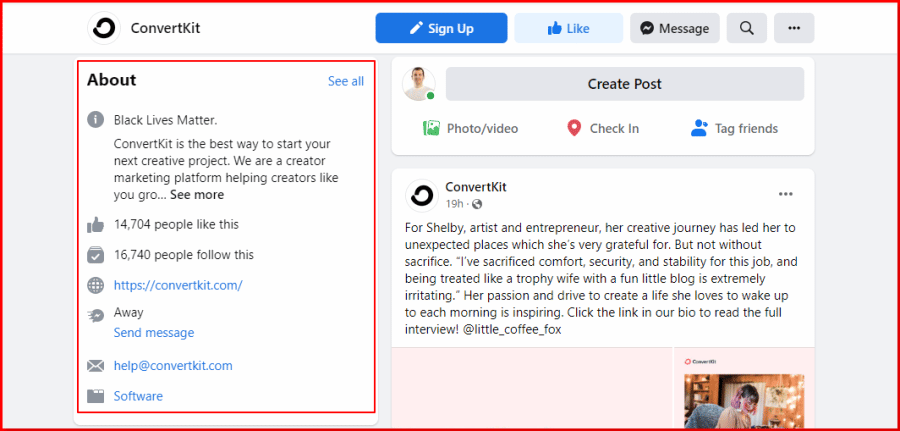 Twitter
ConvertKit facilitates the development of marketing platforms and the promotion of internet moneymaking strategies. The account has 7,005 tweets and 20,2k followers on its Twitter profile.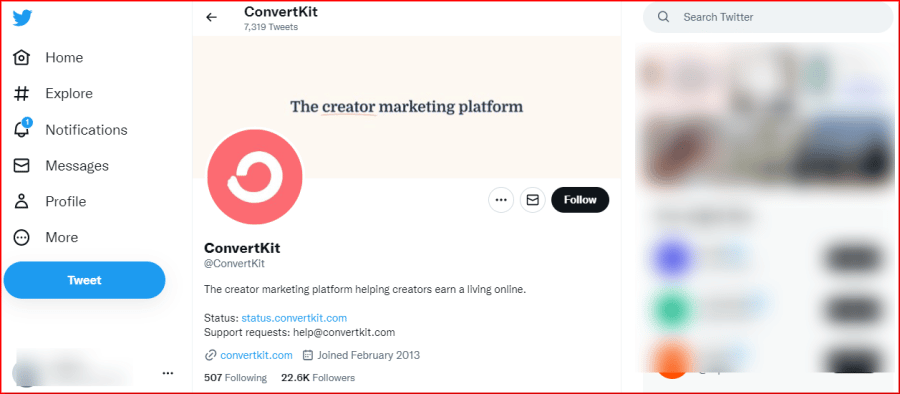 Instagram
ConvertKit has 672 posts and 19.1k followers on its Instagram profile.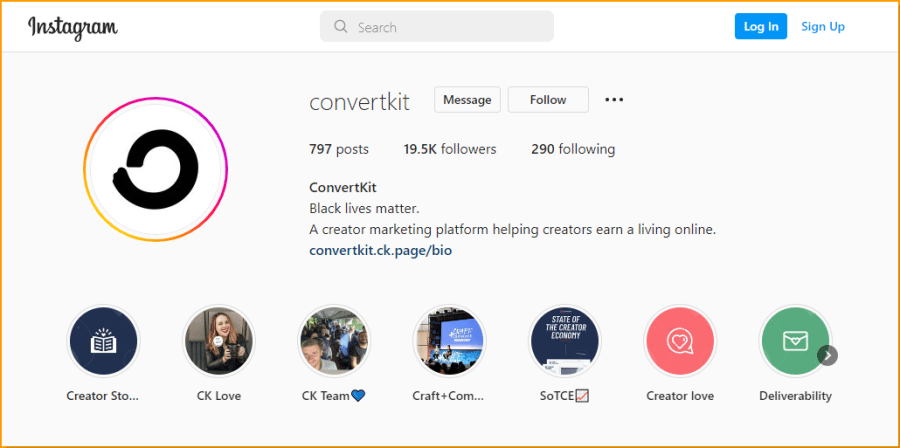 Conclusion: ConvertKit Pricing
ConvertKit features a cutting-edge pricing structure that promotes subscriber count development and enables them to expand alongside you.
With their annual plans, you can receive 12 months for the price of 10, and their tools are rather simple. Never will you be charged for services you don't require.
ConvertKit competes with less expensive email marketing solutions like ActiveCampaign and GetResponse that provide comparable cutting-edge features.
They have positioned themselves as the email marketing tool for small firms, bloggers, and solopreneurs, which explains why they are more expensive than their more established rivals.
Additionally, they have a high-quality product that is simpler for most non-techies to utilize.
ConvertKit introduced its free plan to offset its increasing price. Now that their key capabilities are available for free, you can explore if your firm may profit from them.
By making your own landing pages with a ConvertKit Free Plan right away, you can check out their tools and decide if they're the perfect choice for you.
Frequently Asked Questions
What does ConvertKit do?
Nathan Barry designed the ESP ConvertKit. It's one of the fastest-growing email marketing companies due to its ease of use and automation. Customizable sign-up forms and landing pages assist increase email subscribers.
Can I use ConvertKit for free?
 ConvertKit Free requires no credit card. You can stay on the Free plan as long as you have fewer than 1,000 subscribers and don't need Creator or Creator Pro capabilities.
How long is ConvertKit's free trial?
ConvertKit sends a verification email after you establish a new account and activates your 14-day free trial immediately. After 14 days, you must pay monthly fees to keep your account active.
Does ConvertKit have landing pages?
Yes, ConvertKit includes 50 landing page templates. You can view them before registering an account or by choosing "Landing Pages & Forms" on ConvertKit's site.
What is ConvertKit's Price?
In order to use ConvertKit creator, you'll need to pay $9 a month for the basic subscription. Visit their price page to see all of your options.
What happens if I exceed the number of subscribers allowed by my plan?
If you exceed the limits of your current plan, we will immediately upgrade you to the next tier. It will be business as usual for your account. Throughout that time, you will maintain your current subscriber base and email frequency.
Can I get a refund if I don't like ConvertKit?
If during the first 30 days of your account creation, you decide that ConvertKit isn't the perfect fit for you, we'll refund your payment, whether you're on a monthly or annual plan.