Looking for the best email marketing service provider, This post will provide you with an in-depth look at between ConvertKit vs ActiveCampaign service so that you can make a decision that is based on accurate information.
These two software provides email marketing services that are widely used and well-recognized in their respective communities.
They assist you in compiling an email list, composing and sending messages, and automating a great deal of the work that must go into your campaigns.
Let's get started!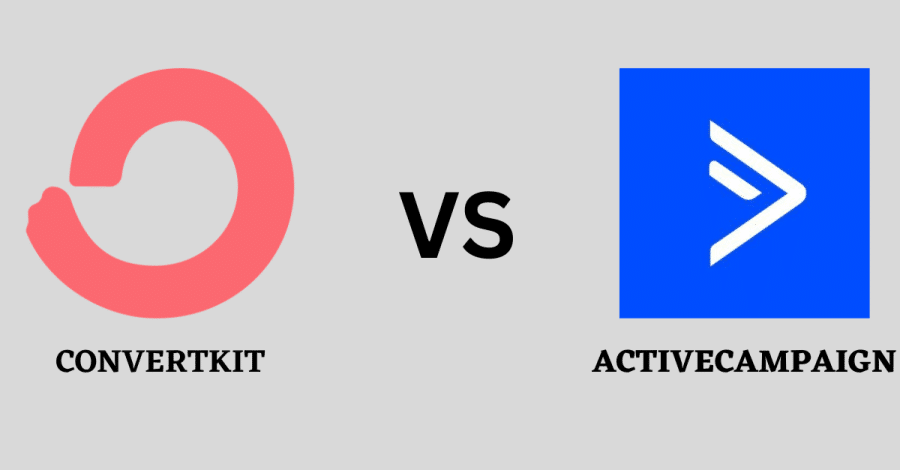 ConvertKit Overview
ConvertKit is a fantastic tool for anyone who publishes their writing online. It's free for the first 1,000 users, after that point, it may become more expensive than similar email services.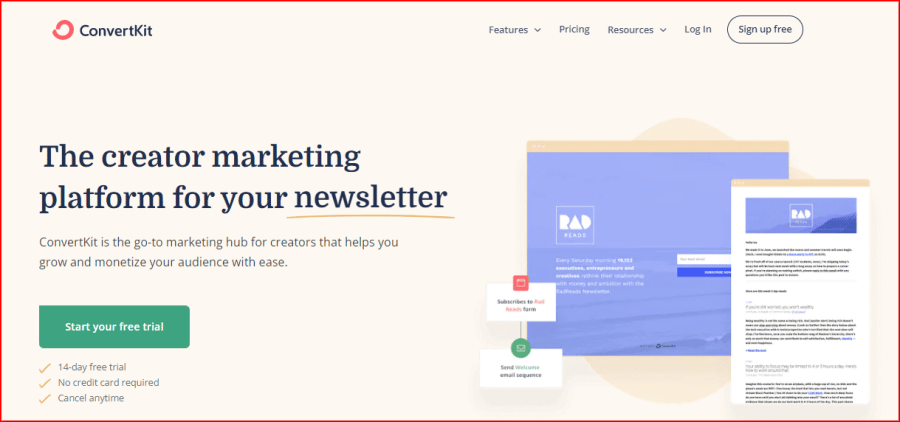 When it comes to email marketing, ConvertKit is one of the businesses with the most promising futures.
ConvertKit stands apart from the crowd thanks to its intuitive interface, excellent visual automation workflow, and many more capabilities. Landing pages and signup forms can be personalized.
If you need to automate complex processes, you may find that other platforms, such as ActiveCampaign, offer a more comprehensive set of features than ConvertKit does.
It is possible to make an email sent through ConvertKit appear as though it was sent directly from the user's inbox. This makes it more likely that the email will be opened.
ActiveCampaign overview
ActiveCampaign is the preferred mailing list service since it offers a complete suite of features, from basic email marketing to sophisticated automation.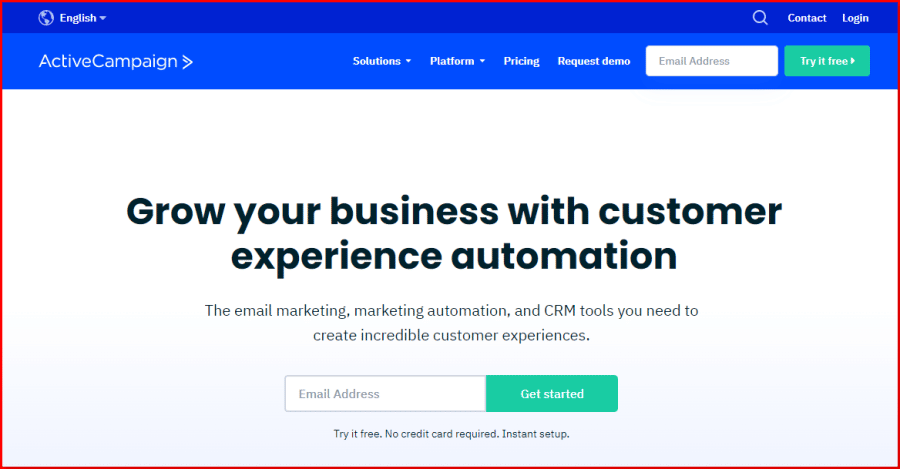 We use ActiveCampaign to automate our email marketing, customer relationship management, and live chat. Everything from basic email sending to advanced, multi-step automation is included.
The fact that you need to upgrade to a more expensive plan to use many of the service's features is my primary gripe with it.
Also, it would be nice if the email editor didn't force you to use a newsletter-like structure but instead let you create emails that looked like they came from you.
In fact, ConvertKit has this capability. However, ActiveCampaign allows you to automate any process you can think of.
ConverKit vs ActiveCampaign: Main differences
ConverKit is best for people who blog and make content.
ActiveCampaign is best for people who want to market online and make sales.
There are more templates for ActiveCampaign than for ConvertKit. Text-based templates are the main focus of ConvertKit.
ActiveCampaign has a feature that lets you drag and drop that ConvertKit does not.
You can build automation that is easy and quick. but ActiveCampaign is mostly about automating emails. It has features that are more advanced and complicated than ConvertKit
We have to connect ConvertKit to CRMs that don't belong to us. ActiveCampaign has a CRM that is built in.
ActiveCampaign costs more money than ConvertKit. ConvertKit is a better deal than ActiveCampaign because it has so many important features for a low price.
ConvertKit is very much afforable to use, it also offers massive deals, check out our article Converkit discount where you will receive exclusive deals.
ConvertKit Vs ActiveCampaign: Features Comparision
1. Analytics & Report
ConvertKit
The fundamental analytics and report are being provided by ConvertKit. Only the Open rate, the Click rate, and the Unsubscribers rate are displayed for you to view.
If you are connected to an online store, there is no chance that you will even get the conversion rate. You won't be able to collect the bounce rate and the conversion rate for social media.
ActiveCampain
ActiveCampaign outshines its competitors when it comes to reporting and analytics. Open rates, click rates, unsubscribe rates, click maps, page visits, geo-tracking, and more are all viewable in ActiveCampaign.
Because ActiveCampaign includes a built-in CRM, you will also receive a report on sales performance. You can obtain this report as well if you integrate with e-commerce platforms like Shopify, WooCommerce, etc.
2. Templates & Design
ConvertKit
ConvertKit sends simple emails. ConvertKit offers three templates. Classical, Modern, and Text alone. Text-only removes visuals and concentrates on text.
You can choose between 2 designs. We have no control over the content's presentation besides providing graphics and links.
HTML editors help professionals build email layouts. ConvertKit isn't an aesthetically-focused email marketing platform. Research suggests that emails without a design focus have a greater delivery rate. Emails without photos or attachments are more likely to be read.
ActiveCampaign
ActiveCampaign includes 150+ contemporary email templates. ActiveCampaign creates amazing emails. Email templates can be coded. Each responsive template is appealing.
These templates are easily editable. There are basic, designed, and past campaign templates. Again, these templates are grouped. You can find a template quickly. Create templates from scratch.
3. Email Campaign
ConvertKit
ConvertKit's campaign functions as the send option. Both broadcasts and sequences can be sent.
Broadcast is a one-time email to your consumers. With sequences, you may set up a series of emails to be delivered at regular intervals. Broadcast is the name of ConvertKit's email marketing campaign.
ActiveCampaign
Under the campaign option in ActiveCampaign, you can set up a campaign. Before you can make a campaign, you have to choose the type of campaign.
Most of the time, ActiveCampaign gives you 6 types. They are Standard, Automated, auto-responder, split testing, RSS triggered, and based on a date.
4. Automation
ConvertKit
The visual automation workflow in ConvertKit is excellent as well. In addition to using pre-made templates, you may design your own automation workflow from scratch.
ConvertKit has a wide variety of customization options, including "Event," "Action," and "Condition." The free edition does not include automation features, but plans starting at $9 do.
ActiveCampaign
ActiveCampaign emphasises automation. ActiveCampaign's strength is automation. 100+ automation templates are included. To automate a page, enter its URL.
ActiveCampaign's workflow is visible. ActiveCampaign's Automation does anything. It's limitless. You can send emails, SMS, site messages, etc.
Create conditions and workflows. Apps can help you generate tasks. Automating from scratch is possible.
Why ConvertKit is better than ActiveCampaign
The form builder in ConvertKit is more flexible than that of ActiveCampaign.
The email marketing solution provider ConvertKit is just delightful. The advantages it has over active campaign are outlined in the following.
ConvertKit has customisable and enticing landing pages that may be used for lead capture. If you don't use a landing page service like Unbounce, Leadpages, Instapage, etc., you can save money.
The photos can be added and uploaded through ConvertKit's user interface.
Unlike ConvertKit's intuitive Sequence builder, ActiveCampaign makes you manually create an Automation in order to replicate the functionality of its rival's built-in email Sequences.
There's a simple email editor that's quite user-friendly. Sending simple text messages is a breeze using ConvertKit.
Conclusion
Overall, For bloggers who want to add opt-in forms to their posts, ConvertKit is a perfect fit. It's an easy email automation tool, however it doesn't work with any other services.
When compared to ActiveCampaign, it becomes more costly as you get 300 or more members.
ActiveCampaign includes a customer relationship management (CRM) solution and provides access to numerous CRM segments and sales funnels.
It provides a central hub where sales and marketing teams can work together on accounts, stay in touch with leads, and ultimately close deals.
Frequently Asked Questions
Is ConvertKit a CRM?
Not at all; ConvertKit is a tool for advertising via email. NOT a customer relationship management system [NOT a CRM]
Is ActiveCampaign a unicorn?
Global SaaS Unicorn ActiveCampaign is putting more money into Latin America (LATAM), where headcount has grown by more than 200% in the past year. ActiveCampaign, which is the leader in Customer Experience Automation (CXA), ended 2021 with a 200% increase in the number of employees, which is a big step for any global business.
Can you build a website with ConvertKit?
Yes, With just a landing page template, you can start making your one-pager. In fact, if you use a ConvertKit landing page template, you can make a one-page website in just a few minutes. All you have to do is pick a template, add some pictures, change the colours, and write your copy.
Who is ActiveCampaign best for?
ActiveCampaign can be utilised for a variety of purposes, from the development of newsletters to the administration of contacts. Coming with a myriad of features, this all-in-one marketing automation software is a great choice for all business sizes.