In this post, I have done a comprehensive comparison of ConvertKit vs Aweber. Both ConvertKit and Aweber are the most liked ESP.
E-mail marketing has been an essential component for online marketers for quite some time. It has the potential to help develop loyal connections and enhance revenue if it is executed correctly.
According to what they have heard, the amount is already on the list. Email lists are extremely valuable assets for an online business.
ConvertKit Overview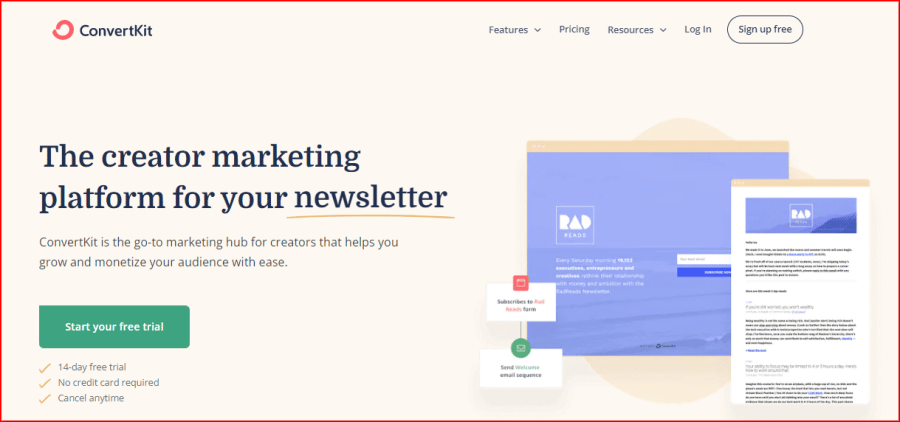 Nathan Barry founded ConvertKit, a powerful and feature-rich email service provider (ESP).
Due to its ease of use, automation, and other capabilities, it has become one of the fastest-growing email marketing companies in the business.
It is common practice for content creators, bloggers, and other types of online business owners to make use of ConvertKit because it is an effective email marketing tool that is simple to operate.
It provides a free trial that lasts for thirty days. Therefore, you should consider giving it a shot. Read this in-depth review of ConvertKit to find out more.
It also comes with customizable sign-up forms and landing pages, both of which can help you gain more email subscribers.
You can check out our article Convertkit coupons, where you get massive deals.
Aweber Overview
AWeber can be used for a variety of purposes. To streamline email marketing efforts, it is mostly used as a web-based marketing automation solution.
In addition, it has an email layout tool that helps people make expert emails that they can modify to their needs. You can accomplish all of this without having to write any code at all.
Landing pages, online push notifications, sales funnels, subscriber sign-up forms, and other promotional materials may all be designed with AWeber.
It's an all-inclusive email marketing platform that may set a business apart from the competition.
ConvertKit Vs Aweber: Main Differences
ConvertKit has a more intuitive user interface than Aweber, which has a somewhat more difficult-to-navigate layout.
The focus of ConvertKit is mostly on the subscribers, while Aweber is more on the mailing lists.
ConvertKit is geared toward bloggers in particular, whereas Aweber caters to a more general audience involved in digital commerce.
Aweber has a lower starting price of $19 per month than ConvertKit, which begins at $29 per month.
ConvertKit Vs Aweber: Pros & Cons
ConvertKit Pros & Cons
| | |
| --- | --- |
| Pros | Cons |
| Very straightforward and simple to use. | Bit expensive for beginners. |
| The email deliverability rate is high. | |
| Extremely simple to make the change. | |
| A/B testing. | |
| Very intuitive and easy to use. | |
| A free trial is available. | |
AWeber Pros & Cons
| | |
| --- | --- |
| Pros | Cons |
| AWeber is useful for managing subscriber lists. Each list can have its own dashboard. | Basic automation. |
| AWeber integrates with many apps to improve campaigns. | |
| Excellent drag-drop editor. | |
| 24/7 Customer Support | |
| More than 600 email templates are available. | |
ConvertKit Vs Aweber: Features Comparision
Both ConvertKit and Aweber are extremely well-known email marketing service providers, and each of them has some very appealing features that users should keep an eye out for.
Here I have described some of the key features:
1. Ease of Use
Both AWeber and ConvertKit are very comparable. Both email marketing services are up-to-date and have drag-and-drop interfaces that make it easy to create both standard and unique marketing automation.
But it's important to note that both ConvertKit and AWeber have their own lingo for referring to features, which can be a bit daunting for newcomers.
As an example, ConvertKit calls its email automation "sequences." Automation, on the other hand, are flexible process flow.
2. Marketing Automation
The automation in ConvertKit is a breeze to work with. It's perhaps the best selling point for ConvertKit. While the lists in which its automation rules are presented might quickly become unmanageable, the visual automation builder is always ready to step in and help.
The default marketing automation perspective simplifies everything by placing workflows in the context of desired business goals.
Users can send automated messages to certain recipients based on conditions such as whether or not they belong to a specific list or possess a certain tag.
Then, you can take action like sending a message, assigning a tag, or establishing a timer. You can import more complex email automation campaigns from AWeber's marketplace if you want to put them up. It's clumsy, but now better, there are more alternatives available now.
3. segmentation
This email automation tool's segmentation is another strength. The tag-based system handles subscribers and automates better. You can tag users based on their individual info.
Personalization is a powerful internet marketing strategy that can help you establish brand loyalty quickly.
AWeber makes it easy to build an email list upgrade. Content upgrades are supplementary content connected to a popular blog post.
Customers are requested for email addresses after accessing the content. AWeber's outdated list-based approach allows for many forms per list.
AWeber makes it easy to create links-clicked tags. Personalize marketing by tagging customers who clicked a certain link. Aweber automates email marketing through two methods. Subscriptions, tags.
4. Templates
ConvertKit lets you gather emails via slide-in, modal, and inline forms. Its form designs are mediocre, and its editor just changes color.
Custom CSS is needed for unique designs. This includes its landing page builders and email templates.
Default email templates may be dull if you like fancy ones. You can create and build your own, but it's difficult unless you know CSS and HTML.
AWeber's old email layouts hurt their brand and yours. While it has several email and form templates, you may want to develop your custom or use a third-party tool.
AWeber's subscription quotation includes every list member. Unsubscribed clients still figure in this platform's costs. AWeber charges for duplicate subscribers, so until you prune and update your lists, you'll pay extra.
5. Marketing Service
ConvertKit offers affordable email marketing automation and is a clear market leader among autoresponder email platforms. You can gradually send an email to new subscribers or send out a massive email blitz whenever it's convenient for you.
There was a time when AWeber was the undisputed king of the email autoresponder mountain, particularly amongst bloggers.
It has proven to be a popular method for creating and distributing HTML electronic newsletters.
However, many of its present and former users are unhappy with how it has fallen behind other, more cutting-edge products in its category due to a lack of maintenance and significant updates.
6. Customer Support
If you're a ConvertKit customer with a little or a large number of subscribers, you'll still get the same high-quality e-mail and live chat service.
For less pressing matters, you can also contact assistance via social media like Facebook and Twitter.
Subscribers to ConvertKit can also join a closed Slack channel where they can interact with and learn from other members of the service.
The organization also has a Knowledge Base where you may look up solutions to frequent issues.
AWeber provides email and live chat help around the clock, every day of the week, for all of its customers, no of how many subscribers they have.
In addition to an extensive Knowledge Base, they offer phone help from 8 AM to 8 PM EST, Monday through Friday.
AWeber has been acknowledged by the American Customer Service Association and awarded multiple Stevies for the quality of service provided by their staff.
7. List Management
Tags are used to divide lists in ConvertKit, while AWeber uses lists. Say you have a website about pets and want to email people who own dogs and cats.
AWeber is not as easy to use. You can tag people after clicking on a link in your email that says "I own a cat" or "I own a dog."
ConvertKit lets user tags overlap and keep your list management clean and focused.
If you wanted to make a list of both dog owners and cat owners in AWeber, you'd be charged for those subscribers again, even though they're already on your dog and/or cat lists.
This would cause your monthly fees to go up faster than you might expect, even though you haven't added any "new" subscribers.
Conclusion
Overall, If you're just starting off, I recommend Aweber over ConvertKit. Aweber is ideal for beginners. As a rookie, you won't face many problems thanks to 24/7 support, reasonable costs, and a free trial period.
Aweber can help affiliates who prefer disposable lists. They don't put much effort into building relationships with potential clients or staying in touch. They promote one or two affiliate products in three to six emails. After the sale, they'll likely ignore the list.
Frequently Asked Questions
Who is AWeber best for?
AWeber is a popular email marketing platform with over 150,000 users. AWeber is best for small businesses that desire a basic and affordable email marketing tool with exceptional customer support.
Can you sell products with ConvertKit?
Using the account you already have with ConvertKit, you are able to sell your digital products straight to customers. That's correct you no longer need to have your digital products integrated with an e-commerce platform in order to begin selling them!
Can I use Gmail with ConvertKit?
By adding the ConvertKit for Gmail Extension, you can see which subscribers you have in ConvertKit without leaving Gmail. The extension will make it clear if the person who gets an email from you is also one of your ConvertKit subscribers. This will also show any tags you've put on that subscriber.
Is AWeber safe?
There is no doubt that AWeber is a reliable email marketing service. It provides a protected repository for client information and a protected interface for managing subscriptions.
Is AWeber any good?
The email marketing platform AWeber is reliable. Although it isn't the greatest product of its kind, it does a good job of meeting the needs of businesses in need of an email marketing solution and comes with most of the essential tools that such a business would need.
Can you make money with AWeber?
With AWeber, you can do two main things to make money: (1) sell products directly on web pages made in AWeber that take credit card details safely and put monies in your bank account; and (2) collect email addresses for mailing list. You can monitor purchases made through non-AWeber websites and shopping carts.