It's easy to be complacent when looking at bulk email marketing options for your business and go with the best option one you find.
So, In this article, I have come up with an in-depth analysis of ConvertKit Vs GetResponse. Both ConvertKit and GetResponse are the most liked and user-friendly email marketing software.
Both ConvertKit and GetResponse are terrific options for anyone looking to increase their sales, leads, and revenue through email marketing to their user-friendly interfaces and robust feature sets.
You shouldn't be looking for a solution that has 'all the features' when selecting an email marketing platform for your organization.
Let's get started!
ConvertKit Overview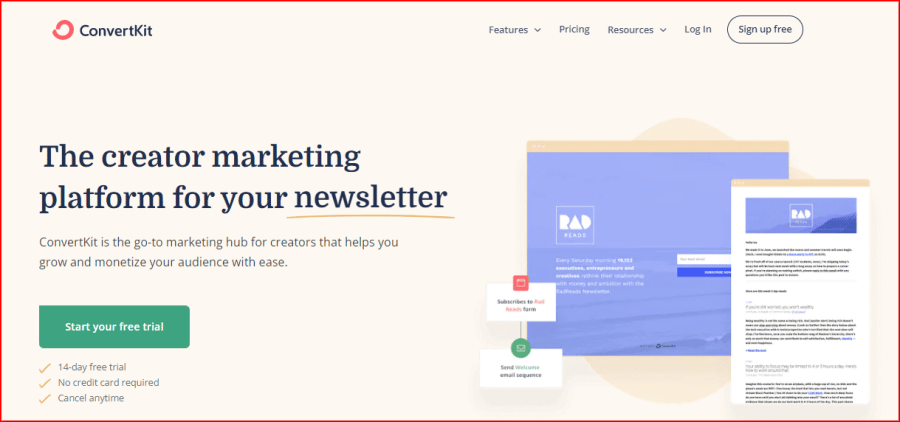 Nathan Barry, an entrepreneur and blogger, established the company after coming to the conclusion that the existing autoresponders were unable to meet his requirements.
ConvertKit was at first developed for bloggers, but it has since evolved to fulfill the requirements of businesses of all sizes and in all kinds of industries when it comes to email marketing.
Despite the fact that it is plausible to presume that creators and designers make up the majority of their primary audience.
ConvertKit enables you to leverage your mailing list to interact with your audience while retaining full control over the discussion.
You can do this by communicating with them directly. Additionally, it is applicable to any sector to increase conversion rates.
If you are looking to decrease the pricing rates of ConvertKit, simply check out our article ConvertKit discount, where you get exclusive deals for its users.
GetResponse Overview
GetResponse is an email marketing tool, which is a bit of an understatement. It is a complete internet marketing system designed to help business owners grow their operations online.
It gives you a variety of email marketing tools that you can use to make more money, improve the user experience, get more customers, and run your online business more smoothly.
GetResponse makes it easy to import contacts, make an email campaign, set up autoresponders, and check stats, and that's just the basics. As was already said, the management of the section is very good.
ConvertKit Vs GetReponse: Main Differences
ConvertKit's pricing is based on each individual subscriber's email address, regardless of how many emails lists you create. There is a fee for having the same subscriber on several GetResponse email lists.
Different from ConvertKit, GetResponse does really charge for duplicate signups.
The learning curve for ConvertKit is substantially lower, and the software is a lot easier to use.
Soon, ConvertKit customers will be able to take advantage of a digital product shopping cart service.
GetResponse provides built-in support for webinars, as well as webinar marketing tools, so you may offer online webinars to your subscribers.
GetResponse provides more features at the same price as ConvertKit when your list increases.
ConvertKit Vs GetResponse: Pros & Cons
ConvertKit Pros & Cons
| | |
| --- | --- |
| Pros | Cons |
| Simple and Converting Email Design. | Lack of Documentation. |
| Great Landing page creator. | |
| User-friendly. | |
| Best for bloggers. | |
| Free trial available. | |
GetResponse Pros & Cons
| | |
| --- | --- |
| Pros | Cons |
| User-friendly interface. | Structured automation of emailing is complex. |
| Webinar functionality. | |
| Conventional funnel feature. | |
| 30-day free trial. | |
| Third-party integration. | |
| Excellent customer support. | |
ConvertKit Vs GetReponse: Features Comparision
GetResponse and ConvertKit are two of the finest email marketing platforms available, and both of them have a plethora of wonderful features that users should keep an eye out for.
I have highlighted some of the most important characteristics below:
ConvertKit Features
1. A/B Testing and Analytics
You can only split-test your email message lines within ConvertKit. Whereas the subject line will have the greatest impact on whether or not your email is read, the option to A/B test the body content would be helpful as well.
A solution exists, however it requires automated flow configuration and the duplication of email sequences. This is not simple.
Similar considerations apply to analytics that comes preinstalled. Subscribers can view a daily signup graph and other key metrics like open rate and clickthrough rate on the software's statistics page.
GetResponse lets you split-test five different parts of your email. Best time of day, the best day of the week, the best subject line, the best from the field, the best email content, and so on. It's simple to set up, and you can make A/B tests a regular part of how you make emails.
The analytics in GetResponse is just as detailed as the rest of the service. Detailed statistics go along with the results of your A/B tests.
2. Automation
A drag-and-drop interface is available in GetResponse, allowing users to easily create workflow automation. You can create your own email flows from a blank workspace, or use one of the many pre-made templates and customize it to match your needs.
Regardless of the method, you end up using, you'll want to make sure that it's set up specifically for your company.
GetResponse's automation framework consists of "conditions," "actions," and "filters."
To aid in the development of your automation, ConvertKit provides a similar environment in which to do so.
In their language, the basic elements are called "events," "actions," and "conditions," but the concepts are the same. You have the option of starting from scratch or working with a pre-existing template to design your own flows.
3. Segmentation & Tagging
Within the workflow creation window, ConvertKit also has the capability to set tags based on the action taken by subscribers.
Once learned, the method may not be nearly as straightforward as the one offered by GetResponse, but it is simple to utilize.
Before you can attach a tag to a flow, you will first need to construct the tag and the action trigger. GetResponse gives you the ability to tag subscribers as an integral element of an automated process.
Simply choose the component of the tag you want to use, integrate it into your process, and designate the step that the subscriber must perform in order to get the tag.
4. Landing Pages & Forms
You may quickly and easily develop landing pages from the start with ConvertKit, or you can alter templates that have already been created. You may also alter the form by including or omitting certain fields from it.
Finally, ConvertKit makes it easy to incorporate a completed form or landing page into your website by simplifying the integration process.
Either by adding a single line of JavaScript code or by connecting with popular content management systems (CMS).
With the help of the powerful design tools and form builder provided by GetResponse, you are able to construct aesthetically pleasing landing pages and forms.
5. User Interface
ConvertKit targets bloggers completely, therefore it will be super-user-friendly and avoid anything remotely technical. That'll please its bloggers. You'd only need to alter the HTML code to improve your email's look.
It's really simple. Thanks to its WordPress plugin and non-technical nature, it's one of the easiest alternatives imaginable. Even if you've never used an email marketing package before, you can easily navigate the menus. GetResponse frames itself as a CRM, not an email marketing tool. Pros and drawbacks exist.
For a rookie, that could be intimidating. If you only wanted to start email marketing, I respect that.
GetResponse is a "light CRM" if you know what CRMs do but don't require a full one. It seems like they removed most CRM features to focus on emails.
Everything is navigated via the header menu. The menu titles mostly are self-explanatory, so even beginners can navigate and complete tasks.
Conclusion
Overall, ConvertKit and GetResponse both are the best email marketing automation tools. Bloggers, on the one hand, can't do without ConvertKit, and For small businesses, GetResponse is the ideal option.
ConvertKit is an email service that you are familiar with. While not the worst option, GetResponse wasn't the best email provider either.
Using ConvertKit has made email management simple, and I'm now ready to take my business to the next level.
ConvertKit vs GetResponse: Customer Support
The customer care staff at ConvertKit is known for being quick to respond and extremely helpful. You could reach them by live email or chat between the hours of 8:00 AM and 20:00 PM Eastern Standard Time.
GetResponse also offers a customer service department that is second to none. You can contact their support team at any time, day or night, 365 days a year. Additionally, email assistance is offered in all of these eight languages:
Frequently Asked Questions
Why should I use ConvertKit?
You will be able to create a relationship with your followers and take credit for the connection you make through your email list if you use ConvertKit as your tool. Additionally, it is an effective strategy for increasing conversion rates across the board.
Can you sell products with ConvertKit?
You may effortlessly sell any digital goods online with a ConvertKit account. That's right, you no longer need an e-commerce integration to start selling your digital goods.
What are the benefits of using GetResponse?
Create and send professional-looking emails using GetResponse's drag-and-drop email builder, premade email templates, and intuitive admin dashboard. In order to ensure that campaigns reach the greatest number of people possible, GetResponse provides a simple-to-use email builder that also allows users to create emails that have already been optimized for numerous devices.
Should I use GetResponse?
GetResponse works well for email marketing, yes. It is an easy-to-use software for email marketing automation. They make it easy to make marketing emails and send them. You can make newsletters, automated funnels, autoresponders, and more that get people to buy.
How do you make money on ConvertKit?
In ConvertKit, it's easy to make a "Tip Jar" that your strongest supporters can use to give you money or tips. Like some other ConvertKit products, you can make and customize your Tip Jar to suit your brand. Pre-set tip amounts make it quick and easy for people to help you and your work.
Is ConvertKit good for landing pages?
ConvertKit is a reliable, inexpensive, and useful way to build landing pages. It is a promotional tool that does a great job of making custom landing pages with sign-up forms that can be changed to get more sales and subscribers.
Does Amazon use GetResponse?
By integrating Amazon Payments with GetResponse, you'll be able to save a list of your customers' contact details in the latter. When a customer pays for an item that uses the Payment Now button, they will be automatically added to your GetResponse list.