Our ConvertKit vs Mailchimp comparison can assist you in making the right decision to choose the best email marketing software.
I've used a fair amount of email marketing software in my time as a marketer. Choosing between ConvertKit and Mailchimp, two of the most popular options for small businesses can be a challenge.
In this article, I'll compare and contrast ConvertKit and MailChimp for your next email marketing campaign and show you the advantages and disadvantages of each.
Convertkit Overview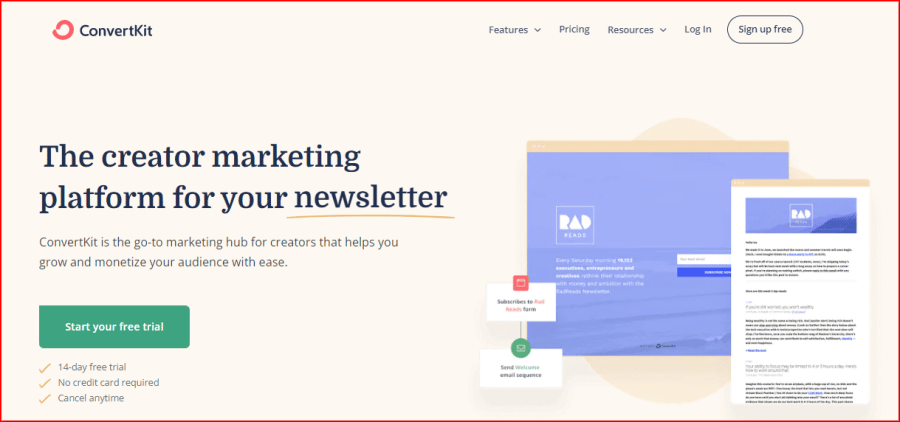 ConvertKit is an email service provider that is helpful for everyone, from solopreneurs to online organizations that have been around for a while.
However, the capabilities of the platform are specifically designed with online content makers in mind.
You are able to send emails directly to email subscribers using ConvertKit. These emails may be in the form of a broadcast email or an autoresponder email campaign.
Additionally, as a fairly cool tool, ConvertKit provides you with a landing page builder that you can use to assist you in selling your products and services.
If you want to know in-depth about ConvertKit, then check out the ConvertKit review.
Mailchimp Overview
With over 14 million members, MailChimp is one of the most widely used marketing automation and email marketing platforms in the entire globe.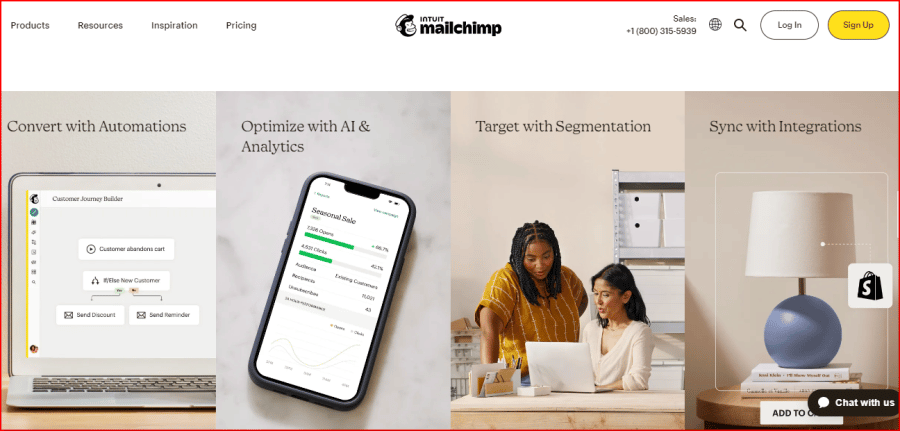 Small businesses that want an all-in-one platform that supports the essential components of internet marketing and does not require sophisticated technological expertise are the greatest candidates for MailChimp.
Convertkit Vs MailChimp: Pricing & Plans
ConvertKit Pricing
Nathan Barry founded ConvertKit, an email service provider (ESP) with a comprehensive feature set. Since it's easy to use, it's a fast-growing email marketing service.
Customizable signup forms and landing pages are also available to help increase the number of subscribers.
ConvertKit has three plans and just announced the availability of a free plan in an effort to encourage customers to select their email tools as soon as possible.
Although Convertkit is one of the best email marketing automation tools, its pricing plans are more expensive than its competitors.
So, check out the ConvertKit discount, using which you will get an exclusive discount on your desired pricing plans.

At the moment, this is only available for free landing pages. However, if you invite a friend through their referral program, they will give you free access to 100 more members.
ConvertKit also offers a 14-day free trial, to get know in-depth information about a free trial, read our article ConvertKit free trial.
Mailchimp Pricing
The All-in-one marketing platform Mailchimp helps you keep track of and communicate with your consumers and other stakeholders.
In all of our marketing endeavors, we make use of effective contact management, eye-catching campaigns, and in-depth data analysis.
For small businesses and entrepreneurs with fewer than 2,000 subscribers. MailChimp has four pricing plans. It also remains the obvious choice because of its generous free plan.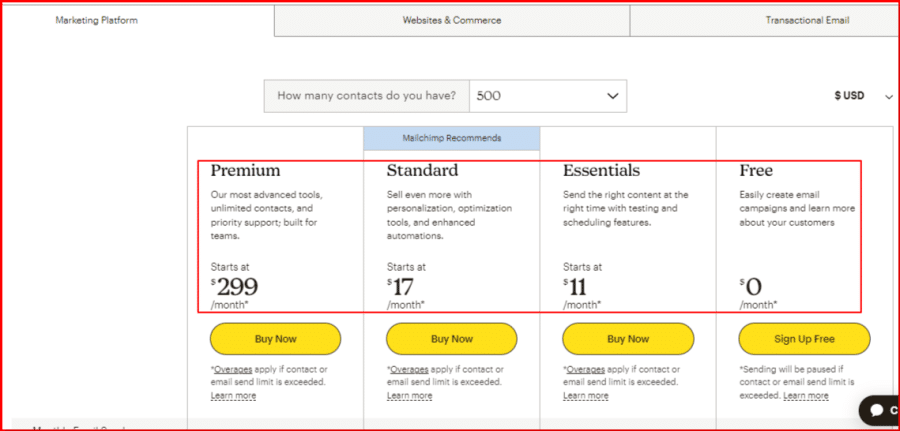 It's important to consider the time and money you'll save by converting to ConvertKit later rather than sooner if you're considering it. Switching tools can be an inconvenience that you'd rather avoid.
Visit our guide outlining the features and use cases for each if you're not sure which plan is best for you: ConvertKit pricing.
ConvertKit Vs Mailchimp: Pros & Cons
ConvertKit Pros & Cons
| | |
| --- | --- |
| Pros | Cons |
| The visual automation editor is user-friendly. | The software can be tricky. |
| You may construct infinite landing pages with their free plan. | |
| You may construct infinite landing pages with their free plan. | |
| Automatically resending unopened email broadcasts can boost open rates and conversions. | |
| You can ask questions on "The ConvertKit Family" Facebook page. | |
| ConvertKit's free migration services let you switch email programs without losing data. | |
| The free plan lets you manage 1,000 members. | |
MailChimp pros & cons
| | |
| --- | --- |
| Pros | Cons |
| Create and distribute subscriber-targeted Facebook advertising. | Only the premium plan allows newsletters. |
| Real-time analytics are built-in. | |
| Marketing CRM that shows all email subscribers in one spot. | |
| "Premium plan" includes support. | |
| Mailchimp supports 300 apps. | |
| Daily phone, email, and chat customer assistance. | |
| Ready-made segments, templates, and one-click automation. | |
ConvertKit Vs Mailchimp: Features Compared
1. Ease of Use
For those that create content, ConvertKit is an excellent choice as an email service provider.
It provides access to a wide variety of cutting-edge features that might facilitate the establishment of an internet business. It is easy to use, and the customer service is excellent, too.
Mailchimp is a product that is simple to operate and has a user interface that is rather straightforward. The more you make use of it, the more comfortable you will become with it.
However, there is one essential element that you must become familiar with from the very beginning because it is of the utmost significance: it's Merge Tags.
2. Customer Support
ConvertKit's excellent customer care, which includes both live chat and email help for all customers regardless of the plan they are on, is one of the selling advantages that the company has when positioned as an alternative to MailChimp.
In addition, ConvertKit provides free migration services from your current email provider as well as peer-to-peer assistance, limited live chat and email support on weekends, and limited live chat and email support during the week.
On the other hand, Mailchimp places a strong emphasis on its self-service assistance and provides extremely little support for its free plan as well as its lower-tier subscriptions.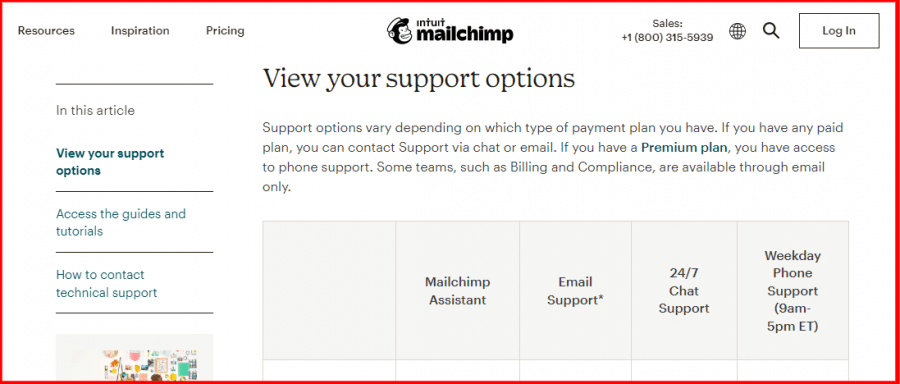 Nevertheless, for plans Essentials and higher, both email and live chat help are available around the clock.
3. Automation
ConvertKit excels at automation; it's clear that they put a lot of effort into getting it right.
With the help of their "Sequences" tool, you can quickly create an automated email workflow based on a number of actions and requirements.
The automated features in Mailchimp can sometimes look a little dated. However, with their free and lower-end plans.
It's easy to build up basic automatic flows, and more sophisticated automation is available at the other end of the pricing plans.
4. Design and Flexibility
ConvertKit provides three email design options: text-only, classic, and modern. You can use text formatting and graphics with classic and modern templates.
If you're looking for a large library of completely created graphic templates, you'll be sadly disappointed.
MailChimp provides over 100 themed themes for newsletters, event invitations, e-commerce promotions, and holiday mailings. They also feature 14 blank layouts to which you can apply your own design.
ConvertKit has never claimed to be a design-centric email marketing solution. There's a good explanation for this: their own research indicated that plain-text or simple emails performed better than design-heavy emails.
5. Landing page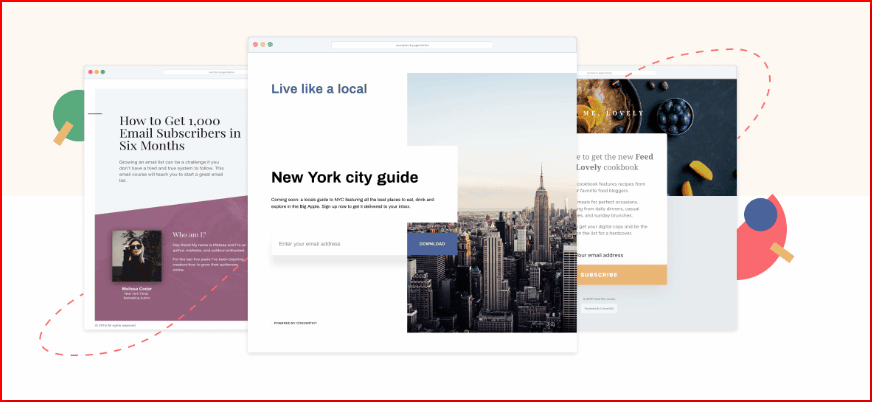 ConvertKit offers fifty landing page layouts, all of which are rather stylish.
The editor is identical to the one used to create forms, thus it is straightforward to assemble. In addition, you receive information on your website's visits, subscribers, and conversion rate.
However, as with forms, there aren't many design customization choices beyond changing colors. However, if you prefer not to utilize the ConvertKit domain, you can host the landing page on your website.
MailChimp, on the other hand, offers 10 themes, along with a couple blank layouts that can be customized. With the option to drag and drop content blocks, they also enable greater design freedom.
Fortunately, the landing page editor is much simpler to comprehend than the form editor.
6. Forms
ConvertKit provides a limitless number of responsive, customizable, and GDPR-compliant sign-up forms. It's simple to construct forms for pop-ups and newsletter sign-ups.
ConvertKit allows you to design opt-in forms for different blog categories, allowing you to notify fans when you publish new content on a similar topic to the one they're looking for.
Mailchimp also provides all major sorts of forms, such as pop-ups, sign-up forms that you can embed in your website, and hosted form URLs where users can join your mailing list.
7. List Management
ConvertKit does not support multiple mailing lists. Instead, you maintain a list box of all subscribers, which is segmented and tagged.
Users can tag subscribers depending on their activities, hobbies, and more. Those tags can be organized into segments to assist you in sending the appropriate message at the appropriate time.
Mailchimp enables you to create contact lists that are distinct from one another. This is useful if you are using the same system to manage emails for different reasons or projects.
If you wish to send the very same campaign to different lists using Mailchimp, avoiding duplicate contacts can be challenging.
8. Reporting
ConvertKit's reporting is about as simple as it gets, and I have to warn you about that even though I could be giving away who the winner of this round is.
They do not even have a specific area that is devoted to reports; rather, in order to view them, you have to navigate to the specific email or sequence in question.
MailChimp, on the other hand, provides access to what appears to be an infinite number of reports.
You not only get the standard performance reports, but also hourly performance, social analytics, opens by location, click maps, performance by domain, and eCommerce sales – it is really difficult to discover a report that they do not offer here.
Social Media Platforms
ConvertKit social media profiles
ConvertKit keeps in touch with its customers through a number of social media sites. Here is a list of some sites for social networking.
Facebook
There are currently 16,463 followers and 14,450 likes on the ConvertKit Facebook page. It discusses ideas for creating advertising networks.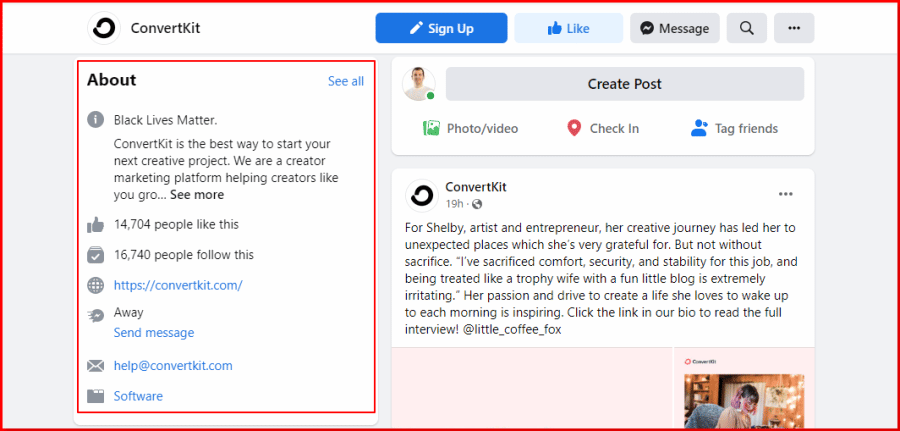 Twitter
ConvertKit Tweets facilitates the development of marketing platforms and the promotion of internet moneymaking strategies. The account has 7,005 tweets and 20,2k followers on its Twitter profile.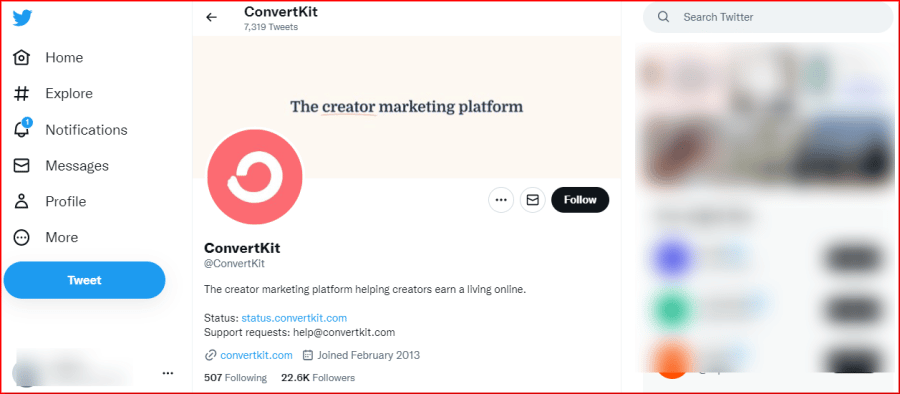 Instagram
ConvertKit has 672 posts and 19.1k followers on its Instagram profile.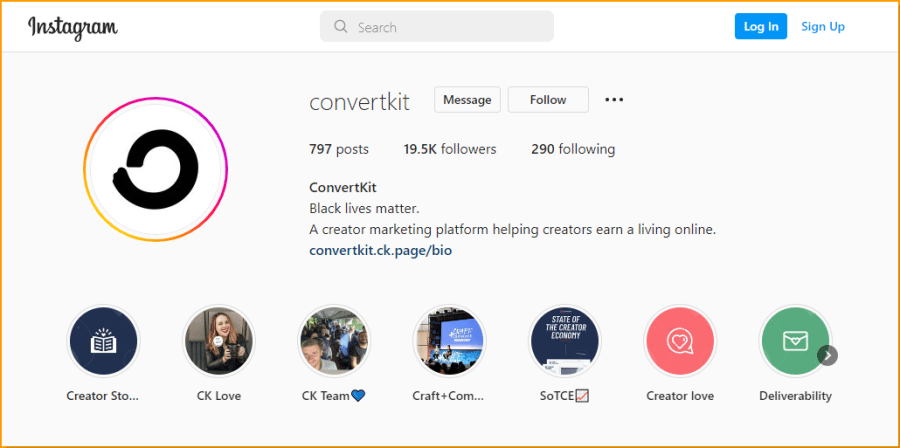 MailChimp Social Marketing profiles
Mailchimp makes use of social media marketing management tools, which simplify the process of creating and publishing your social media campaigns.
MailChimp uses a wide variety of social media platforms; some of them are listed here.
Facebook
MailChimp has410,985 likes and 493,174 people following on its Facebook page.
Twitter
MailChimp has tweeted 93.4k tweets and has 264.5 people following on its Twitter profile.
LinkedIn
MailChimp has 170,205 followers on its LinkedIn profile.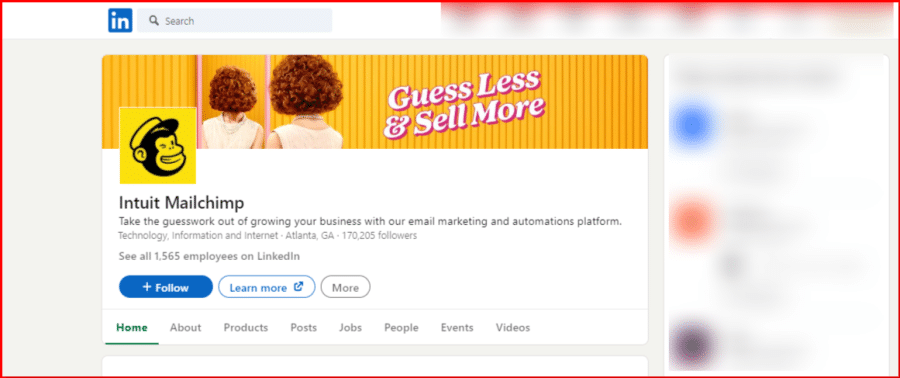 Customer Reviews and Testimonials
ConvertKit
Here is what users say about convertKit: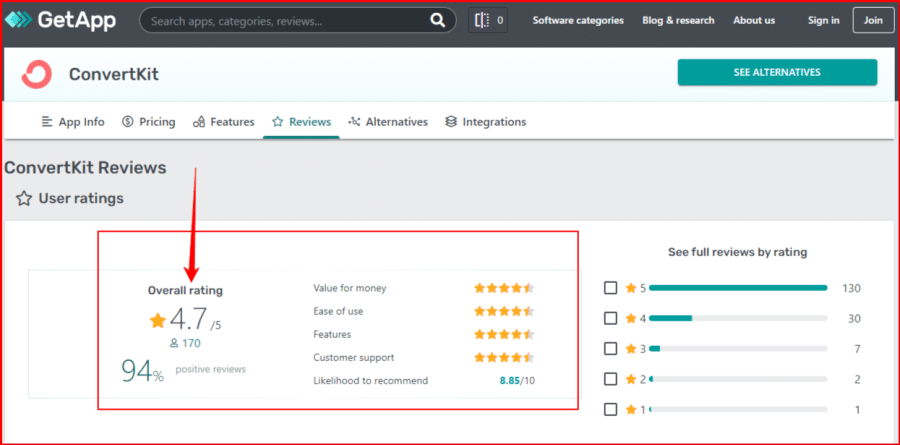 "ConvertKit has been a great way to automate our business."


What do you like best about Convertkit?


The tagging feature is really great because we've been able to keep customers separated based on purchase or what they've signed up for. This way we can better target our emails. The automations/rules was a big game changer. Through that, we've automated so much in our business, which has saved our assistant a lot of time to be doing other important tasks for us. All around an excellent product. I can't imagine running a business without it anymore.

Souce: g2
MailChimp
Here is what users say about MailChimp: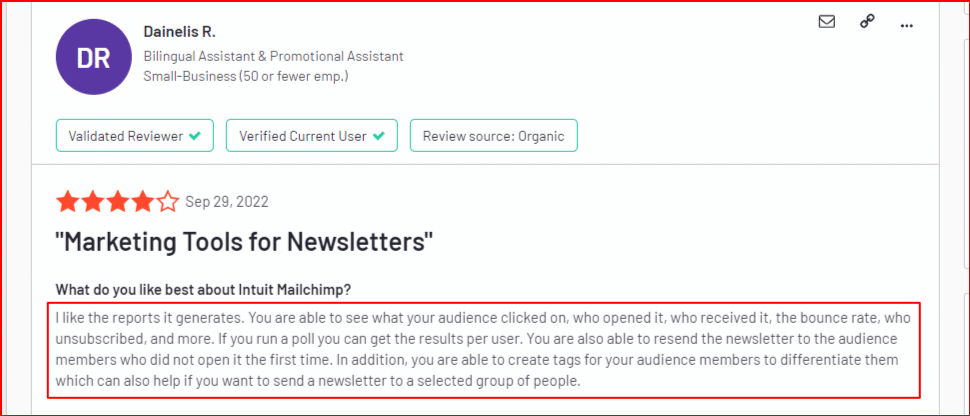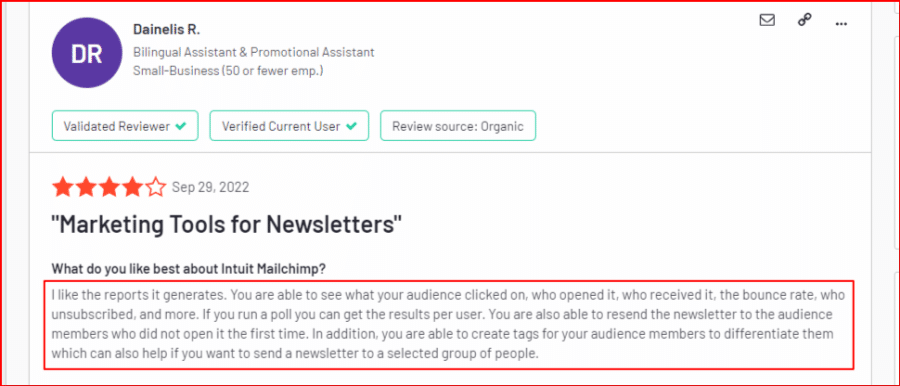 "Email Marketing Made Easy with Mailchimp"


What do you like best about Intuit Mailchimp?


Mailchimp is most helpful for building visually pleasing email designs using intuitive drag and drop layouts. Mailchimp also makes it easy to schedule campaigns for specific target audiences. The audience dashboard allows you to keep track of recent growth, engagement rates and even audience locations, which can help you target future emails more effectively. In addition, Mailchimp offers good email deliverability testing, as well as spam checks. This ensures that when one sends an email, the email won't bounce or end up in the recipient's junk folder.

Source: g2
Conclusion: ConvertKit Vs MailChimp
Neither Mailchimp nor ConvertKit is the clearly better choice for email marketing, and neither is so limited in any category that it should be excluded from usage in any campaign.
In other words: there are no "bad" choices here, so rest easy.
If you're a small business owner or first-time email marketer, ConvertKit is undoubtedly the way to go.
Its free edition gives a full range of tools for designing, sending, and automating emails to smaller audiences, and design and testing limits aren't as big of a concern with smaller campaigns.
If you're running a larger campaign and already know you're going to need a premium account, Mailchimp is likely going to provide the greater bang for your buck.
With additional connectors and better design freedom, you'll be able to personalize and grow your campaigns more easily than you would use ConvertKit.
Frequently Asked Questions
Is ConvertKit the same as Mailchimp?
All customers of ConvertKit get access to live chat and email assistance from the company, regardless of plan. While Mailchimp emphasizes self-service and offers limited support for its free or lower-tier plans, this distinguishes the email platform from Mailchimp.
Should I use ConvertKit?
For content writers, ConvertKit is an excellent email service provider. The advanced features it provides are ideal for starting and running an internet business. It's simple to use, and the customer service is top-notch.
Does ConvertKit have landing pages?
ConvertKit includes 50 landing page templates. You can view them before registering an account or by choosing "Landing Pages & Forms" on ConvertKit's site.
Is ConvertKit better than MailerLite?
MailerLite is the cheapest. It beats email templates. ConvertKit has the greatest sequences, tags, triggers, and automation for content creators and bloggers. Its simplicity and automation are great.
Does Mailchimp have a landing page builder?
Mailchimp users can create as many landing pages as they require. To get started, choose a template and use our landing page builder. The landing page builder works like our email designer with layout and content sections.
What's the difference between Mailchimp and ConvertKit?
A free plan is provided by ConvertKit and Mailchimp alike. However, Mailchimp allows you to send emails to 2000 contacts while ConvertKit's free plan forbids you from doing so. Paid plans at Mailchimp start at $10.19, while those at ConvertKit start at $29.
Does ConvertKit integrate with Mailchimp?
Using Zapier, you can automatically communicate information to ConvertKit and MailChimp without having to write any code. When a subscription is made using a particular form, this event is triggered. Always be sure you do this! Creates a new note for an existing subscriber if one already exists.
What is ConvertKit used for?
The platform for the creator's own marketing of their book. ConvertKit is the marketing center that all creators should be using since it makes it easy to expand their following and make money from it.
Can you switch from Mailchimp to ConvertKit?
To switch from MailChimp to ConvertKit, you must first register a ConvertKit account. Begin by creating a ConvertKit account. ConvertKit requests some of your information and then redirects you to the signup page. There are only a few simple actions to take.
Is ConvertKit an email host?
Nathan Barry invented ConvertKit, a full-featured email service provider (ESP). It is one of the fastest-growing email marketing companies due to its ease of use, automation, and other features. It also provides configurable sign-up forms and landing pages to help increase the number of email subscribers.