The most popular email marketing software is ConvertKit and MailerLite. In this article, we've put together all the information you need.
A comparison between ConvertKit Vs MailerLite could help you decide which is the better ESP.
Those in search of a contemporary email marketing service will be relieved to learn that both MailerLite and ConvertKit provide packages that are not only straightforward but also feature-rich.
Which option do you think is best for you? It is entirely dependent on your requirements.
Let's get started!
What is ConvertKit?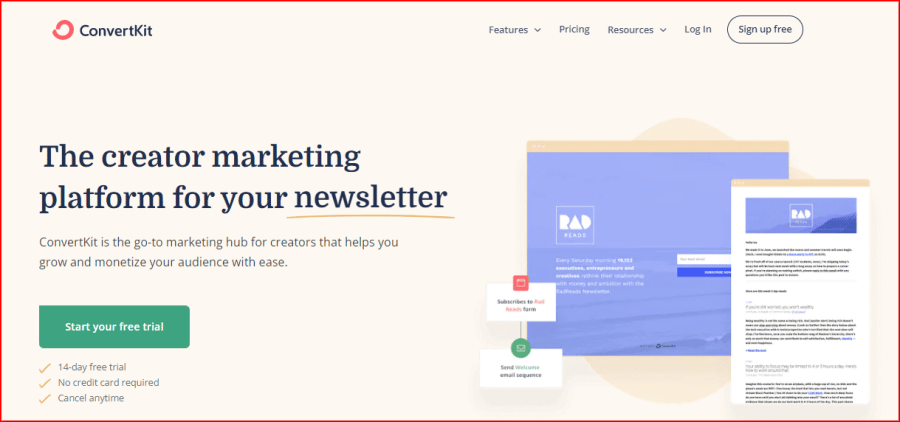 When you think of ConvertKit, you think of conversions and connections. Finding customers, turning them into fans, and earning money as content creators are all made easier with this tool.
For the most part, it's aimed at creative types and social media influencers who are looking for new ways to connect with their audiences.
Customers like travel bloggers, muralists, and even homesteader goat farmers are featured frequently on ConvertKit's blog.
ConvertKit gives you the tools you need to turn your side hustle into a full-time job, including landing page creation, subscription forms, and email marketing automation.
To learn more about ConvertKit, check out our ConvertKIt review.
What is MailerLite?
MailerLite is a tool for email marketing that more than a million people use to set up email campaigns.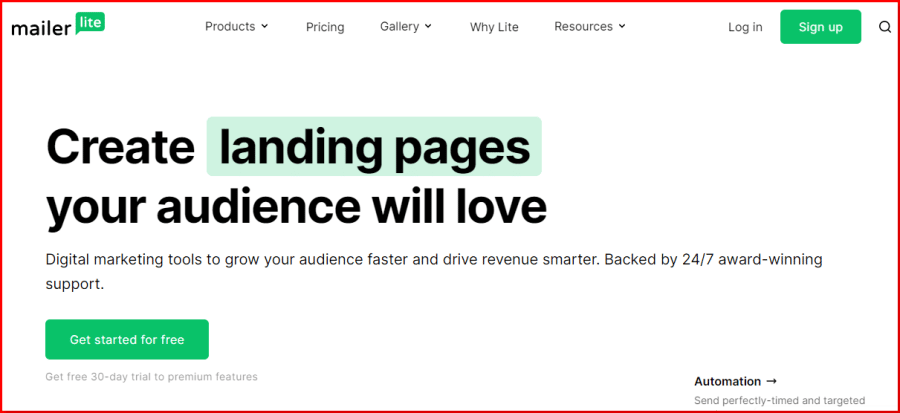 Even though it's called MailerLite, it doesn't have "lite" versions of anything. The software gives you everything you need to grow your email list and figure out how well your campaigns are doing.
It has advanced features like segmentation, A/B testing, and automated email marketing.
Its use of the word "lite" is a nod to the fact that MailerLite simplifies these complicated features so that even new users can use them.
ConvertKit Vs MailerLite: Key Differences
ConvertKit is pricier than MailerLite. In comparison to ConvertKit, MailerLite offers a lot more key features for a lower price.
More templates are available in MailerLite than in ConvertKit. Text-based templates are at the heart of ConvertKit's design.
MailerLite's email and landing page editors contain drag-and-drop features that ConvertKit does not.
Compared to ConvertKit, MailerLite has a wider range of integrations.
Compared to ConvertKit, customer service in MailerLite is superior.
Landing page templates are more plentiful in ConvertKit than in MailerLite.
ConvertKit Vs MailerLite: Pricing & Plans
ConvertKit Pricing
Mainly ConvertKit has three pricing plans.

1. Free plan: $0
2. Creator plan: $9/month
3. Creator pro plan: $25/month
The Pricing information for the ConvertKit Creator plan is as follows: If you have 1,000 subscribers. your monthly cost is $29. 3,000 paid subscribers at a cost of $49 each month A monthly cost of $79 for 5,000 customers
Convertkit's high price tag in comparison to Mailerlite may be a deterrent for certain users. The cost of using Convertkit will rise as your subscriber list expands.
MailerLite Pricing
Mainly MailerLite has four pricing plans.
1. Free plan: $0
2. Growing Business plan: $9/month
3. Advanced plan: $19/month
4. Enterprise: Custom pricing
When it comes to MailerLite Pricing, you have a few options: There is a free plan for up to 1000 subscribers and a subscription plan starting at $10 per month for 1000 subscribers that allows you to send up to 12000 emails every month.
All of the services are included, including unlimited emails each month, no matter how many subscribers you have. As your subscriber base expands, the cost per subscriber falls.
Cleaning up your email list will save you hundreds of dollars per month. Check out the ConvertKit discount if you want to save money on your desired ConvertKit package.
In terms of cost, Mailerlite is a better option than Convertkit.
ConvertKit Vs MailerLite: Features Comparision
5. Email Setting & Broadcast/campaign
1. Landing Page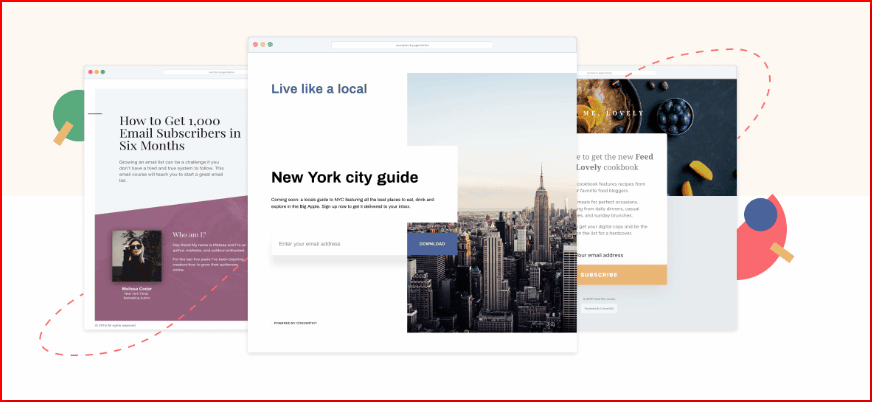 Landing page templates that are responsive and editable are provided by ConvertKit. With 53 templates to pick from.
ConvertKit has a larger selection, covering uses like coming soon, sales, course sign-ups, book launches, lead magnets, and more.
It's simple to customize; you can even use a color picker to get the ideal hue for your backgrounds and fonts.
This is a cool feature that MailerLite, incidentally, is missing that enables you to select accent colors from your preferred images and make a consistent color scheme.
ConvertKit's landing page builder has a great stock picture selection because of its interaction with Unsplash. Many high-quality, free images may be found here to liven up your design.
MailerLite offers 14 responsive landing page templates for blog promotion, webinars, coming soon, and more.
MailerLite's drag-and-drop landing page builder lets you construct from scratch. Like their email editor, you simply drag blocks into place and edit them.
If you're used to loads of customizing options, the landing page editor may feel clumsy. You can only drag things to specified regions. Choose a template you like and fill it with your own content.
2. Segmentation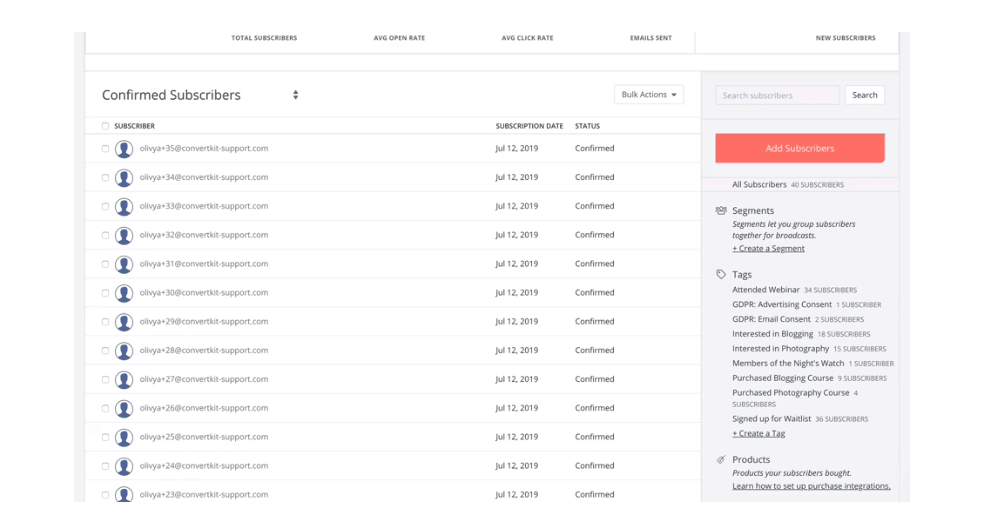 ConvertKit uses tags and segments to group a single subscriber list.
ConverKit allows custom subscriber tags, unlike MailerLite. Automatically assigned based on a subscriber's actions. If someone buys something, you might tag them as a 'customer' This provides you contact freedom.
ConvertKit's straightforward filtering feature makes it easy to find tagged contacts. Tags, custom form fields, location, prior purchases, gender, and more can filter your search.
MailerLite lets you establish audience groups and allocate new subscribers depending on their subscription form. This helps you keep track of who's interested in what if you have various landing pages for different products.
MailerLite's tagging feature lets you divide subscribers into numerous groups. You can also categorize your list depending on client inactivity or email open rates.
3. Ease Of Use
ConvertKit's usability rivals MailerLite's. Its interface is simpler, with fewer menus. I'll explain how the email editors vary later, as ConvertKit is harder to master.
It lacks email templates, therefore you must develop many of them yourself. HTML and CSS experts will have more customizing options.
The editor isn't drag-and-drop. Not tough, but harder to start.
MailerLite's objective is to offer minimal, powerful features, and they deliver. The email provider has a tidy, labeled interface. Beginners can easily navigate, analyze reports, and manage subscribers.
The main dashboard shows campaign information and subscriber growth. This makes it easier to scan important data.
Drag-and-drop editor for emails and landing pages. This makes sense. Drag and drop the element you want on the page.
4. Automation
The ability to create automatic emails without leaving the workflow designer to compose a new email is one of ConvertKit's most notable features.
As a result, campaigns can be swiftly built while maintaining a clear understanding of where each email fits into the entire pipeline.
A straightforward workflow builder is offered by both MailerLite and ConvertKit for building email pipelines that advance prospects through your sales funnel.
For this function, MailerLite offers a drag-and-drop automation interface.
5. Email Setting & Broadcast
ConvertKit is a tool that is simple to use and efficient in completing tasks in the least amount of time. Emails are neat and quite simple to use.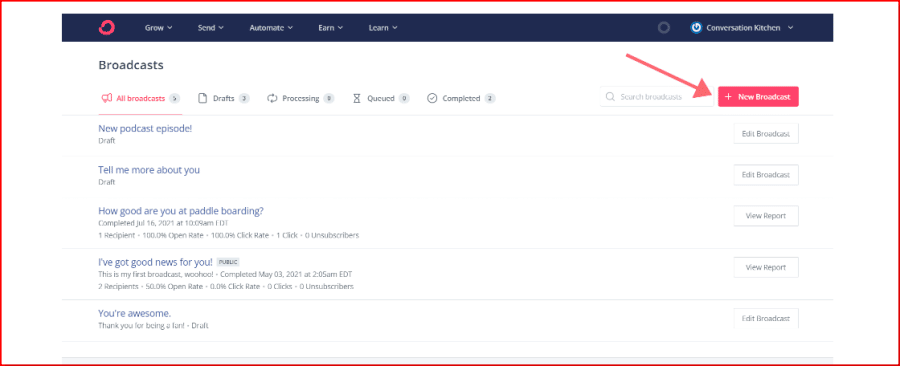 It's simple to include links in emails, and you can easily tag recipients who click on links within the broadcast.
More email format options are available at MailerLite. If you appreciate having pictures and other attractive content in your emails, their drop and drag features are fantastic.
6. Email Templates and Editor
ConvertKit's inline styling options make editing clutter-free. You can add items by clicking the "+" button next to each text line. Like MailerLite, you may use blocks to compose emails.
Images, files, quotes, videos, links, dividers, and customer names and locations are examples. Instead of dragging and dropping, add them to each line.
You can add content blocks, but not videos, or change font and color. You can keep logos in your picture library for quick access.
MailerLite's email editor is drag-and-drop and has rich text. You can also customize your email's HTML markup.
Create email content using pre-built blocks. Video, social network links (Instagram, Facebook, Twitter), and dynamic content are included. The latter includes personalized name fields, pre-header text, and subject lines.
It's also feasible to specify which consumers can read your dynamic content block so that you can send the identical email blast to all your subscribers, and the block will immediately update to reflect the right content for the individual recipient.
7. Integration
ConvertKit features approximately 90 integrations, such as Shopify, Stripe, WooCommerce, SumoMe, ConvertPlug, Wix, WordPress, and other well-known platforms.
It is also compatible with Zapier, which opens up a plethora of additional choices. Surprisingly, it does not integrate with any major CRMs.
Its website mentions "integrations" that are not completely seamless: the HTML code must be copied and pasted.
MailerLite also offers other integration possibilities, including Shopify, WordPress, and Zapier. It provides access to the developer API, allowing you to use it with other applications.
8. Reporting
The reporting provided by ConvertKit is really primary, including only click rates, open rates, and unsubscribes. In addition, you need to inspect the statistics for each email as there is no dashboard that displays your entire statistics.
MailerLite does not provide statistics for social media platforms or email clients; however, it does provide information regarding openings, clicks, unsubscribes, and devices.
Shopify and WooCommerce both allow you to monitor your customer's purchase history.
9. Campaigns
You will need to click on the Broadcast tab, followed by the New Broadcast tab, in order to send a campaign through Convertkit.
You have the option of beginning the email from scratch or using a template to guide you. Although it is not quite as user-friendly as Mailerlite, it does become less difficult to use after some practice.
To create a campaign using Mailerlite, select Campaign from the menu bar, and then select Create Campaign from the submenu that appears.
You have the option of selecting a template that has already been prepared, or you may go with a blank one to start from scratch. The visual nature of the builder makes it very simple and straightforward to use.
ConvertKit Vs MailerLite: Customer Support
ConvertKit offers email and lives chat support should you get lost or require assistance setting up your new email marketing and automation software.
Live workshops are also available through ConvertKit, where attendees can master the system and how to maximize their email marketing approach in just a few hours.
Prior to joining up, you can have a conversation with ConvertKit's support team to find out what it would take to fully commit to the platform.
Further, the company provides a frequently asked questions (FAQ) part and a knowledge base from which you can draw answers. Alternatively, you can reach out through your preferred social media platforms.
Live chat is available between 7 a.m. and 6 p.m., whereas MailerLite offers help around the clock. Comparatively, MailerLite is more helpful. Get help with any learning curves via email, live chat, and a comprehensive wiki.
Over thirty videos and a written manual are provided in this resource.
MailerLite is available 24/7, but ConvertKit has limited hours. Please note that while the free plan offers 24/7 email help, premium users have access to live chat service.
In most cases, though, either option will provide sufficient backing.
Conclusion
MailerLite's free plan may be appropriate for smaller subscriber bases.
Your choice may depend on other aspects. MailerLite has a drag-and-drop email editor and media library. ConvertKit has fewer templates and better reporting.
If granular customization is important to you, ConvertKit is the best platform.
What email marketing automation tool interests you? ConvertKit or MailerLite?
Frequently Asked Questions
Is MailerLite better than ConvertKit?
MailerLite and ConvertKit can create GDPR-compliant landing pages and forms (even without a website). Both have simple slide-in, pop-up, and embedded forms. MailerLite lets you customize forms.
Is ConvertKit any good?
For content producers, ConvertKit is a fantastic email service provider. It provides a wealth of cutting-edge features that can be used to develop an online business. It's simple to use, and the assistance is excellent as well.
Does ConvertKit have CRM?
In HubSpot CRM, you can automate your sales pipeline, monitor deal flow, and sync contact data. ConvertKit lets you collect leads, start automatic emails, and automate your email marketing.
Who uses ConvertKit?
The United States and the Health, Wellness, and Fitness sector have the highest concentrations of businesses using ConvertKit. Businesses with 1 to 10 employees and a revenue of 0 to 1 million dollars are most likely to adopt ConvertKit.
What is MailerLite used for?
For companies of all sizes, MailerLite serves as a website builder and email marketing tool. Simplicity is the main principle of MailerLite. We offer simple and user-friendly tools to our customers, including a website builder, a drag-and-drop email editor, and an easy subscriber management interface.
What is MailerLite used for?
MailerLite is a website builder and email marketing solution for organizations of all sizes. The main concept of MailerLite is simplicity. We provide our customers simple and user-friendly features including a drag-and-drop email editor, a website builder, and an easy subscriber management interface.
Do you get an email address with MailerLite?
And when it's time for someone to choose, MailerLite delivers the signup forms and landing pages necessary to collect email addresses from subscribers. Let's convert your website's followers and visitors to subscribers!
Is there a free option for ConvertKit?
There is a free plan available for ConvertKit, but it only lasts for a month and only allows you to have up to 1,000 subscribers. For many start-ups, this is a deciding factor because they don't want to spend money on things like email advertising, etc. until they have customers.
Is ConvertKit simple to use?
You do not need any prior experience to use ConvertKit, even if you are a novice and have never developed a landing page design, campaigns, or emails of any type. ConvertKit is really simple to operate. There are examples that have already been crafted, so the only thing left for you to complete is the writing.