Looking for a boost in marketing abilities that may be combined with the greatest outcomes from using Conversion Optimization? Is that the reason you've come to check out our CXL Review?
That's what I'm going to be doing today, at least. CXL and digital marketing are becoming increasingly important in today's society, and it is time to talk about how they may assist. Conversion optimization best practices are the topic of many of its blogs.
I initially learned about this company through Discord, and I'm thrilled with the results! And I'm confident that this review will provide you with some worthwhile ideas to ponder.
CXL Review Overview
After a long time on Peep's mailing list, I wish I had taken this course sooner rather than wasting my time on Google Analytics and AdWords.
When I first started out, I didn't do a good job of keeping track of my data. Even so, you may be doing better
CXL isn't for anybody.
If you've never done any marketing before, CXL is probably not for you. To get the most out of the course, you must have a fundamental understanding of marketing.
If you're a startup entrepreneur, please don't try to study marketing yourself instead of hiring a marketing expert. CXL is just too much. As an alternative, I'd rather recommend this fantastic coaching service.
It's not for you if all you want is a certificate, even if you do earn one from this course. For those who want to master data-driven marketing, this course is for you.
I recommend this if you aren't at all tech-savvy.
If you answered yes to two or more of the following questions, you may want to rethink your investment in time and money.
cXL institute Pros and Cons
All classes are well-done
Excellent video and audio
Courses help with landing page optimization and more.
This platform has interesting tools
The technology development course is boring.
Stats is hard. The tutors start with difficult material, challenging beginners.
This tool's pricing are too high for a newbie.
CXL Reviews On G2
CXL is rated 4.7 out of 5 from 82 customers on G2. Here are some of the reviews from CXL customers.
CXL is a great platform for learning and developing yourself with the best people from all over the world. CXL has lots of different topics and mini degrees and they are much better than most of the regular universities.

Mert K
They connect knowledge seekers with the top practitioners in any discipline. Their content is top-notch as well. They gave me all the reasons to signup for another minidegree. One more valid reason to choose CXL is the supportive community. You know that you're in the company of the best and complacency (wrt learning) can never touch you 🙂

Poli Dey B
I loved that I'm able to practice everything I've learned after each lesson of each course, so I'm not only learning by watching but also applying. This boosted mg confidence with my skills and with my capabilities.

Kate G
What is growth marketing?
Growth marketing combines A/B testing, value-added blog articles, data-driven email marketing campaigns, SEO optimization, innovative ad text, and technical analyses of a user's experience with the traditional marketing paradigm.
These tactics help promote robust and sustainable growth.
Growth marketing is stochastic, which means certain strategies are random. The only way to know which path to choose is to try everything and see what sticks.
What makes a growth marketer successful?
The modern growth marketer analyzes data to determine what techniques are successful and is comfortable using all the technologies that allow for this.
The best growth marketers aren't afraid to come up with new ideas. They never say, "It's never been done before, so why bother?"
Growth marketers must be versatile. You could be making a video, optimizing ad copy, executing an A/B test, or coding on any given day. The more skills you have, the more you can contribute to a company.
Growth marketers who are good at their jobs know that a failed experiment is not always a bad thing. In fact, failure is the fastest way to learn something valuable.
CXL courses on growth marketing
I found CXL to be a better option for beginners than Google Academy.
They charge a hefty fee for an All-Access Pass that some could consider an opportunity cost.
Teachers at CXL are often excellent at both their work and teaching.
Some (1–2) professors are excellent at what they do, but I didn't enjoy learning from them because of the way they taught.
The Certificate requirements should be known prior to sign up. CXL places a high value on a well-rounded education.
And I've taken more than 60 courses, some costing $1500 and others gratis, throughout the years. To pass, you must correctly answer 90 percent of the questions.
However, it's one of the greatest courses available. The videos are really well-edited and brief, so there is no rambling in them. As a result of the training I've received at work, I've been continuously able to wow my coworkers simply by putting what I've learned into practice.
You may search the transcript of each video. To help students get started, most lectures include pre-made PowerPoint presentations and a wealth of templates and resources they can download and use right away.
There are no holds barred when it comes to the knowledge that the professors are willing to provide.
Is This growth marketing program right for you?
This program is a good fit for:
Marketers who want to focus their efforts on a certain area of expertise.
One who is an aspiring member of growth teams.
Those in the field of user experience designers who are interested in honing their data analysis skills.
It doesn't matter if you work in e-commerce, SaaS, or B2B; the skills you learn here may be applied anywhere.
Participants in this training will be able to go from novice to advanced growth marketers. As well as technical skills, being a naturally creative person is helpful. Having an interest in analytics and a desire to learn more about the world is essential.
You don't need to know how to write javascript code to be a good analyst, but if you do, you'll be a better one.
CXL Review: The Growth Marketing CXL mini degree Course
What is a CXL Mini Degree Course? A course is a component of a larger puzzle. The Minidegree is the answer to all of your questions. It's a comprehensive course that teaches you all you need to know in order to become one of the top 1% of marketers in the world.
Each of our instructors has been carefully selected and vetted before joining our team. Every educator must be the finest in the world at what they do. That's how we operate.
Let's explore some of the mini-courses offered at CXL.
Course 1: Running growth experiments
To finish up this class would take you two hours. You'll learn a great deal about the following topics:
Growth mindset
Building a growth process
User-centric marketing
Identifying and amplifying growth channels
Course 2: Data and analytics
This training lasts for a total of 28.5 hours and focuses on the following topics:
Google Analytics for beginners
Intermediate Google Analytics
Google Tag Manager for beginners
Attribution
Excel and Sheets for marketers
Course 3: Management
This management class lasts for 11 hours and covers a variety of topics, including the following:
Optimizing your marketing tech stack
Marketing strategy
Project management for marketers.
Course 4: Growth marketing foundations
To finish up this class would take you two hours. You'll learn a great deal about the following topics:
Growth mindset
Building a growth process
User-centric marketing
Identifying and amplifying growth channels
cXL pricing
Best CXL Alternatives
Below are some of the best alternatives to the Growth Marketing Minidegree by the CXL Institute.
The premium deep dive growth course that I really enjoy taking is called Reforge. I am a graduate of both the fundamental Growth Series program as well as the Advanced Growth Strategy program.
This one is structured differently from the ones that came before it: it is not terribly technical, but you will learn insanely valuable frameworks and get templates to help you flesh out the growth strategy for your firm.
The number of screen shares and technical exercises has been reduced, while the number of thought exercises and case studies has increased.
How you think about and approach growth will shift significantly as you get familiar with conceptual frameworks such as the "Acquisition Channel Matrix," micro-loops, macro-loops, and product/channel fit.
In my experience, people who are already in development leadership roles or who aspire to take leadership responsibilities would benefit the most from this.
It does not involve a great deal of hands-on work, but it will be beneficial if you want to administer a program, gain internal support for it, or move into a managerial or strategic job.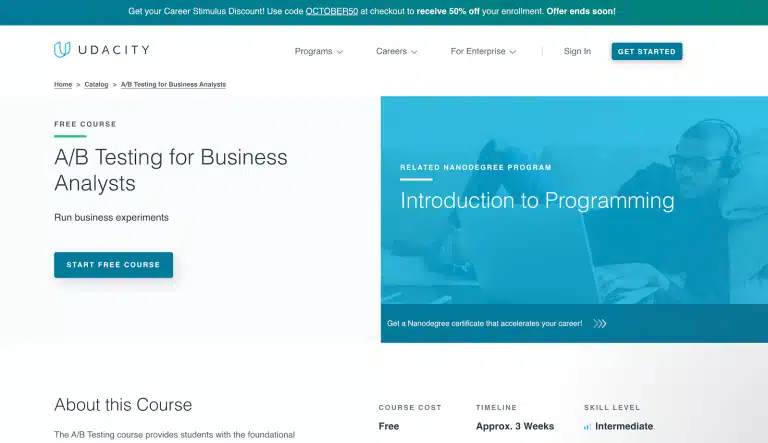 I did the Artificial Intelligence Programming with Python course and absolutely adored it.
Those are not going to be included on this list since, in my opinion, the vast majority of them are not useful for marketers, and the one that is useful for marketers appears to be quite fundamental.
Technical SEO and content are the two primary components that makeup SEO as a whole. The course that Brian Dean teaches on the different aspects of SEO that are related to content is the greatest one I've come across.
The topic of link building, as well as how to identify PR and outreach targets, how to develop content that is linkable, and how to design a content roadmap based on SEO, are all covered in this guide.
It is highly recommended that you combine this course with the one that I teach on content marketing strategy if you are serious about becoming an expert in the field of content marketing.
After completing these two courses, you will have a more in-depth understanding than most people about the processes of link building, keyword research, and other aspects of SEO and content marketing.
Final Thoughts: is cXL worth it?
Growth marketing can help you achieve greater outcomes than ad hoc marketing if you wish to carry out your actions in a methodical manner and cover all stages of the funnel.
Consider all of your options before deciding whether or not this is the appropriate path for you. Don't rush through this 12-week course, especially if you're a beginner in this industry.
I hope you enjoyed reading this CXL Review, if yes then let us know what you think about CXL courses in the comments area.
Frequently Asked Questions
What is a Minidegree?
Minidegree is the solution to the entire conundrum. You will learn all there is to know about marketing with this comprehensive training program, which will put you on the path to being one of the top one percent of marketers. Every single one of our teachers has been rigorously screened and selected by hand.
Who is Peep Laja?
Peep Laja is the successful founder of three companies: CXL, Speero, and most recently, Wynter, a platform for doing product marketing research.
Are CXL courses any good?
Yes, CXL courses offer the greatest online marketing courses and industry-recognized certifications for growth professionals, product managers, UX/UI gurus, and any other customer-focused marketer.
What does a growth marketer do?
Growth marketers are one who uses A/B testing and multivariate testing to evaluate what content different user segments see and when. They use the results to design highly optimized plans for each user segment, down to the individual level.