In this Divi vs Astra article, I will help you choose the best one for your website.
I will walk you through the process of selecting the best theme that matches your demands.
So let's get started.
Divi vs Astra Overview
Here is the overview of Divi and Astra themes.
What is Divi?
Divi is a big WordPress theme by Elegant Themes.
When it was initially presented in 2013, it was developed as a solution for adaptive website design, and it now has over 6 million installs and hundreds of content modules that allow you to effortlessly construct your website project.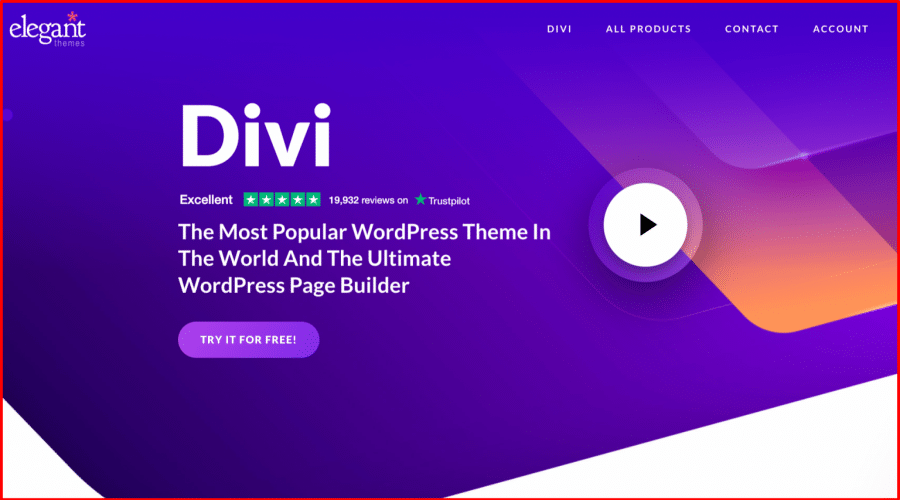 Divi, from Elegant Themes, has proven to be one of the most popular and commonly used website builders available today. Thankfully, Divi provides us with not one, but up to two possibilities that prove to make the entire process of content production delightful.
You not only gain access to all of its features, but also those that are only available with the purchase of other Elegant Themes themes, allowing you to ensure that everything is constantly up and running whenever you need it.
Furthermore, you can adjust every feature right down to individual pieces using the visual interface, which is presented in such an appealing manner that it is an incredible pleasure for folks who desire nothing more than the least amount of input work when trying anything new.
Divi is essentially a one-stop solution for website building because it includes both the (Divi) Page Builder and the WordPress block editor. This allows you to utilize any editor you choose based on your needs.
Pros & Cons Of Divi
Here are the pros & cons of the Divi theme.
| | |
| --- | --- |
| Pros | Cons |
| There are over 100 demo sites with a variety of add-ons available | When compared to Astra, it is not SEO-friendly |
| Includes an in-built page builder and a responsive design that works on any device | I also don't have any free versions available |
| A/B testing is offered with assistance 24 hours a day, seven days a week, and adequate documentation | |
| With WooCommerce compatibility, the installation process is simple | |
What is Astra?
The Astra theme, on the contrary, is just a conventional WordPress theme, which means it lacks Divi's visual, drag-and-drop page builder.
Astra is a WordPress theme with no front-end page builder. It does, however, operate with any WordPress page builder plugin, and its responsive design looks amazing on any device – you can even import examples using the Gutenberg block editor.
Users may now build their pages using a single editing interface, speeding the content creation process and duplicating the natural experience of developing any modern website.
It comes with all of the greatest features, such as numerous post formats and support for the most recent WordPress version, as well as the ability to effortlessly integrate Google Fonts, making your site more visible and user-friendly.
However, if you want the same features from both of these software programs, you're in luck! Astra and Divi are compatible with a wide range of third-party extensions.
Because Astra allows you to pick your editor, it's more customizable than Divi, which only allows you to utilize Divi Builder.
Pros & Cons Of Astra
Here are the pros & cons of the Astra theme.
| | |
| --- | --- |
| Pros | Cons |
| It also offers a free version for users to try out | It is not suitable for beginners |
| It has a Feather-like lightweight UI and is extremely SEO-friendly | It lacks its original page builder |
| It has a third-party connection as well as compatibility with all devices | It does not have any A/B testing in its features |
| WooCommerce support makes installation a breeze | |
| It also offers customer service that is available 24 hours a day, seven days a week | |
Divi vs Astra: Features Compared
Now, let's compare the features of Divi & Astra.
Divi Features
Divi has a drag-and-drop builder for posts, pages, and more, as well as real-time visual editing and custom CSS control.
The builder now includes A/B testing, and you can undo, redo, save, and change the color of a design element.
The use of responsive design ensures that your website looks nice on all devices and that the global elements and styles are preserved.
This is a fantastic WordPress theme that allows you to experiment with various picture settings, effects, and filters during the design process, as well as being WooCommerce compatible.
There are over 100 layout packs that are the most regularly utilized when developing websites, as well as WordPress theme options.
It includes a plugin and a theme, and you can use the search bar to quickly find what you're looking for without having to go through the menus.
Astra Features
Any plugin or page builder may be used with Astra, and it works well with them.
You may use Astra with your WordPress site without needing to install a page builder, thanks to Astra.
The Astra theme is SEO-friendly, WooCommerce-compatible, and allows for real-time blog post modification.
There are over 280 distinct demo sites accessible, yet it's just 50k in size. It took 0.5 seconds for the page to load. You have complete control over color, font, and other aspects of the design.
User Experience of Divi & Astra
Here are the features that improve the user experience of Divi & Astra.
Divi UX
Divi is a sophisticated WordPress theme that allows you to quickly and easily construct aesthetically appealing websites.
Users get weekly upgrades as well as the opportunity to upload their royalty-free graphics to more than 800 pre-designed themes.
Divi Builder
You may develop incredibly faultless websites in the easiest method possible with the help of pre-designed Divi templates. You might be able to accomplish this with the aid of a Visual Layout plugin.
For now, pick Visual Builder and click on Browse Layout choices after creating a web page using your WordPress account. You'll be taken to a screen called "Load from Library." Just choose the category that best fits your needs and then evaluate individual Divi pages from there.
If you like something, simply click "Use this layout" and it will be immediately applied to your page. This website has hundreds of high-quality samples for visitors to peruse so they can see what they'll get if they pay for their preferred design.
Furthermore, each sample demonstrates how easy, attractive, and helpful the theme is, making it suitable for novices who have no prior experience with website creation and hence are new to utilizing the portal.
Customization options
The Divi Builder has some very incredible capabilities that allow you to alter individual modules and the overall look of your project based on the type of content it includes.

You may make all kinds of modifications to your website without touching a single line of code thanks to separate pages for altering logos, advertisements, articles, page navigation, colors, and even mod icons.
You can flip between your selections like never before using tabs and toggle bars, eliminating the need for clumsy back-and-forth scrolling between separate panels. Anyone with an interest may study and grow acquainted with the builder's easy interface.
Page templates
When it comes to Divi, there are over 100 example sites to choose from, as well as over 1,000+ page designs.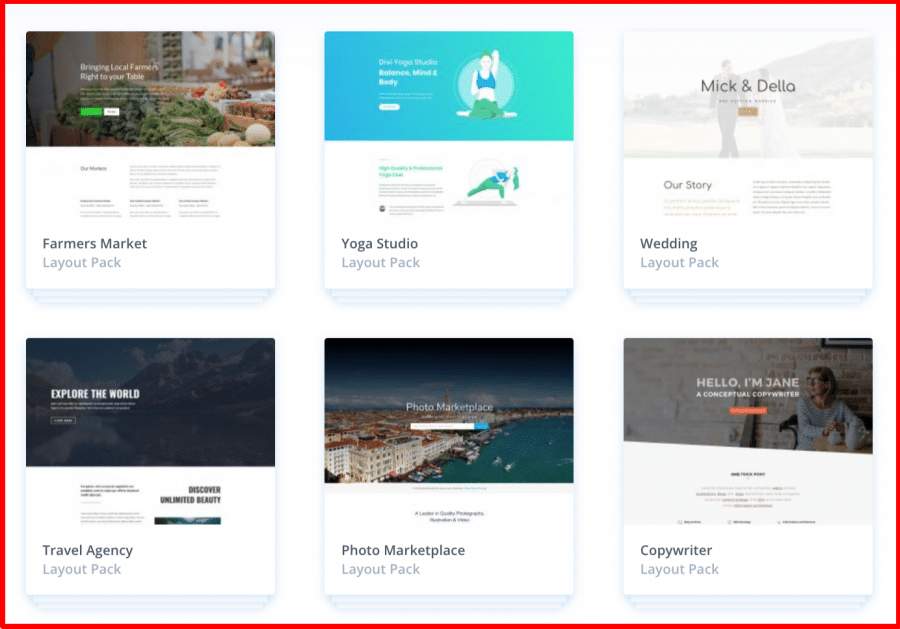 These templates are organized into 13 categories so that you may discover what you're searching for in one of our pre-made layouts rather than wasting time creating one from start.
One of the most appealing features of this theme is that each product includes comprehensive documentation and specs for users, as well as demo websites and supplementary material, so you can always try out a new design by just clicking a few clicks.
Astra UX
You won't have to worry about Astra's built-in models while it's part of your app development process because they're rather good.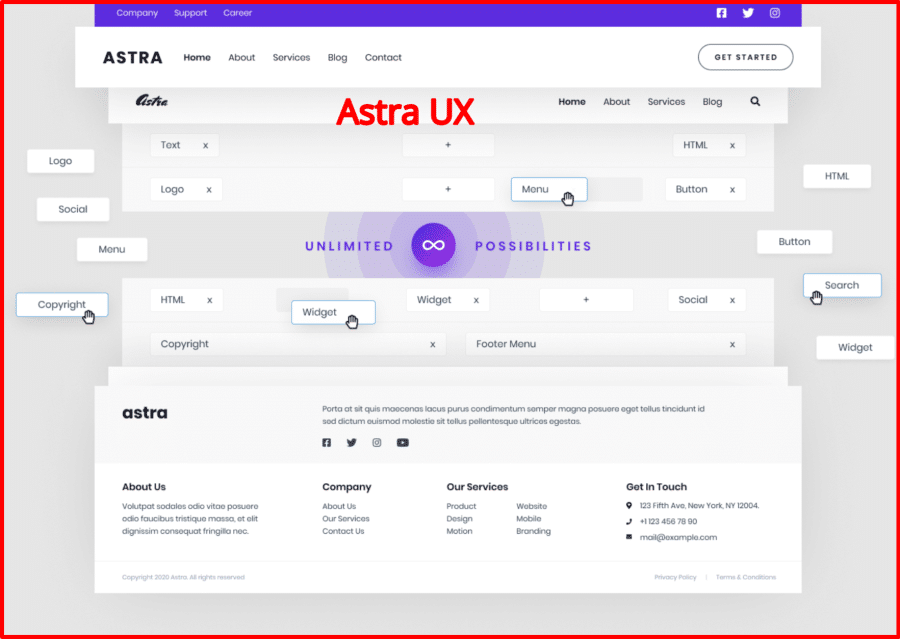 Your app's and company's users will fall in love with each other.
Astra Templates
Astra offers you the option of using any of the pre-made templates available. Above everything, what makes these templates valuable is that they are properly optimized for conversions.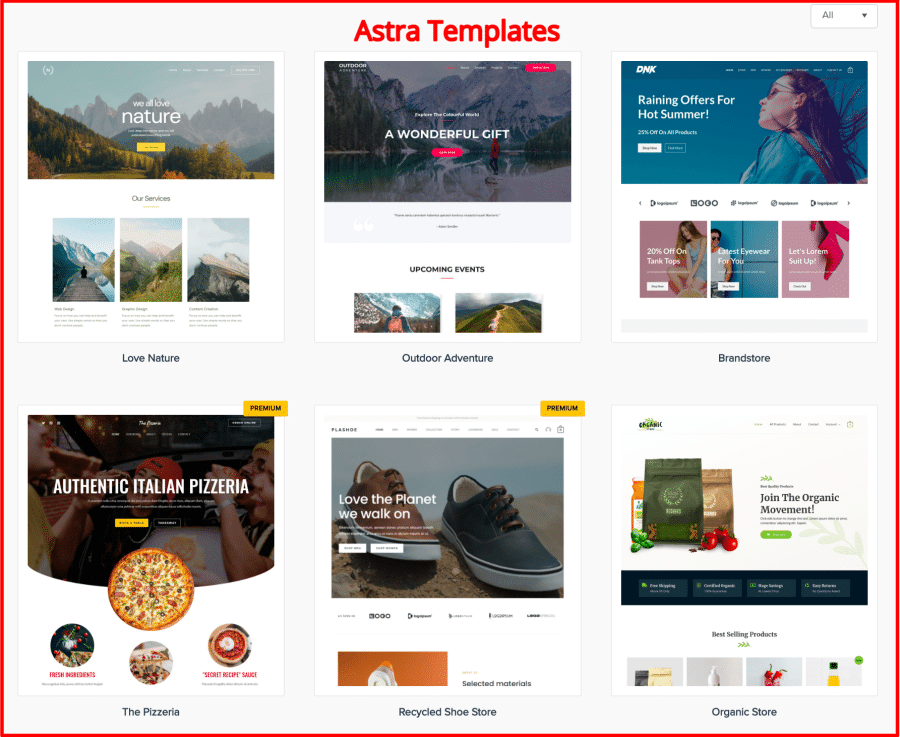 To begin utilizing these templates, you must first install a Starter Template plugin from your Astra site dashboard's Appearance page. The next step is to activate this plugin and then navigate to the Appearance page on your dashboard.
Once there, choose the necessary and greatest suite page builder. The next step is to select a pre-made template and then click "Import Complete Site."
Customization options
The customization possibilities in Astra are influenced by the page builder you select.
It implies that using Gutenberg allows you to utilize Gutenberg modifications and using Elementor allows you to use Elementor customization choices.
You may utilize basic modification options in the Astra look area. The WordPress default customizer is the best method to customize Astra. The Astra theme is also customizer-enabled.
verdict
Divi is the clear victor when it comes to beginner-friendly websites and layouts because it provides more than 1100 pre-designed templates.
Furthermore, one of the cool things about Divi is that the modules arrive completely constructed, which means you can simply drag and drop the module where you want.
All of this, along with Module Customizer, Theme Customizer, theme options, and theme builder, provides you with additional customization choices.
Divi Vs Astra – Page Builder Comparison
Both of the WordPress themes we're introducing today are fully customizable, with drag-and-drop layout possibilities.
The page-building tools may be used to amend or even create new blog articles with either theme's page-building capabilities, which have a variety of distinct ways that both provide.
Divi Page Builder
The page builder is included in the base Divi purchase, but it is also available as a separate plugin for usage on other WordPress sites. Divi offers a WYSIWYG Page Builder that allows you to arrange content blocks in columns and rows by dragging and dropping them.
Divi makes page development simple and fast without compromising quality or style by utilising hand-picked components (including the all-new responsive video block), limitless nesting, and our most customisable interface to date.
While developing your website, you may make modifications to the front end using the page builder. It also allows you to preview the changes without having to navigate between sections or pages.
Furthermore, with extensive features integrated into the platform, transitioning between backend and frontend displays for editing has never been easier.
Astra Page Builder
Although Astra does not provide page builders, it does contain the most popular WordPress page builders. By dragging and dropping widgets or parts, you can simply customize Astra example sites using these stunning layouts.
Along with all of its premium site choices, it also has unique features to customize. Astra's customizer allows users to store their modifications as draughts and then take appropriate action on the changes when they are ready.
Astra users may entirely personalize their websites using this feature, which is available in the Appearance part of the dashboard and includes elements like Header Menus, Site Titles, taglines, and more.
Divi vs Astra Design
When it comes to picking the appropriate ready-made design theme, entrepreneurs looking to establish a website from scratch as well as small firms currently open for business have numerous possibilities. Astra and Divi are two well-known site templates with contemporary styles.
Both themes have a large range of hundreds of design possibilities that may be readily imported with a single click.
These websites are not only tested to be compatible with all major themes but are also designed to be responsive. For starters, no scripting is required to create these layouts, with the opportunity to quickly make the necessary tweaks for mobile displays.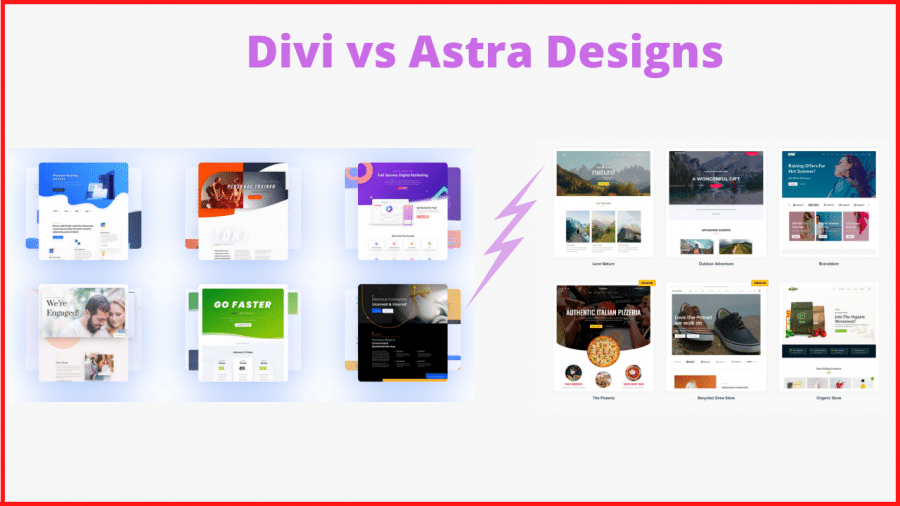 Divi Design
Divi is a highly responsive WordPress theme with various unique features and strong support options. Every layout, whether for mobile, tablet, or laptop, provides editable page designs, such as the default, left-sidebar, and right-sidebar layouts.
You may switch between these layouts using its built-in option, which allows you to simply change any design parameters connected to its responsiveness, such as adjusting the font size of the title, changing the fake text for menu items, etc.,
if you feel that anything has to be adjusted. It's incredibly adaptable and gives developers a lot of control over the appearance of their site when modifying their design settings, as well as the ability to switch between numerous different sorts of visual styles.
Astra Design
As previously said, Astra is responsive by default and is well-integrated with some of the most popular page builders. It adjusts to any device, allowing users to effortlessly navigate your material.
Because the theme is tightly linked with several of the most popular page builder plugins, settings are always accessible via the WordPress customizer.
These settings are simple to use and are available at 544px for tablets and 921px for phones, resulting in a pleasant reading experience that may be further modified using visual choices from inside your custom settings.
verdict
Both of the above-mentioned themes, Divi and Astra, are incredible and strong WordPress themes that are both creative and adaptable.
They are also responsive and can be tailored to any device. If you want to ensure that your users always have the greatest experience possible, we recommend using one of these themes to assist you in your navigation adventure.
Performance of Divi vs Astra
When it comes to speed, there is almost no competition between the two because Astra is far ahead of its competitor.
When we look at the initial blueprints of both systems, we notice that they are nearly identical. Indeed, as you proceed through your purchase journey, you will realize that there are few distinctions between them and that, other than that, they are nearly comparable in this regard.
If you want to keep things simple and would rather save money rather than hire a designer for something you could probably construct on your own, Divi may be the right solution for you.
Price Comparison Of Divi & Astra
Now, let's compare the pricing structure of the Divi & Astra theme.
Divi Pricing Plan
Divi is available in two packages, each of which includes all of the functionality, customer support, and a wide range of themes. The following are the two packages: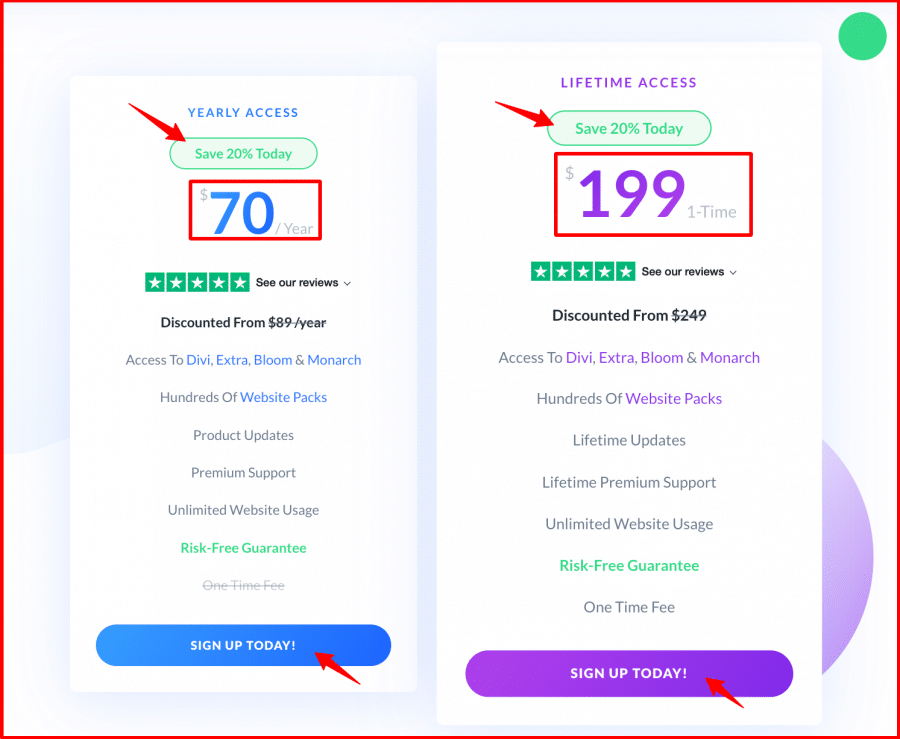 Yearly Access- For $89, you get access to all of the features, customer support, and future Divi theme upgrades for a year.
Lifetime Access- For $249, users have access to all of Divi's features, upgrades, and support for the rest of their life. The majority of clients like this package since it provides a one-time payment option that is perfect for most organizations and can be used externally with no further expenses.
Even while purchasing the annual access option allows you to continue using Divi, it is not recommended. This is because any security issues discovered in future upgrades might cause you trouble if you are unclear on how to proceed.
Furthermore, by selecting the Lifetime Access plan today, you'll be able to take advantage of continuous feature upgrades, and for only $249, you'll have access to all future versions of this theme as well as any other Elegant Themes products, making Divi a more cost-effective purchase.
For individuals who are undecided about spending this much money on a product that will last a lifetime. Divi themes considered these as well, offering a 30-day money-back guarantee to let you choose whether or not this product is perfect for you.
Astra Pricing Plan
Astra provides a free plan as well as improved ones at reasonable rates. As previously said, if your demands alter or develop, you can easily move to another plan. Astra's pricing is determined by the number of users in each package.
Astra pro plan- It costs $47 annually or $249 to buy outright. Pro-level features like extra layouts, white labeling, and even support for the WooCommerce shopping cart plugin are accessible with these plans. This is only a sampling of what is available; you may also want to consult the Astra user guide.
Astra Mini agency bundle- It costs $169 annually or $499 to buy outright. This plan includes premium Builder, Elementor, and WooCommerce add-ons, as well as access to premium Builder, Elementor, and WooCommerce add-ons.
Astra Agency bundle- It costs $249 annually or $699 to buy outright. The Astra Agency provides you access to premium Builder and Elementor add-ons, as well as a WP portfolio and WordPress options panel, which allows you to touch up your app faster by integrating your favorite features into a single UI edit.
Depending on your pricing tier, you will receive a website startup package. You will receive support and updates as an end-user of our platform until your membership expires.
Your website will be fully mobile and desktop compatible, with a 14-day money-back guarantee if you have any problems with the software.
Divi Theme vs Astra: Money Back options
Both the Divi and the Astra themes provide a hassle-free shopping experience for their customers.
Customers may thoroughly try the themes and learn how they work without fear of losing money if no one likes them.
Each company gives a money-back promise to its consumers; in fact, Divi offers a 30-day guarantee, whereas Astra users only have 14 days to return the plugin under these circumstances.
Licenses
Every year, it is customary to refresh one's WordPress classic theme.
Both Astra and Divi's yearly plans include lifetime upgrades, customer support, and new items and features that were introduced to active licensing in the previous year.
After the first year, the licensing for these WordPress themes is renewable, and users may select between different renewals and the standard one-time renewal.
Final Thoughts On Divi Vs Astra
In comparing Divi and Astra, we can see that while the themes are extremely different, they are fairly similar in terms of application.
So, in order to analyze their commonalities, allow me to point out a few of them in front of you.
Astra and Divi both come with a wide number of pre-built website layouts.
Both enable you to alter the look of your website in real-time and offer you access to hundreds of design components, allowing you to construct one-of-a-kind websites with practically limitless customization choices.
So, after considering all of the factors described above, we can conclude that Divi is the best option for getting things done swiftly and easily. However, if you like to do everything on your own, Astra is the way to go.
Frequently Asked Questions
Is Divi better than WordPress?
When it comes to the design and style possibilities available, Divi and Elementor are two of the top WordPress page builder plugins. However, both provide more design and style possibilities than the ordinary WordPress page builder plugin.
Is Astra faster than Divi?
Overall, it's clear that Astra is faster than Divi on her own. Astra has much faster load times and a smaller page size than Divi.
What Page Builder does Astra use?
One feature that sets Astra apart from other themes is its built-in support for popular WordPress page builders. WPBakery Page Builder (previously Visual Composer), Beaver Builder, Thrive Architect, Elementor, Divi Builder, Brizy, and Gutenberg are just a few of the page builders that it works well with.
Is the Astra theme good for blogs?
For two key reasons, Astra is an excellent foundation for your blog: It uses the easy, code-free WordPress Customizer to provide you a beginner-friendly way to alter the look of your blog. It's well-coded and lightweight, so your blog will load quickly and you won't have any problems.
Does Astra work with Elementor?
Astra is one of the few Elementor 3.0 Theme Builder themes that is fully compatible. You can virtually customize any component of your website using Astra and Elementor Pro 3.0 Theme Builder, including the header, footer, blog templates, dynamic pages, and more!
Is Astra theme mobile friendly?
Astra offers numerous options for making your WordPress site mobile-friendly. You can vary the size of your typography depending on the device, set breakpoints (widths that cause the site's layout to change), and change the header for mobile devices.
Does Astra work with WooCommerce?
WooCommerce and Astra work well together. All WooCommerce elements adapt to the rest of your Astra-powered website and use the theme customizer settings for colors and fonts out of the box.
Can I use Divi without WordPress?
Divi does not replace WordPress' functionality; rather, it enhances it and makes it easier to use. Divi is an Elegant Themes premium product that must be purchased through their website. Aside from Divi, there are a lot of other WordPress website builders to choose from.
Is Divi a website builder?
Divi is a website design framework, not just a page builder.