I finally got to try DropFunnels. Here's my DropFunnels review.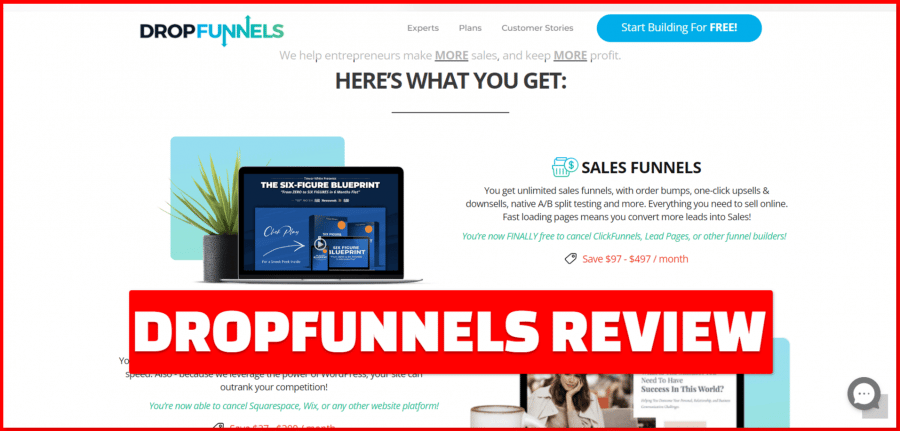 As online shopping gets more popular and competition intensifies, you need a sales funnel that attracts potential clients.
To do this effectively, you need a landing page for new visitors and helpful material throughout each phase to keep their interest.
WordPress is used by 43% of the internet, thus using a huge CMS makes sense. DropFunnels is better.
DropFunnels Review: Overview
DropFunnels is a sales funnel builder that combines marketing, website creation, and SEO.
The platform was designed by Jordan Medirich, who knows how important it is for your business to rank higher on Google searches so you don't get lost among competitors with poor SEO practices like network advertising or overpriced software engineering services.
DropFunnels features allow entrepreneurs to do just that.
Drop Funnels is a WordPress-based funnel builder that includes SEO and site speed. Other programs lacked this functionality, so I switched.
DropFunnels' 90 drag-and-drop modules make funnel creation easy and enjoyable. You can construct the perfect sales funnel for your company with a little inventiveness.
What do you get?
High-performance pages
A content-publishing and content-marketing blog
SEO-focused foundation for free organic traffic
All-inclusive (funnels, memberships, courses, etc.)
All the tools you need (nearly)
DropFunnels Pros & Cons
It creates limitless pages and sales funnels
It is a powerful user-friendly builder
They provide a risk-free, 30-day trial period
It can be used to create webpages
DropFunnels includes link tracking
Unlimited mobile-friendly pages
It does not allow external plugins
Pre-built templates are limited
Is DropFunnels Right For You?
When you are considering your options for a platform to develop funnels, it might be difficult to pinpoint the distinctions between the leading competitors, let alone newer products such as DropFunnels.
DropFunnels is the tool to use if you want to establish a website and an online sales funnel on the same domain without having to deal with the typical hassles and complications that are associated with doing so.
This requires the ability to construct the fundamental pages of a website, produce specialized pages as part of a sales funnel, host paywalled material, regularly write articles within a blog, and optimize everything for a search engine such as Google.
DropFunnels Dashboard Overview
All-in-one dashboard platforms are rare. Some are in panel internet marketing system, but not all.
DropFunnels isn't just ad software. It includes media libraries, blog postings, and website construction with a full-fledged editor for easy customization.
The dashboard allows for easy uploads and pages on demand. Key features of this software include media uploads, pages, an SEO tool, blog postings, and a website editor.
DropFunnels provides an easy-to-use dashboard for managing accounts and tracking tasks.
This tool is ideal for freelancers and small business owners who want access from anywhere, at any time.
The dashboard provides simple access to DropFunnels' tools and keeps them organized.
Its eye-catching style makes it ideal for anyone who wants a quick reference for a project or situation.
What Are The Features Of DropFunnels?
Let's find out some of the amazing features of DropFunnels that you need to know?
Unlimited sales funnels
DropFunnels builds websites using WordPress' Beaver Builder. You can access design and SEO functions without leaving the platform, which also provides drag-and-drop functionality.
Customization sets this software apart from others. This includes using sections and segments based on Beaver Builder instructions, but with additional functionality. Easy-to-make pieces and segments.
The Beaver Builder has been carefully built so you may create customized website layouts or apps without coding skills.
Innovative builders' modification makes the software genuinely distinctive. Drop Funnels is familiar to WordPress users.
Unlimited blog posts
Free organic traffic? With a focused blog and original material, this strong platform will boost your keyword rankings.
DropFunnels lets you establish a funnel-linked blog. A WordPress-based website will be straightforward to set up in the company's niche.
The more specialized your goods, the better your Google and Bing rankings. Building a site around it will enhance organic traffic for sites in that topic area, providing valuable content and building customer confidence.
If you don't have time or know-how to make blogs, there's a simple solution. DropFunnels provides helpful training films that teach even inexperienced authors how to launch successful blogs.
Unlimited courses and membership sites
With Drop Funnels, you can design your own online course or membership site and manage fewer tools.
This platform's limitless pages allow you to sell any goods or service safely through a simple interface and well-designed templates that generate email campaigns for website signups.
DropFunnels has no page limits, so when you have a new idea, all alternatives are available.
DropFunnels SEO tool
DropFunnels' SEO tool is straightforward and well-integrated. This can help you maximize SEO and uncover areas for improvement.
Disorganized and slow SEO tools are common. DropFunnels' SEO tool works as advertised, so you should use it.
You may have relied on your SEO understanding and program suggestions. DropFunnels ensures content is Google-compliant.
It indicates it has a better probability of ranking first than its competitors, who would need an experienced professional just as much or more depending on how aggressively they want to rank first.
The tool comes with categories to set every vital component, including keywords, something few other applications offer today thanks to high-quality research from credible sources.
DropFunnels link tracker
DropFunnels' in-house link tracker lets you check link performance. With this tool, I can check for campaign faults without returning to my main dashboard.
DropFunnels tracks link clicks. You can use a funnel builder with tracking. This handy pane lets you track interaction, clicks, and conversions for each.
This tool allows you more control over ad strategy and content. You can also improve your campaigns by deciding which aspects they don't like to attract those specific groups.
This helps us improve depending on test results with different audiences across platforms.
DropFunnels pricing plans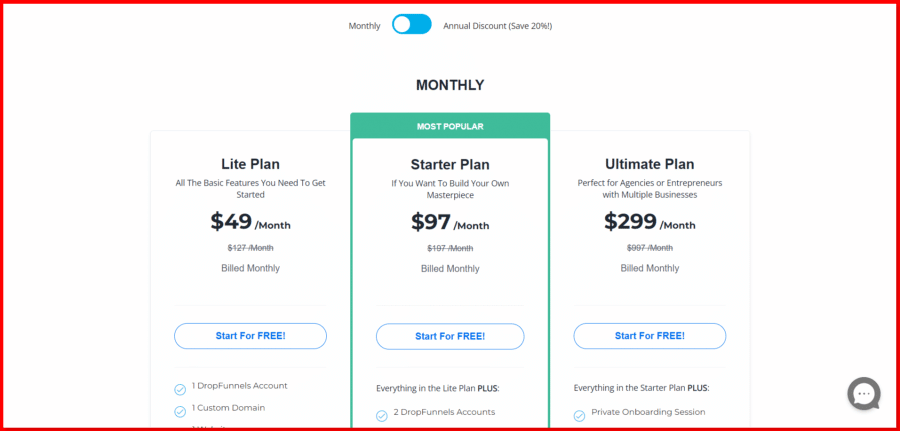 DropFunnels has three price tiers. All have a 14-day free trial so you can experience them before buying. This removes risk, which is perfect given their confidence in their product.
Drop Funnels offers a 14-day risk-free trial. Simple! You can cancel without a contract or commitment.
The Starter plan costs $49. Additionally, you receive up to 10,000 monthly visitors and 1 site.
The Pro plan costs $149. Additionally, you can have up to 5 sites and 250,000 visitors.
The Agency plan costs $297 per month and allows you to host up to 10 sites and receive up to 250,000 visitors, which is the final option.
These costs, in my opinion, are actually pretty fair given that you get a sales funnel builder, blog, link tracker, and more all in one package.
If you've never built an online business before, I suggest beginning with the Standard plan.
The higher-tier package is absolutely something to think about if your company is more well-known.
Final Thoughts On DropFunnels Review
It is quite reasonably priced, starting at $49 per month. It is also constructed using the tried-and-true WordPress framework. Additionally, you can create quick sales funnels with it, which maximizes conversions.
Even on the most basic plan, you have access to all the services, which is quite welcome.
The only significant drawback of DropFunnels is the requirement to build funnels (or websites) on many domains. The price increases significantly after that.
If not, you should sign up for DropFunnels' 14-day free trial and give it a shot. There are many positive aspects to it.
Frequently Asked Questions
Is there a DropFunnels free trial?
Yes! You may get started using DropFunnels' free trial to create your website and sales funnels without spending any money. You will then select the plan you want to purchase after your trial has ended.
How does DropFunnels work?
DropFunnels combines the ability to customize WordPress websites with sales funnels that are geared toward speed and conversion. With the same page builder, you can create both an authoritative blog and a website that will help your business stand out online. Additionally, you may draw visitors into your sales funnels after that.
Can you join DropFunnels' affiliate program?
Of course! As a DropFunnels affiliate, you can begin making a 30% commission on each paying user.
Can DropFunnels be canceled at any time?
You most definitely can! There are no contracts or commitments when you sign up with DropFunnels. You have the right to revoke your subscription whenever you choose.