If you are looking for high-quality WordPress themes, here is the answer for you.
Elegant Themes is a high-quality WordPress theme and plugin provider that offers a variety of premium themes and plugins for creating professional websites. Their themes are clean, modern, and user-friendly.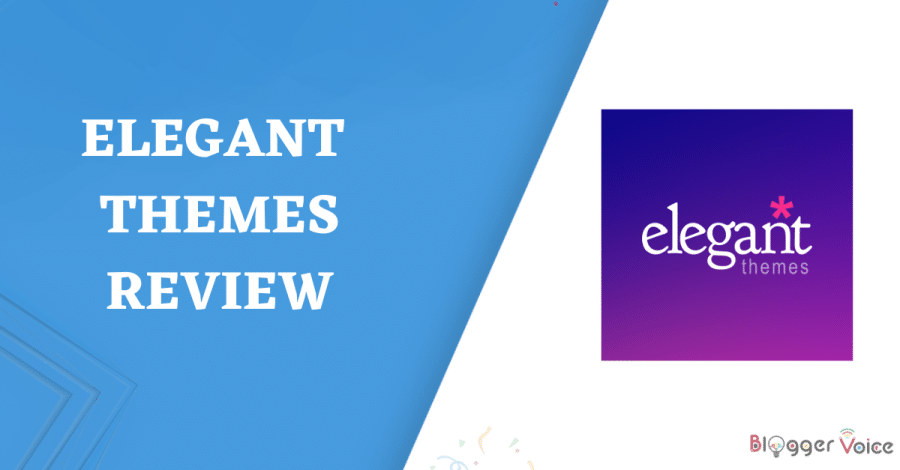 Here, in this Elegant Themes review, I've put together a comprehensive analysis that will help you to consider before investing in Elegant Themes and spending a significant amount of money on it.
So, let's get started!
Elegant Themes Overview
Elegant Themes is a well-known WordPress theme provider with a reputation for its sophisticated designs.
It is simple and elegant without any distracting animations or graphics, you may use it for a variety of purposes and it will look wonderful no matter what you put on your website.
There are currently 1,754,593 live websites utilizing Elegant Themes, in addition to an additional 52,731 sites that have historically utilized Elegant Themes.
Since each of Elegant Themes' products is designed to achieve the firm's primary objective making it simple for non-developers to construct attractive, fully customized WordPress websites—the company is well-liked by the general public.
Elegant Themes Pros & Cons
Elegant Themes has many pre-designed themes that may be customized to build a professional website.
Using Elegant Themes comes with a number of advantages, but it also has a few disadvantages. Check below!
| | |
| --- | --- |
| Pros | Cons |
| Beautiful, high-quality design templates | Limited design possibilities |
| Keep your plugins and themes up-to-date | Some templates are inflexible |
| Multiple customization options | |
| Affordable pricing options | |
| Excellent customer support | |
Elegant Themes Key Features
There are many other characteristics to look out for with Elegant Themes, which I have outlined in more depth below.
General Settings: Modify the global settings to alter the fonts and color palette. You can also manage the look and feel of your site, including the placement of prominent articles and social media buttons. The administration panel allows you to modify the theme's fundamental characteristics.
Integration Tab: To track user behavior, conversions, purchases, and more go to the Integration tab and include the appropriate tracking code for third-party services like Google Analytics or your preferred service in the header.php file.
Navigation Settings: Here you can adjust your site's navigational elements, such as drop-down menus, links, which pages are visible in the bar, and more.
Layout Settings: Modify the layout of your posts and pages by customizing the thumbnail, comment, and post information areas.
Builder Settings: The Divi Builder can be activated or deactivated in Posts, Projects, Pages, and other custom post kinds in the Builder Settings.
Ad Settings: Take charge of banner ads that haven't been digitized. You should also include some code from Google AdSense on your site.
Seo Setting: Manage your SEO preferences and see a rise in your site's search engine rankings. Adjust search engine optimization (SEO) independently for your site's landing page, individual blog posts, and index pages. Both themes have been tested with the most popular search engine optimization (SEO) plugins including Rank Math, Yoast SEO, and All-In-One SEO Pack.
Updation: For seamless theme updates whenever a new version is released, simply insert your Elegant Themes API key.
Elegant Themes Review: Unique Products
In the following sections, I have discussed standout products offered by Elegant Themes.
1. Divi Theme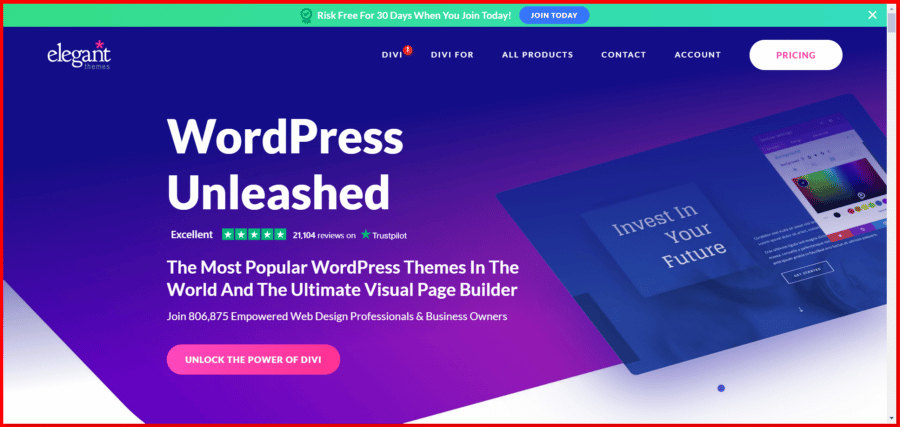 Divi is a paid WordPress theme made by Elegant Themes. It's a popular WordPress theme that can be used to start building websites. With the visual editor option, anyone, even those who don't know how to code, can make websites that are dynamic and look good.
This responsive theme can be used for a wide range of projects, and it comes with a visual drag-and-drop editor for making unique page layouts.
The theme also comes with a set of ready-made templates that can be changed. Divi is used by designers of all skill levels because it is flexible and easy to use.
Key features of the Divi theme:
Ease of use
The steep user interface learning comes with all these additional features, power, and creative freedom. Divi Builder's user experience differs from WordPress's, yet it's well-implemented.
To maximize the page builder, you'll need to change your workflow.
The Divi theme's drag-and-drop builder makes it suitable for beginners. When you utilize the Divi theme, you have access to a wide range of stunning pre-made layouts and designs.
Divi child themes, which may be added to a WordPress site, are also for sale.
Any kind of design can be constructed with no prior knowledge of programming required.
The license is reasonably priced, and it grants access to all of the developer's offerings. One can pick from over 1,900 already-created layouts.
High-Quality Content Templates
Both the Divi template library and the website builder tool are, without a doubt, two of the most notable features of this theme.
If you want to start from scratch and design a WordPress website that is completely unique to you, therefore the Divi Builder will be of the utmost importance to you.
On the other hand, for the rest of you, the which was before content templates will be a significant factor in determining whether or not you go with this particular theme for your website.
Reusable Custom Content
The Divi Builder's global modules functionality makes it easy to export any customizations to other areas of your site. These modifications apply to all modules in the system.
You have complete freedom over the updating process for your reusable assets and can even make them dynamic so that all instances may be updated with a single click.
2. Extra Magazine Theme
Extra is a flexible theme that may be used for magazine-style publications as well as blogs. When you construct a website for your newspaper using Divi, you have access to some of the best-performing themes available.
Additionally, Extra provides you with full control over the design of your website by utilizing the Divi page builder in a collaborative effort.
In comparison to other page builders, it provides forty different content modules that may be used across all of the pages and posts on your website.
Key features of Extra theme
Ease of use
In my experience with Extra, it is equally simple as Divi. With Extra, making a website was a breeze from the very beginning.
Divi's builder makes it easy to select one of many premade templates and get to work making it your own.
You may feel overwhelmed by the number of available themes, but once you've settled on the ideal one, making adjustments won't be too difficult.
Extra's functionality has also been easily expanded upon by employing the services of other Elegant Themes offerings.
Customization and Templates
Extra stands out from other themes on the market because it has unique ways to publish your blogs and articles in a way that makes your users happy.
Extra is more than just a theme for your media magazine and blogs. It has eCommerce integrations that make it easy to show off your work and sell your products.
With Extra, you can choose from a number of ready-made templates that cover more than 800 different subject areas. Many of the demos show how Extra can be used to give a content-heavy website a unique look and feel by combining different modules and column structures.
3. Divi Builder
Divi Builder is a website builder that features a drag-and-drop interface for creating unique designs and layouts.
It is a plugin for the popular blogging platform WordPress, and it is well-known for its adaptability and user-friendliness.
Text, photos, buttons, and video are just some of the modules that can be added, modified, and rearranged in the Divi Builder.
The Divi Builder is a two-in-one package, with a front-end editor that displays changes in real-time and a back-end editor for deeper customization.
It provides significant deals to its users, to avail latest offers check out the Divi coupon code.
key features of Divi builder:
The drag-and-drop interface makes it easy to change designs
Text, photos, buttons, and forms are just some of the types of modules that are already made
The ability to make your own layouts and save them
Real-time updates give users immediate feedback on changes they make
With a technique called "responsive design," websites can change their layout to fit any size of the screen
With built-in split testing, you can compare the success of different versions of your website quickly and easily
Use a set of examples that are already set up
Elements and styles can be used on multiple pages simultaneously and all over the site
With a lot of power, it is possible to make unique website layouts
4. Bloom Plugin
Bloom Plugin is a WordPress plugin that improves the efficiency of websites.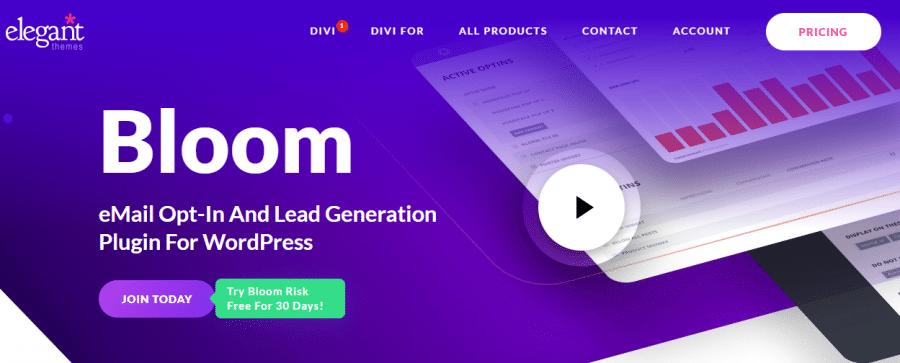 It is made to help you get more people to sign up for your email list. Bloom works by adding forms for people to sign up for email subscriptions on your website.
Each of these forms can be linked to the software you use for email marketing or email newsletters. When someone uses the Bloom opt-in form to sign up for your service, your email list is automatically updated.
Key features of Bloom Plugin:
Page loads can be sped up with the help of caching, which is used by Bloom to store data that is frequently retrieved.
The plugin can connect to Cloudflare in order to make use of that service's caching and speed optimizations
Bloom plugin enables the compression of images and videos to minimize the size of the file, which can speed up page loads
Website performance can be enhanced with the plugin's assistance in optimizing the database through the elimination of redundant data and the streamlining of table structures
The plugin can give in-depth insights, including page load times and resource utilization, that can be used to locate performance bottlenecks and implement fixes
5. Monarch Plugin
The Monarch plugin makes it simpler to include social media on your WordPress site by adding social share buttons as well as social follow buttons.
Monarch does this by using a lot of different ways to integrate social sharing, such as inline sharing buttons, social sharing sidebars, and fly-in boxes.
The Monarch plugin also helps people to share your content on social media. Social shares not only bring more users to your site, but they could also help search engines like Google rank your content higher.
Key features of the Monarch plugin:
The Monarch platform makes it possible to share buttons that can be changed in size, shape, color, and more.
Using Monarch, sharing buttons can be placed automatically at the top and bottom of a post or page's content, or in a sidebar that floats above it
Monarch makes it easy for users to link their social media accounts to their websites, which makes it easy for site visitors to start following the user
Users can keep track of how many shares and likes their content gets by using the built-in statistics in Monarch
When users update their website with new content, Monarch can send that information to their social media accounts
Monarch is designed to be small and quick, so it won't slow down the time it takes for your site to load.
Why Choose Elegant Themes?
The Elegant theme is a simple, elegant, versatile theme that removes all of the flashy animation and graphical effects. Instead, it places more of an emphasis on the content that you have uploaded to your website.
Elegant Themes provides a large number of premium-quality, professionally-designed website themes that are modified easily to meet the demands of a wide variety of websites.
Those with little to no experience in coding will have no trouble getting up and running with a website built using a theme or plugin from Elegant Themes.
All of Elegant Themes' premium plugins and themes may be obtained for a single cheap price, and users have the option to either pay once for full access or sign up for a membership to gain access to the discounts.
Elegant Themes offers a sizable user base who are willing to help one another out and share helpful hints and tutorials.
Elegant Themes Customer Support
Elegant Themes has the best WordPress theme shop support. If you need help with themes or plugins while constructing your site, chat or email customer support.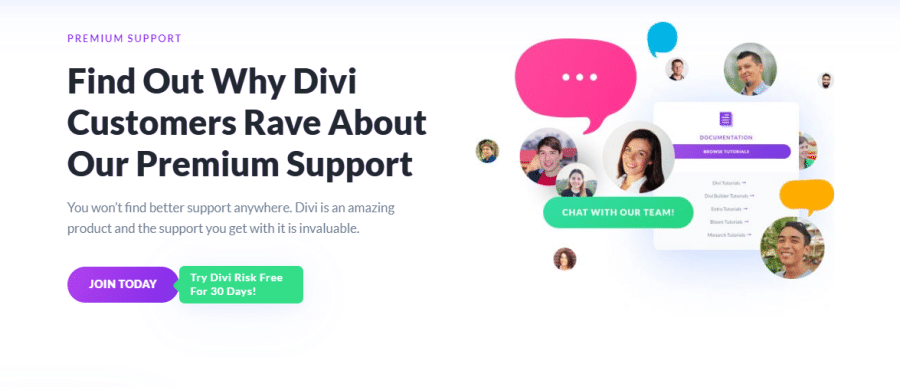 To chat or email Elegant Themes, must be a member. For autonomous problem-solvers, Elegant Themes offers a wealth of resources.
The company provides users with a knowledge base, documentation, and video lessons to assist them with the goods they are using.
In addition to that, they offer a support forum on which customers may post concerns and receive answers and assistance from both other customers and the Elegant Themes support team. In addition, users have the option to create a support ticket in order to receive more individualized assistance.
You can also join Facebook groups or read blogs to find solutions.
Elegant Pricing Plans
Elegant Themes has two different pricing plans and offers a significant discount to its users.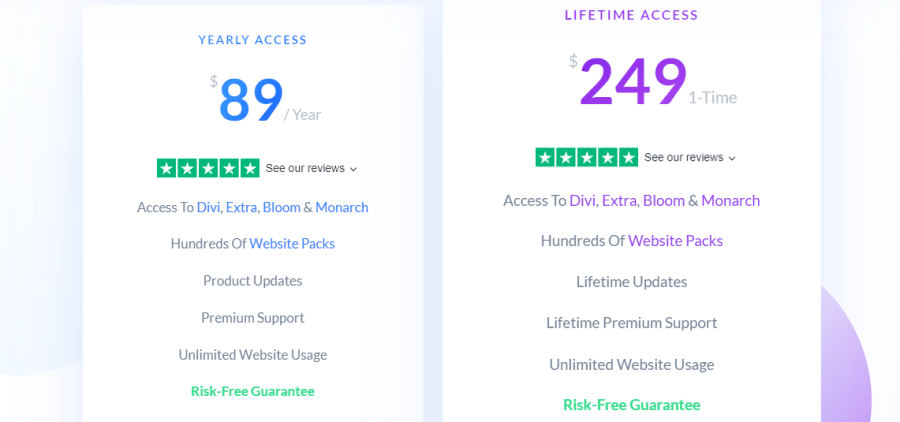 1. Yearly Access Plan
Elegant Themes Yearly access plan costs $89 per year. This plan offers a 30-day money-back guarantee.
Key features of the Yearly Access Plan:
Unlimited Website UsageUnlike some other WordPress Theme companies
Access To Divi, Extra, Bloom & Monarch
Hundreds Of Website Packs
Risk-free guarantee
Product Updates
Premium Support
2. Lifetime Access Plan
The Elegant Themes Lifetime Access plan costs $249 for a lifetime. It's a one-time payment. This plan also offers you a 30-day money-back guarantee.
Key Features of Lifetime access plan:
Access To Divi, Extra, Bloom & Monarch
Hundreds Of Website Packs
Unlimited Website Usage
Lifetime Premium Support
Risk-Free Guarantee
Lifetime Updates
One Time Fee
Final Thought
To summarise, Elegant Themes is a fantastic option for both beginner web designers and seasoned developers who are looking to build a fantastic website.
Suppose you are interested in creating a personal blog or portfolio to showcase your finest work, an eCommerce website that is completely functional, an educational website, or any other kind of website.
If this is the case, then you should consider using Elegant Themes.
Frequently Asked Questions
Is Elegant Themes worth it?
You can use all of Elegant Themes' products on as many websites as you like for one low monthly price. Elegant Themes offers two buy orders and four premium plugins for $89, while many competitors charge upwards of $60 for a single theme.
How do I get a refund from Divi?
All payments and downloads are handled by Elegant Themes, so if you need a refund, you'll need to contact them directly. In the first 30 days after your purchase, you can request a refund by contacting their support service.
Is Divi's page builder suitable for beginners?
Yes. The Divi page builder offers an intuitive drag-and-drop user interface for the construction of websites from the ground up. You don't need any prior experience with coding or writing to use the Divi page builder to create any website you can imagine.
What other WordPress themes are compatible with the Divi Builder?
Yes! There are no limitations placed on how the Divi page builder can be utilized. Because it is compatible with several WordPress themes, you can use another theme to construct your website using the Divi page builder even if you choose a different theme for your site.