In this article, we compared Elementor vs Beaver Builder, two of the most popular WordPress page builders. Do you want to build a catchy WordPress theme or are you looking for a change in your WordPress page layout? Are you considering using a good plug-in that lets you customize your page just as you want? Well, you are on the right track.
There are many WordPress page builders in the market and I'm sure you might have already come across Elementor and Beaver Builder. These are both very popular for the quality they provide their users.
In fact, Elementor vs Beaver Builder is a very popular WordPress page-building battle, but the truth is that both of these solutions are very good, and they each come with their positives and negatives. It's a little bit harder to make a decision on which will be best for your specific needs if you don't know what you're looking for in a WordPress page builder.
That's why we have decided to take a look at both of them, and show you what you can expect from each.
First, let us discuss what do you mean by a WordPress page Builder plug-in?
A Page Builder plug-in for WordPress is a tool that helps people build their pages on WordPress using this tool by adding and arranging content. There are many Page Builder plug-ins and they come in different forms and functions.
Whether you're a business owner looking to improve your site, a blogger looking to add a little flair to your page, or a designer looking to add a new tool to your resume, a WordPress Page Builder plug-in is a great way to work on your project.
These tools are easily integrated with WordPress and function with it. Simple yet effective. Elementor and Beaver Builder are two such builders.
So, let's dive into understanding each one of them.
Elementor vs Beaver Builder: Overview
Elementor is the ultimate WordPress drag-and-drop editor for creating gorgeous WordPress websites. Elementor has dozens of pre-built content widgets for everything from buttons to forms, sliders, and price tables.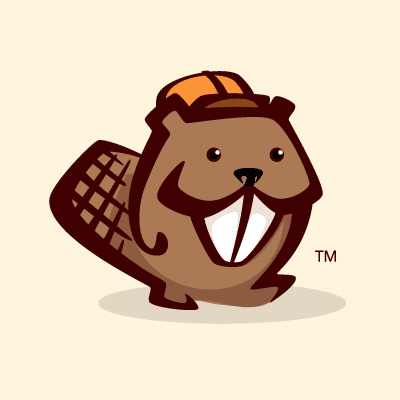 Beaver Builder is a nice page builder with professional features. It has a nice UI and a good template library, but it's not cheap.
Using Elementor, you can quickly and easily develop a website with only a few clicks and drags and drops. I personally used to create amazing-looking websites
Beaver Builder, on the other hand, is a great and user-friendly WordPress page builder.
Elementor has 5 pricing Plan options, single website costs $49 per year, with additional websites costing extra. A year's access to three websites is $99 USD. For $199 per year, you can host 25 websites. 100 professional websites cost $499, and 1000 cost $999.
Beaver Builder offers three distinct pricing choices, the most affordable of which is the AGENCY Plan, which costs $399 per year for the first year. The PRO Plan is available for $199, And the STANDARD plan is available for $99, with annual renewal thereafter.
The Elementor Support team can help you design a website. Learn more about Elementor Customer Care now!
They take pleasure in providing excellent service. You can contact their skilled support team with any questions or issues.
Note: Do you want to have an in-depth understanding of Elementor Pro? I have already provided a comprehensive Elementor Pro Review here.
Elementor Overview
Elementor is a powerful and the best WordPress page builder that helps you create pages that look good on all devices and platforms.
With the help of its intuitive and user-friendly interface, you can create any page or post layout you want – from the cleanest and most minimalistic designs to the craziest ones with dozens of columns and plugins.
There are drag-and-drop building blocks for text, images, buttons, menus, sliders, galleries, and much more.
You can also use the Parallax effect to create a unique and eye-catching look for your site. The power and flexibility of Elementor make it accessible to new users as well as experienced coders.
In this Elementor vs Beaver Builder comparison, we will take a detailed look at its features and how it compares to that of Beaver Builder.
Beaver Builder Overview
Beaver Builder is a drag-and-drop website builder and page builder plugin. It is one of the most popular page builders in the WordPress ecosystem.
It is a WordPress plugin that allows you to design your WordPress site without ever touching code. It's a drag-and-drop WordPress builder that has tons of features and is super easy to use.
It allows even non-technical users to create and bend their own themes. It is a tool that is easy to use and allows you to create your unique theme, making WordPress your own.
Enough of the chit-chat now let us get straight into our detailed rundown of Elementor vs Beaver Builder.
We will be following this outline for our comparison of the 9 ultimate things that make Elementor and Beaver Builder different.
User Interface
Elements
Widgets
Templates
Theme Builder
Designing
Unique Features
Integrations
Pricing
Before we get into the details, I will like to point out the main differences between Elementor and Beaver Builder.
Elementor vs Beaver Builder: Key Differences
| | | |
| --- | --- | --- |
| Parameters | Elementor | Beaver Builder |
| Ease of Use | Elementor has a simple user interface | Beaver Builder is also very easy to use. |
| Templates | 300+ | 50+ |
| Elements | 53 | 31 |
| Theme | Any theme can be built with the Theme Builder or Hello a theme is given for free with Pro plans. | Beaver Theme Builder is an intuitive tool for making WordPress Themes. |
| Global Widgets | Present | Absent |
| White-Labelling | No | Yes |
| In-Line Editing | Yes | No |
| Embedding | Anywhere you want | No |
| Font Customization | Yes | No size customization |
| Undo/ History | Yes | No |
| Price | Free, 49$ yearly | 99$ yearly |
Elementor vs Beaver Builder: How good is the UI?
Now let's compare their User Interface, But before that let's understand what does Ui means? The user interface, sometimes known as the UI, is the part of a device that facilitates interaction and communication between humans and computers.
This may include the appearance of a desktop, keyboards, a mouse, and display screens. Additionally, it refers to the manner in which a user engages in an activity with a website or an application.
Elementor User Interface
When you first open Elementor you open a page with a side toolbar on the left and a page preview on the right. You can select any element or widget on the toolbar to edit your page in any way possible.
Unique features of Elementor are:
Inline editing
Right-click options that open up additional settings on the chosen element on the page.
Beaver Builder User Interface
Beaver Builder opens up a full-page preview of your page being edited. To add any feature, you have to press the + icon on the top right of the page which opens up pop-ups that have the elements.
Unique Features of Beaver Builder:
You can change the pop-up display to a side toolbar as well just like in Elementor.
Final Opinion
Every Elementor vs Beaver Builder begins with a comparison of their user interfaces because it gives the reader an idea of what to expect from the tool. Elementor has more options for editing that are missing in Beaver Builder and hence has an edge over the latter.
Elementor vs Beaver Builder: What are the building elements?
Let's have a look at their Elements, compare them to one another, and figure out which one has the finest building elements.
Elementor Elements
Whoever came up with the name Elementor did so because of the wide variety of element options that this tool provides for page building.
Elementor has over 53 official elements that can be personally customized with its drag-and-drop tool.
You have to just press on the element and drag it to the desired location to place it.
Beaver Builder Elements
Beaver Builder somewhat lags in this respect. It has 13 official elements that can be used to make your WordPress pages from scratch.
The drag-and-drop builder of this tool can be used to place them wherever you want.
The drag-and-drop tool itself is very intuitive and easy to use.
Final Opinion
There is no way a comparison of Elementor vs Beaver Builder would be complete without bringing notice to the wide variety of elements that Elementor has to offer us. It definitely wins in this regard.
Elementor vs Beaver Builder: Who has more widgets?
A widget is a component of a graphical user interface (GUI) that either displays information or offers a particular manner for a user to interact with the operating system or an application. Widgets can also both display information and provide specialized interaction options. Now, let's find out which website builder, Beaver Builder or Elementor, offers more widgets.
Elementor widgets
Elementor offers you 92 widgets to work with while making your WordPress pages. some of the unique widgets of Elementor are
Social Media Icon
Animated font
Audio Player
Flip box and so on.
Widgets are part of Elementor's easy to understanding Module of page building which is divided into three parts
Sections,
Columns and
Widgets.
Beaver Builder widgets
Beaver Builder has a simple division of page building that includes
Rows,
Columns and
Modules
Modules correspond to widgets as in Elementor. Now Beaver Builder does not have as many modules or widgets as Elementor but simple widgets like text, audio, video, and so on are there. Advanced widgets as mentioned above are absent.
Final Opinion
When it comes to widgets then Elementor wins the Elementor vs Beaver Builder debate.
Elementor vs Beaver Builder: What about the templates?
A website template is a predesigned resource that demonstrates the framework for the overall layout and display characteristics of any website. Website templates can be found online.
It is offered by a variety of providers to assist in making web design significantly simpler for designers to use. It is possible to refer to a website template as a Web page template or simply a page template.
In this battle between Elementor and Beaver Builder, let's find out which one comes out on top in terms of templates.
Elementor templates
Elementor allows you to either import or make or use a pre-made template when it comes to page building.
In its free version, Elementor has around 60+ templates to choose from. These templates are of two types: templates for entire pages or just specific blocks.
In its paid versions it offers you 300+ such templates, to begin with.
Beaver Builder templates
Beaver Builder has a lot fewer templates than Elementor. In fact, their templating option is not an active feature in their free version. Templates are available only for subscribed users.
For subscribed persons these are the templates available:
Saved templates: pre-saved templates.
Although you can import and export any templates from your personal collection or use any plug-in to fill in the void.
Final Opinion
I'm sure if you read the above portion of this Elementor vs Beaver Builder it is clear that Elementor has a head start.
Elementor vs Beaver Builder: Theme Builder
The Theme Builder will present you with a visual overview of the site elements that make up your website.
This will assist you in being guided through the process of creating each of the site sections that are necessary to have a fully functional website.
You have the ability to add new site parts (for example, you can add a new Header), update existing site elements, or delete site parts when you use the Theme Builder. Let's find out which of these two, Elementor or Beaver Builder, has the superior Theme Builder.
Elementor Theme Builder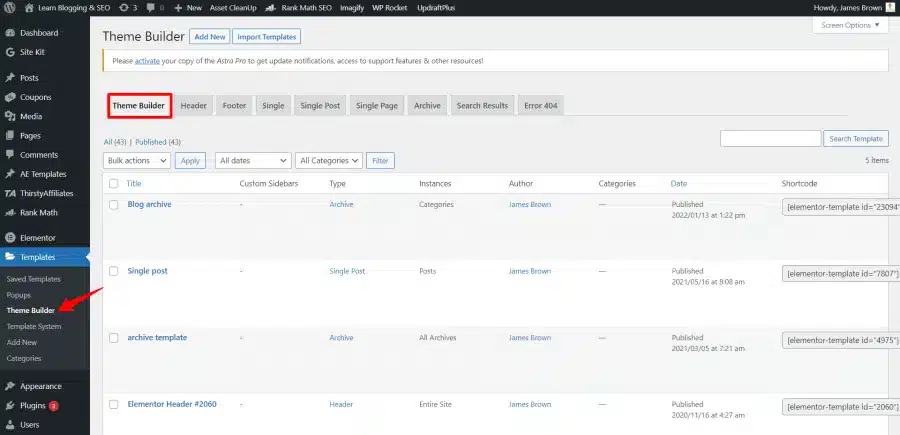 Theme building is essential for any WordPress user to catch the attention of their users.
In Elementor, Theme Builder enables you to modify every core component of your WordPress website, including the header, footer, global pages and posts, global archives, WooCommerce products, product archives, and more, without the need to write any code.
You can add new site elements to your website by using Elementor's Theme Builder. For example, you can add a new Header.
You can also update existing site parts or delete site parts. There is a visual indicator attached to existing site components that will tell you if a condition has been placed on that particular site part.
For instance, the template for the Global Post site component can have a condition that says it would only display for a specific category.
This is an essential feature and the price range that it is offered is a steal.
Beaver Builder Theme Builder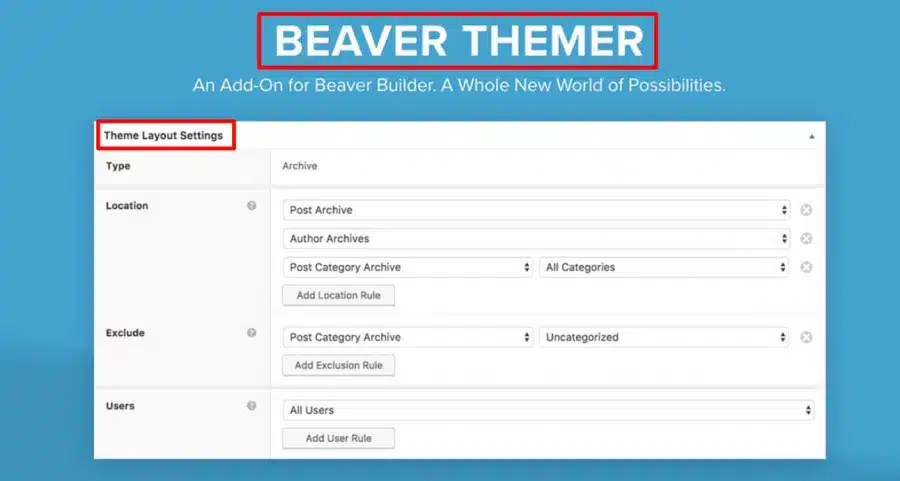 Beaver Builder provides with you an external plug-in called Beaver Themer that functions for theme building. Beaver Themer's drag-and-drop Page Builder interface lets you design custom headers and footers as well as templates.
It comes with all the functions like editing header, footers, and the like. The only downside is that comes with an added expense of $147.
Final Opinion
While both tools provides us with a similar customization option, Beaver Builder has an extra charge for it. So, you take the guess.
Elementor vs Beaver Builder: Designing
Elementor Designing
Elementor has pretty advanced styling options that can be accessed by clicking on the element meant to be styled. Here you are given the option:
Content (basic content arrangement)
Style (font, color, size, etc.)
Advanced (Animations, CSS codes)
In these sections, you can practically design anything from the font, size, animation, width, breadth, shadow effect, and the like. You can also add CSS custom codes to add a feature that you want.
Beaver Builder Designing
Beaver Builder also provides WordPress page builders the option similar styling options of
General with basic content-related options
Style and
Advanced
You can pretty much do everything that you can do with the Elementor Builder with the updated Beaver Builder 2.0. however, the builder lacks one essential option which is to add CSS codes which are essential if an experienced coder wants to add in some of his custom code as well.
But it does have a unique feature which is the option of 'Hide'. With this option, a user can see or not see a module based on if they are logged on to the WordPress website or not.
Final Opinion
Both the tools in this consideration in our Elementor vs Beaver Builder comparison have some features that are unique to them and it gives them an added advantage.
Elementor vs Beaver Builder: What makes them Unique?
Elementor
Elementor has a pop-up builder function built into itself. This can be useful in generating leads through email opt-ins, target opt-outs, and so on.
These pop-ups can be built and customized from the ground up using the same set of tools from Elementor as drag-and-drop builders and icons and themes.
Beaver Builder
White labeling is a very useful process that makes companies sell their products to other companies by labeling them under their name.
In this way, it's quite beneficial for the companies to make use of this custom label because it gives them the opportunity to promote their products as well as earn more revenue from their sales. Beaver Builder especially has White Labelling integrated into it.
Final Opinion
Both these tools help their users with one aspect or another. They have their uniqueness which is useful to different users. I'll let you people make the choice in this Elementor vs Beaver Builder category.
Elementor vs Beaver Builder: Integrations
Elementor integration
Elementor can pair all major marketing tools, social media networks, google fonts, and an array of other tools and WordPress plug-ins. It especially teams with WooCommerce for handling online commerce.
Elementor Ecommerce is designed to work seamlessly with Elementor and can help you build powerful and beautiful eCommerce stores.
Using the WooCommerce Marketplace feature, where you can manage a catalog of products on your website.
Beaver Builder integration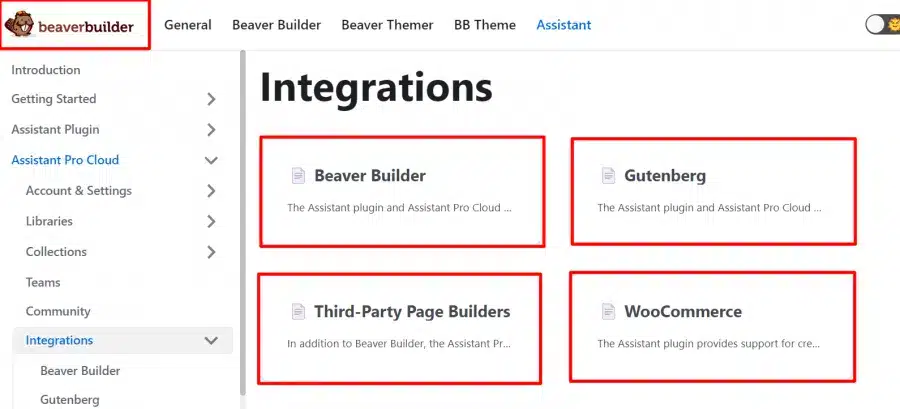 Beaver Builder integrates with four essential apps namely Big Commerce, Easy Digital Downloads, The Events Calendar, and WooCommerce. These apps generally resolve all your needs with a WordPress landing page builder. Although you can plug-in other apps as well.
Final Opinion
Elemetor again takes away the shine in this Elementor vs Beaver Builder category by being more versatile and innovative with its integrations.
Elementor vs Beaver Builder: Pricing & Subscription Plans
Elementor Pricing Plan
Elementor has three categories of usage plans these are:
It has a free membership with most of its features included in it. This is a feature that makes Elementor liked by most people around. But in general, Elementor has many subscription plans:
Pro Plans: there are four Pro plans depending on the number of websites connected. The first is the $49 yearly Essential Plan for one website, the second is the $199 Expert Plan for 25 websites, the third is the Studio Plan at $499 for 100 websites, and lastly the Agency Plan at $999 for 1000 websites.
Each of these plans allows 90+ Basic & Pro Widgets, 60+ Pro Website Kits, and 300+ Basic & Pro Templates. However, you will require your hosting and WordPress installation.
The Premium plan starts at 89$ per year which includes hosting and installation with added security coverage as well.
And if you want full Insight into the pricing check out our in-depth review of Elementor pricing.
Beaver Builder Pricing Plan
Beaver Builder has three pricing plans:
A Standard Plan: For unlimited sites, premium templates, and customer support at $99 per year.
Pro Plan for unlimited sites, templates, and Beaver Builder Theme for $199.
Agency Plan for unlimited sites, and white labeling as well for $399 yearly.
Final Opinion
Elementor twins in this category as well by giving us cheaper and versatile pricing plans that give the user the liberty to pay as they need and can afford.
Reason
Reason To Choose Elementor
Elementor is one of the most popular page builders out there today. Not only is it super easy to use, but it also enables you to make your site look exactly how you want it. Here are some of the best features of Elementor:
Doesn't require coding knowledge to use
It's simple to use to design a site
Elementor is multi-lingual which means you can use it to build a website in any language.
Elementor has a drag-and-drop page builder so that you can design your site any way you want.
Large template and layout gallery.
You can create unique websites for your business
Pop-up builder
A large number of integrations
Your site will be highly optimized for search engines
Allows you to create everything from a simple one-page site to a complex e-commerce site
Reason To Choose Beaver Builder
There are many reasons why Beaver Builder is one of the most popular pages and post builders on the web.
Beaver Builder is a responsive builder that allows you to build a website without touching any code.
It comes with a library of pre-built content, including themes and widgets, that can be dropped into place by dragging and dropping.
The best part is that it's super easy to use.
White labeling
One feature that sets Beaver Builder apart from the competition is that it's compatible with many third-party plugins
Good customer support.
Social Media: elementor vs beaver builder
Social media is a powerful tool for communicating to the outside world about the difficulties that our community members and people face. It also serves as a free and open forum for discussion, idea exchange, business promotion, and opinion sharing. Whether you like it or not, it's here to stay.
Elementor on Facebook
Elementor provides critical information about its company, products, services, and upcoming events through Facebook. Elementor has 169,174 likes and 218,735 followers on Facebook.
Elementor on Twitter
Elementor is the most popular WordPress website builder for professionals. elementor.com joined Twitter in May 2016. It has 6,457 Tweets and 20.9k followers on Twitter.
Elementor on Linkedin
Elementor has 36,022 LinkedIn followers. Elementor is the most popular WordPress website builder for professionals.
Beaver builder on Twitter
Impress your visitors with the best Beaver Builder Twitter Feed. In one minute, you can create your Twitter Feed and embed it on your website. Beaver builder has 3,867 Tweets and 4,861 Followers on Twitter.
Beaver Builder on Linkedin
Beaver Builder is a drag-and-drop design system for WordPress. It has 296 followers on Linkedin.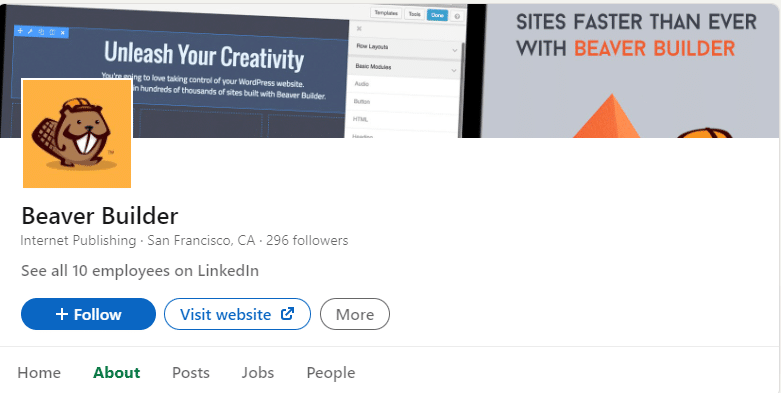 Elementor vs Beaver Builder: Customer Review and Real testimonials
Now it's time to compare the Customer Review and Real testimonials of users and find out which page builder has more positive testimonials on different platforms like Trustpilot and g2. Below we have clearly mentioned that Elementor is way more popular than Beaver builder, and approx 60% more positive testimonials on Trustpilot.
Elementor
"Elementor was the first time I felt a good balance between freedom to design what you want and the flexibility to make the process easy and even enjoyable."
Mordi Levi
Designer, Illustrator, and Owner of Mindcube
"The best thing about Elementor is the community and the great developers behind this ingenious software. It gives me great confidence in the quality of the product & the assurance that Elementor will be around for years to come."
Brandon Duncan
Owner & Creative Director of Regent Web Design
Elementor Trustpilot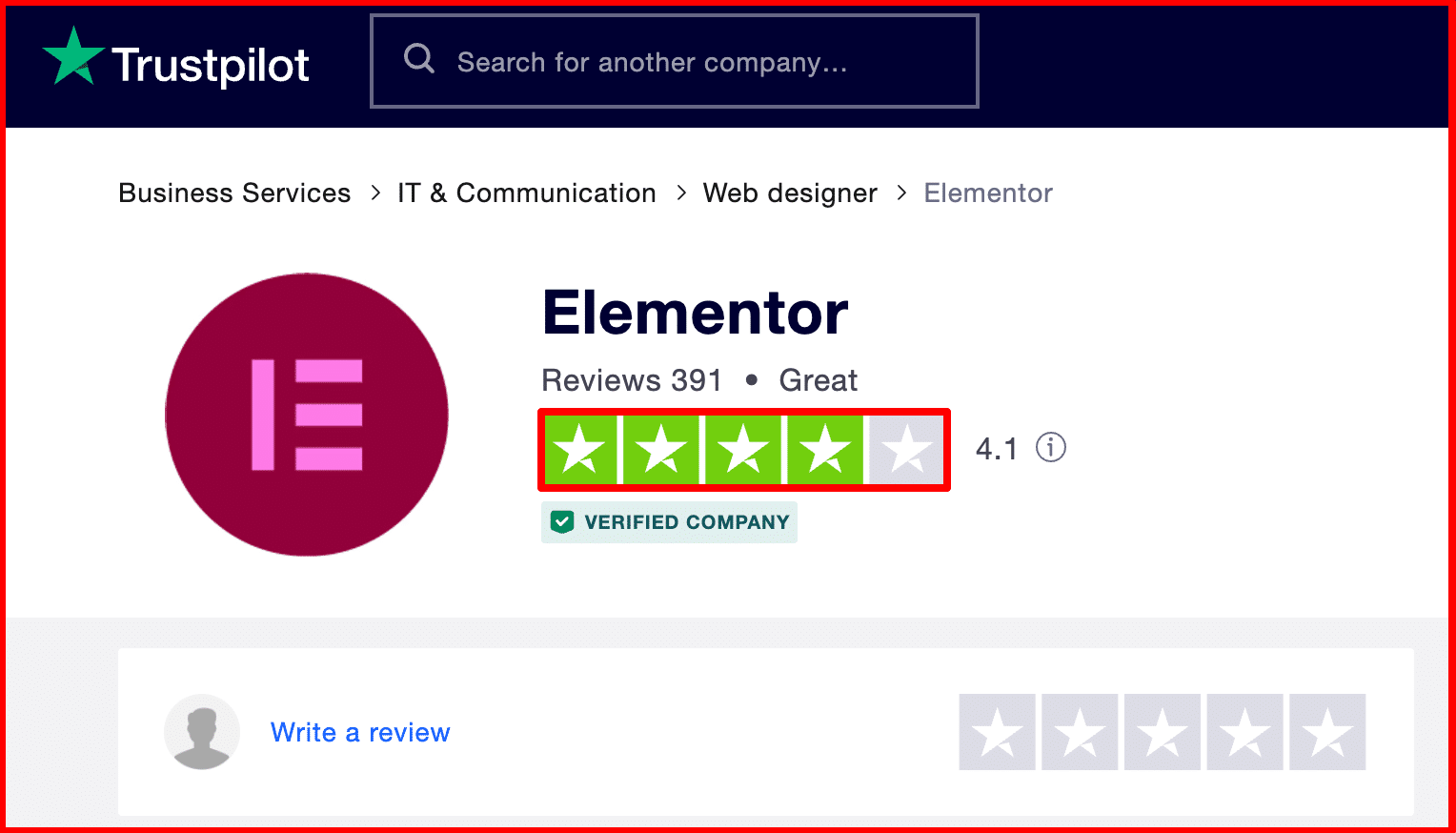 Source: Trustpilot
Elementor is a near perfect product
Elementor is a near perfect product. There's still bugs in it but it's so much better than the second nearest product out there. The support is superb if there's a problem. So it truly feels like something you can rely on!
Beaver Builder
Beaver Builder Trustpilot
Excellent Builder, I love it.
Excellent Builder. Not powerful as Element0r, but more easy to use and made with excellent taste in design, fonts, spacing, etc. Clients with no experience totally love it. Try it, you will love it too. Oh and it is fast, lightweight and code is SO CLEAN !!!!
Related Read:
Final Words: Who is The Winner In 2023?
If you want to create professional websites, you need to choose a high-quality theme. There are a lot of themes available, but not all of them are trustworthy and reliable.
Elementor and Beaver Builder are both premium WordPress page builders. Both are capable of doing the same thing, but there are a few differences.
Elementor and Beaver Builder are comparable products that make the lives of WordPress users much easier.
However, choosing a website page builder solely depends on your requirements from the tool. I hope this Elementor vs Beaver Builder rundown will help you choose the right tool for you.
You can try out the free version of Elementor to check out its features or subscribe to a plan in Beaver Builder and cancel within 30 days to get a money-back guarantee.
Frequently Asked Questions
What is better Beaver Builder or Elementor?
Elementor is a powerful plugin that allows you to create beautiful pages, posts, and custom shortcodes very easily. It is compatible with many popular themes, and Elementor's team is always on the lookout for new themes. Beaver Builder has a similar feature set to Elementor, but it is not as easy to use. Although it provides all the features, the functionality of each remains limited in comparison to the former. For an in-depth comparison, you can refer to this comparison above.
Is Elementor the best page builder?
Elementor offers drag-and-drop building features, so you can easily create awesome-looking pages and posts. It is highly customizable, so you can make your site look just the way you want. You can even go the extra mile and create custom CSS to make it your own. Elementor has robust SEO plugins that will help your site rank higher on search engines. It also creates mobile responsive pages, so your site will look great on all devices. You can look at their pricing plan to see what's best for you.
Is Beaver Builder any good?
Beaver Builder is a fantastic theme for a WordPress site, especially if you already have a theme and only need a couple of pages to fill. Beaver Builder is a front-end, drag-and-drop builder that makes creating stunning websites easy. There's no need for coding or for using complex design tools. Beaver Builder works with a wide spectrum of devices, from phones to large desktop screens. With the visual editor and live preview, you can tweak the layout to get the best possible results.
Is Elementor good for SEO?
The Elementor plugin is designed to help you build better websites. When it comes to both on-page and off-page SEO, you don't have to worry about Elementor simply because it's a plugin that excels at it. It will look at your SEO that will make your website rank higher in search results.
Which page builder is best for WordPress?
There are many different tools, and plugins with a multilevel drag-and-drop toolkit which, when used properly, will help you build more effective and efficient websites. Some of the most popular tools are:
1. Elementor
2. Divi
3. SeedProd
4. Clickfunnels
5. Beaver Builder
6. Unbounce and many more.