In this article, we have concluded the introduction of the Gutenberg editor, a lot of WordPress users are seeing a lot of uncertainty. Will they be using the Gutenberg editor?
Is the editor the best available option? Do you switch to another dedicated page editor like Elementor? In this blog, we will try to compare Elementor vs Gutenberg.
Elementor and Gutenberg are two of the most popular WordPress page builder plugins.
If you are planning on using WordPress as your content management system, you will come across a variety of content editor plugins. One of the most common ones is the Gutenberg editor which was introduced in WordPress 5.0.
But first, for new users, I shall also try to explain what WordPress is.
Elementor vs Gutenberg
Elementor is one of the most powerful drag and drop website builders available. All of these features are present in both the free and premium versions of the software: a gorgeous interface, rich customization possibilities, and a manageable learning curve.
Gutenberg is the code name for WordPress 5's new block based editor. It replaces the TinyMCE-based WordPress editor. It's a big revolution in content creation. Gutenberg allows you to add different media kinds and arrange them using blocks.
Elementor is the page builder with the greatest functionality and the easiest to use.
Gutenberg is the most basic WordPress page builder with basic functionality.
You get all Pro features, including Theme Builder and Popup Builder only $49! The Advanced and Expert subscriptions cost $99 per year and $199 for up to 25 websites, respectively. The Studio ($499/year) and Agency ($999/year) plans include VIP live chat and more websites.
Gutenberg is free and included in WordPress 5.0+, but you may also download it from the WordPress.org plugin directory.
Elementor Pro have a Responsive and awesome support team, users can enjoy the premium 24/7 customer support.
Dosen't have any specific customer support you can contact wordpress for any inquiry.
What is WordPress?

WordPress is a Content Management System (CMS) that allows users to create and maintain a website without having to know much about coding.
What's cool about it is that it's very heavily maintained, and updated, and has a range of plugins that can make it do whatever you want.
WordPress is a free and open-source blogging tool. WordPress today is one of the top most popular CMSs on the Internet, powering more than 28% of the websites on the Internet.
So, it is very important to find page builders and editors that will work the best with it to improve your website not only in terms of viewing but also in creating and maintaining it.
That is the reason why we are going to compare WordPress's indigenous editor Gutenberg vs Elementor, a popular Drag-and-drop editor with similar functions.
Let's first get to know them.
Elementor vs Gutenberg: Overview
What is Gutenberg?
Gutenberg is a new editor by WordPress that will revolutionize the way we create content on the web. It's a beautifully designed, fully customizable editor that has many features that will make writing content a much easier and more productive process.
Designed to be used in tandem with themes, Gutenberg has a variety of customizable options and features. With the release of Gutenberg 0.5, WordPress users can expect a simpler user interface and a better editing experience.
The editor is also open source, meaning that anyone can go in and tinker with it and add new features, so we can expect some amazing new tools and features to be added by the community.
Simply put it is the editor that comes inbuilt with WordPress. It is a block editor. This essentially means you can make changes in your WordPress content by making changes in the elements of specific blocks on the page.
What is Elementor?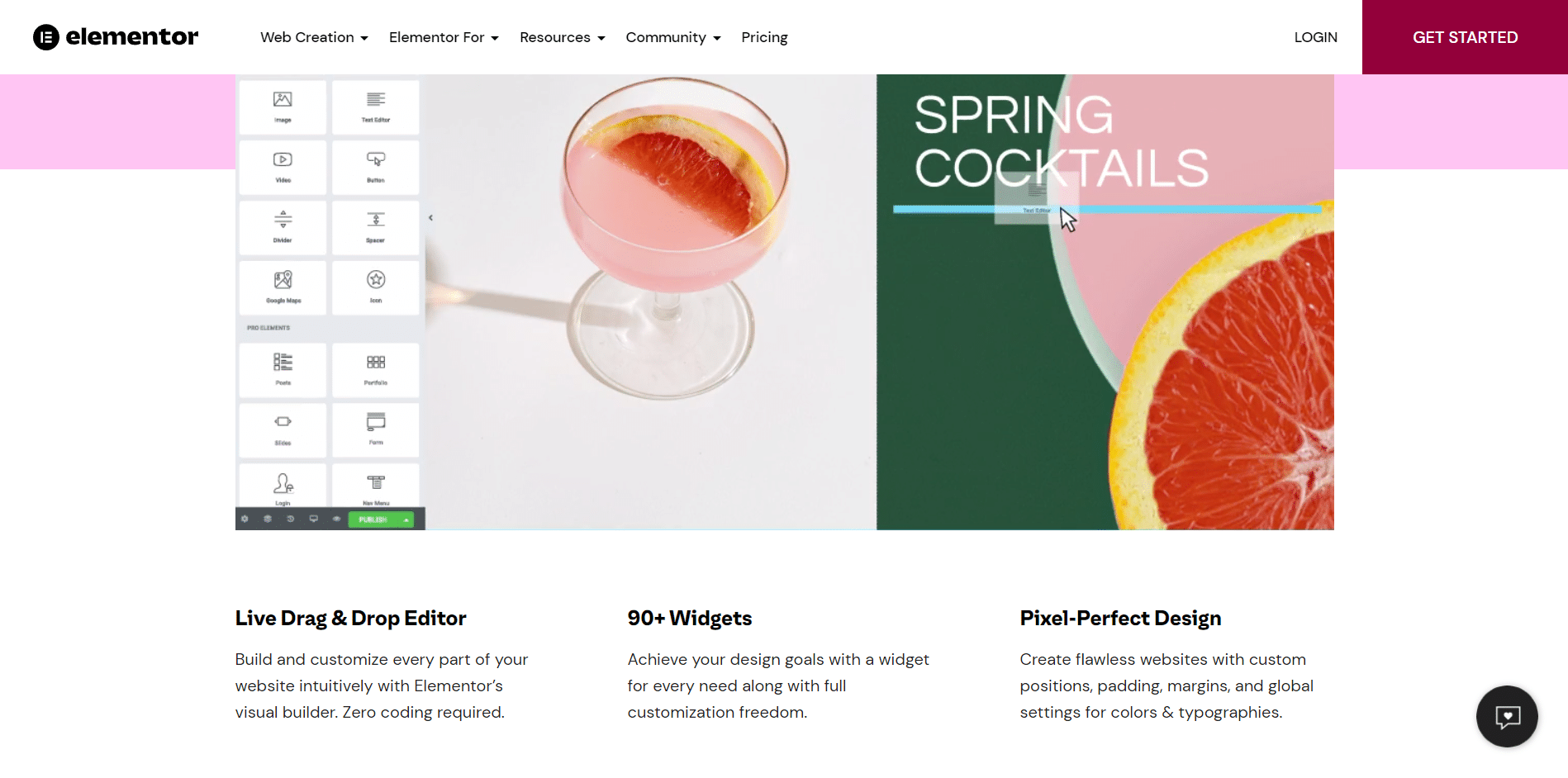 Elementor is an all-in-one website builder for WordPress users. It allows you to drag and drop elements straight into the page builder, no coding or web design experience is required.
Elementor also lets you create custom themes, which you can upload to your WordPress site and it also offers a ton of pre-made templates you can use as-is or modify to your liking.
Elementor has made it easy to create good-looking websites. It also has a huge selection of layouts, tools, and templates. It is a plug-in that also allows you to create websites using its simple drag-and-drop tool.
Now that we have a general view of what these tools are, let's get straight into comparing them. Here I will include 8 of these key features and compare them.
Elementor vs Gutenberg: What kind of Editor is it?
Elementor
Elementor has what is called a WYSIWYG editor. What that essentially expands to is What You Wish Is What You Get. It's simple with this editor you can easily visualize and edit parts of your content and your page that you want and in the way that you want.
Elementor's editor is an essential drag-and-drop tool. It allows you to choose any element of your page to edit, customize it according to your preference and drag it with a simple click to the area you want to paste it and drop it. It is literally that simple.
Gutenberg
Gutenberg is a block editor. This means here you do not consider specific elements to customize but a set of them that is divided as a part of a block in your page.
Each block is individually customizable and can be fine-tuned according to your preference.
Verdict
Honestly, there is a reason why people opt for WordPress page builder outside of Gutenberg which is free and inbuilt into WordPress.
It has limitations with the degree of customization in comparison to Elementor's drag-and-drop WYSIWYG editor. So, without a doubt in this category of Elementor vs Gutenberg, Elementor wins.
Elementor vs Gutenberg: Is it user-friendly?
Elementor
Elementor is user-friendly for a number of reasons. Elementor is easy to set up, flexible in design and has a wide range of templates. Setting up a page with Elementor is quick and easy. First,
you drag and drop the page elements, then you can fine-tune their style. They have also included many features like SEO and mobile optimization which makes it additionally easy for beginners.
The gallery and widget libraries are stocked with lots of content to choose from. You also get a live preview of the page you are working on. I think that's a plus point.
Gutenberg
A simple yet sophisticated online editor, Gutenberg is a user-friendly platform that anyone can find ease in using. It is accessible through the WordPress.com domain. The platform works well on computers, smartphones, and tablets.
Gutenberg handles all the HTML, CSS, and JavaScript for you. Whether you have coding experience or not, you can use and enjoy the powerful editor.
You can easily create stunning posts and pages using the UI tools that are created to meet the needs of all kinds of users. Adding blocks is very easy however live previews are not given although SEO optimization is inbuilt.
Verdict
With the tools being created for both beginners and regulars, they have included many features that make them easy to use. However, as far as the comparison between Elementor and Gutenberg goes, Elementor wins for its simplicity and live previews.
Elementor vs Gutenberg: Who has better templates?
Elementor
Elementor offers you two types of templates.
1. Whole page templates
2. Block templates
In its free version, you have access to over 60 predesigned page templates, to begin with, and in its paid versions you get over 300+ templates to create and customize as you want. You also get website kits to make entire websites up if the need be.
Gutenberg
Gutenberg also offers their customer's page templates but the number of templates provided by them is nearly not as much as Elementor.
You can build pages from scratch if you want. However, predesigned templates are limited in Gutenberg.
Verdict
Elementor vs Gutenberg comparisons cannot be complete if templates are not compared. Elementor definitely wins this round by not only having a large gallery of templates but beautiful and converting ones.
Elementor vs Gutenberg: Who has more widgets and functions?
Elementor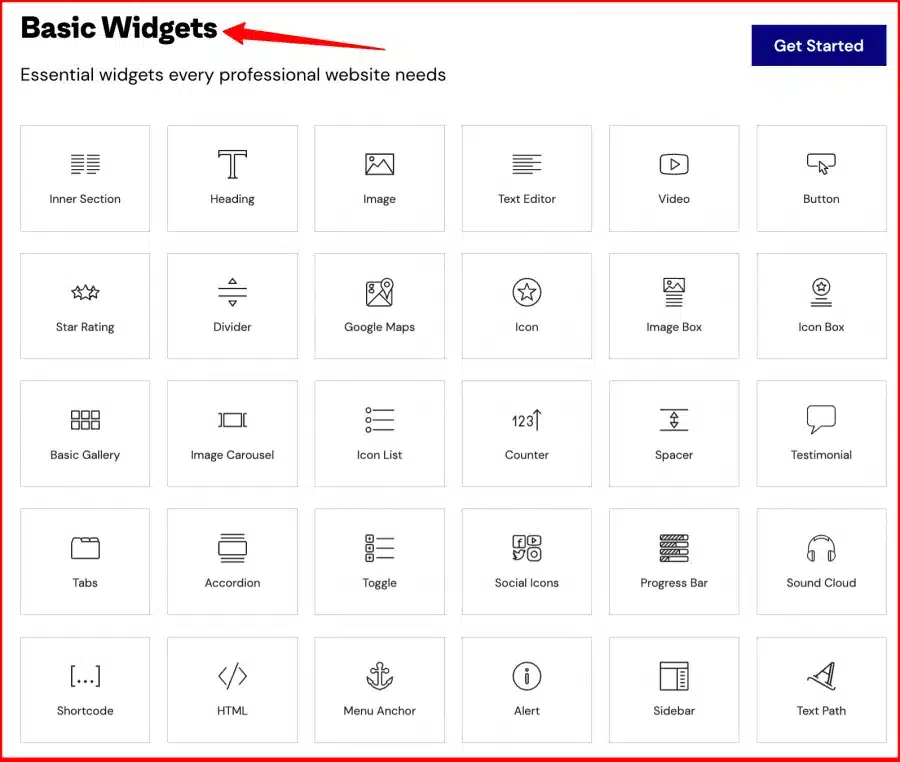 In the free plug-in version of this powerful tool, you get access to about 40 of their basic page elements like videos, texts, images, fonts, and so on. In their Pro versions, you will be overwhelmed to find over 100 widgets to work with. These include sophisticated widgets like
Social share button
Countdown Timers
Tables
Each of these widgets is accessible from their left-hand toolbar from where you can easily drag and drop these elements.
Elementor also has 20+ exclusive WooCommerce elements directed toward E-commerce websites that can easily build sales pages or product description pages with Elementor.
Gutenberg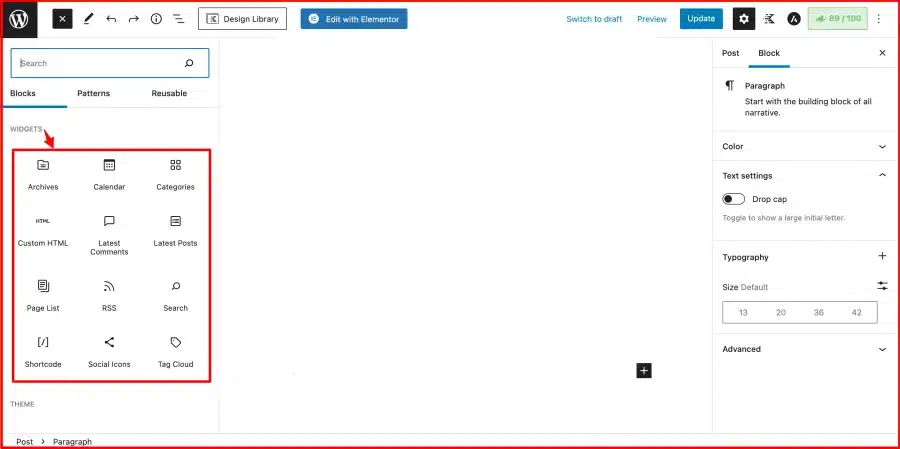 Gutenberg has what we call a dynamic toolbar. It is not fixed to the side like in Elementor but it does not have as many widgets in its toolbar.
It does include everything that you will need on a regular and basic level like video, text, image, titles, icons, and so on. For advanced tools and widgets, you have to plug in third-party tools, however, integrating tools with Gutenberg is easy which we will also elaborate on later.
Verdict
The difference between Elementor and Gutenberg is most evident when they are compared in this category. Elementor does win without a doubt in this Elementor vs Gutenberg category by making their tool elaborate and versatile.
Elementor vs Gutenberg: Who has better styling?
Elementor
With Elementor you can further deep dive into styling your website just as you want. You can access styling options by right-clicking on an element that gives you three options one of which is also advanced styling available in their Pro version.
Here you can also add your custom CSS code if you are an experienced web builder to make modifications specific to your wants,
Gutenberg
Gutenberg has 25+ to work with. Each of them can be individually styled just like you want. You can also add custom CSS codes and HTML links in Gutenberg. In general, it has all the features that Elementor has. Styling your page with Gutenberg should not be a problem.
Verdict
In this category of Elementor vs Gutenberg, there is a tie between the two tools. They both offer similar styling options to their users and function almost the same.
Elementor vs Gutenberg: integrations
Elementor
Elementor can integrate with other third-party tools as well. These include major social media sites.
Email service providers, CRMs, and so on. They also integrate with payment partners like Stripe, PayPal, and WooCommerce. The list is not extensive yet there are over 40+ integrations possible on Elementor.
Gutenberg
Gutenberg is an open-source editor. It can integrate virtually with a larger number of third-party tools, be it ESPs, CRMs, SMS services, social media, Payment Partners, and so on. This is the one feature that makes Gutenberg a popular tool to use.
Verdict
When it comes to integrations any open-source tool wins the bet for being open to all sorts of integration to make the user experience not feel limited. In this round of Elementor vs Gutenberg, Gutenberg steals the thunder.
Elementor vs Gutenberg: How do they affect page speeds?
Elementor
Elementor does have an effect on page speed. It has been tested that Elementor increases page loading speed on Google by above 90% and hence is said to have a positive effect on your visitors turning into viewers before having to wait too long and eventually leave.
Gutenberg
Gutenberg is a built-in tool. It was built-in with the newest version of WordPress replacing its old editor. It came with additional features like SEO friendliness and better page load speeds. It has also been tested to increase page load speeds by more than 95%.
Verdict
Since making our visitors our viewers and eventually having them on the site long enough to convert them into leads or customers is the main goal of any online website, especially e-commerce ones,
it is necessary that your website loads fast. Gutenberg has a better effect on the page load speed as can be evident by this Elementor vs Gutenberg comparison.
Elementor vs Gutenberg: Pricing Plan
Elementor Pricing Plan
Elementor comes in a free version. It is free to use but lacks some of its essential features and has a limited template gallery. The Pro versions of Elementor come in four different pricing plans, each of which is dependent on the number of websites you use it with.
You can also use Elementor Pro Discount Coupons to get additional discounts on your subscription.
However, if you are not satisfied with their service Elementor also has a 30-day money-back guarantee.
The pricing plans are
| | | |
| --- | --- | --- |
| Essential | I website | $49 yearly |
| Expert | 25 websites | $199 yearly |
| Studio | 100 websites | $499 yearly |
| Agency | 1000 websites | $999 yearly |
Gutenberg
Gutenberg is free to use. It is an added feature of WordPress itself which means it is free and in-built. This explains its limited feature set and also it is not always compatible to be used with websites other than WordPress. However, for a free tool, block editing has become really easy with Gutenberg.
Verdict
Gutenberg is free to use and for people owning a WordPress website, it is enough if they know how to handle integrations, however for beginners it becomes tough. Elementor, on the other hand, charges yearly a minimal amount for what they provide to their clients.
However, before we get on with the rest of the articles, these are a few features that are completely unique to Elementor that are worthy of mention during our Elementor vs Gutenberg comparison.
Elementor Unique Features
1. Theme Builder
Theme Building essentially means editing parts of your page that are not part of your content yet appear on the screen like the header, footer, and so on. This feature gives users more control of the front-end look and feels of a website.
With the theme builder, the user can control elements like fonts, colors, and other aesthetics and set a theme for your website in total. Thus, this is another category in which Elementor succeeds over Gutenberg.
2. Pop-Up Builder
Pop-Ups are a genius way of collecting leads. They can be creatively made in different shapes and sizes with different intentions as well. In general, they attract the viewer and contain some CTA.
Elementor Pop-Up Builder is one of the most advanced popup builders out there, having everything available at your fingertips.
But that is not all. You can also add a lot of widgets such as the contact form, newsletter signup form, countdown timer, social share buttons, and pricing tables, in the pop-up as well. Basically, you can use all the elements for creating pages with pop-ups as well.
3. Form Builder
Elementor provides an easy-to-use drag-and-drop interface to create forms that could be used for a contact page, a sign-up page, a booking form, or basically any type of online form you could need.
The way you create and submit the form is completely customizable, including the colors and the styles. The form can also be linked to a custom URL, which will take the user to a specific page on your website depending on their response.
These exclusive features also give Elementor an edge over Gutenberg in the Elementor vs Gutenberg battle.
Elementor vs Gutenberg: Quick Review
Now, for a quick revision let's look at this comparative chart.
| | | |
| --- | --- | --- |
| Category | Elementor | Gutenberg |
| Easy to Use | Yes, Elementor is very easy to use. | Gutenberg has a slight learning curve. |
| Drag and Drop Editor | Yes | Block Editor |
| Templates | 300+ | Limited |
| Widgets | 100+ | Limited |
| Blocks | Does not work with blocks | 25+ to work with. |
| Custom CSS | Yes | Yes |
| Pop-Up Builder | Yes | No |
| Form Builder | Yes | No |
| Integrations | Limited | Unlimited |
| Customer Service | Yes, emails, and chat, live chats in Pro versions. | Yes |
| Price | Free and paid versions | Free |
Why should you use Elementor?
• Drag and drop page builder: Elementor is a very intuitive page builder that is created to help you build your website in minutes. It's a drag-and-drop page builder, no coding is required.
• Themes: Elementor comes with over 30 professional themes that are fully customizable.
• Strictly concentrated on speed: Elementor is built on top of React and Webpack – two technologies that are known for their lightning-fast performance.
• Flexible and scalable: Scale up or down on the fly, add and remove content blocks, change the size of elements, and see everything in real-time.
• Your content is king: You decide what is visible or hidden, change the content order, structure, flows, and much more.
• Smooth user experience: The Elementor has been built with usability in mind.
Why should you use Gutenberg?
• User-Friendly and mobile responsive: A smooth experience for users. Responsive blocks adapt to all screen sizes and create a great reading experience on mobile.
• Free to use: Gutenberg is an open-source project. It will always stay free and open for everyone.
•Seamless Integrations: Unmatched flexibility of integrations.
Conclusion: So Which One to Select Elementor vs Gutenberg?
Elementor and Gutenberg are both used to build pages. Elementor is a plugin that can be installed in the WordPress dashboard, while Gutenberg is a whole new block system that is being integrated into WordPress core.
However, the choice between these two tools is entirely yours. It depends on an individual's requirements and needs.
If you are comfortable using WordPress's own block editor then Gutenberg is for you but if you are looking for advanced tools and templates then Elementor is definitely worth your time. You can try both these tools for free and decide for yourself.
Frequently Asked Questions
What is Elementor?
Elementor is one of the best WordPress page builders that makes it easy to create unique pages and complex elements. With it you can build a website on your WordPress website like a pro. It is also responsive, so you can be sure that you can use it to create a mobile-friendly website.
Does Gutenberg replace Elementor?
Elementor is an added plug-in in WordPress which has unique features and a larger template and widget availability than Gutenberg. It is very useful to fill the gaps that Gutenberg leaves to see a full detailed comparison, refer to the Elementor vs Gutenberg article above.
Is Elementor better than Gutenberg?
Elementor is a drag-and-drop page builder. Gutenberg is the new editor coming to WordPress. They have different goals. Gutenberg wants to replace the visual editor in WordPress while Elementor wants to create a customized experience for each of your posts. They're both powerful, easy to use, and can be as simple or complex as you need.
Is Gutenberg a good page builder?
Gutenberg is the new standard editor for WordPress. It's a comprehensive and easy-to-use block editor. Gutenberg is incredibly feature-rich, with many more features on the way. Gutenberg's biggest feature is how easy it is to customize your blocks and the flexibility it gives users. It is definitely still a work in progress, but there is a lot of potential here and it's a solid start.
What's better than Elementor?
There are many different page builders on the market. They have varying levels of functionality and price points. One of the most popular is Elementor. However, there are quite a few alternatives to Elementor like Gutenberg, ClickFunnels, Leadpages, Beaver Builder, and so on.