WordPress is a website-hosting and development platform that operates as a content management system (CMS). WordPress's plugin architecture and template system make it easy to adapt any site to serve as a blog, portfolio, or online shop, and the process simply requires a few clicks of the mouse.
This is now more accessible and common thanks to page builders like Elementor and WPBakery. This page compares and contrasts the two website builders, Elementor and WPBakery.
Read my full ultimate comparison between Elementor vs WPBakery
So, Let's Get Started
Which is better Elementor vs WPBakery?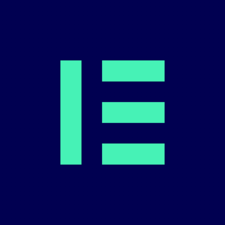 Elementor Ltd. is a software company based in Israel that specializes in web development services. The Elementor website builder for WordPress allows users to design and edit websites using the drag and drop technique, and it has a built-in responsive mode for easy viewing on mobile devices. This plugin allows you to create visually appealing pages by utilizing a visual editor. It is intended to allow you to create dynamic websites in a short period of time.
WPBakery Page Builder is a drag and drops page builder for WordPress that enables you to create attractive website content. The WPBakery Page Builder Template Library is a place where you can find free, high-quality layouts that you can use on your WordPress site.
Page builders like WPBakery are difficult to learn. Elementor, on the other hand, is simple to use and provides more value for your money.
To design an initial layout, WPBakery Page Builder offers pre-defined templates/layouts.
Elementor provides five pricing choices, starting with $49 per year for one website. For $89 a year, you can have three websites. For $259 a year, you can host 25 websites.
WPBakery offers two different pricing options, the first of which is a Regular $56 for use on a single site. For use in a single SaaS application, the price has been increased to $299.
Elementor has an outstanding support team, Ask questions about existing Elementor features and receive answers within 1 day on average.
WPBakery Page Builder has a dedicated support team available Monday through Saturday.
Elementor vs WPBakery Overview
What is Elementor?
The ultimate tool for building a responsive website is Elementor. It's a drag-and-drop WordPress page builder that lets you create a website with ease.
Elementor is the world's fastest, most user-friendly, and most flexible page builder. It's a lightweight, flexible, and highly straightforward plugin that lets you construct pages without having to know how to code.
It comes with a solid framework and all the tools you'll need to design any layout you want.
It can be used to create practically any page you can think of, from eCommerce businesses to full-fledged websites, and it has millions of layout combinations. Furthermore, Elementor is the most effective way to create a mobile-friendly website.
Elementor was created from the ground up to be the ideal page builder for WordPress. It's a complete framework for creating WordPress themes in the future.
💡If you want to learn more Check out our in-depth Elementor Pro Review
What is WPBakery?
WPBakery is a premium WordPress plugin that lets you customize your site, Blog and portfolio layouts, widgets, site layouts, and an easy-to-use drag-and-drop builder are just a few of the features.
You may use the drag-and-drop builder to design a website from the ground up without touching a single line of code.
The ability to develop a mobile-friendly website is another feature of WPBakery. Because of the growing number of mobile users on the internet and the necessity to provide a website that is accessible to everybody, this is a vital element to have.
WPBakery is a premium WordPress plugin with a lot of customization options that let you make a website that best represents you. The plugin is also compatible with WooCommerce-based online shops.
It's simply a content builder that allows you to create a fully functional website within the WordPress interface.
Create landing pages, marketing campaigns, e-commerce pages, lead capture pages, sales pages, and more with this application. If you think WPBakery is a bit expensive for you, check out the latest WPBakery Coupon Codes to get the latest offers.
Elementor vs WPBakery: Key Features
Below we have compared all the features of Elementor vs WPBakery, so read on to know more.
1. Page Editor
Elementor
Elementor is the only WordPress page builder that allows you to create any layout you want. It's jam-packed with features that make your job as a website designer easier, so you can focus on creating attractive, engaging experiences for your visitors.
From the header to the footer, from top to bottom, Elementor graphically builds your entire website.
It enables you to create your pages on the front end. You can drag and drop whatever widget you want, change the look and layout of your website for different screen sizes, and modify breakpoints for desktop, mobile, tablet, and other devices.
Setting color codes and typographies in one location will help you improve your process and assure uniformity across your entire website.
Because margins and paddings affect how people read, browse, and relate to your design, you want to strike a good balance between them. Use overlapping sections to create sophisticated layouts that are tough for others to follow for more ingenuity on display.
WPBakery
Using the intuitive front-end WordPress editor of WPBakery, you can create a responsive website that handles your material and delivers it in a simple but elegant manner.
No coding is required while using WPBakery Page Builder. A good front-end editor will let you easily switch between devices to see how your content looks on an iPhone or iPad, allowing you to make any necessary edits.
It's simple to ensure that everything stays true to the design grid, is fully responsive, and meets your high expectations.
In terms of time saved for creating awesome layouts for even more awesome pages where you'll share all kinds of compelling ideas with visitors who will soon become raving fans, thanks to your work ethic and dedication when it comes to this niche-specific but completely relevant profession.
If you want to make attractive pages, simply drag & drop objects across containers. This platform provides you with all the flexible functions you should opt for.
WPBakery Page Builder handles all of the tiny and large details. Everything neatly arranges and formats your material, color-coordinates it, and makes navigation a "walk in the park".
2. Widgets
Elementor
It makes use of dozens of useful widgets that are organized into categories for end-users to pick from.
Each widget is distinguished by easily accessible input fields into which users can insert data to meet a variety of business requirements.
Furthermore, for the majority of screen resolutions, every visual element integrated into this page builder is responsive.
Elementor is an excellent choice for any business website because it has all of the functionality that even the most demanding users require in one location.
Every professional website requires the following widgets and Elementor has got your back With sophisticated Pro widgets, you can improve the look of your website.
Start with the essentials, such as your header, footer, and even special pages that are unique only to you, from a wide choice of alternatives.
These features come with the pro version of Elementor which you can avail of at a much cheaper price using Elementor Pro Discount.
WPBakery
With over 40 built-in content pieces, you can quickly create any page layout. You can personalize them to fit your vision. WPBakery Page Builder has a plethora of content options to choose from.
Each content piece has been meticulously designed by web design experts and provides various possibilities for creating any layout you can imagine.
You can design sophisticated layouts in minutes with our content pieces and without writing a single line of code.
If that's not enough, check out the WPBakery Page Builder add-ons, where you'll find 250+ add-ons with hundreds of content pieces. All you have to do now is drag the element onto your page or post, and your WordPress website is ready to go.
A collection of different content items that can be used on the working canvas or within the columns.
You can consider them as building blocks. You're constructing your layout with those blocks. The majority of content items include settings that can be changed.
3. Layout and Page structure
Elementor
Elementor is known for its layout tools and customization choices, which allow you to change the width and height of your website, as well as add a gap between columns, column widths, the arrangement of your content, padding between elements, and margins.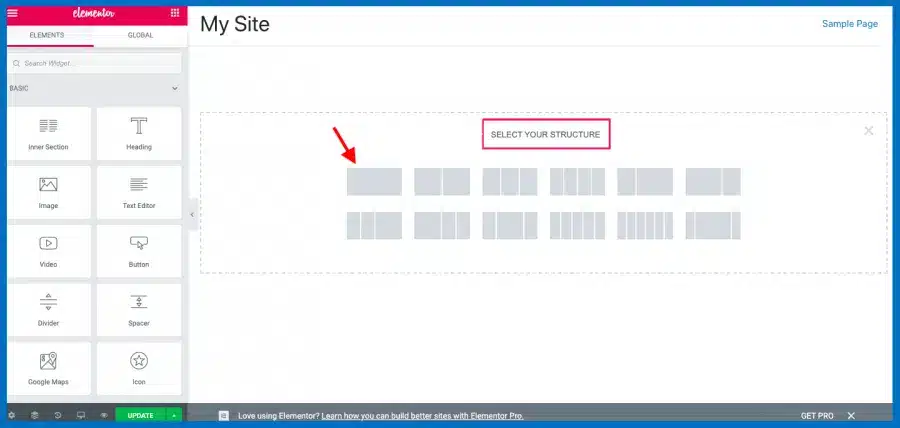 To establish whether one piece appears in front of or behind another, an index is included.
The Elementor page builder, like most of its competitors, has its setup. For example, there's a sidebar on either side of the editing area that lets you add extra content without taking up too much of the space you need to develop your website or change a presentation.
Instead of pop-ups like many other tools, all of the widgets and their settings, as well as options for your pages and action buttons like device previews, are lined up along the sidelines, making everything simply accessible and organized.
That said, its simple UI may appear frightening at first, but once you get your hands on it, you'll find that it's one of the most intuitive things you'll ever attempt.
WPBakery
The frontend editing area of the WPBakery page builder, on the other hand, has a cleaner layout, consisting of a seemingly large editing panel that takes up over half of your screen and a toolbar at the top.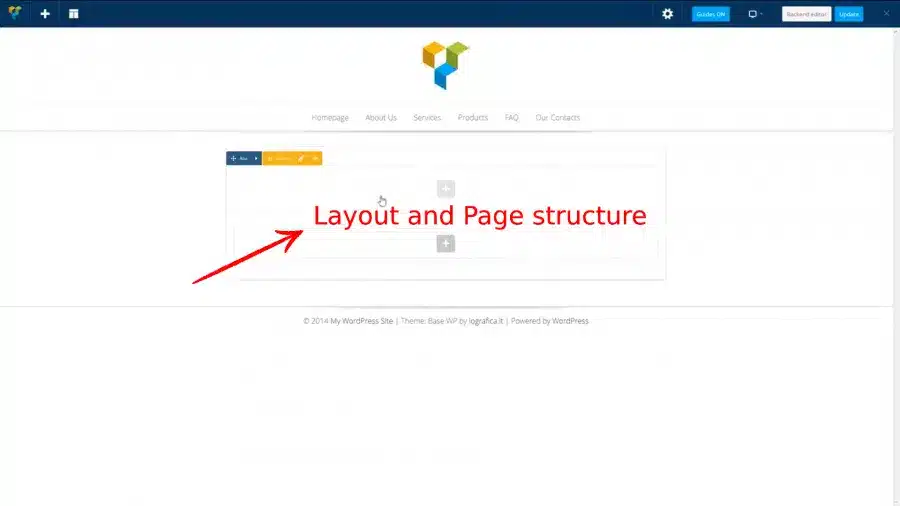 However, one downside is that you may occasionally have to deal with a popup that covers part of your screen and needs to be changed depending on which portion of your page you're editing.
Even though you can rapidly switch between the frontend and backend editors with just one click, some users may find this inconvenient.
4. Templates
Elementor
Templates might save you a lot of time. Rather than having to create each page from scratch every time, they allow you to use a current design and modify it as needed.
With Forge, you'll have access to over 300 well-built templates that may be used in any business or for any purpose.
As frosting on the cake, individuals that use a page builder that has pre-built templates that can be readily imported and altered will have an advantage over those who don't.
WPBakery
WPBakery Page Builder also offers a big template library. You can choose from a wide range of templates and download any that you like in a matter of seconds.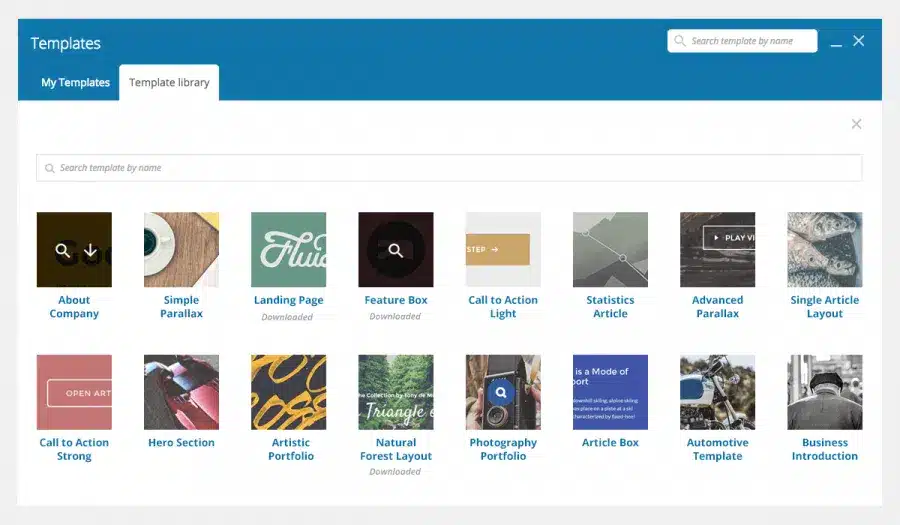 There are over 100 plugins and layout templates meant to complement them by adding features like sliders, pricing tables, contact forms, calendar widgets, and more.
The Template Library provides WordPress users with cost-effective access to high-quality template designs ranging from single-page layouts to sophisticated web pages with several blog posts or sections, each with personalized notifications or webinars. Purchasing these templates is well worth the money, especially at such a low cost.
Furthermore, each template you download will have high-quality placeholders that may be easily updated with your content.
Each element of a template has been handcrafted by the design team to ensure that its unique attractiveness is only matched by its ease of use and versatility.
There's no need to know how to code. You can create pages in minutes with this Drag & Drop Page Builder – no developer required.
5. Theme Builder
Elementor
Elementor just released a new upgrade that gives you complete control over your template's appearance and functionality.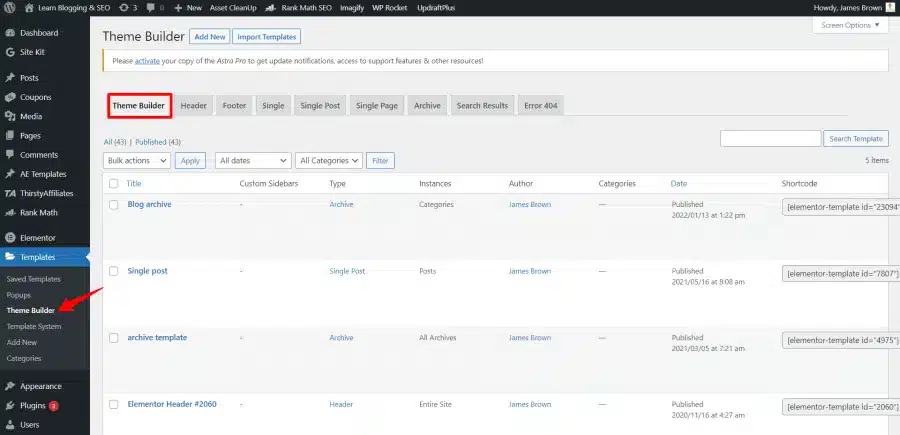 You can now create your headers and footers or use their library of ready-made designs. Elementor will immediately apply any custom header or footer adjustments made if you choose to add an existing theme to your site.
Now, regardless of which theme you start with, the appearance of your site will be uniform across all platforms. To make them look more unique, they can be designed from scratch or utilize pre-made templates.
Hello is an excellent foundation for Elementor. Create a website with Elementor, then update and test it every week.
Hello is the ideal framework for creating websites because it allows website managers and editors to design whatever they desire. With Elementor, you can access all of the pages you create with WordPress through a user-friendly interface.
Why not try the Hello themes collection if you're just getting started and need some inspiration?
WPBakery
WPBakery does not include a theme editor, but the Visual Composer Website Builder plugin can be installed and activated to add one.
6. Other Unique Features
Elementor
1. Elementor Academy is a one-stop shop for educational information that spans every possible feature in Elementor's extensive plugin library.
You'll get a step-by-step description of the tool, from basic to intermediate elements, as well as tips, tricks, and pro approaches, to guarantee you possess all you need to excel in web design.
Elementor Academy can help you succeed no matter what your skill level is or what goals you have for your career as a web designer.
You can even throw open the doors by participating in Elementor's community so that we can all grow together.
2. Elementor Developers – You'll discover all of the Elementor platform's tools and options with this, allowing developers to customize their end-product websites!
This also applies to the internal technology that the platform is based on.
WPBakery
Skin Builder – You may personalize your WordPress theme with the integrated skin builder tool to match your company's branding.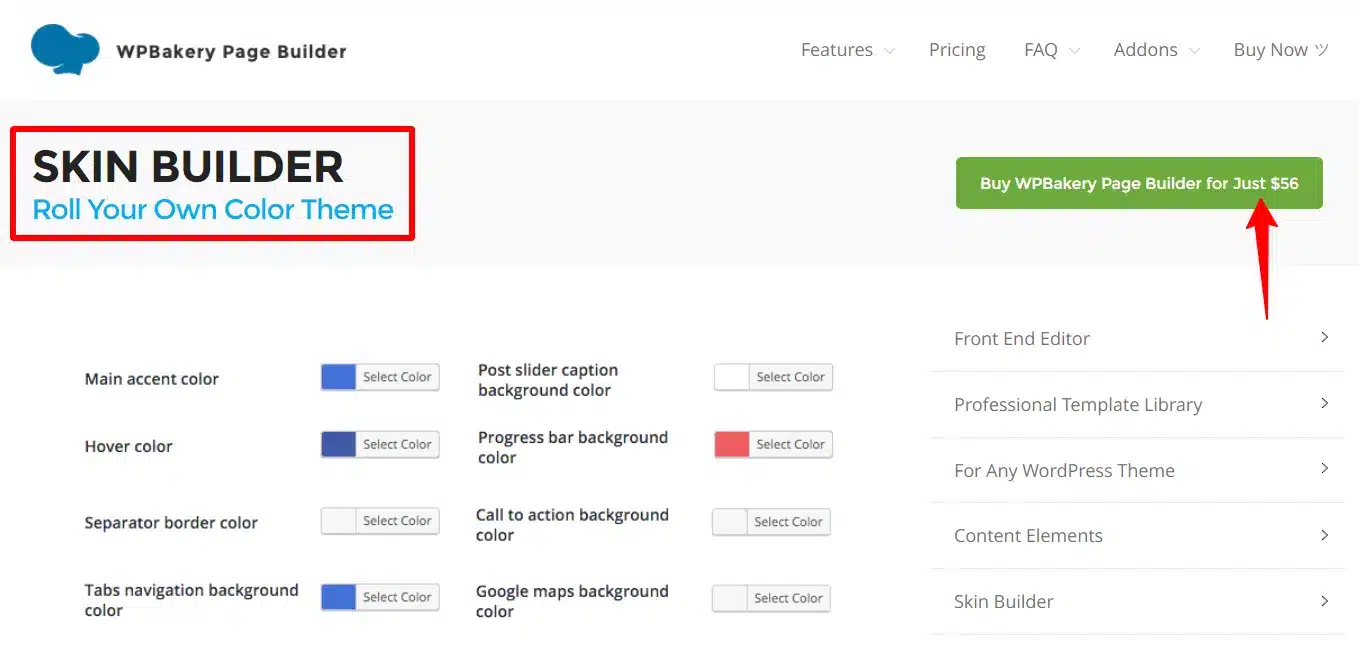 You can quickly adjust the visual properties of WPBakery Page Builder elements using the built-in design options panel.
Discover WPBakery Page Builder's user-friendly skin builder tool and combine it with your WordPress theme to create a unique user interface that isn't present in any standard theme or available from other premium WordPress plugins that provide comparable functionality.
Advanced Grid Builder – WPBakery Page Builder contains an efficient Grid Builder that comes with a variety of grid elements that make it simple to present any type of material beautifully.
Users can construct a personalized layout using 40+ predefined grid element styles and a filter feature.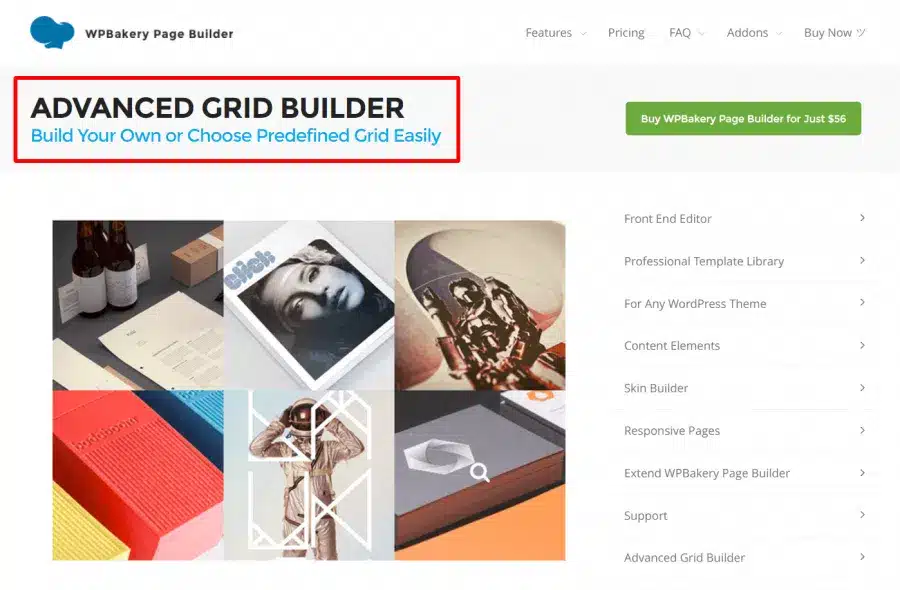 WPBakery Page Builder includes not only 40+ predefined grid element styles, but also many other choices such as padding and gaps, control width, and so on. Providing unrivaled adaptability in any situation.
Elementor vs WPBakery Customer Support
Elementor Customer Support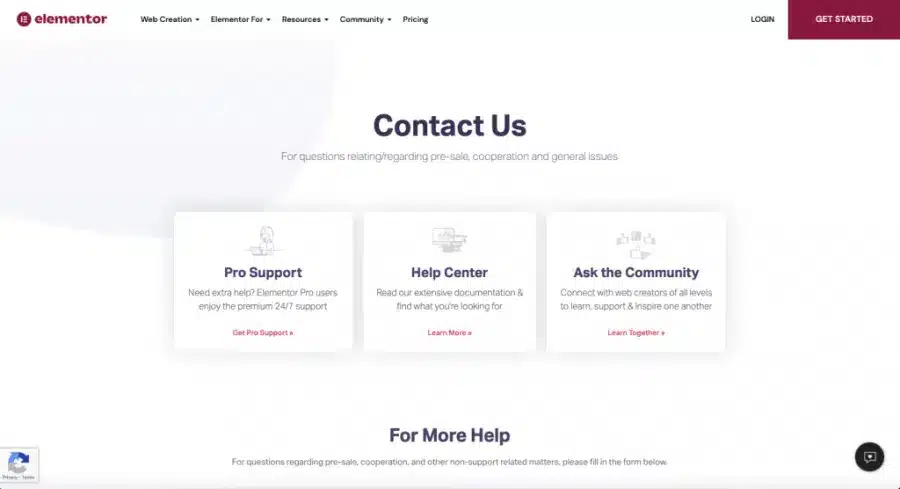 Video tutorials, an active community of other developers who may offer a hand through the forums, and Elementor's premium 24/7 customer support services.
If you're keen to acquire the Pro edition, these are all resources you can use on your off days. Elementor also includes a useful blog, as well as support for a wide range of languages owing to its expert translators.
WPBakery Customer Support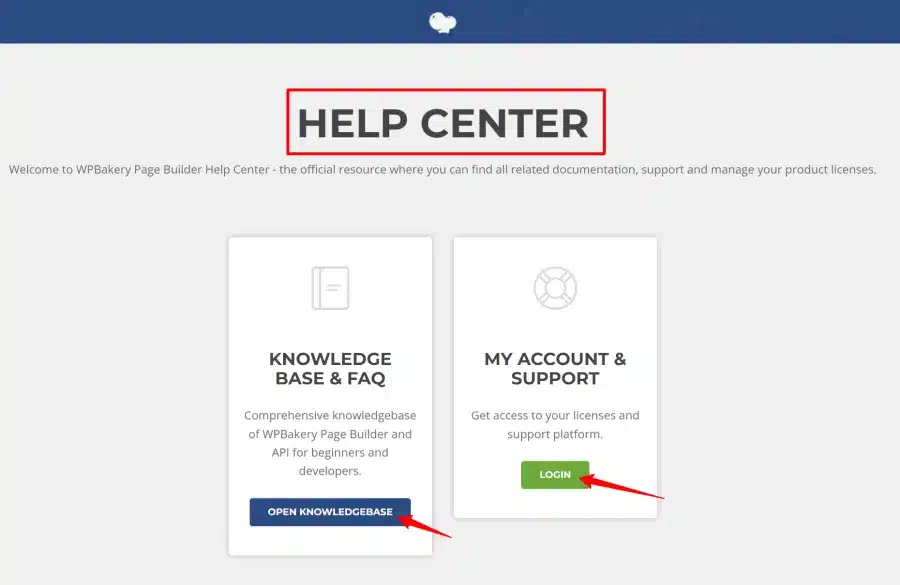 WPBakery Page Builder comes with comprehensive documentation and tutorials to help you get the most out of the plugin. You can sign up for a free account and ask questions in their support forum if you need help.
Check out the WPBakery Page Builder free video lessons to learn how to build multiple websites with the WPBakery Page Builder plugin. It also comes with a large information base from which you can learn while earning. Check out WPBakery Help center for more details.
Pricing Battle: Elementor vs WPBakery
Elementor Pricing Plan
Elementor has four plans: essential, expert, studio, and agency. 
1. Essential- It comes for $49 a year and only 1 website is included.
Drag & Drop Live Editor
Responsive Design
90+ Basic & Pro Widgets
300+ Basic & Pro Templates
60+ Pro Website Kits
Theme Builder
Premium Support
2. Expert – It comes for $199 a year and 25 websites are included.
All features are included in Essential plans.
You get to create your network profile, with a profile on Elementor Experts you can showcase your best work and get hired for your next project.
3. Studio – It comes for $499 a year and 100 websites are available.
All features are included.
VIP Support
Experts Network Profile
4. Agency – It comes for $999 a year and 1000 websites.
Drag & Drop Live Editor
Responsive Design
90+ Basic & Pro Widgets
300+ Basic & Pro Templates
60+ Pro Website Kits
20 Expert Website Kits
Theme Builder
VIP Support
Experts Network Profile
You can get The details Insight to check out our article on Elementor Pro Pricing. We have mentioned all four Pricing plans in detail.
WPBakery Pricing Plan
Unlike Elementor this platform has only two plans: Regular and Extended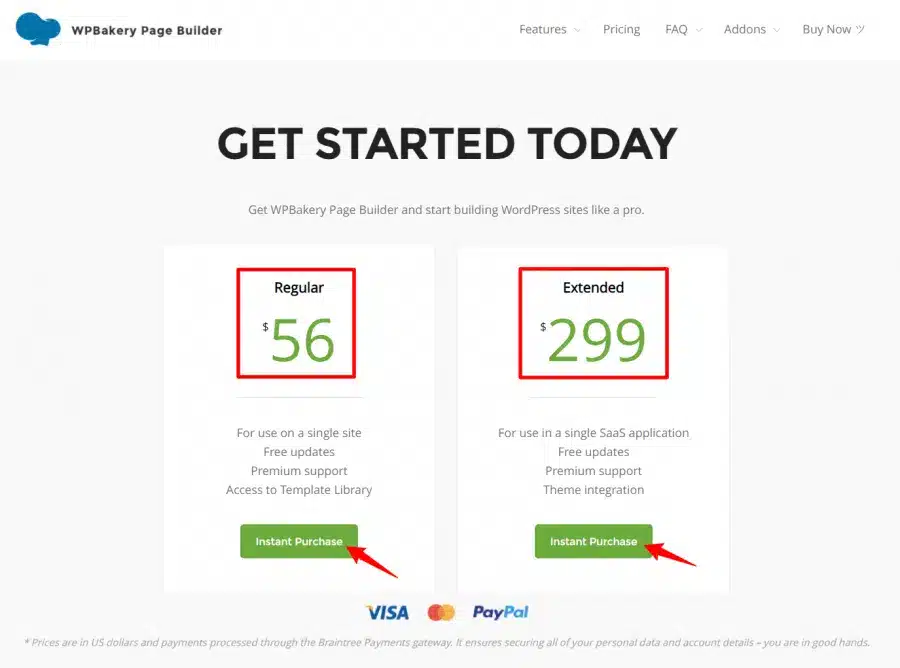 1. Regular – This plan is available for only $56. It is available for only one site and you get access to the template gallery.
2. Extended – This plan is available for $299. You get to access the theme integration feature.
So, based on the features and benefits, I suppose it's as clear as day for you to choose which platform to use. Before I wrap up my Elementor vs WPBakery comparison, I'd like to list the benefits and drawbacks of each platform.
Conclusion on Elementor vs WPBakery 2023
There are now two popular options to pick from when it comes to the finest WordPress website builders: Elementor vs WPBakery. You may create a fully functional and attractive website with these website builders. Which builder, though, should you use?
Elementor: In my opinion Elementor is the more reliable of the two options. Its design layout is simple in its presentation and quick to traverse through, making it simple to gauge and use.
This platform offers an affordable free version that allows you to test layout skills and go through a sampling of features before deciding whether to spend further, as well as endless modules and considerable customization concerning the available tools.
WPBakery: WPBakery, on the other hand, is distinguished from other page builders by its extensive list of strong features. It is the ideal solution for individuals who are new to WordPress and want to construct attractive websites with complex themes.
According to me, it all depends on your idea; if you want extensive features and customization, go with Elementor; if you only want features that will give your ideas a boost at a reasonable cost, go with WPBakery.
frequently asked questions
Which is better WPBakery Or Elementor?
Both platforms are the best site builders, and they each have their own set of benefits and drawbacks. The fundamental distinction that separates elementor from WPBakery can be found in this review. Elementor offers variable elements and slightly more elements than WpBakery.
Can I use WPBakery and Elementor together?
You certainly can, but if you create elements with WPBakery, you won't be able to alter them using Elementor once you've created them. The same elementor elements are inaccessible for editing with wpbakery.
Does Elementor slow down your website?
Elementor does not slow down your site and loads quickly every time. When you utilize Elementor, you don't have to trade performance for a fantastic new design. Furthermore, it does not necessitate that you know how to code or alter huge system files for them to be included in your WordPress website.
Is WPBakery faster than Elementor?
WP Bakery is the one to choose if you're searching for speed as it's roughly 10% faster than Elementor.
How good is WPBakery?
When compared to the other three major page builders that we've evaluated, WPBakery Page Builder, which was originally known as Visual Composer, is unequivocally the least effective of the bunch. It's also one of the worst widely-used software projects in WordPress, which is saying a lot considering how widespread WordPress is.
Which is better Elementor or Visual Composer?
Two of the most well-known page builders in the WordPress community are called Elementor and Visual Composer. However, when compared to Visual Composer as a whole, Elementor performs significantly better in practically every aspect. No matter if you're interested in the editor, the customizable settings, the templates, or the cost, Elementor has a lot more to offer!
How do I get rid of the WPBakery page builder?
You can deactivate the license for WPBakery Page Builder by going to the WP Dashboard, clicking on WPBakery Page Builder, clicking on the Product License tab, and then clicking the "Deactivate" button.
Is WPBakery Page Builder free?
The WPBakery Page Builder Template Library is a repository of free layout templates of top quality that are available for download and use on WordPress websites. You can use these templates however you like. When you have a license for direct WPBakery Page Builder, you have unrestricted access to the Template Library at no additional cost, and there is no download cap.
Can I use Elementor with Bluehost?
Bluehost is not a good option for hosting an Elementor website. This conclusion was reached after doing statistical analysis and using Bluehost for a number of different customer websites. Simply said, it does not provide enough processing power for Elementor, which is required for it to load rapidly.
Can I use Elementor without WordPress?
Sadly, you can't utilize Elementor if you don't already have WordPress installed. It is not possible to create websites, themes, or pages with Elementor on any other platform, including a standalone coding application.
How do I add a post to the WPBakery page builder?
Go to WPBakery Page Builder > Role Manager and under the user role you want to set the post types for you, click "Custom" from the dropdown menu. Then, check all of the post types that you want to use the Visual Composer on. This will enable the WPBakery Page Builder, which was formerly known as the Visual Composer.
Can I use WPBakery without a license?
WPBakery does not, unfortunately, provide a free licensing option. But if you are looking for a free alternative, we recommend giving a try to our new product: download free Visual Composer, which is a drag-and-drop WordPress website builder that offers ready-made content elements, templates, and powerful design options. If you are interested in giving it a try, you can do so by clicking here.