Content marketing relies heavily on writing and search engine optimization, but it can be challenging to identify the best tools to employ across the web for these purposes.
I have analyzed Frase.io and Jasper AI, taking into account all the details, so you don't have to. To help you decide between Frase.io and Jasper AI, we've broken down their similarities, differences, and price structures below.
So that you don't get confused, in this Phrase.io vs Jasper AI review, I've even suggested which one to go with.
Let's get started.
Frase.io vs Jasper AI: Overview
As a professional writer, have you ever found it difficult to complete tasks on time, produce more than a thousand words per day, and improve your content using search engine optimization (SEO) marketing tools?
I would like to introduce you to Frase.io & Jasper AI, two of the greatest artificial intelligence (AI) assistants designed for content specialists, so that you may spend less time at the office and much more time with your loved ones.
You will discover that the topics discussed on this page are similar to the following:
What Is Frase.io?
Frase.io is an AI-driven platform that streamlines the process of content curation for search engine optimization. Rather than waiting around for hours, you can have your content optimized in Frase.io in as little as 5 minutes.
Frase.io isn't like a typical student; it's a creative AI, so you can utilize its AI-generated article and sales copy templates with confidence.
In reality, hours of manual research are no longer necessary thanks to Frase.io's ability to quickly scan the whole internet and produce content briefs using search engine results page (SERP) research in a matter of seconds.
Frase.io's content comparison and keyword suggestion features will help you dominate the competition. This will increase the quality of your material.
Last but not least, Frase.io might serve as a helpful reminder of the available ranking opportunities. I discovered that Frase.io provides clues if your content is falling in the rankings.
You can update and revise your material at the intervals suggested by Frase.io. After conducting an in-depth analysis of Frase.io, we came to the conclusion that it is the premier platform for optimizing SEO and rising to the top of Google search results.
What Is Jasper AI?
Jasper AI is your one-stop shop when it comes to completely unique materials. More information is needed, right? Allow us to elaborate. When it comes to AI-powered word processors, Jasper AI is among the best.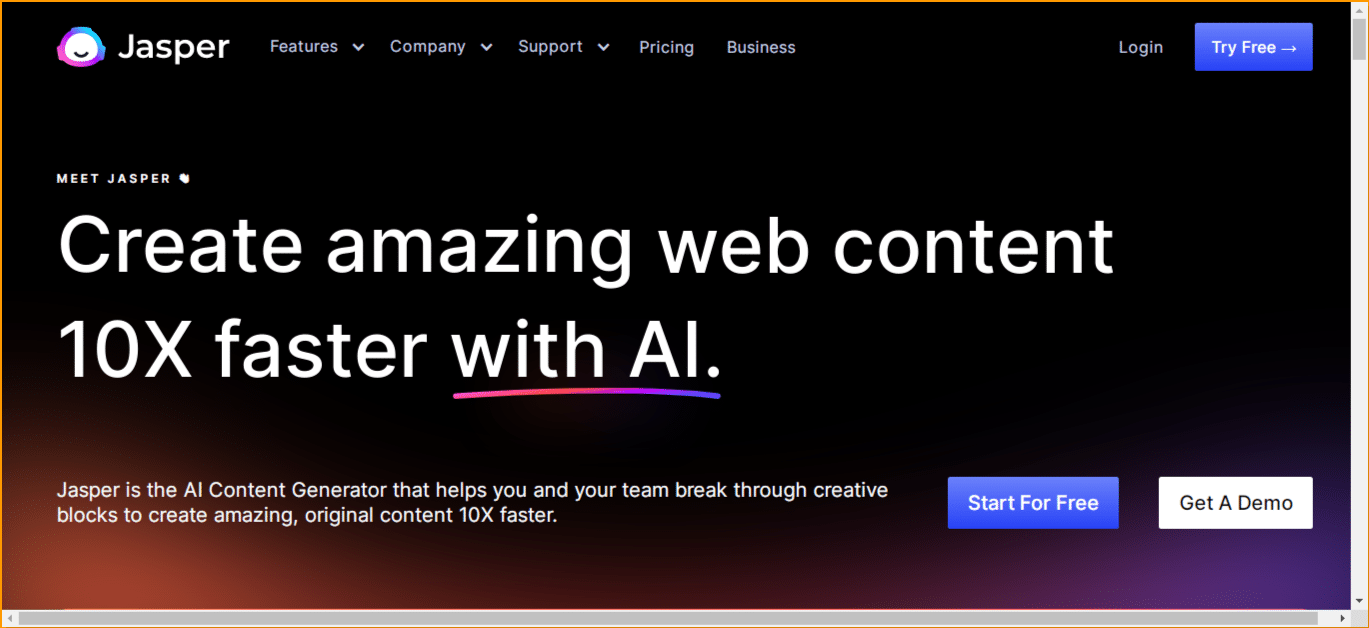 Bonus: To sweeten the deal, try out the Jasper AI free trial here so that you can get started with Jasper for free by signing up for Jasper AI Boss Mode.
When compared to the average human content writer, Jasper AI can produce content such as product descriptions, blog articles, long-form content, and sales copy 5 times faster. It's true, that's for sure! It passed our tests.
If you're not confident in Jasper AI's writing abilities, you can still get your article delivered in a flash by selecting a pre-made template.
In order to produce SEO-friendly, unique content, Jasper AI employs a cutting-edge artificial intelligence system. You already have your own material prepared, but Jasper AI can make it even stronger and more engaging with its fast content improver.
If you are not an English speaker, you will not be singled out thanks to Jasper AI's support for 25+ languages.
And what's more? Jasper AI streamlines the entire process of writing. After selecting the most applicable keyword, Jasper AI will generate the desired content instantly.
I have already written a comprehensive Jasper AI review that covers every aspect of this software.
Frase.io vs Jasper AI: How do they work?
You couldn't find a more efficient way to get content or optimize it than with Frase.io and Jasper AI, which work instantly with just a click.
Let's demonstrate to you how Frase.io & Jasper AI to work to give you a better idea of what's going on.
How Does Frase.io Work?
Frase.io has simplified the entire SEO environment by automatically monitoring the most highly ranked keywords. So, if you have an idea for an article but aren't sure if the associated term will rank, Frase.io will help you sort through the noise.
As soon as you settle on a term, run it through Frase.io once; the tool will search the web for it and return the top 20 results.
You know which keywords will bring you to the top of Google's search results, so let Frase.io put up an engaging content brief.
Once Frase.io provides the content brief, your writer can generate keyword-based material and start the workflow.
When you're done writing, you may use Frase.io to check how it stacks up against the best of the competition, make any necessary adjustments, and publish a final, polished version.
Finally, you can acquire a comprehensive analytics score for your content by running it through Frase.io. And you'll get top-notch stuff that's been successfully produced.
How Does Jaspe AI Work
Adopting Jasper AI is way more convenient, even though Frase.io does provide some interesting opportunities.
Within seconds, you may use Jasper AI to complete the whole process of content creation, including drafting, optimization, and authoring. We're glad you caught that. Clearly, Jasper AI is five times faster.
To get the most out of Jasper AI, you may need to customize one of the numerous pre-existing templates it provides. Try not to be concerned.
You can find blog posts and advertisement copy templates on Jasper AI, as the platform does not take a cookie-cutter approach. If you need help writing an essay, for example, you can have Jasper AI do it.
After deciding on a template, you will need to provide Jasper AI with a keyword and its context. Otherwise, the Jasper AI could start lagging off when writing content and lose the reader's train of thought.
Since context is so important, I advise being very specific when providing Jasper AI with supplementary information about the term and the subject.
Within five seconds of your click, Jasper AI will have your material delivered using its special brand of magic and advanced AI technology.
The entire process, including adding keywords, may take only about 15 seconds with Jasper AI. Even still, that's far quicker than using Frase.io for optimization purposes.
Frase.io vs Jasper AI: Which One To Choose & Why?
You probably know what Frase.io and Jasper AI are by now. That's what we're hoping for, anyway.
Give me a moment while I explain. Whereas Jasper AI is more concerned with drafting and creating material, Frase.io excels at curating outlines and improving upon previous works of the content.
While Jasper AI does a good job of searching the web and keeping an eye out for opportunities to improve SEO, Frase.io does it even better.
We can determine that Jasper AI is superior to Frase.io for content creation by comparing the two systems' metrics, performance, and efficiency. Frase.io, on the other hand, excels at SEO optimization and outline creation.
If you don't have a writer on staff who can crank out an attention-grabbing copy and rough drafts of content quickly, you might want to use Jasper AI.
Whether you're an SEO professional or a content marketing expert, Frase.io can help you organize your material, rank it, optimize titles, and create outlines for your authors.
Since Farse.io and Jasper AI serve various purposes and are not interchangeable, you can pick the program that best suits your requirements. Carefully pick the right one. Still, you should give our recommendations some thought.
Frase.io vs Jasper AI: Key Features
Having tried both Frase.io and Jasper AI, I can say that there are several key distinctions between the two that need to be discussed.
Frase.io Key Features
However, although Frase.io can compile an optimal content brief with proper outlines, Jasper AI is unable to do so. However, Jasper AI provides a tonne of usable pre-built templates.
With Frase.io, you can see how your content stacks up against the other top contenders for a given term. The Jasper AI, on the other hand, is optimized for search engines but is unable to analyze the market or identify viable competitors.
Frase.io identifies top-performing keywords and prompts you to improve your content for low-performing keywords. However, Jasper AI does not display analytics on content or usage needs from external sources.
While Frase.io can do research and generate outlines, Jasper AI can do both and also compose material that is completely unique and free of plagiarism.
Jasper Key Features
Unlike Frase.io, which lacks such functionality, Jasper AI can be used to enrich and update previously published content.
The content enhancer in Jasper AI is a great tool for revising and rewriting selected passages that could use some polishing.
When it comes to writing, Jasper AI is so advanced that it can do it in 25+ different languages, meaning you can ditch Google Translate altogether.
The content enhancer in Jasper AI is a great tool for revising and rewriting selected passages that could use some polishing.
Overall:
The discussion is over. Some similarities between Frase.io and Jasper AI exist, but there are also key distinctions. Even though Frase.io and Jasper appear to be similar at first glance, they are not designed for the same people.
Frase.io vs Jasper AI: Pricing Plans
I have collected every bit of data available about Frase.io and Jasper AI, but there may still be a question concerning the pricing structures? Let's pause for a second. Have no fear, your voices were heard.
Frase.io Pricing Plans
Frase.io's prices range from $19.99/month for a single-user plan to $114.99/month for an entire team. Even so, further features and SEO enhancements can be purchased for $35/m.
Are you lpremium plan (Boss Mode)ooking for an affordable one? The best value is found with the $44.99 per month basic plan.
In contrast, Jasper AI offers competitive pricing for the extensive set of capabilities, writing tools, and templates that are included in each package.
Frase.io offers a 7-day free trial for those who are on the fence about making a purchase. Really, Frase.io is intriguing.
Jasper AI Pricing Plans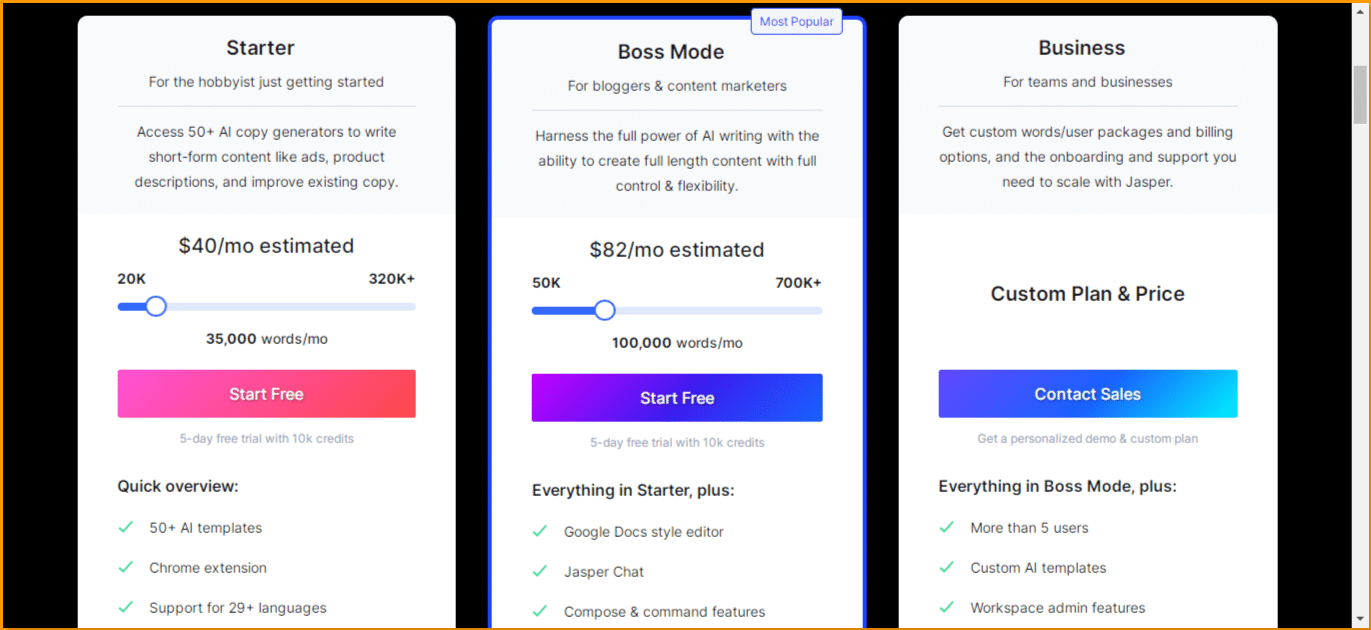 Pricing for Jasper AI ranges from $49 per month. for the basic plan to $99 per month. for the premium plan (Boss Mode). Here's the catch: switching to Boss Mode allows you to write up to 100,000 words!
Nonetheless, Jasper AI's beginning plan allows for unlimited projects and fifty or more AI copywriting abilities. After looking through both options, I have come up with a solution.
The basic Jasper AI package is all you need if you only need to write short pieces like blog posts and copy. The premium plan (boss mode), on the other hand, is ideal for publishing organizations and advertising agencies that often deal with large pieces.
If you find that none of Jasper AI's suggestions work for you, the software still allows you to make your own adjustments to the way things are set up. Jasper AI allows you to set a word limit in accordance with your budget.
Thus, it's a huge victory, and I strongly advise you to customize your plan.
Jasper Art Pricing
Recently, Jasper AI introduced a new AI art generator called Jasper Art, which can generate images from your ideas in just a few seconds. It can be used by bloggers to create a visual that conveys their message.
Jasper Art makes it easy to make custom illustrations without ever needing to resort to clipart again.
You can now combine the power of Jasper AI with the creativity of Jasper Art to produce truly original articles accompanied by stunning visuals.
Like Jasper AI, all you need to do to create art with Jasper Art is write a prompt, select a style, and hit the generate button.
Both Jasper AI and Jasper Art provide a 5-day free trial, during which time you can make up to 200 2K photos without a watermark. After your trial ends, unlimited access to Jasper Art will cost $20 per month.
Frase.io vs Jasper AI: Pros & Cons
The advantages of both Jasper AI and Frase.io AI were substantial, but there were also certain drawbacks that went unnoticed.
Frase.io
| PROS | CONS |
| --- | --- |
| Frase.io can be used for both paraphrasing and rewriting purposes. | Limited to Only SEO and marketers and little writing |
| An effective content plan can be made in a matter of minutes. | |
| The use of Frase.io reduces the amount of time spent on online research and browsing. | |
| Using Frase.io, you can check how your content stacks up against the competition. | |
| Complete content analytics are provided for use in search engine rankings. | |
Jasper AI
| PROS | CONS |
| --- | --- |
| In Jasper AI, you have access to use pre-made templates. | Certain sentences from Jasper AI are repeated at various times. |
| Jasper AI can produce material five times faster than you can. | |
| Jasper AI allows for the improvement of pre-existing content. | |
| All of the information that is sent out is completely unique and optimized for search engines. | |
| Jasper AI can instantly produce material in 25+ languages. | |
Conclusion On Frase.io vs Jasper AI
After putting Frase.io vs Jasper AI through their paces in comparable instances, we came to the conclusion that the software is sturdy, thanks to the incorporation of advanced AI technology.
As for the features and advantages, they are still comparable. Jasper AI, for instance, performed particularly well in writing and drafting.
However, Frase.io's marketing tools were superior to those of Jasper AI, so we couldn't definitively declare either one a winner. Therefore, I recommend that you evaluate your requirements and decide between Frase.io and Jasper AI.
If you market materials online, I recommend using Frase.io. Copywriting software like Jasper AI is highly recommended for marketing firms' daily copy needs.
Before we wrap up, it's worth mentioning that Frase.io & Jasper AI are different things.
Frequently Asked Questions (FAQs)
Is Frase IO worth?
You can use it to make content briefs for yourself or your writers. The time spent researching and outlining can be cut significantly. In addition, the editor provides guidance on how to enhance your content's SEO performance. When all is said and done, I believe Frase.io is worthy of all the hype it has received.
Is Jasper Ai good for SEO?
Jasper's AI-generated output is 99.99% unique and error-free. The time it takes to produce high-quality, SEO-friendly content will be drastically reduced.
Is Frase.io free?
No! Frase. io is not free, but they do offer a 7-day free trial.
Is Jasper AI free?
The first ten thousand words are on the house. Plans begin at $29/month if you decide to keep going. It doesn't matter what kind of material you need to be written, Jasper can do it, from product information to LinkedIn profiles. Input a brief summary of your intended content, and hit the produce button.