In this FreshBooks review, I have come up with a complete analysis of FreshBooks' overview, pricing, features, alternative, and more.
If you own a small business or work as a freelancer, you're probably used to managing several clients, payment dates, invoices, and more—always another thing to remember.
It is accounting software aimed at sole proprietors, freelancers, and small businesses.
Keep reading to know more.
FreshBooks overview
FreshBooks is a simple and user-friendly cloud-based accounting program that is available from any device. It is simple to generate invoices, view invoice payments, and perform other routine duties.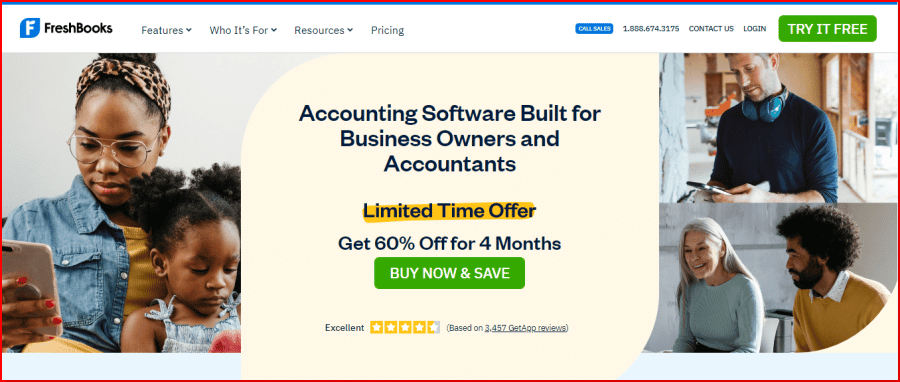 FreshBooks provides excellent flexibility, which is a significant benefit for service-based firms that bill clients. Freshbooks is primarily geared toward small and medium-sized enterprises.
It is a browser-based software as a service (SaaS) approach, accessible via desktop or mobile device. The company was established in 2003 in Toronto, Canada.
FreshBooks is a cloud-based accounting application that allows you to create and send an unlimited number of bills, handle clients and projects, and accept online payments.
It includes double-entry accounting, recurring bills, product development, mobile accounting, and many more features.
FreshBooks Review: Pros And Cons
Fresh Books is a must have for businesses that want to simplify their accounting software.

The great invoice features are ideal for a small business like me.

The FreshBooks customer service is excellent, quick, and helpful.

User friendly and simple to use.

It has a fantastic UI that makes using it feel very simple.

affordability pricing at lower plan.

Financial statements with double-entry accounting.

Tools for working as a team and keeping track of time.

Less software customization.

Not made for bigger business.
Key Features of FreshBooks
1. Integrations
4. Invoicing
6. Contacts & Expenses Tracking
1. Integrations
You may add features to FreshBooks or connect them with other business programs that you already are using for analytics, scheduling, advertising, and tax support, among other things.
No coding is necessary to link FreshBooks to thousands of the most popular apps, allowing you to automate your job and devote more time to what matters most.
2. Mobile Application
FreshBooks' mobile application for iOS and Android smartphones has almost all the functionality present in the online version of the product.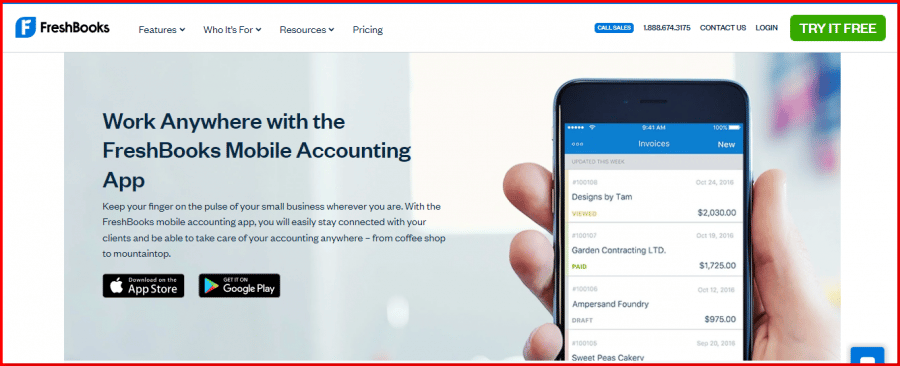 You may manage billable hours, capture images of receipts and expenses, make and send invoices, interact with clients, and collect fees.
Automatic mileage tracking is a feature of the FreshBooks mobile apps that I've previously only seen in the QuickBooks Online app.
FreshBooks monitors your mileage as you drive if you run the software with your phone's location services enabled. You can mark journeys as personal or professional and add missed excursions if necessary.
3. Time and project management
FreshBooks may act as the central location for your projects. After introducing participants, customers, and staff to projects, you are able to share documents and notes and establish deadlines.
Your participants and staff can track their time, enabling you to simply measure the number of hours devoted to a project. You can also invoice customers for tracked hours and project-related expenses.
4. Invoicing
FreshBooks facilitates the creation, transmission, and management of bills. FreshBooks makes creating invoices simple.
The invoice screen displays precisely how your papers will look when they are sent, so you do not need to select a preview option to verify their appearance.
You can add new clients, products or services, summaries, terms, and notes by clicking on the relevant fields; you do not need to create them on a different screen and then add them to a bill.
To reorder lines on an invoice, simply drag and drop them into position.
You can submit invoices from anywhere, including your phone, thanks to the mobile app that FreshBooks provides.
If you have customers from other countries, you'll find that FreshBooks' support for numerous languages and currencies is an extremely helpful and practical tool.
5. Quick Payments
When you connect your Stripe account to FreshBooks Payments and send electronic invoices to customers, you are able to accept credit card payments through the platform.
This enables your customers to make instant payments by clicking a payment button that is displayed on the electronic invoices that you send them.
Because this information is stored within each invoice, you won't need to manually manage it in any way. Instead, you'll be able to easily see how much your customers have paid and whether or not there are any unpaid balances.
6. Contacts and Expenses Tracking
In FreshBooks, you create a new Client record by entering the client's name and contact information, or as much as you know.
You can modify a Client's invoice attachments, reminders, late fees, currency, and language as you create them.
For each client you add, FreshBooks will create a client webpage. FreshBooks will add more information to the client webpage after you have a billing history with them.
You can use the app to take a picture of a receipt and add it as a cost.
Then you may categorize them, associate them with transactions from your bank account or credit cards, and mark them as billable so you can include them in bills.
Expenses can be associated with projects or clients, allowing you to keep track of your spending and stay under your budget.
7. User Interface
The process of getting started with FreshBooks is improved. Before it can personalize the site for you, the app needs to know a little bit about your company, such as what services you provide and how you charge for them.
You give out your contact info and are urged to ask your teammates to create accounts. After that, you'll be sent to FreshBooks' main page, where you'll see a box labeled "Add Your Clients."
From there, you'll be able to add clients, products, and services, and finally send invoices.
Adding clients and commodities or services beforehand makes invoicing them simpler, but you can close this setup box if you want to skip ahead and add them later.
Is FreshBooks good For small businesses?
FreshBooks provides all of the features that are necessary for very small enterprises, as well as some advanced tools that are necessary for larger businesses.
Although the website has undergone significant transformations over the past few years, it continues to be our Editors' Choice for very tiny businesses such as freelancers and single proprietorships.
You shouldn't have too much trouble understanding how the most recent version of FreshBooks operates, even if you've never used it before.
FreshBooks offers an attractive design and navigation tools that are simple to operate.
However, before you make the transfer from FreshBooks Classic, you should verify with the company to ensure that all of the features that are essential to your business are included.
How Does FreshBooks work?
FreshBooks provides a free trial period of 30 days, following which you are able to choose from four distinct pricing plans, the one that is most suitable for your company being contingent upon its size and level of complexity.
Users can get assistance with creating accounts on the website dedicated to support, and they can learn about the program and its possibilities for accounting through recorded webinars.
On the primary dashboard, charts can be used to summarize a variety of data, including invoices, Liabilities, revenue streams, and expenditures.
FreshBooks provides an additional benefit in the form of a mobile app that is compatible with both the iOS and Android operating systems.
With this app, you can access the key features of the software and monitor details such as the amount of time and distance traveled for various projects.
Freshbooks Pricing And Plans
Mainly, FreshBooks has three pricing plans. Let's explore each one of them in a more detailed way.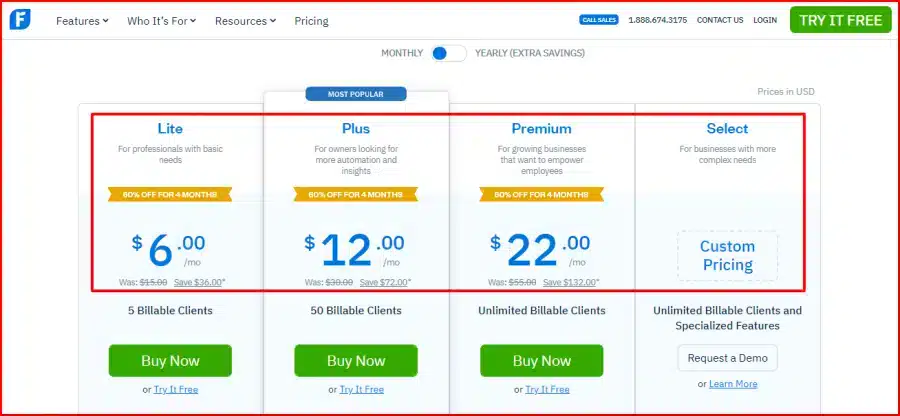 You are able to charge up to five different customers with the Lite plan, which costs $7.50 per month. You will be able to link with your bank account, take money for invoices, keep track of the time you work, and access the mobile app.
There is no limit placed on the number of estimates or invoices that can be generated by the user.
Top features of the Lite plan:
Send unlimited invoices to up to 5 clients.
Access anywhere on iOS and Android.
Track unlimited expenses.
Track sales tax & see reports.
Send unlimited estimates.
Get paid with credit cards and bank transfers.
The Plus plan costs $7.50 per month and allows you to bill up to 50 clients. It is the most widely used strategy. You may send periodic bills, set up automated payment reminders, and assess late fees.
This plan includes free FreshBooks collaboration with your accountant.
Top features of the Plus plan:
Send unlimited invoices to up to 50 clients
Get paid with credit cards and bank transfers
Mobile mileage tracking
Run business health reports.
Automatically capture receipt data.
Automatically track expenses.
Send unlimited estimates and proposals.
Invite your accountant.
Set up recurring billing and client retainers.
Access anywhere on iOS and Android.
Double-entry accounting reports.
You are able to charge up to 500 customers with the Premium plan, which costs $27.50 per month.
This plan covers everything that is included in the Plus plan, in addition to having capabilities that are upgraded for tracking and reporting.
Bonus: Check out our article on FreshBooks discounts to get a massive discount on the FreshBooks Premier plan.
Top features of the Premier plan:
Send unlimited invoices to an unlimited amount of clients.
Track Bills, Bill Payments & Vendors with Accounts Payable.
Track project profitability.
Customize email templates with dynamic fields.
Run business health reports.
Automatically track expenses.
Automatically capture bills and receipt data.
Automatically send late payment reminders and bill late fees.
Get paid with credit cards and bank transfers.
Customize email signature set paid with checkout links.
Set up recurring billing and client retainers.
Mobile mileage tracking.
Run financial and accounting reports.
Invite your accountant.
Access anywhere on iOS and Android.
Send unlimited estimates and proposals.
FreshBooks Payment Gateways
FreshBooks relies on bank and payment gateway connections. FreshBooks imports your account transactions from financial institutions to which you log in.
I had issues. Some connections took hours, but one was rapid. Accounting websites must deal with individual banks when connectivity problems or security protocols change, which can be challenging for users.
I haven't seen such long wait times with other small business accounting programs.
A payment gateway lets you take credit and debit card payments and bank transfers from customers. FreshBooks' payment component is a rebranded version of the payment processor WePay.
The industry standard is 2.9% plus 30 cents for every transaction. Stripe and PayPal are accepted.
FreshBooks has the simplest, most intuitive, and most appealing screens of all the programs I've tested in 2021, making accounting easier. Kashoo is harder to read quickly.
An old FreshBooks user may need time to adjust. FreshBooks offers searchable assistance, email, and phone support.
FreshBooks Social Media Platforms
Freshbooks promotes its blog entries with catchy one-liners that highlight the service's major benefits. In order to connect with their audience, they share content on social media and engage with them.
It uses various social media platforms, such as Facebook, Twitter, LinkedIn, and many more.
FreshBooks Facebook Page
On its Facebook page, FreshBooks has amassed a total of 69,575 followers and 67,980 likes.
FreshBooks Twitter Page
FreshBooks has 30.6k followers and 30.6k people who follow them on its Twitter profile.

FreshBooks Instagram Page
FreshBooks has posted 929 posts and 9,388 followers on its Instagram profile.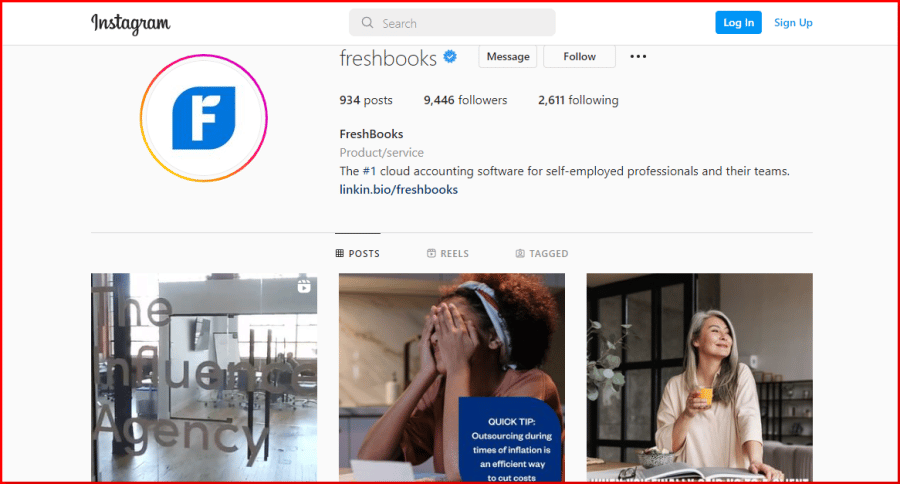 FreshBooks Customer reviews and testimonials
Here is what users say about it: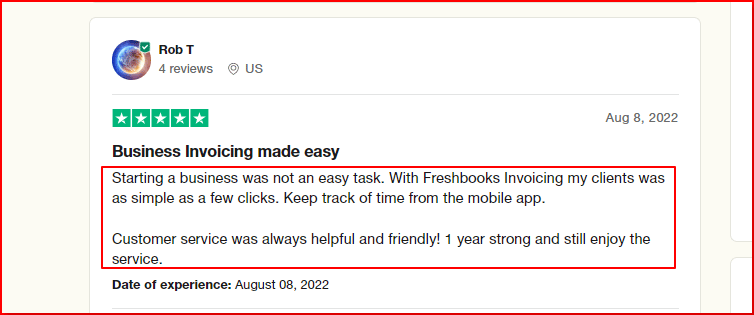 "Now, Accounting is like going to the spa!"


What do you like best about FreshBooks?


For 5 years, I used Quickbooks for my accounting and invoicing. I avoided logging in to QB because it was difficult to navigate and just plain ugly. A friend told me about Freshbooks and I hesitantly made the switch. Doing my accounting through Quickbooks was like going to the dentist. Painful! Doing accounting with Freshbooks is like going to the Spa! I do not regret this decision! I love how easy it is to create invoices, the automatic expense capturing, and the dashboard. Plus, if you need help, the customer service is fanatical.

Source: G2
Conclusion On FreshBooks Review
Overall, FreshBooks is a service that should be given significant consideration by sole proprietors of small businesses, independent contractors, and anyone else who needs to send invoices and collect payments online.
However, if you have a larger team, require more granular control, or need access for more than one person, you may find FreshBooks alternatives such as QuickBooks are better suited to your needs.
You may get more information about the top billing programs that are open to you by reading this post.
Frequently Asked Questions
Is FreshBooks a reliable source?
Every month, millions of businesses use FreshBooks, making it one of the most popular software options available. The service's features are well-received, and many users report being pleased with their decision to choose FreshBooks as their accounting platform.
Is FreshBooks and QuickBooks the same?
If you're in the business of selling things or retail goods, QuickBooks is the best accounting software to use, while FreshBooks is the best accounting software to use if you're a freelancer. QuickBooks allows you to keep track of your daily sales from any channel and integrate with other e-commerce platforms like PayPal, Square, and Shopify.
What is FreshBooks best for?
FreshBooks is one of the top accounting apps that you can use in the cloud. It was made so that businesses could handle their finances in a safe and easy way. FreshBooks makes it easy and effective to keep track of expenses, invoices, reports, and time.
Does FreshBooks do payroll?
To assist owners with payroll, FreshBooks has teamed with Gusto, the top small business payroll system in the United States. provide payroll services, benefits, and human resource solutions It provides full-service payroll, managing everything from payroll taxes to HR inquiries.
What is the difference between Xero and FreshBooks?
The main differences between Xero and Freshbooks are that Xero costs $9 a month and is more expensive, while Freshbooks costs $4.90 a month and is less expensive. Freshbooks is more for people who need help with their paperwork, while Xero is more for small and medium-sized businesses and accounting firms.
Can I import FreshBooks into QuickBooks?
The FreshBooks Connector app does not cost anything to use. Data can be synchronized in both directions, automatically, between FreshBooks and QuickBooks Online.
Is FreshBooks free?
No, FreshBooks requires payment in advance from its customers. The cheapest plan costs $15 per month, but only allows for five billable clients. In cases where you need nothing more than the capacity to make and send invoices and take payment, you may want to look into the free version offered by alternative online accounting systems.
Is FreshBooks invoicing free?
Yes, Try FreshBooks' free invoice software right now and see what you've been missing.
Does FreshBooks track receipts?
Off course yes, FreshBooks allows you to maintain tabs on all your money outlays by allowing you to record both business and personal expenditures. As an added bonus, you can scan as many paper receipts as you like into your account at no extra cost.
Can you pay bills through FreshBooks?
Whether you are a principal user or a secondary contact, FreshBooks makes it simple for you to pay your invoices with a credit or debit card, a Bank Transfer (ACH), or PayPal when those options are available.
How much does FreshBooks cost per year?
If you pay on a monthly basis, the Plus Plan will cost you $30, while paying annually will set you back $324.