In this FreshBooks vs QuickBooks post, I have covered a major difference between both FreshBooks and QuickBooks.
FreshBooks targets small businesses. The software's easy-to-use interface is popular.
It's ideal for freelancers and small enterprises that don't need QuickBooks' features. It's also great for invoicing.
QuickBooks is a powerful accounting program. Most small business owners adore it for its rich features and easy integration.
It's helped firms of all sizes maintain precise bookkeeping for decades.
FreshBooks Overview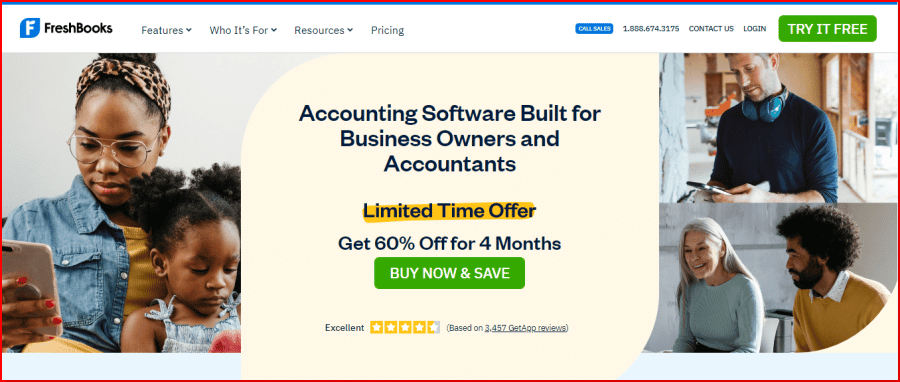 FreshBooks is a provider of accounting software for small businesses that are hosted in the cloud.
The accounting software that is hosted on the cloud is ideally suited for service-oriented businesses such as those run by therapists, builders, lawyers, plumbers, and many others.
It is simple to understand and easy to use, and it can be accessed on all of your devices. Your FreshBooks accounts are mobile and may be accessed at any time, day or night.
It cuts down the amount of time you spend billing, allowing you to get on with running your business.
It keeps track of the time you spend working and accepts payments through a total of 12 different methods.
QuickBooks Overview
QuickBooks is a business management software that helps firms handle their accounting and money by providing in-depth accounting alongside an easy-to-use interface.
QuickBooks is available in its most basic form, Pro, Premier, and Enterprise.
In recent years, QuickBooks Online has emerged as one of the most popular accounting suites available on the market, while QuickBooks Desktop has become the industry standard for accounting software.
The Business Solutions Suite has the same functionality as the Online or Desktop versions, but it also has the ability to manage major companies' accounting and financial operations.
FreshBooks Vs QuickBooks: Features Comparision (Main Differences)
1. Integrations
FreshBooks has more than 100 integrations, but most of them are designed for freelancers and smaller businesses.
With Freshbook's integrations, you can link your app to HR and tax methods for smaller companies to complete the circle of payroll, taxes, and billing.
You can use integration to monitor payments from your Squarespace website, or you can connect FreshBooks to Zapier to process and organize actions in a huge number of other systems.
For optimum control and visibility over your financial information and sales operations.
QuickBooks Online features over 400 native connectors with payments software, commercial banking, CRMs, e-commerce, and many more software categories.
ReceiptBank and PayPal are two more handy programs that keep your transaction updated with pertinent information.
2. Invoice
You can customize the look of your invoices in FreshBooks, and there's a one-click payment option for your client's convenience.
If you set your hours to be "billable," the invoices will automatically reflect that information.
Billable hours and recurring invoices can be billed automatically, and delinquent payments can be followed up on with automated emails.
With FreshBooks Payments, your customers can quickly and easily settle their invoices with a credit card, Apple Pay, or an electronic check.
QuickBooks links to Google Calendar and TSheets to track billable hours for invoicing. QuickBooks Online's invoice maker lets you add your logo and change colors before sending bills to clients.
QuickBooks Payments features a click-to-pay button on invoices so clients may pay with a debit or credit card, Apple Pay, or ACH, and create reminders and recurring payments.
3. Expense Tracking
FreshBooks is primarily an invoice and payment collection platform, therefore you may still need to invest in or integrate with a separate accounting system.
Nonetheless, it offers unique expenditure features like receipt monitoring, project time tracking, and sales tax administration, all of which can be extremely useful for new business owners.
QuickBooks can manage both debits and credits, so you'll always know how much money you're making at each stage of your monthly accounting process.
Because it Online is designed to only show line items and not more detailed breakdowns, you or your accountant may have to enter this information by hand.
4. Reports
FreshBooks' dashboard highlights your monthly input vs output, and reports focus on your profit margin.
The reports are geared toward payment collection and a couple of tax-related reports because FreshBooks is most useful as a billing and time-tracking tool.
Filters in the software allow you to create detailed reports, and time-based reports keep you on top of upcoming bill payments.
QuickBooks Online provides its users with a wide range of report options, the vast majority of which are tailored to meet the requirements of accounting-related tasks.
Each group of reports contains subreports that provide a deeper level of granularity, allowing you or your accountant to analyze the data.
5. Inventory management
FreshBooks is suitable for basic inventory monitoring needs, such as when dealing with a little stockpile.
Products can be added, invoiced, and out-of-stock notifications can be received across all pricing tiers.
But FreshBooks isn't meant to handle even small quantities of inventory and shortly outgrow it if you increase your product range.
With features like low-stock alerts and in-app reordering, QuickBooks Online is a powerful tool that goes far beyond simple stock tracking.
You also can define price criteria to adjust tariffs, and check inventory reports to figure out which categories are your greatest sellers and which have the highest cost.
6. Customer Support
Customer support is available via live chat on the FreshBooks website and via phone 24 hours a day, five days a week.
FreshBooks also provides phone help for customers around the clock.
The website also includes a searchable help center that provides information on a range of issues that are often associated with customer service.
QuickBooks provides online customer service; but, in order to access it, you will first need to log in to your account.
However, users also have the option to do topic research in the knowledge base or ask questions in community forums in order to assist them in locating the answers they require.
FreshBooks Vs QuickBooks: Pricing And Plan
FreshBooks Pricing And Plan
FreshBooks has mainly three pricing plans.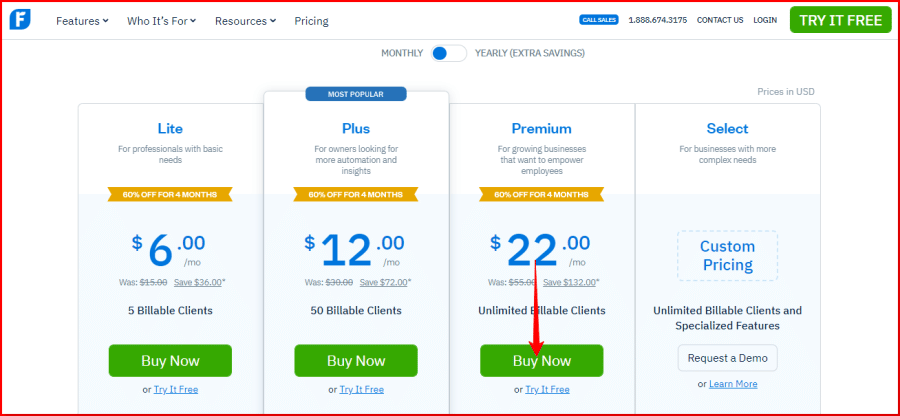 1. Lite Plan
2. Plus Plan
3. Premier Plan
1. lite plan: FreshBooks Lite plan is for small businesses and startups with up to 5 monthly clients. It costs $7.50 a month and gets you basic accounting tools.
2. Plus plan: The Plus Package from FreshBooks is designed specifically for larger organizations that anticipate assisting up to 50 customers each month. It costs $15 a month.
3. Premier plan: The FreshBooks Premium Package is an option worth considering if you run a significant business and serve up to 500 customers on a monthly basis.
If this describes your situation, continue reading. it Costs $27.50 a month. If you want to reduce your desired FreshBooks pricing plan, Check out our article Freshbooks coupon.
QuickBooks Pricing And Plans
Mainly QuickBooks has four pricing plans.
1. Simple Start Plan
2. Essential Plan
3. Plus Plan
4. Advance Plan
1. Simple Start plan: The Simple Start Plan costs $15 a month.
This package includes all of the essentials for running your business accounting, such as income and cost tracking, invoicing and payment capacity, tax deductions, receipt capture, and mileage tracking.
2. Essential plan: Essential plan costs $27.50 a month. This is likely to utilize a maximum of three users to the account, ensuring that the proper people have easy access to data.
It also provides bill administration and captures employee time for invoicing in order to properly bill them.
3. Plus plan: The Plus Plan costs $40 per month and allows for a maximum of five users. It also manages inventory and allows you to forecast profitability through forecasting reports.
4. Advance plan: Advanced Plan costs $90 a month. This enables additional users and provides statistics for users to analyze the health of the organization.
Workflow automation, data restoration, batch bills, expenses, and on-demand training are all available. This subscription also includes a dedicated account staff to assist with training, troubleshooting, and configuration.
Conclusion: FreshBooks Vs QuickBooks
For small enterprises and freelancers who need client-specific capabilities or have a service-based company model, FreshBooks is an excellent option.
For small and large businesses looking for a robust accounting system for managing inventories, filing taxes, and more, QuickBooks is a fantastic option. In addition, if tax preparation is not your strong suit, you can choose the QuickBooks Self-Employed plan.
Overall, Both are truly amazing and outperform the majority of the opposition.
Frequently Asked Questions
Are FreshBooks and QuickBooks the same?
If you're running a retail business, we recommend QuickBooks for your accounting needs, while freelancers can use FreshBooks for client management and invoicing. QuickBooks allows you to track your daily sales from any channel and integrate with other e-commerce platforms like PayPal, Square, and Shopify.
Do accountants use FreshBooks?
As a CPA, you are familiar with all the techniques that save customers money. FreshBooks provides the accounting solutions required to just save time and increase profits for an accounting firm. FreshBooks will handle time-consuming bookkeeping procedures so you may spend additional time with clients.
Is QuickBooks desktop being phased out?
After May 31, 2022, access to QuickBooks Desktop Payroll Services, Live Help, Online Backup, and Online Banking with QuickBooks Desktop 2019 software will be terminated.
Can FreshBooks be converted to QuickBooks?
Connecting QuickBooks Online and FreshBooks with the FreshBooks Connector eliminates the need for manual data entry and saves you hours every day. FreshBooks Connector automates the following: Create a QuickBooks Online invoice when a FreshBooks invoice is created.
Is QuickBooks difficult to learn?
Those with a firm grasp of accounting principles and experience with accounting software will have little trouble picking up the QuickBooks software, but those with a weak grasp of technology or no experience with bookkeeping may find the learning curve steep. The QuickBooks software may or may not be ready for use, despite the claims of the QuickBooks corporation and its marketing department.
Can I teach myself QuickBooks?
It's possible to enroll in the online video training at your own pace, even if you have a full schedule. The videos are yours to keep forever once you've ordered them, giving you the freedom to study whenever you like. Live classes can be taken at a location convenient for you if you would rather learn in a traditional classroom setting.
Who is FreshBooks best for?
Freelancers and owners of small businesses are the most common users of FreshBooks, and a common comment about the software is how simple it makes the process of billing for regular invoices.
Is FreshBooks free for accountants?
An add-on is a supplementary feature that can be included in your package. Advanced Payments allow you to store your Client's credit card information and set up Recurring Payments on Recurring Templates, and all Team Members assist you to manage your business (Accountants are free with the Accounting feature).
Does FreshBooks do payroll?
Get access to unlimited payrolls, direct deposit, W-2s and 1099s, and automatic tax payments and filings. Plus, every payroll transaction is added as an expense to your account by FreshBooks.