In this post, I have done a comprehensive comparison of FreshBooks vs Wave.
Wave Accounting and FreshBooks are both good choices for accounting software for small businesses; however, FreshBooks costs money while Wave Accounting is free.
Wave Accounting also offers the majority of the features that FreshBooks does. If you're seeking a solution that's both easier to use and more economical.
Let's get started!
FreshBooks Overview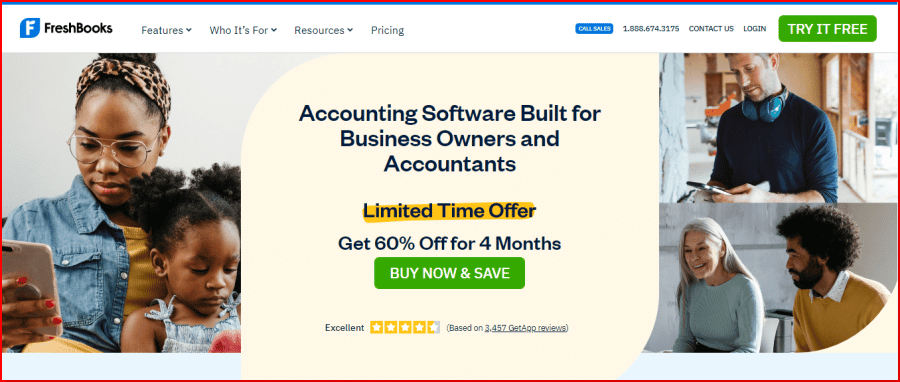 FreshBooks is a cloud-based accounting platform that makes billing customers, managing clients and projects, and processing online payments extremely simple and straightforward.
It provides a broad variety of capabilities, such as mobile accounting, double-entry bookkeeping, recurring bills, and project management.
Because FreshBooks is a trustworthy piece of accounting software for small businesses, it is a fantastic option for independent contractors and freelancers.
It stands out from the competition due to its flexible billing and friendly customer support. However, due to user and client limits on some of its plans, it is not ideal for usage in organizations that are expanding at a rapid rate.
Only one user at a time should use FreshBooks for it to function at its maximum potential.
A sizeable amount of the funds from the monthly plans with lower costs are allocated to pay for additional team members, who are charged an additional $10 per month.
Freshbooks also offers massive deals regularly to its users, to get exclusive deals then check out our article Freshbook discount.
Wave Overview
Wave is a free cloud-based accounting software solution, all of your accounting needs, including bookkeeping, invoicing, and payment processing can be satisfied in one, handy location.
It makes it possible to handle payments and payroll at a minimal cost, as well as provide free accounting management and send an unlimited number of invoices.
In spite of the fact that Wave Accounting is a free software platform, two of Wave's products can make a substantial impact on independent professionals who are looking for low-cost accounting software.
Wave's primary accounting features are complemented by Wave's invoicing and payment functionality.
When you load a page in your browser or submit data to Wave, the data that you send is encrypted while it is in transit.
Wave employs the same level of security that is utilized by online banks and shops, known as transport layer security (TLS) encryption with up to 256 bits.
FreshBooks Vs Wave: Pros & Cons
FreshBooks Pros & Cons
| | |
| --- | --- |
| Pros | Cons |
| FreshBooks includes an easy-to-use dashboard and interface. | Limited Customization. |
| FreshBooks has updated its software features in recent years. | |
| FreshBooks provides a free trial so you may try the software first. | |
| FreshBooks is cheaper than alternative cloud-based accounting software. | |
Wave pros & cons
| | |
| --- | --- |
| Pros | Cons |
| Easy management of invoices. | The time-tracking feature is not up to good. |
| It's easy to do bank uploads and balance checks. | |
| Wave app is much easier to learn. | |
| Keeping the deal running smoothly. | |
| A simple interface makes it easier to get around. | |
FreshBooks vs Wave: Features Comparision
You should be on the lookout for some outstanding features in both FreshBooks and Wave Accounting. I have highlighted some of the more important aspects of these here.
1. Ease of use
When you first log into FreshBooks, you'll get a welcome screen that details your setup progress so you know how far along you are.
On the left side of the initial screen, you'll find the system's navigation bar.
The Wave Launchpad is a helpful resource for first-time customers, walking them through the initial setup of the system.
Phone applications are available for both iOS and Android phones, as well as the product, is always in sync. Once you've finished the initial setup, the Wave dashboard will be your homepage and provide a high-level overview of your company's operations.
Wave's interface is quite similar to that of FreshBooks, with a vertical menu bar on the left and links to integrations and settings at the bottom.
When you click on a feature, a small menu of options appears from which you can choose to activate that feature.
2. Invoicing
A strong quality of FreshBooks is the sophistication of its invoicing options.
The software has adaptable layouts, digital invoices on a regular basis, discounts, and real-time updates that may be viewed on the accompanying mobile app.
In addition to limitless use, Wave's billing system syncs effortlessly with your books. Similar to FreshBooks, it provides editable invoice templates and a mobile app specifically designed for invoicing, complete with notification alerts.
Once accepted, it may transform estimates into invoices and integrate with Wave Payments to receive payments online via credit card or bank transfer.
3. Scalability
FreshBooks offers more complicated features than Wave does, but the straightforward software that Wave provides enables businesses to expand both in terms of the number of customers and employees without incurring any additional expenses.
In addition, the business offers a number of add-on products, such as Wave Payments, which is free of charge other than the expenses associated with the processing of payments, and Wave Payroll, whose prices begin at $20 per month.
4. Customer Support
The client service provided by FreshBooks is highly praised by its users.
In most cases, a customer service agent will respond to an email in 90 minutes, and they'll pick up the phone within three rings. During the week, you can reach out to customer service anytime between 8 a.m. and 8 p.m.
Wave provides live email and chats help, however, the chatbot can only provide canned responses to common questions.
A firm representative stated that the average response time for an email to the support team is two business days. Paid plans, such as Wave Advisers and Wave Payroll, are the only ones that have access to live phone assistance.
FreshBooks Vs Wave: Pricing
FreshBooks Pricing Plans
FreshBooks has 4 pricing plans that can be paid for each month or all at once. Remember that each extra user costs an extra $10 per month.
Wave Pricing plans
Wave is an application that does not cost anything to use; but, if you wish to take money online or make use of their payroll service, you will need to pay a fee.
Conclusion
Wave is real accounting software with an astonishing set of functions, and it costs nothing per month. Features like Checkouts help Wave stand apart from other accounting software, making it competitive with industry leaders like QuickBooks Online.
A wave is a great option for cost-conscious small enterprises. For this reason, the application is also highly recommended for Etsy customers and online stores.
However, FreshBooks may be favored by companies because of its extensive integrations and top-notch customer service.
In addition, the program boasts superior mobile applications. But, FreshBooks is significantly more costly than Wave, and your investment will not go very far.
Frequently Asked Questions
Who is FreshBooks best for?
For the most efficient use, FreshBooks should be used by a single person. Additional team members cost $10 per month, which accounts for a sizable chunk of the base monthly fee.
Is FreshBooks good for bookkeeping?
FreshBooks is a reliable piece of accounting software for small businesses, making it an excellent choice for freelancing and independent contractors. Its adaptable billing and helpful customer service set it apart. Due to user and client constraints on a few of its plans, however, it is not suitable for rapidly expanding organizations.
Is Wave accounting really free?
Wave Accounting is a free software platform, however, two of Wave's products can make a significant difference for independent professionals seeking low-cost accounting software. Wave Invoicing and Wave Payments complement Wave's core accounting features.
What does Wave accounting do?
 Billing, invoicing, payment tracking, payroll, financial, credit card, and receipt scanning are just some of the functions that can be performed with the help of this online accounting software. In order to assist businesses to save time and money, Wave Accounting was developed.