If you are a small business owner seeking the most effective accounting software, look no further.
FreshBooks vs Xero are widely used online accounting software, and in this post, I will provide an in-depth comparison of the two. FreshBooks and Xero are both extremely popular.
Let's get started!
FreshBooks Overview
FreshBooks is popular digital accounting software and was developed with microservice businesses in mind specifically.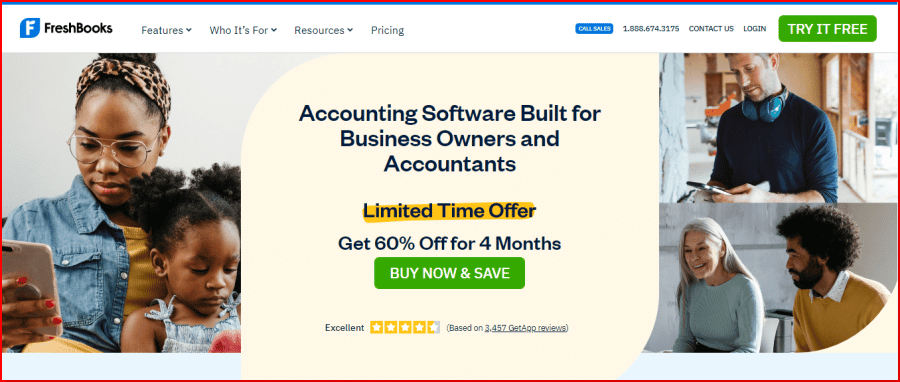 The ease of use and low cost of the software more than makeup for the fact that it does not include any complex tools.
FreshBooks is the ideal solution for any small business when it comes to bookkeeping because it is so easy to use. Accounting software delivered via the cloud is what FreshBooks, which was founded in 2003 by Michael McDerment, offers to its customers.
More than 100,000 customers are currently utilizing FreshBooks for their accounting needs. The software was designed from the ground up with the sole purpose of catering to the requirements of sole proprietorships, small firms, and new ventures.
In spite of the fact that the company does not hide the fact that FreshBooks is not suited for businesses that have a large number of employees or complex requirements, it is abundantly clear that the company intends to cater to the needs of smaller service organizations as its primary customer base.
Invoicing, payments, expense monitoring, estimations, time tracking, project management, and basic client administration are some of the functions that are supported by the features, which include a customer relationship management (CRM) system.
In addition, there are reports that may be generated for things like timesheets, invoices and expenditures, money transfers, and bookkeeping.
To get to know in-depth about FreshBooks, read our article FreshBooks review.
Xero Overview
Xero is a kind of accounting software that runs in the cloud and connects to more than a thousand other apps. It also gives owners of small businesses the ability to examine their books remotely.
Because the cost is less than that of solutions with comparable features, such as QuickBooks Online, and there are no fees charged on a per-user basis, it is an excellent option for businesses that are growing.
Xero is an online accounting software that caters to sole proprietors, small and growing businesses, and even large corporations.
It is also possible to use it to submit expenditure reports, manage invoices and inventories, handle inventory, keep track of spending, and save critical documents.
Even the online payroll provider Gusto can be used with it. There are three distinct subscription plans available through Xero, the most affordable of which begins at $13 per month following a risk-free trial period of 30 days.
FreshBooks Vs Xero: Main Differences
Following are the key differences between FreshBooks and Xero:
Users have regarded Xero as being simple to use, while others who have tried Freshbooks have said it might be confusing at first.
While Xero is more expensive by $9 per month, Freshbooks is less expensive by $4.90 per month.
Freshbooks is geared more at sole proprietors and small businesses, while Xero is better suited to larger enterprises and accounting firms.
In contrast to Freshbooks, whose account management and subscription cancellation processes are cumbersome, Xero's service is excellent.
FreshBooks Vs Xero: Features Comparision
Both FreshBooks and Xero are the most popular accounting software and have adorable features to look out for. Here are a few of them.
Invoicing
Reporting
Inventory management
Customer service
1. Invoicing
FreshBooks is like Xero in that it lets you make estimates, set up automatic reminders, accept payments online, make recurring invoices and quotes, and even send invoices from your phone.
In contrast to Xero's Early plan, which only lets you send 20 invoices and quotes per month, FreshBooks doesn't put any limits on how many you can send. With FreshBooks Lite and Plus, you can only bill five and fifty clients at the same time, respectively.
FreshBooks is software for sending invoices, but it also has tools for managing clients and projects. These tools can help you keep track of deadlines, streamline your business, and stay in touch with your clients.
All levels of subscription come with a site for clients, where they can see their own profile and account information, make payments, look at past statements, use credits, make invoices, and keep track of how much time they've spent on projects.
2. Reporting
In spite of a few limitations, FreshBooks and Xero both have excellent reporting capabilities. Refer to the comparison table for further information on the various reports.
FreshBooks and Xero both provide 14 of the 16 reports we want from an accounting program. Some of the reports in FreshBooks, however, don't seem to have the extended capabilities that others do. Example: FreshBooks' balance sheet hides crucial information like sub-accounts and only displays the parent accounts.
In addition, FreshBooks allows you to view unbilled costs and time, but you cannot create a report for this information.
In addition, the full capability is anticipated from Xero's reporting features, including the ability to see both compact and extensive financial reports. Xero's reports are able to be compared with one another, and this is especially true of the most fundamental financial figures.
3. Inventory management
FreshBooks is for people who are self-employed and can only track inventory in simple ways. You can add and review inventory for billable items in your account.
You can also keep track of stock levels and have them automatically run out when invoices are paid.
On top of that, you can make it easier to manage your inventory by importing data from your current software into FreshBooks.
The inventory and invoicing features of Xero are much more than just the basics. Besides that, you can also:
Make detailed sales and profit reports to find out what's moving inventory and making the most money.
Find out how many items are in stock and how much they are worth.
On quotes, invoices, and purchase orders, include things like item descriptions, prices, photos, sales tax, and more that you will need to say more than once.
4. Customer service
FreshBooks and Xero have a few different ways to talk to a customer support person on the phone, but they are still competitive.
FreshBooks has a customer service team that can be reached by phone and email for more hours during the week.
With Xero, you can get help online whenever you need it, which is helpful. Users can get in touch with support and work with a representative to fix any problems they are having by "raising a case" on the Xero website. This is the same as submitting an IT ticket.
You might like one of these options for customer service more than the others. You can get help from Xero whenever you want, but there is no phone number you can call to talk to a real person.
FreshBooks gives you this choice, but only if you call during a certain time frame.
Conclusion
Both Xero and FreshBooks are good bookkeeping programs that can help business owners appear more organized and in control of their finances by automatically classifying their payments and receipts this can be a benefit to the firm.
If you own a digital company and need to send customers invoices for the amount of time they spent on a project, FreshBooks is the best cloud-based accounting software you can use.
Nevertheless, the fact that Xero enables you to share your financial data with your accountant or bookkeeper is one of the most significant advantages of using the software.
The greatest online program for the full financial administration of your company's accounting and bookkeeping requirements is called Xero, and it can be accessed over the cloud.
Frequently Asked Questions
Does FreshBooks take a percentage?
It costs money to accept payments online using FreshBooks Payments powered by WePay. Simple pricing: 2.9% + $0.30 for all credit card purchases except American Express, which is 3.5% + $0.30. Online Payments (PayPal) are 2% and Bank Transfers (ACH) is 1%.
Can I pay Bills with FreshBooks?
Whether you are the main client or a secondary contact, FreshBooks makes it easy for you to pay your bills with a credit card, an electronic bank transfer (ACH), or PayPal, if it is an option.
Why is Xero so popular?
Xero is a kind of accounting software that is hosted in the cloud and can be used by entrepreneurs to keep track of their money from any device and interface with over a thousand other services. It's more cost-effective than alternatives like QuickBooks Online, and it doesn't penalize you for adding more users.