When two great accounting software companies offer so many of the same features, it might be hard to choose between them.
I have put together a series of articles that compare the different providers side by side to help you choose the best one for your needs.
In this comparison of Freshbooks vs Zoho Books, I'll take a close look at the two online accounting platforms to help you choose which one is best for your needs.
FreshBooks Overview
FreshBooks is cloud-based accounting software. FreshBooks can help people like therapists, architects, lawyers, plumbers, and so on. It's fun to use because it's easy to understand and use.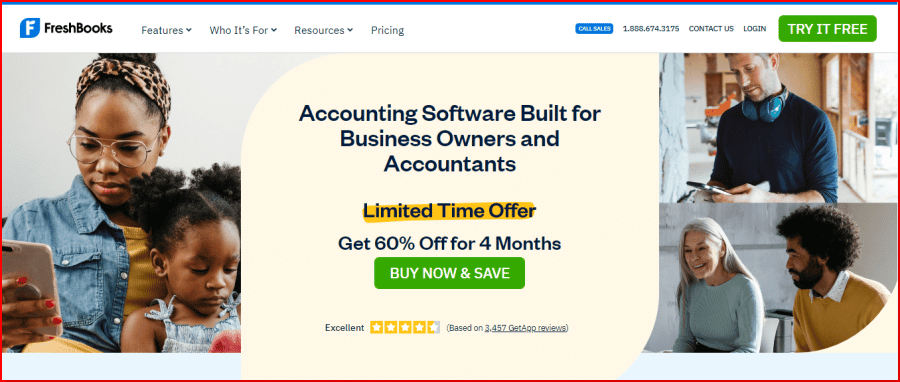 As accounting software that runs in the cloud, it can be used on any computer or mobile device. FreshBooks is in the cloud, which means you can use it from anywhere and at any time.
Since the information is backed up often and kept in different data centers, it is safe. Because of this, you'll spend less time on billing and more time doing business.
It can keep track of how much time you work and accept payments in a whopping 12 ways. You can import expenses from your bank records or by scanning receipts.
With features like customizable online invoicing and reminders for late payments, this online invoicing software is sure to help you get paid faster.
There are timer functions and team timesheets. You can make or import databases for both products and people. It also has quote forms that can be emailed or mailed to people who might be interested in buying.
Its customizable reports give you a lot of useful information about your budget. Multiple subscription tiers are accessible.
To get to know in-depth about FreshBooks, read our article FreshBooks review.
Zoho Books overview
Zoho Books is an all-inclusive cloud-based accounting solution that includes a system for managing projects, invoices, and inventories.
It offers an enticing free plan and a multitude of helpful features that can help you save time and work while also making your operations more efficient.
Zoho is an excellent option to consider if you own a small or medium-sized business (SMB) and are seeking reasonably priced software solutions.
Zoho Books utilizes a freemium business model and offers five premium plans with prices ranging from $15 per month all the way up to $240 per month.
The premium pricing tier includes an increased number of users and invoices, in addition to access to more complex features such as vendor portals and bespoke modules.
By enabling you to send personalized invoices through integrated payment channels, Zoho makes it possible for you to receive payments online for the goods or services you provide.
It is possible to link significant transactions to one or more bank accounts and have them automatically categorized; this makes the process of reconciling the accounts quick and easy.
FreshBooks Vs ZohoBooks: Main Differences
Freshbooks is easier to use, but Zoho requires users to go through a number of tutorials.
Zoho provides access to a greater number of functions, but Freshbooks offers more affordable pricing.
Zoho offers a greater number of configuration options than Freshbooks does.
The pricing structure of Zoho is dependent on the functionality it offers, whereas Freshbooks bases its fees on the number of active customers.
FreshBooks Vs Zoho Books: Features Comparision
Ease of use
Integration
Scalability
Reporting
1. Ease Of Use
Both FreshBooks and Zoho Books have been given great accolades for their user-friendliness on many review websites.
Because FreshBooks synchronizes across multiple platforms, you can view up-to-date numbers on your mobile device, desktop computer, or tablet.
Additionally, the mobile app is quite simple to use. Users are ecstatic about the design and usability of the desktop version of Zoho Books, despite the fact that the mobile experience is weak.
2. Integration
If you utilize Zoho for other parts of your organization, you can easily integrate Zoho Books with the rest of your operations by using the Zoho One suite. While the ability to integrate with Zoho's own suite of products is a plus, the absence of support for third-party apps can be a dealbreaker.
For payroll, for instance, Zoho only works with SurePayroll, therefore if you use specific services, you won't be able to link it with Zoho and would have to enter all of your employees' information by hand.
If you're looking for an alternative to Zoho Books, consider FreshBooks. Even the most basic subscription to the program has access to over 200 possible add-ons.
3. Scalability
Only the Select plan allows for more than one person, so if you need to give your accountant or a business partner access to your FreshBooks account, you'll have to pay more.
However, the fact that FreshBooks has different pricing tiers based on the number of clients may be a turnoff for some firms, as the Lite plan's client cap of five makes it unfeasible for them to use the service.
Zoho Books, on the other hand, caps subscriptions based on billing volume rather than customer count. If you pay $20 per month for Zoho Standard, you can send up to 5,000 invoices per year.
Even on the free subscription, accountant access is provided by the software. Additionally, the commercial plans offer support for 3, 5, or 10 users.
4. Reporting
Even though the reporting options of FreshBooks are on the more basic end of the spectrum, they should be sufficient for the vast majority of sole proprietorships.
Right now, users of FreshBooks have access to a total of 12 different reports, all of which include the standard financial statements.
There are more than fifty distinct sorts of reports that can be generated using Zoho Books.
These reports may be used to generate information regarding taxes, payables, receivables, inventory, invoicing, purchases, and costs.
You can check the financial dashboard of the company if you require an overview of the state of the company's finances at a high level.
Conclusion
Overall, Freshbooks is different from other accounting software in that it does not require you to spend a significant amount of time learning how to use it before you can use it to run a developing business. Get started right away with your risk-free trial of Freshbooks.
Although Zoho has greater capabilities and more flexibility, we believe that the benefits that may be realized by utilizing Freshbooks make it the ideal choice for your organization at this time.
Although Zoho offers more capabilities and more flexibility.
Frequently Asked Questions
Does Zoho integrate with FreshBooks?
Use Zoho CRM to keep track of and manage the accounting information from FreshBooks. With the FreshBooks extension, it's easy to add Customers as Connections, Items as Products, Estimates as Quotes, and Invoices as Invoices in your Zoho CRM.
Who is FreshBooks best for?
FreshBooks works best for accounts where one person is in charge. Users have to pay $10 a month for each additional team member. This is a big chunk of the overall monthly price for the lower tiers.
What makes FreshBooks unique?
FreshBooks makes it easy to keep track of all your time in one place. You can quickly add tracked time to projects, clients you can bill, or payroll. This gives you more time to give more helpful advice to your customers and makes it easy for them to keep track of their own time and pay themselves.
What are Zoho Books used for?
If you're looking for a convenient place to keep track of your financial records, go no further than Zoho Books. It's a centralized hub for handling all of your company's financial transactions, including invoicing, bank statement reconciliation, expense management, project management, and GST compliance.