Your search for the best cooking course ends here. This Gordon Ramsay Masterclass Review has everything covered.
If you've ever walked into your kitchen and felt like a complete failure, then you know how it feels to watch Gordon Ramsay effortlessly make a dish.
You know that feeling of wanting to throw a cooking utensil at the TV when the dish doesn't turn out as well as you wanted it to?
Take Gordon Ramsay Masterclass. This is a cooking course in a box. You'll learn everything from kitchen setup and buying the freshest ingredients to constructing unforgettable dishes. And don't worry, you don't need any prior experience!
I am an avid cook. Whenever I get a chance, I cook different dishes and read different books on the art of cooking and I must say that Gordon Ramsay is my favorite cooking artist. So, when I first heard about Gordon Ramsay's MasterClass on cooking I was intrigued and I made up my mind that I am going to enroll in this MasterClass.
So here I am going to write my Gordon Ramsay Masterclass review and I won't sugarcoat anything and present my personal experience of this MasterClass and tell you if it is worth your dollars or is it just 'another' course where they tell you to mix few ingredients and call it 'cooking'!
Hope this article helps you to make the best decision
What is MasterClass?
The simple concept behind the MasterClass is it lets you learn from the Masters, experts, and industry leaders. At MasterClass, you can learn Music from Hans Zimmer, Writing from Niel Gaiman, Magic from Penn And Teller, Acting from Helen Mirren, Cooking from Thomas Keller, Singing from Reba McEntire, etc.
Each course has a series of video lessons from these masters and which are 5 to 15 minutes long, the courses also have a workbook in pdf format for future references and a theoretical framework for the course.
MasterClass has 100+ courses in 11 different categories and each course is taught by an expert in the field which provides practical insights into the field and gives access to the invaluable wisdom of these leaders.
Who is Gordon Ramsay?
He is not just a chef or a MasterChef he is an artist. Those who are passionate about cooking know him as a legend in the culinary industry. He is a world-renowned and respected chef and restaurateur.
He owns more than 32 restaurants and other such establishments across United States, Asia and Europe. He has also been associated with widely watched TV cooking shows like Hell's Kitchen and MasterChef.
He has won 16 Michelin Stars so far. In recognition of his contribution to the culinary arts and industry, he was bestowed with the Order of the British Empire by Queen Elizabeth II.
So, you can imagine who is going to teach you culinary art in this MasterClass; none other than Gordon Ramsay. This introduction of him might have given you a clear idea of what you can expect in the Gordon Ramsay MasterClass.
Benefits Of Taking Gordon Ramsay Masterclass:
– Learn the secrets of Gordon Ramsay's amazing kitchen
– Every aspect of your cooking and nutrition will be covered, from the very basics to the most obscure techniques.
– You'll learn the science behind a well-made dish, and why it's so important.
– You'll be inspired to create your own recipes.
– Make amazing dishes from scratch at home using whole foods and top-quality ingredients.
– Discover what makes Gordon Ramsay so good and how to replicate his dishes with ease.
– Get real tips on how to run a restaurant with one of the most loved TV chefs in the world.
– Get food tips and tricks from Gordon Ramsay himself.
What you can expect in this Gordon Ramsay's MasterClass on cooking
We all aspire to become like a chef, a chef knows how to slice, mix and how to serve the food not just cooks; a chef is someone who respects his/her art and strives for perfection. Some of us want to learn how to identify the right ingredients, vegetables, and herbs for the dish, and how to manage the kitchen.
So when you visit Gordon Ramsay's Masterclass page you notice that the course focuses on three main areas in and around cooking viz how to manage and set up your kitchen, Understanding and identifying ingredients, and finally cooking dishes that please the eyes and satisfies our taste buds.
Hence, this course is more than just cooking few dishes, it is a complete package that teaches you everything around cooking from start to end.
What all is that you can learn in Gordon Ramsay MasterClass?
Gordon Ramsay's MasterClass on cooking is divided into 20 parts which are related to Gordon Ramsay's journey, knife and kitchen skills, selecting ingredients, cooking recipes, and other important kitchen skills which will add value to your culinary skills. The list of courses looks like this:
Introduction
Gordon's Journey: Learning from Masters
Method: Kitchen Layout
Mastering Ingredients: Vegetables & Herbs
Make: Poached Egg & Mushrooms on Brioche
Method: Knife Skills
Make: Elevated Scrambled Eggs
Method: Breaking Down a Whole Chicken
Make: Chicken Supreme with Root Vegetables
Mastering Ingredients: Fish & Shellfish
Gordon's Journey: Becoming a Master
Method: Breaking Down a Whole Fish
Make: Salmon with Shellfish Minestrone
Method: Making Pasta Dough
Method: Rolling Pasta Dough
Make: Lobster Ravioli
Mastering Ingredients: Beef, Lamb & Pork
Make: Beef Wellington
Advice for Life
Closing
As you can clearly see in the above list that it covers a wide variety of dishes, practical skills, and life advice, and personal experiences of Gordon Ramsay which makes it not only a great course but also a complete course (yes, that is important!).
Also, while going through the course I personally preferred to go in the sequence as it is listed and not jump from one lesson to another, the reason is that MasterClass has built this course in such a manner that each lesson forms the base for the next lesson and so on, so it is wise if you go through the course in a prescribed flow only.
Apart from just video lessons, the course lessons also come with high-quality workbooks in pdf format which are helpful when you try to cook the recipes which you learned, it also contains few extra recipes by Gordon Ramsay which are not included in the video lessons.
Lastly, every course on MasterClass comes with an active forum where you can raise your doubts, share your recipes, interact with like-minded people, and a lot more.
Gordon Ramsay Masterclass Review: How does Gordon Ramsay's MasterClass work?
1. The instructor is none other than Gordon Ramsay
Well, what is better than learning cooking from none other than Michelin Star Chef Gordon Ramsay and getting his lifelong experience and insights imparted to you in the series of videos where you learn his style of cooking and his passion for cooking inspires you as well.
2. A practical approach to cooking
Throughout the course, you will listen to many practical advice and insights given by Ramsay himself and the workbooks provided with the course increases your knowledge base. The course is filled with many techniques, tips, elements, etc. which you can practice in real life as well.
3. Teaches hygiene and safety while cooking
Yes, the course is taught by Chef Gordon Ramsay and he doesn't miss out on the hygiene and safety side of cooking. He makes sure that when you try recipes in real life you are safe and gives you valuable safety tips.
Apart from that as you go through the course video by the video you see that Chef Ramsay gives utmost attention to the hygiene requirements as he keeps washing his hands, and keeps an extremely hygienic environment while cooking.
4. Healthy alternatives to traditional ingredients along with dietary guidance
The world is becoming more health-conscious and people are in constant search of healthy alternatives to traditional ingredients. The course has kept this need in mind and it provides healthy alternatives to the ingredients wherever required.
5. Beverage suggestions with each dish
This is a very thoughtful value addition to the course. In many recipes, Ramsay suggests a beverage pairing along with the dish, which enhances the experience of meals you make.
Every suggestion goes beautifully with the dish. Most recipes come with a suggestive cocktail which if you incorporate along with your dish it will enhance your overall experience.
6. Active Forum and comment box to improvise learning
Though the course is online and pre-recorded, MasterClass makes sure that you can interact with fellow learners, give your feedback, answer queries raised by others, ask your queries and have a great learning experience along with the community.
There is also a forum for every course where you can share photos of your dish, ask for feedback, write your reviews, etc.
7. Great experience
The course videos give you the Netflix-like feeling and you feel like you are bingeing a really good web series along with learning from the best. Yes, learning with Gordon Ramsay is great but if you get an amazing production quality, it just improves the learning experience, and MasterClass has done an amazing job at production.
The quality of both videos is of really good quality and it videos also provide an on-screen glossary which comes in handy when any technical term is used. All this makes learning a great experience on MasterClass
8. Plenty of wisdom on cooking (My Favorite Part!)
Like I said before, this course is not just about chopping, mixing, and cooking, it is more fulfilling, it teaches you discipline, style, technicalities which are immensely important for anyone who wants to become a complete chef.
Gordon Ramsay shares so much practical advice and wisdom that he has gathered over the years of experience that it just makes the course more practical and creates a lot of value for you.
9. You can even find extra recipes in the workbooks provided with the course
The workbook provided along with the course is a tressure which many never look at. You can find many tips, hacks, lessons, and some amazing recipes by Gordon Ramsay in that workbook which you can refer to anytime and use when you cook.
Areas Of Improvement:
1. Some ingredients can be hard to find:
For most of the part, all the ingredients used in the course are easy to find and cook. Gordon himself is an advocate that cooking must be done with modest ingredients and minimal equipment but there are some ingredients used in some dishes wherein the ingredients can be difficult to find.
Though it is great to watch high-end and exotic ingredients and how they are being used in the recipe. However, they should provide an alternative to exotic ingredients.
2. Some classes start with pre-cooked elements
It is understandable that some parts of the recipe are already prepared and also, that they cannot show Gordon Ramsay doing every small bit like chopping vegetables. But in some recipes, it felt like some important steps which can enhance or deteriorate the recipe are being left out from the video.
It would be great if they can just verbally tell those steps or show the steps which can be performed in few minutes in the video itself.
3. For whom this masterclass is for?
The MasterClass is for everyone who is passionate about cooking and culinary arts and has the basic knowledge and background in cooking. It is also a good course for those who want to learn high-end recipes, kitchen etiquettes, want to learn more about picking ingredients and checking the quality.
This MasterClass is also a treat for the people who are a fan of Gordon Ramsay and wants to learn more from him, want to see a different side of the well-known chef and his cooking style.
Gordon Ramsay's MasterClass is a package of practical knowledge, culinary wisdom and it is all about the love of cooking food. The MasterClass may not be suitable for people who are uninterested in cooking and are complete beginners in this field.
How much does Gordon Ramsay's MasterClass cost?
So, after reading this review you feel that Gordon Ramsay's MasterClass is something for you then you can go ahead and buy the annual subscription of MasterClass which will cost you $180, which is $15 per month which has to be paid annually.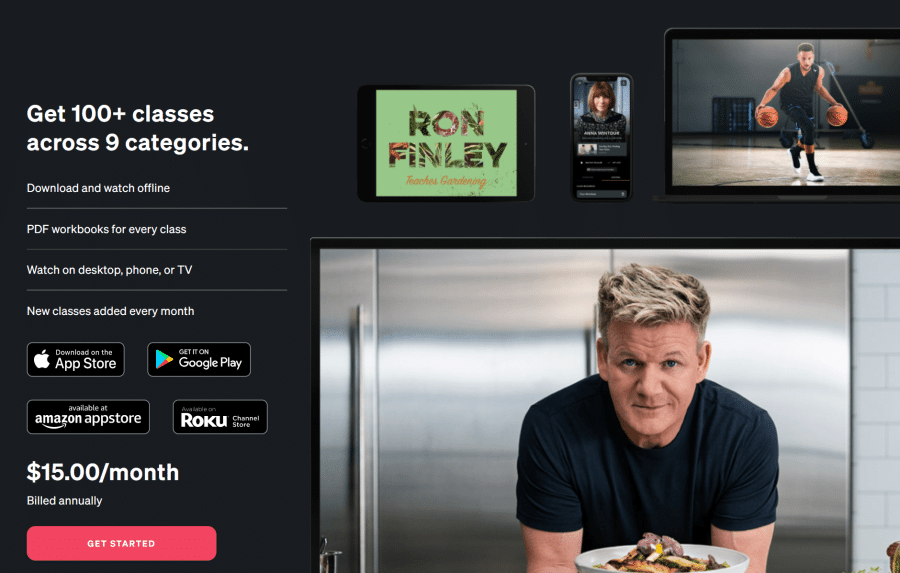 Also, the annual subscription gives you access to every MasterClass course available on the platform from every category of the course which includes Ramsay's Masterclass as well as other courses related to cooking taught by other Masters like Massimo Bottura, Alice Waters, and Thomas Keller.
Every MasterClass course is filled with the lifetime of experience, wisdom, and efforts of the expert or the Master who is teaching you that course, and an annual subscription of $180 gives you access to all the content for one year which in my opinion is a great value for money, a good investment. Give your loved one a gift of Masterclass courses.
So, if your interests lie in multiple fields or you find that one particular MasterClass is not suitable for you, you can switch to another any day without paying a penny extra. Sounds great, isn't it? It is.
Dishes I Learned After Taking Gordon Ramsay Masterclass:
1. Roasted Eggplant with Basil & Feta
Gordon shares his tricks for removing the bitterness from eggplant and roasting it in its skin. Discover how to use aromatics and Turkish spices to create a unique flavor.
This is the recipe I'm most likely to make again out of all the ones I've tried. The dish simply has a few ingredients, including eggplants, San Marzano tomatoes, onions, garlic, feta, basil, and Turkish spices.
Cut the eggplants lengthwise and score them. Stick garlic cloves into the cuts before roasting everything in a cast-iron skillet, so you perfume the eggplants with garlicky goodness deep into their fleshy interior, but you also get delicious roasted garlic that gets pulsed up.
Is it possible to name it a shortcut? For a Mediterranean supper, combine it with crushed tomatoes, caramelized onions, and Turkish spices. This made delicious lunch leftovers and would be a great meal for a gathering because it can be served hot, cold, or at room temperature.
2. Crispy Duck with Red Endive and Spinach
Gordon shows how to cook duck with crispy skin and soft meat. You'll also learn some skills for wilting spinach and caramelizing endives, as well as how to make a fast cherry glaze.
This is my favorite recipe that I created. Everything came together perfectly, and I believe it is the best. If I hadn't taken this class, I never would have nailed it. Who prepares duck at home on a lazy Sunday?
Season the duck breasts with a Chinese 5-spice seasoning and sear them for crispy skin. Finish in the oven and make "caramelized" endive by basting it with fresh-squeezed orange juice. Make a cherry-orange glaze, sautéed spinach salad, and finish with orange citrus salt. Your dish is ready to be served.
Gordon Ramsay MasterClass Review: Pros & Cons
Get practical tips from the one and only Gordon Ramsay
You'll also know the theory behind incredible dishes
Get to know out of the box cooking
Great video quality like Netflix
It comes with handy Workbook that makes work easier
More than 8 hours of training
learn to bring out optimum flavors from ingredients
Learn everything about dishes from seasoning
Beginner friendly, newbie can also learn a lot
Learn chefs level knife skills
There are some recipes which is complex to make in home
you may not get ingredients easily for some dishes
camera angles is not up to the mark in some videos
Gordon Ramsay MasterClass Review FAQs:
Is Gordon Ramsays Masterclass suitable as an introduction to cooking
Gordon is not only a wonderful, patient instructor, but he also goes over everything in great depth and explains why he's doing what he's doing. He has an entire session dedicated to KNIVES and how to correctly use them, which is fascinating. You'll fall head over heels in love with cooking.
Is Gordon Ramseys MasterClass worth it?
Yes, if you enjoy cooking and want to take it to the next level, Gordon Ramsay Masterclass is a must-have. The seven-star Michelin chef invites you into his personal kitchen to learn everything from setting up the stove to purchasing the finest ingredients to creating outstanding dishes.
Can I cancel MasterClass at any time?
You can cancel a Recurring Subscription at any time, but Masterclass will not return any membership costs already paid to them if you cancel before the end of the current subscription month.
How much does Gordon Ramsay MasterClass cost?
You need to buy a single membership of $180 to enjoy all courses of Masterclass, you can't buy any single courses anymore on Masterclass.
Can more than one person use a masterclass?
Masterclass cannot be shared with multiple people, but you can watch multiple videos on different devices at the same time.
How long is the Gordon Ramsay MasterClass?
The total course time of Gordon Ramsay Masterclass is 3 Hours 53 minutes.
How many master classes does Gordon Ramsay have?
There are two Gordon Ramsay Masterclasses in the Masterclass Library, each with 35 individual lectures spaced out across 8+ hours. There are 16 "recipe" classes among the 35 overall, in which Chef Ramsay leads you through the steps of making a specific dish.
Who is the best chef in the world?
Gordon Ramsay is undoubtedly the most recognized chef in the world, known for his explosive kitchen demeanor and superb British food. He has received 16 Michelin stars over the course of his career, but he presently has seven.
The Final Verdict!
Well, when I joined Gordon Ramsay's MasterClass, my culinary skills were just limited to chopping, mixing, and cooking but after completing the course I understood there is more to cooking which is more artistic, thoughtful, disciplined, and respectful towards the art of cooking.
This course has definitely added much value to my culinary skills. So, I highly recommend you to enroll in this cooking MasterClass by Gordon Ramsay. If you are a complete beginner, I would say get your basics done and come to enroll for this course to take your skills one step ahead.
Nevertheless, there is a lot to learn from Gordon Ramsay and he is definitely a great instructor along with a great chef, he is passionate about cooking and understands his art really well which is visible when he teaches and gives you advice at every step. Give a masterclass gift to you and learn 100+ skills from veteran teachers from all over the world.
Gordon Ramsay Masterclass In The News:
Gordon Ramsay Masterclass Is The Best Online Cooking Classes, According to People Who've Taken Them- According to Ibtimes.
Best Masterclass Courses Ranked 2021: Cooking, Writing, Sports And More!- According to nymag
MasterClass offers online cooking classes with professional chefs like Thomas Keller and Gordon Ramsay — Here are 11 of the best ones
Gordon ramsay masterclass review reddit?
To assess the opinions of others who had attended this course, I looked at the comments on Reddit and on the Gordon Ramsay MasterClass video on Youtube.
The majority of the Reddit responses were supportive, and this one sums it up best:
Gordon Ramsay is a legend! Of course you should!

– Reddit Comment
I really enjoy watching Gordon Ramsay and I enjoyed his masterclass. If I had paid for only that one masterclass, I probably would have been disappointed. But Masterclass gives you access to all courses which is a great deal.

– Reddit Comment
Chef Grodon, thank you! I'm an average Canadian fella that has been working in the construction industry, pouring concrete for the past 22 years of my life. I've always had a passion for cooking and great tasting food! You're sweet and sour pork chop recipe just made my night, cheers dude!

– Youtube Comment
I'm watching this while I'm sad and honestly he's kinda wholesome. I feel like if he was teaching his kids how to cook he would teach them in this manner (probably in more advanced recipes since this would be pretty basic to him). He's just a dude that's highly passionate about cooking.

– Youtube Comment
How To Contact MasterClass
If you have any additional questions not addressed in this Gordon Ramsay MasterClass review, please contact the team at:
You can reach out via contact form on masterclass.com
Email: support@masterclass.com
Phone: 1 (855) 981-8208 (Monday to Friday, 9 AM–6 PM PST, excluding major holidays).
Gordon Ramsay Masterclass Alternatives:
If you're looking for Gordon Ramsay Masterclass alternative courses, I've listed some of the other cooking courses by the Masterclass below:
Cooking Techniques are taught by Thomas Keller- Learn to cook Vegetables, Pasta, and Eggs, Meats, Stocks, Sauces, Desserts, Sous Vide, and Seafood.
Niki Nakayama is a Japanese cooking instructor.
Wolfgang Puck teaches fine cooking
Massimo Bottura is a chef who specialises in modern Italian cuisine.
Aaron Franklin is a Texas-style BBQ instructor.
Bread Baking is taught by Apollonia Poilâne.
Yotam Ottolenghi is a chef who specialises in Middle Eastern cuisine.
Gabriela Cámara is a Mexican cooking instructor.
Alice Waters teaches the art of cooking at home.
Dominique Ansel teaches the fundamentals of French pastry.
What's Other People Think About Gordon Ramsay Masterclass: