There are a number of alternatives to Grammarly that provide features and functionality that are comparable to those offered by Grammarly for checking grammar and spelling.
I have provided a comprehensive and in-depth analysis of Top Grammarly alternatives in this article that I hope you find helpful.
Let's get started!
Grammarly Overview
Grammarly is writing enhancement software that helps users improve their writing by utilizing cutting-edge technology to check for grammatical errors and to proofread what they have written.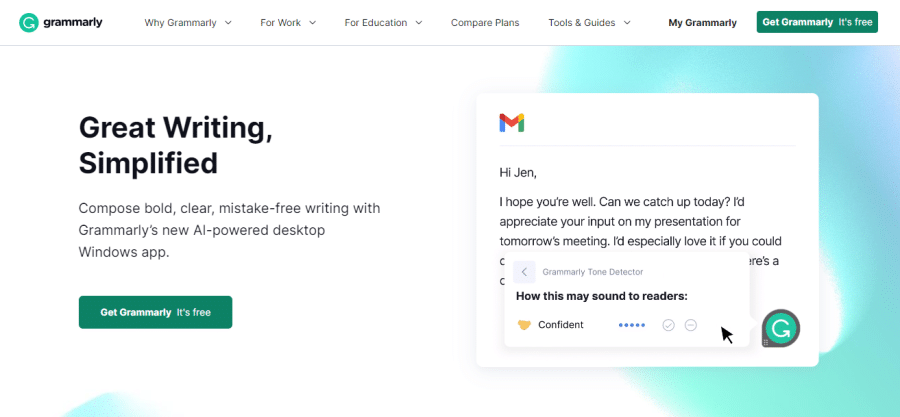 It examines the document for errors in grammar, punctuation, spelling, and style, and then provides recommendations for making corrections and enhancing the document.
The software can be integrated with a variety of different platforms such as Google Docs and Microsoft Word, and it can be used as a browser extension, a desktop application, or a mobile application.
In addition to that, it features a thesaurus and an anti-plagiarism checker. Grammarly's AI-powered algorithms are continually updated to ensure that users receive the most accurate and up-to-date suggestions for improving their writing.
This helps Grammarly meet its goal of providing users with the most accurate and up-to-date suggestions possible.
The price of Grammarly is well worth it. If you're still looking for more discounts, you can click on the Grammarly discount code and get special deals.
The following are the key features of Grammarly:
Grammarly checks your text for mistakes in grammar, punctuation, and spelling and suggests how to fix them.
Grammarly suggests words and phrases that will make your text easier to read and flow better as a whole.
To check for plagiarism, Grammarly compares your text to more than 8 billion web pages.
Grammarly suggests ways to make your writing shorter and easier to understand.
Grammarly has a thesaurus to help you find the right word for your text.
Grammarly looks at the tone of your writing and tells you how to make it better.
Integration with popular apps: Popular apps like Google Docs, Microsoft Word, and Slack can be connected to Grammarly.
Grammarly also has a mobile app that lets you check your writing while you're on the go.
Settings that you can change: You can change Grammarly's settings to meet your needs and tastes.
Top Grammarly Alternatives
There are various alternatives to Grammarly that are currently available on the market, each of which comes with its own set of distinctive capabilities and advantages. The following are some examples of popular choices:
1. ProwritingAid
ProWritingAid is an all-inclusive writing tool that provides writers with a broad variety of features that can assist them in making their work better.
It provides users with a variety of tools that can assist them in improving their writing in terms of grammar, style, and structure, and it is meant for use by both professional and amateur writers.
The following is a list of some of the amazing features that can be found in ProWritingAid:
ProwritingAid checks your text for spelling, grammar, and punctuation mistakes, as well as common writing problems like passive voice, repeated phrases, and too many words.
It has a dictionary and thesaurus to assist you to find the right words to express your ideas and improve your vocabulary.
Prowritingaid looks at your text to see how easy it is to read and suggests ways to make it easier for your target audience to understand.
Prowritingaid gives you detailed reports on your writing that show where you need to improve and give you ideas on how to do so.
ProwritingAid lets you set goals for your writing, like using less passive voice or more adverbs, and keeps track of your progress toward those goals.
Prowritingaid can be used with Microsoft Word, Google Docs, and Scrivener, which are all popular writing programs.
2. WhiteSmoke
WhiteSmoke is software that helps you check your writing and grammar. It uses advanced algorithms to make suggestions and corrections for grammar, spelling, punctuation, style, and structure.
It can be used for different kinds of writing, such as academic papers, business documents, and personal letters.
The software also has a built-in thesaurus, a translator, and a tool that checks for plagiarism. Users can use a browser extension, a desktop app, or a mobile app to access the software.
WhiteSmoke is made to help people improve their writing skills and make documents without mistakes.
The following is a list of some of the amazing features that can be found in WhiteSmoke:
WhiteSmoke identifies and suggests corrections for grammar, punctuation, and sentence structure issues.
WhiteSmoke checks for misspellings and offers correction ideas.
WhiteSmoke examines style consistency and provides improvement ideas.
WhiteSmoke proposes words and phrases to improve the text's vocabulary and tone.
WhiteSmoke can translate text into more than fifty different languages.
WhiteSmoke provides templates for several sorts of writing, including emails, resumes, and cover letters.
3. Hemingway
Hemingway is a software designed to help people write more clearly and concisely. It identifies areas where text can be made more clear and concise by combining grammar and style checks with readability analysis.
To help users achieve a more effective and engaging writing style, the software also provides suggestions for word choice, sentence structure, and paragraph organization.
Hemingway is available as a web-based application as well as a downloadable desktop application for Windows and Mac.
The following is a list of some of the amazing features that can be found in Hemingway:
The Hemingway tool looks at your text for mistakes in grammar and punctuation and suggests how to fix them.
The software looks at how clear and easy to understand your text is and suggests ways to improve it.
Hemingway says that you should simplify your text to make it shorter and clearer.
The software looks for mistakes in how a sentence is put together and suggests ways to fix them.
The software looks at the words you use and suggests other words that might make your writing stronger and more effective.
Hemingway lets you use different headings, bold, italic, and bullet points to make your text easier to read.
it is software designed to help people write more clearly and concisely.
4. Ginger
Ginger Software is a tool for improving written communication using natural language processing and grammar correction. It includes grammar and spelling checking, text-to-speech functionality, and a personal writing assistant that provides synonyms and alternative wording.
The software is compatible with a number of applications, including Microsoft Word, Gmail, and Facebook, and is accessible on desktop and mobile platforms. Additionally, it offers a browser extension that may be used for online writing.
Ginger Software employs sophisticated algorithms and machine learning approaches to identify text problems and provide users with suggested repairs and enhancements. In addition to English, Spanish, French, German, and Italian, it offers a range of language alternatives.
The following is a list of some of the amazing features that can be found in Ginger:
The Ginger software examines your work for grammatical and spelling mistakes and suggests changes.
Ginger software can read your work aloud, allowing you to easily proofread and evaluate the sound of your writing.
It provides a personal thesaurus that proposes synonyms for words, so enhancing your vocabulary and writing.
The Ginger software can translate your writing into more than 40 languages, making international communication simple.
Ginger software is a contextual thesaurus that proposes words and phrases depending on the context of your work, enabling you to write more naturally.
Ginger is accessible as a mobile application, allowing you to edit and enhance your writing while on the go.
5. CloserCopy
Closercopy is a powerful a.i. writing tool that can help you make content quickly, easily, and well.
It was made with one goal in mind: to make the process of making content faster and more efficient without lowering the bar in terms of quality. This service can be used by professional writers, bloggers, and marketers, as well as anyone else who needs content quickly.
The following is a list of some of the amazing features that can be found in CloserCopy:
CloserCopy's sophisticated grammar and punctuation checker eliminates typos, misspellings, and grammatical errors so that your writing is error-free and easy to read.
CloserCopy examines your writing for things like sentence structure, word choice, and tone and then makes suggestions about how to make it more readable.
facilitates search engine optimization by assisting with things like keyword analysis and implementation as well as supplying meta tags and descriptions.
CloserCopy's plagiarism checker compares your writing to a massive library of previously published works to identify any similarities.
CloserCopy examines the style and tone of your text and offers advice on how to make it more interesting and convincing to your target audience.
CloserCopy is web-based, so you can access your files and projects from any web-connected device, and it's also compatible with a wide range of operating systems.
Why Grammar Software Is Required?
Grammar software is important for both people and businesses because it finds and fixes mistakes in grammar and punctuation in written work.
It can also help with sentence structure and word choice, which can make writing easier to read and more effective.
This is important for businesses and professions because it makes it more likely that people will see their written communications as credible and trustworthy. Grammar software can also be helpful for students and writers because it can help them improve their writing and avoid common mistakes.
Following major reasons, why grammar software is required:
Improves the quality of writing: Grammar software can help find grammatical mistakes and inconsistencies in written work, which makes the text better overall.
Text easy to read and understand: A well-written text with no grammatical mistakes is simple to read and understand.
Increases efficiency: Grammar software can save time and effort by automating the proofreading process. This lets users focus on the content of their writing.
Improves accuracy: Grammar software can help make sure that written work is correct and free of mistakes, which is especially important in professional and academic settings.
Feedback: Many grammar software programs tell users what they did wrong with their grammar, spelling, and punctuation, which helps them improve their writing skills.
Conclusion
In sum, Grammarly is an effective method for enhancing one's writing abilities, albeit it may not be the greatest choice for every individual.
There are a number of choices if you need something cheaper or more specific. ProWritingAid, Hemingway, and WhiteSmoke are a few options that have gained popularity.
There are a variety of options available, and finding the one that best suits your needs requires some investigation. Finding a method that works for you and sticking to it is the best way to become a better writer.
Frequently Asked Questions
Is there a free alternative to Grammarly?
Try ProWritingAid for a tool that works similarly to Grammarly but with fewer charges. WordTune is a tool that can help you rewrite your sentences. Try LanguageTool if you need help with translation, grammar, or style in more than one language. Try SlickWrite if you want the best free alternative to Grammarly which gives you in-depth reports.
Is Grammarly still the best?
Yes, Grammarly is a must-have app for everyone. Everyone's work can benefit from this proofreading program, from those who aren't natural English speakers to those who have published best-sellers. Those who aren't professional writers could get away with utilizing Grammarly's free edition. Its grammar and spelling checking are superior to Microsoft Word.
Do professional editors use Grammarly?
Yes, Grammarly is a tool that should be utilized by everybody who publishes content that will be examined by other people. It is appropriate for use by academics, corporations, bloggers, and freelance writers, as well as students. Even editors with years of experience will find some use for it in their work.
Is Grammarly overpriced?
No, Grammarly is well worth the money because it is able to detect the vast majority of writing errors, ranging from mechanical problems to concerns about style. The Premium edition of Grammarly can correct mistakes, passive voice, plagiarism, incorrect tone, and more for an additional fee of $30 per month. The following are some of its payment options: Cost is $30 each month for the monthly plan.