You have come to the right place if you are seeking the best grammar checker.
Grammarly is a popular online tool and more than 30 million people use it on a daily basis that helps users improve their writing skills by checking their grammar and punctuation.
In this Grammarly review article, I'll talk about Grammarly's pros and cons, pricing, and features.
Let's get started!
Grammarly Overview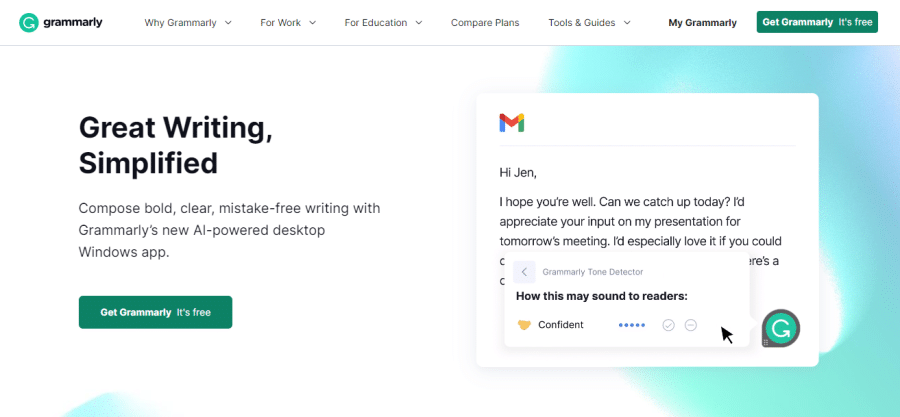 Grammarly is a popular online grammar and punctuation checker that helps users improve their writing skills. It is designed to detect and correct grammar, punctuation, spelling, and style errors in written text.
The tool can be used for a wide range of writing tasks, including emails, essays, research papers, and business documents.
One of the key features of Grammarly is its ability to detect and correct grammar errors.
The tool uses advanced algorithms to analyze text and identify common grammar mistakes such as subject-verb agreement, verb tense, and sentence structure.
Grammarly Pros & Cons
| | |
| --- | --- |
| Pros | Cons |
| Simple to use | The premium plan is a bit expensive |
| Grammatical and punctuation checks | |
| compatibility across platforms | |
| Ideas for vocabulary and spelling | |
| Plagiarism detection | |
Grammarly Key Features
Grammarly is a piece of software that aids users in improving their grammar as well as their spelling and punctuation. The following is a list of some of its features:
Grammarly checks for grammatical problems, such as incorrect punctuation, verb tense, and subject-verb agreement
Grammarly identifies and proposes repairs for misspelled words
Grammarly provides synonyms and additional words to boost your text's vocabulary
Grammarly analyses your work and offers ideas for making it clearer and more succinct
Grammarly finds plagiarism by making comparisons of your content to billions of online pages to make sure that your work is original and not copied
Grammarly evaluates the tone of your work and proposes adjustments to make it more appropriate for the target audience
Grammarly provides style and formatting adjustments to make your writing more polished and professional
Grammarly can be integrated with a variety of systems, such as Microsoft Word, Google Docs, and others
Grammarly delivers customized feedback on your writing style, strengths, and development areas
Grammarly enables users to contribute their own words and phrases to the dictionary so that their own language is recognized and checked for faults
Why Choose Grammarly?
Grammarly has excellent features to look out for. Here in this section, I have described in detail why you can choose it.
Improved Writing Quality: Grammarly checks for spelling, grammar, and punctuation mistakes. This makes your writing clearer and better in general.
Enhanced Vocabulary: Grammarly suggests different words and phrases to help you expand your vocabulary and make your writing more expressive.
Consistency and style: Grammarly checks for consistency in verb tense, capitalization, and punctuation, which helps make sure your writing is polished and professional.
Plagiarism Detection: Grammarly checks your text for instances of plagiarism. This makes sure that your work is original and keeps you from getting in trouble with your school's academic integrity.
A tool that saves you time: Grammarly checks your writing quickly and accurately, saving you time and work that you would have spent proofreading and editing.
Customizable settings: You can change the settings on Grammarly to fit your needs, like choosing a certain writing style or setting a target audience.
Available on Various Platforms: Grammarly is available as a browser extension, a desktop app, and a mobile app, so it can be used on any device and is easy to use.
Learning Experience: Grammarly gives detailed explanations of grammar and punctuation rules, which makes it a useful tool for people who want to get better at writing.
Grammarly Pricing & Plans
Grammarly has various pricing plans. Here in the following section, I have mentioned it.
1. Free Plan: $0
2. Premium Plan: $12 per month for 1 member.
3. Business Plan: $15 per month for 1 member.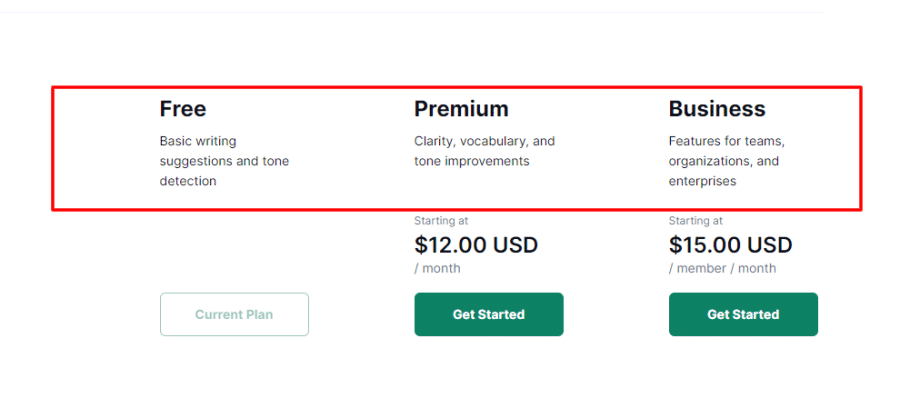 1. Free Plan
The Grammarly free plan is a stripped-down version of the Grammarly writing tool that only includes the most fundamental grammar and spelling-checking capabilities.
Both the Grammarly website and the Grammarly browser plugin provide access to the tool, which may be used to verify text written in the majority of the world's most used languages.
Key features of the Grammarly free plan:
Tone detection
Punctuation
Conciseness
Grammar
Spelling
The Grammarly free version has several options to look out for. Read our Grammarly free trial, which will provide you all the information you need to make a decision about whether or not to use the service.
2. Premium Plan
Grammarly's Premium plan is a premium subscription service featuring advanced grammar and writing recommendations, perfect if you want to take your writing to the next level.
It also makes comments that are specific to your writing style and goals. This helps you improve your skills and reach your writing goals.
If you get a Premium subscription to Grammarly, you can also use their mobile apps and browser extension. And, there is an excellent Grammarly offer available for a premium subscription package to save a few bucks.
Key features of the Grammarly Premium plan:
Everything in Free
Make the right impression on your reader
Full-sentence rewrites
Tone suggestions
Word choice
Citations
3. Business Plan
The Grammarly Business Plan is a complete solution for businesses and organizations that want to improve their writing and communication skills.
This plan gives you access to Grammarly's advanced writing and editing tools and a dedicated account manager to help you out.
Is Grammarly Premium worth it?
Absolutely, Grammarly is really worth it to make use of. This not only saves you time but also enables you to produce work or school assignments of a higher level.
It more than compensates for its initial cost. Sincerity requires me to tell you that if you require a more user-friendly writing assistant, even the most basic version can be of use. Even though I don't need a premium, having it does make life easier for me.
It is accurate for spelling and punctuation problems that are fundamental. In addition to this, its ideas are more accurate than those offered by competing writing apps. It is able to correct such things as writing style, passive voice, diction, and the placement of commas.
Key features of the Grammarly Business plan:
Everything in Premium
Account roles and permissions
Analytics dashboard
SAML single sign-on
Style guide
Snippets
Who Should Use Grammarly
Grammarly is a writing program that assists users in improving their grammar as well as their spelling and punctuation.
It is geared toward individuals and companies who want to ensure that their written communication is crisp, correct, and professional, and it may be used for either purpose.
The following individuals would benefit from using Grammarly:
Students: Grammarly can help students get better at writing, which is a key skill for doing well in school. Grammarly can help you avoid common mistakes and make sure your writing is polished and professional, whether you're writing an essay, a research paper, or a lab report.
Professionals: Whether you're a business owner, a marketer, or a salesperson, the way you write can have a big effect on how others see you and your company. Grammarly can help you improve the way you write and make a better impression on your customers, clients, and coworkers.
Bloggers and content creators: Bloggers and content creators often rely on their writing skills to build an audience and get people to read their work. Grammarly can help them improve their writing and reach more people.
Job seekers: Whether or not you get an interview depends a lot on how well you write your resume and cover letter. Grammarly can help you improve your resume and cover letter so that potential employers have a better impression of you.
The following businesses would benefit from using Grammarly:
Marketing and advertising businesses: Writing is a key part of any marketing or advertising strategy, and it's important that the messages you send to your target audience are clear, accurate, and professional. Grammarly can help you get better at writing and make sure your marketing messages work.
Content creation and editing companies: Writing is a key part of any content creation or editing strategy, and it's important that the content you make is clear, accurate, and professional. Grammarly can help you get better at writing and make sure that the content you make is the best it can be.
Technology companies: Writing is a key part of the strategy of any technology company, and it's important that the messages you send to your target audience are clear, correct, and professional. Grammarly can help you get better at writing and make sure that your messages about technology are clear.
Institutions of education: Institutions of education depend on well-written communication to teach students, talk to parents and staff, and share the institution's mission and values. Grammarly can help schools and colleges improve how they write and make sure their messages are clear and correct.
Is it easy to use Grammarly?
The use of Grammarly is really simple. It is a piece of software that evaluates your work as you type to ensure that your punctuation, spelling, and grammar are correct.
It provides ideas for modifications and makes it possible to make changes in a matter of seconds only with a few clicks of the mouse.
Its user-friendly interface and a wide range of customization options are also included to cater to your specific requirements in terms of writing.
You may have faith in Grammarly. It is utilized by an enormous number of authors, businesses, and students. If the corporation had been interested in con artists, it never would have achieved its goals.
In point of fact, in contrast to the majority of other digital services, Grammarly does not rent or sell the information associated with its users.
How To Use Grammarly?
You'll be able to use Grammarly once you've completed the detailed procedures. Here is it!
To make a free account, go to Grammarly's home page, enter your email address, and choose a password
After you sign up, you'll be able to use the Grammarly add-on for Firefox, Chrome, Safari, or Edge. When you use Grammarly this way, it's available to be used in any online text box
You could either type your content in the Grammarly editor or copy and paste it from somewhere else. Grammarly will catch any mistakes in grammar, punctuation, or spelling right away
Grammarly will mark whatever mistakes it tries to find in your writing and give you suggestions on how to fix them. You could indeed think about these ideas and change them in any way you want
When you're done reviewing and making changes to your text, you can save it to your Grammarly account or export it to a different format, like Microsoft Word or Google Docs
Use the extra tools that Grammarly offers. Grammarly also has extra tools like a plagiarism checker, a tone detector, and a vocabulary enhancer. If you go to the "Tools" menu in the editor, you will see these choices
Grammarly Customer Support
The Customer Support team at Grammarly is here to help you with any questions or problems you may have.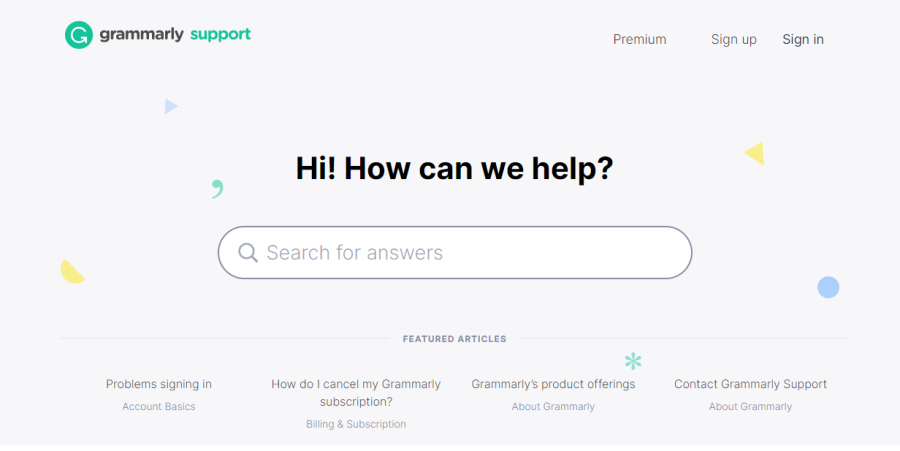 Once Grammarly's support team gets your email questions, they answer them within 48 hours. One can send a question or request, and they will try to answer as soon as possible.
You need to let them know, what you think and what you believe. Support promises to put your ideas into action to make Grammarly's help pages even easier to use.
Top Grammarly Competitors
In this section, I have provided a comprehensive breakdown of the several services that are reasonable alternatives to Grammarly.
1. ProWritingAid
The well-known grammar and styling checker ProWritingAid provides users with a wide variety of tools, such as style suggestions, a thesaurus, and a grammar checker, among other features.
In addition to this, it integrates with a broad variety of other applications, such as Google Docs and Microsoft Word.
If you create fiction on a regular basis, investing in this instrument is money well spent. It has native support for Scrivener, which makes it the finest grammar checker for fiction writers that I've tried, and it also provides additional writing reports, which is something that other grammar checkers don't do.
2. Ginger
Ginger has a built-in grammar checker that modifies phrases, flags mistakes, and suggests alternatives to incorrect wording. In addition to spotting and correcting tenses, Ginger also provides automated ideas for idioms, phrases, and synonyms.
It works with popular software including Google Chrome, Microsoft Office, Mozilla Firefox, and Internet Explorer.
As a HotKey, F2 will bring up Ginger. Instead of using third-party apps like Microsoft Word, Ginger provides its customers with a dedicated writing window.
3. WhiteSmoke
WhiteSmoke is a tool for editing and proofreading written English. It examines for errors in punctuation, grammar, style, and spelling.
This program has sophisticated style-checking tools that use artificial intelligence-based Natural Language Processing technology to make sure that your unique voice and style remain unchanged in your writing. Further, it has a built-in tool that may detect instances of plagiarism.
For precise writing, WhiteSmoke is on par with other word processors. Regarding precision, WhiteSmoke receives a solid 4 stars. Unfortunately, spell checkers will occasionally make mistakes.
4. languageTool
LanguageTool is a free and open-source application that analyses your writing and suggests improvements to your grammar, spelling, style, and punctuation.
It works wonderfully for English speakers both from native and non-native backgrounds. In addition to that, it is compatible with over 25 different languages. It functions similarly to other online writing tools in that it can be used anywhere on the internet.
LanguageTool is an online free proofreading service for over 20 different languages, including English, German, Spanish, and French, among others.
Conclusion
In sum, Grammarly is an excellent resource for any writer who wants to get better. It's the best for both individuals and businesses.
It comes with a whole host of tools that may help you spot and fix typos, misspellings, and other grammar/style issues, and even offer advice on how to improve your writing.
The software's user-friendliness and adaptability to many platforms make it a practical and useful resource for both individuals and businesses. If you want to become a better writer and communicate more effectively, Grammarly is an indispensable tool.
Frequently Asked Questions
Is Grammarly actually good?
Yes, you can trust Grammarly. A lot of writers, businesses, and students use it. If the company's goal was to trick writers, they would not have done as well as they did. In fact, Grammarly doesn't rent or sell user information like many other websites do.
Is it safe to use Grammarly?
Because of the stringent access controls we have in place, nobody at Grammarly will ever be able to view your content on their own. You are the sole owner of what you write.
Is Grammarly allowed in university?
It is possible that using Grammarly would be deemed cheating if you were taking a test that focused solely on grammar and spelling. Make sure you ask your instructor about it. Students who are pursuing English as a second language may find that their written communication skills in English are being evaluated on the basis of standardized assessments.
How much is Grammarly per month for students?
Grammarly offers a free edition for students, just like it does for regular users, but it has some restrictions that can be an issue for some. The Premium Access option is more expensive at $30/month, although both are available to students.
Is Grammarly overpriced?
No, Grammarly is well worth the cost because it can detect the vast majority of writing faults, from grammatical to stylistic. The Premium version, available for $30 per month, edits for grammar, spelling, passive voice, plagiarism, and tone. Included in the list of possible ways to pay for it are: The cost is $30 each month.
Does Grammarly offer a trial?
Grammarly does sometimes give free trials of Grammarly Premium to people who are already paying for the service. Before you buy Grammarly Premium, you will be able to sign up for a free trial on our website when one becomes available.
It lets users download a free version of the program that still has access to all of the important Grammarly features. If you choose to upgrade to Grammarly Premium, you can use all of our services and features.
How can I check my emails with Grammarly?
Install Grammarly for Pc or Grammarly for Mac to proofread your emails. Grammarly can help you produce error-free letters virtually everywhere you compose them. This includes a number of online clients (Gmail, AOL, and Yahoo) and the majority of desktop applications.